Danganronpa is a renowned visual novel series loved for its captivating storyline and unforgettable characters. With the Danganronpa AI voice generator, fans can now create custom dialogues, fan videos, and personal projects using AI-generated voices that closely resemble the iconic voices from the game. This tool offers a unique opportunity to explore new possibilities and enhance the Danganronpa experience.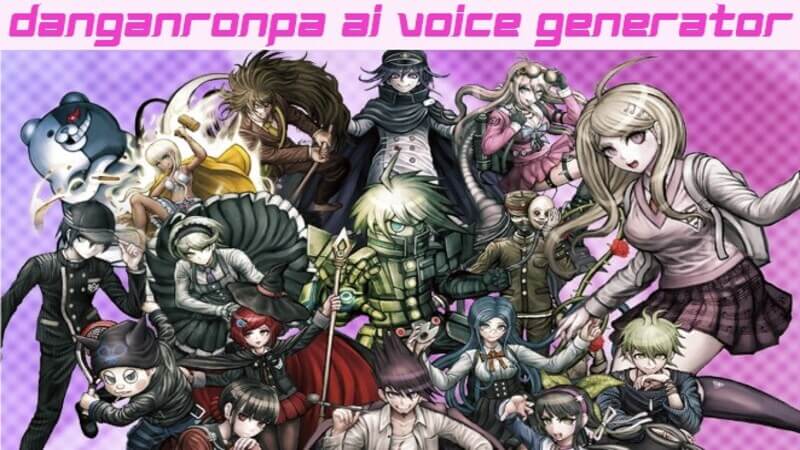 Listen to Hajime Hinata AI Voice Generated by VoxBox.

Part 1: Who is Danganronpa 2 Voice Actors?

Hajime Hinata - Voiced by Minami Takayama (Japanese) and Johnny Yong Bosch (English).
Nagito Komaeda - Voiced by Megumi Ogata (Japanese) and Bryce Papenbrook (English).
Chiaki Nanami - Voiced by Kana Hanazawa (Japanese) and Christine Marie Cabanos (English).
Fuyuhiko Kuzuryu - Voiced by Daisuke Kishio (Japanese) and Derek Stephen Prince (English).
Mikan Tsumiki - Voiced by Ai Kayano (Japanese) and Stephanie Sheh (English).
Ibuki Mioda - Voiced by Ami Koshimizu (Japanese) and Julie Ann Taylor (English).
Gundham Tanaka - Voiced by Tomokazu Sugita (Japanese) and Scott Frerichs (English).
Sonia Nevermind - Voiced by Miho Arakawa (Japanese) and Natalie Hoover (English).
Kazuichi Souda - Voiced by Yoshimasa Hosoya (Japanese) and Kyle Hebert (English).
Peko Pekoyama - Voiced by Kotono Mitsuishi (Japanese) and Janice Kawaye (English).
Part 2: Create AI-Generated Danganronpa Voice Through Voice Generators?
VoxBox, the ultimate solution for fans to generate and clone AI Danganronpa voices. With VoxBox, you can effortlessly create authentic and expressive voices of Danganronpa characters, making voiceovers and dubbing a breeze using advanced text-to-speech (TTS) technology.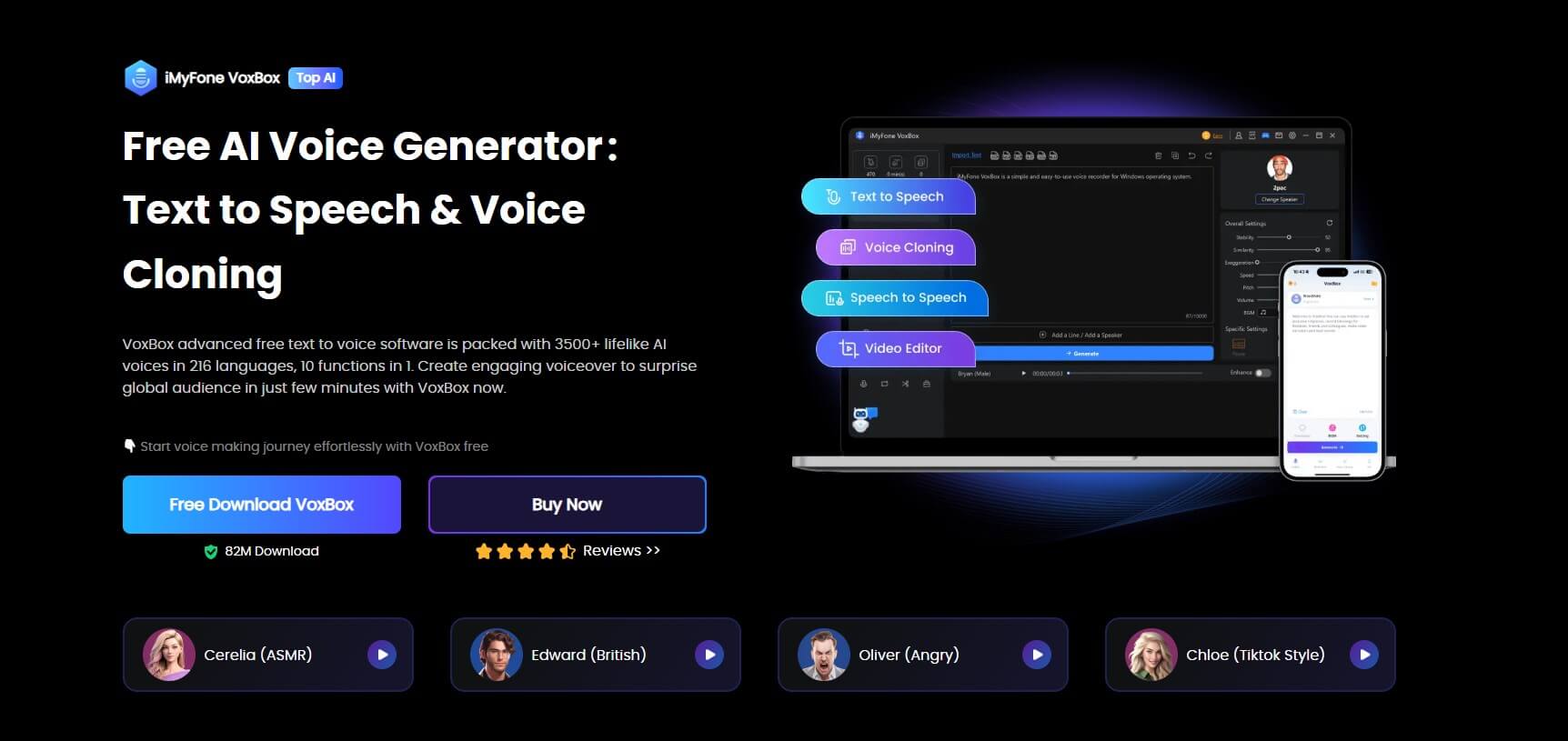 Get Danganronpa Characters AI Voice with TTS:
Step 1: Download VoxBox and install it, then navigate to the "Text to Speech" feature located on the left side of the interface.
Step 2: Directly search for the character voice or choose the Games of the options and select Danganronpa.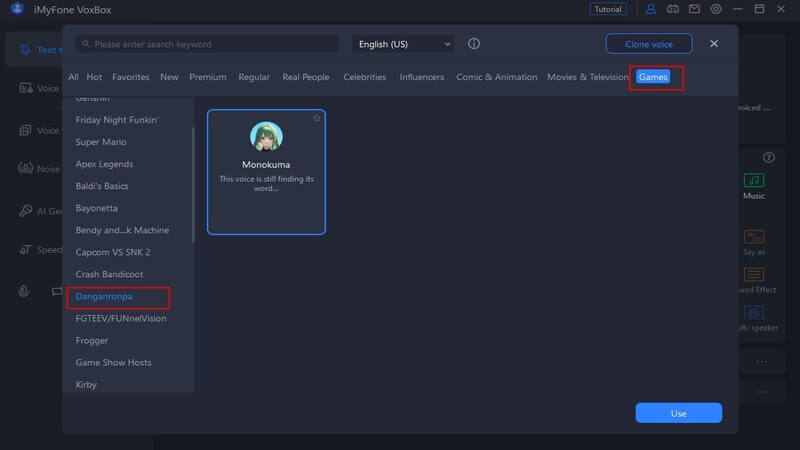 Step 3: Enter the text and just need to click on Convert and you can listen to the dubbings.
Listen to Chiaki Nanami AI Voice Below:

Key Features:
3200+ voices across 46+ languages and 100+ accents.

Gaming characters you can find like Leon Kennedy, Jenna Ortega.

Explore the range of additional features offered by VoxBox, including speech recognition, voice editing, conversion, recording, and cloning.

The Danganronpa overdubs will export in various formats.

Enjoy seamless compatibility across various platforms, including Roblox, TikTok, YouTube.

Personalize your voiceover to perfection by fine-tuning a variety of options and settings such as pitch, volume, emphysis and more.
How to Clone Danganronpa Voices: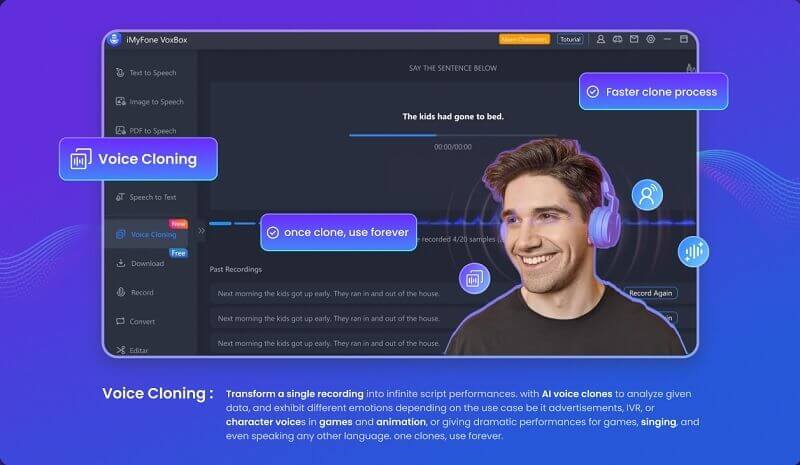 Step 1: Locate the "Voice Cloning" feature.
Step 2: Simply upload your desired audio sample or image and let VoxBox handle the rest.
Step 3: Sit back and wait for the quick and efficient process to generate a gaming voice that will bring your content to life in no time.
2. MagicMic
MagicMic is a versatile AI voice changer software designed for Windows and Mac PCs, delivering high-quality voice transformations in real-time. With its extensive array of sound effects and background sound adjustments, it stands as a formidable contender among top voice changers.
Key Features:
Experience an extensive collection of over 400 sound effects, 150 voice memes, and 120 voice filters in this application.

Whether recording or uploading your audio, unleash your creativity by adding effects effortlessly.

Enjoy a user-friendly interface, record or upload audio, and customize it seamlessly with the sound customization keyboard.

Enhance your gaming experience with quick synchronization of the voice-changing function, allowing voice modifications during calls in popular online games.

Numerous anime voices provided for users.
Steps to Use MagicMic Voice Changer:
Step 1: Download and install the MagicMic software.
Step 2: Click the'' Voice Changer'' option.
Step 3: Select a voice changing or sound effect.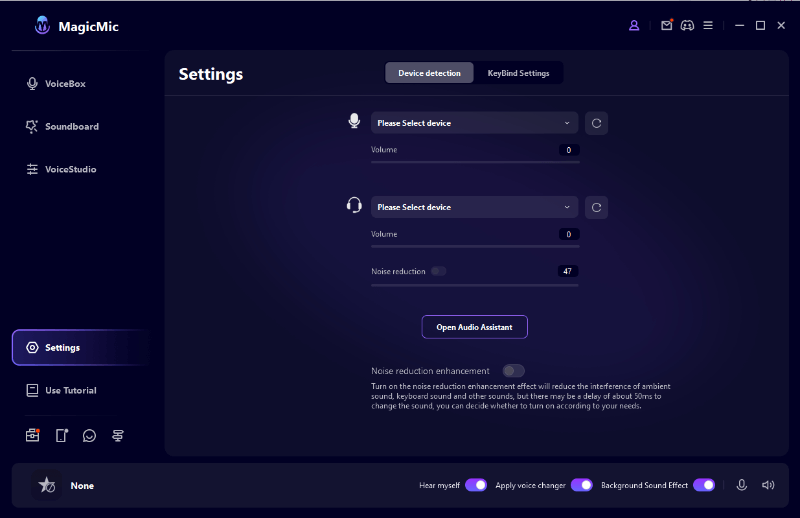 Step 4: Turn on ''Hear Myself''.
Part 3: FAQs about AI Generated Danganronpa Voice
1. Is Danganronpa fully voice acted?
Yes, Danganronpa is a visual novel series that is fully voice acted. The characters in the game have their dialogue and lines voiced by professional voice actors, bringing the story and characters to life with their performances. The voice acting adds depth and immersion to the game, enhancing the overall experience for players.
2. Which one is the best Danganronpa AI voice generator most users recommended?
We recommend using iMyFone VoxBox for AI-generated Danganronpa voices, as it offers advanced AI voice cloning and customization features specifically tailored for creating voices inspired by the Danganronpa series.
Conclusion

The Danganronpa voice generator opens up a world of creativity for users, allowing them to bring their own stories and projects to life with authentic character voices. With VoxBox, an advanced text to speech voice generator, you can easily create custom AI generated Danganronpa voices and explore endless possibilities in their creations. Don't miss out on the opportunity to enhance your Danganronpa experience with VoxBox's powerful AI technology.