Have you played the God of War series and have any impressions of Kratos? Now you have a chance to get the character Kratos AI voice. You can use text-to-speech and voice changer to generate Kratos AI voice and enhance the game experience. In this article, we will discuss how to get Kratos AI voice step by step.
Listen to Kratos AI Voice Generated by VoxBox.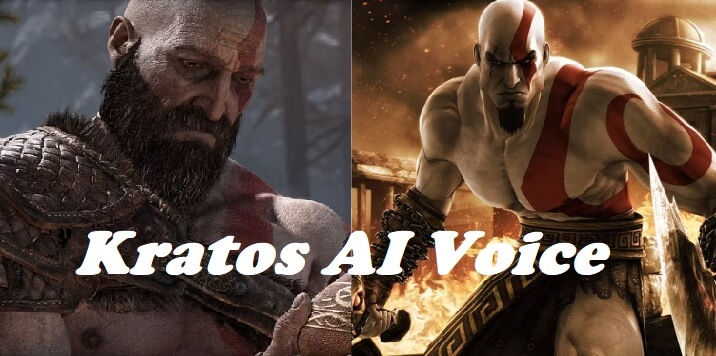 Part 1: Info of Kratos
Kratos is the protagonist of the God of War video game series. He first appeared in the 2005 game God of War and has since appeared in multiple sequels and spin-offs. Kratos is a Spartan warrior who became the God of War after killing the former God of War Ares. His weapon is the Chaos Blade, a chain-like blade that he can swing to attack his enemies.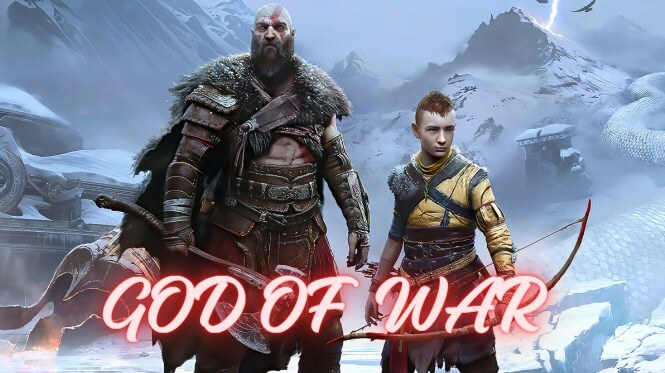 Kratos had a rough experience. He accidentally killed his family in a rage, and was later tricked into killing his father, Zeus. Throughout the series, Kratos seeks revenge on the gods who wronged him and his family.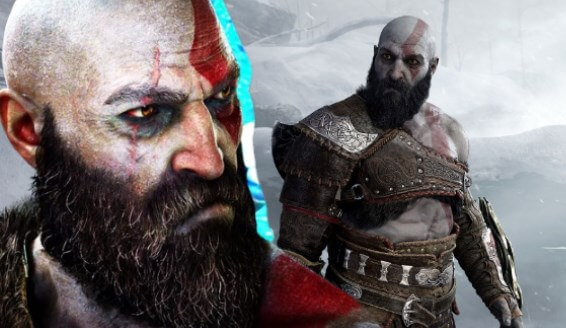 Kratos has appeared on numerous "top 10" lists of everyone's favorite game characters and has become a hot topic of discussion among gamers and critics alike.
Part 2: Why Do People Like Kratos AI Voice?
Kratos voice is deep and commanding, embodying his powerful and intimidating character, creating a sense of authority and power. Kratos AI voice is equally powerful. Kratos voice produced using AI technology can be 99% similar to the original voice. You can use it for game video explanations, game character creation, etc., which can greatly enhance your interest in playing games.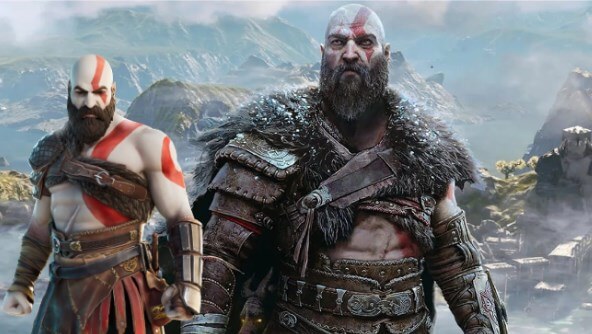 Part 3: How To Generate Kratos AI Voice With Voice Generator?
If you're looking to generate realistic Kratos AI voice, VoxBox is one of the top choices available. VoxBox, which includes a great many character and celebrities voices for text to speech, making it possible to create dubbings in a matter of time.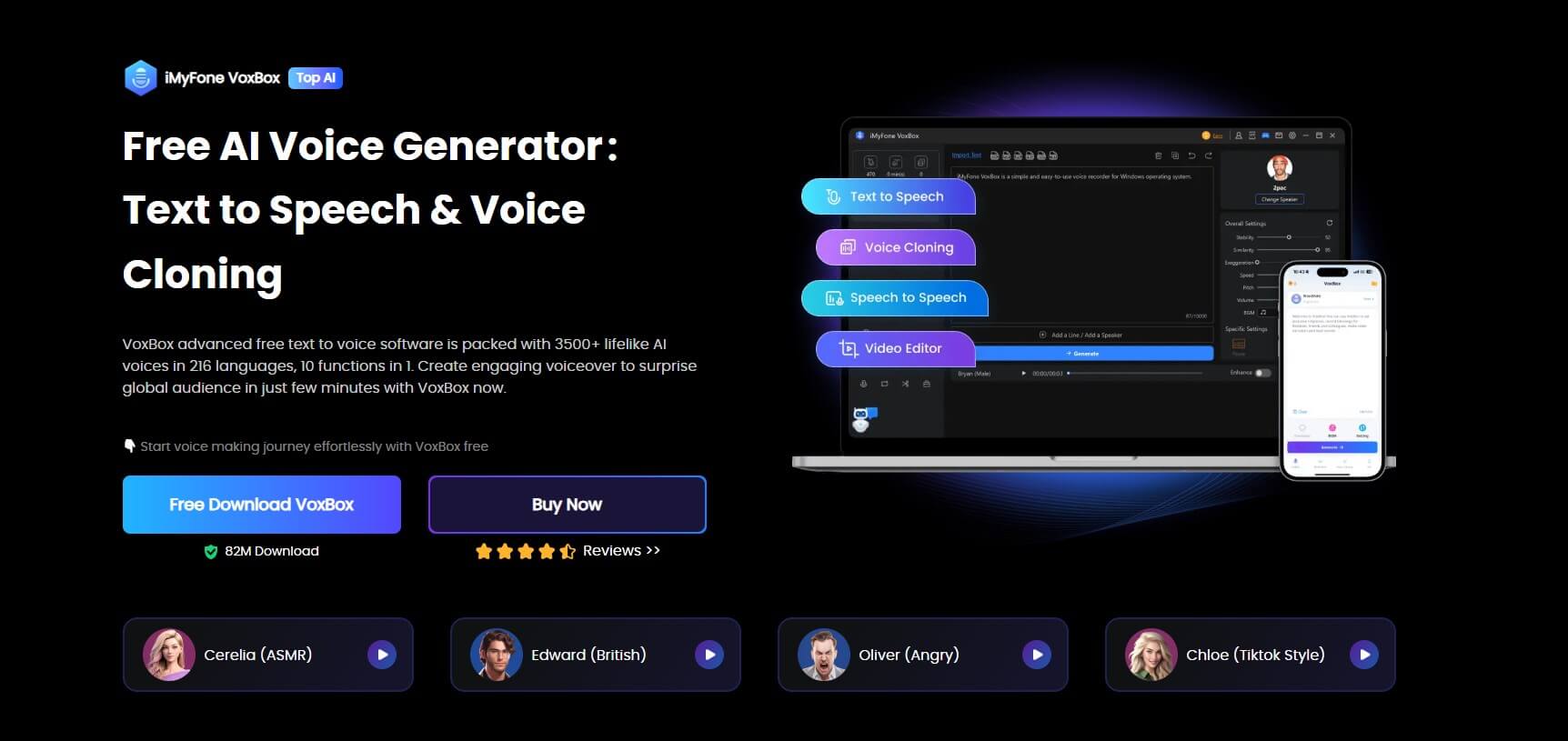 Bonus Tips
With
iMyFone VoxBox
, you can access numerous gaming voices, including
Genshin
, Mario, and Joshua Graham. These custom voices can be generated easily with just a few clicks.
Steps to Get Kratos AI Voice:
Step 1: Download VoxBox from the official website and install it.
Step 2: Open it, click on "Changer Speaker" and choose Kratos voice by typing "Kratos".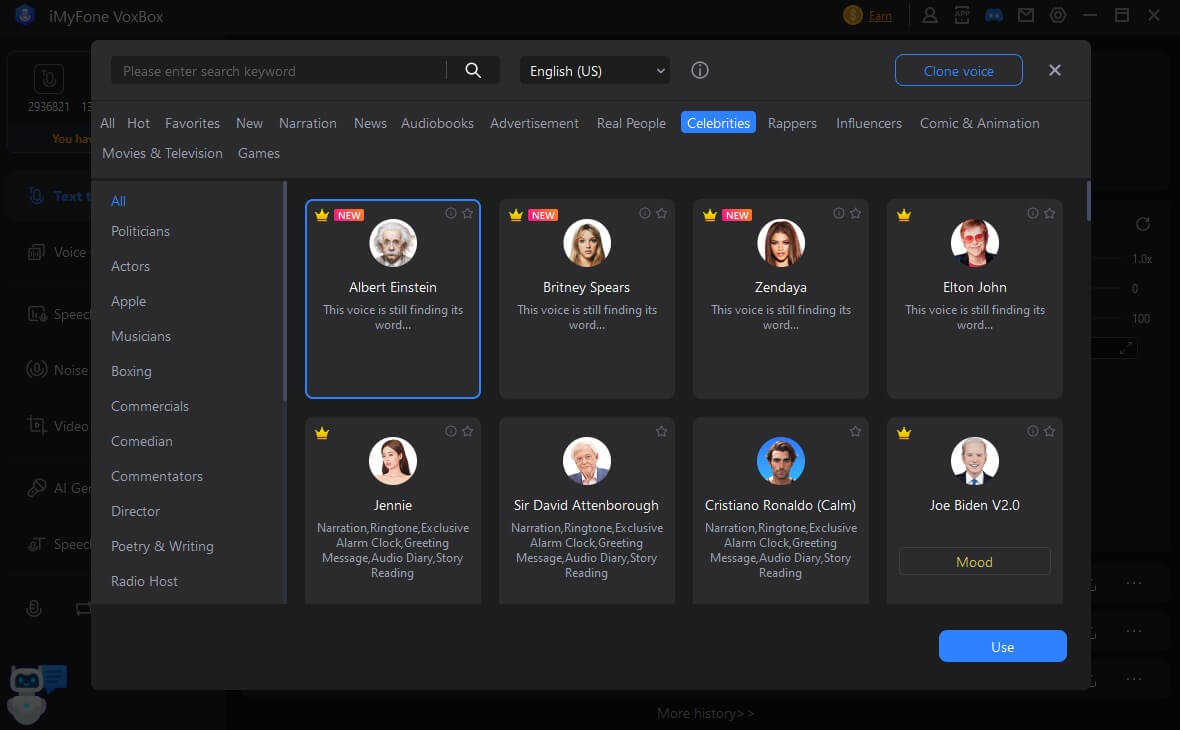 Step 3: Type in the text you want to convert to speech.
Step 4: Click the "Convert" button to create the audio file. If you want a clearer audio, hit "Enhance."
Key Features:
2000 characters for you to dub in Kratos and other voices for free.

You can use the tool for all purposes like entertainment, education, conversation, social medium and more.

Adjust settings to create particular Kratos dubbings.

More than 3200 voices, 77 languages and 100 accents.

Support multiple functions including TTS, STT, voice cloning, noise reduction, etc.

Provides high-quality voiceovers that can be saved in various formats including WAV,MP3.
Part 4: Also Recommended - Voice Changer To Make Kratos AI Voice
MagicMic is a voice changing software that allows you to modify your voice to Kratos AI voice in real time. The software is easy to use and comes with multiple features, you can enjoy clear audio output without background noise and echo by using this tool.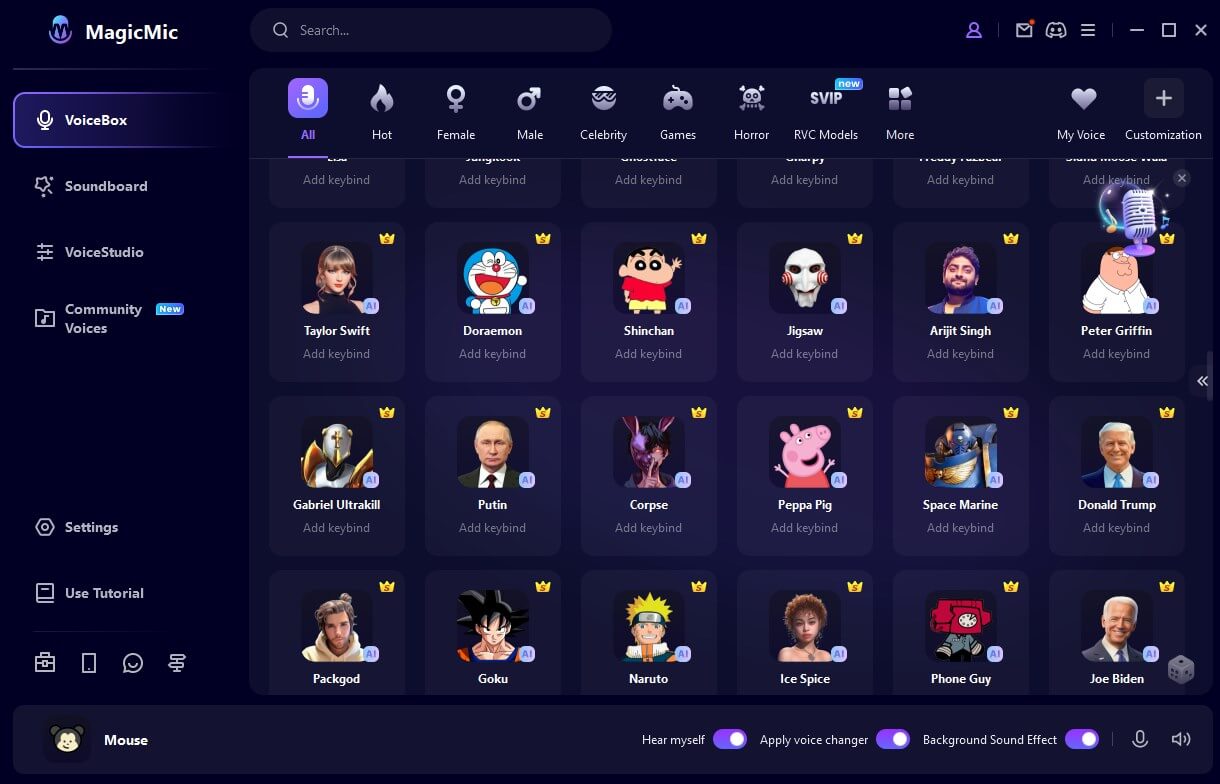 Key Features:
600+ voices and sound effects to enhance your streams, games and pranks.

Access numerous celebrity sound effects like Jerry Seinfeld.

Easily customize Kratos' voice and sound effects.

You'll also find the voices of other God of War characters.

Create and modify personalized voices using real-time voice filters.
Part 5: FAQs about Kratos AI Voice Generator
1. What is the best Kratos AI voice generator?
The best Kratos AI voice generator is VoxBox. It is a TTS and voice cloning software that allows you to create custom voices in minutes. The software is easy to use and has a wide range of voice types and languages to choose from.
2. How can I create Kratos AI voice?
To create Kratos AI voice, you can use TTS software or voice cloning technology, such as VoxBox or Lyrebird. These tools allow you to input text and choose or clone Kratos voice and convert it to speech.
3. How did Kratos get to Midgard?
Kratos arrived in Midgard after the events of the Greek era, where he had destroyed the Greek gods and the Greek world. Seeking to start a new life, he travelled to Midgard, one of the Nine Realms of Norse mythology, to leave his past behind.
Watch the video below to know more about Kratos Voice Generator
Conclusion
To sum up, getting Kratos AI voice has become one of the topics for God of War players. With text-to-speech and voice changer, you can add Kratos' voice to your projects and even imitate Kratos' tone. VoxBox is the best choice for creating Kratos AI voices. It has 3200+ voices not only for Kratos, but also for many game characters, and even supports cloning the voices of other God of War characters. It also offers a free version, so give it a try!