Are you seeking to automatically transcribe your MP4 files? Do you desire the ability to translate the transcriptions, export them as .txt files, create subtitle files, and more? Look no further!
In this article, we will present the top three MP4 to text converters to assist you in resolving this issue.
Bonus Tips
Take a moment to watch the video and discover the benefits of MP4-to-text transcription.
Part 1: Why People Need MP4 to Text Transcroption?
MP4-to-text transcription is highly beneficial for various reasons. Firstly, it greatly enhances accessibility by providing a written version of audio content, making it accessible to individuals with hearing impairments or language barriers. Secondly, transcriptions enable effortless reference and efficient searching, allowing users to quickly find specific information within the video. Additionally, transcribing MP4 files facilitates content repurposing, as the text can be utilized for translations and subtitles, or serve as a foundation for creating written articles or blog posts. Moreover, it aids in better comprehension and note-taking, proving valuable for educational and professional purposes. In summary, MP4-to-text transcription significantly improves accessibility, and usability, and facilitates content repurposing.

Part 2: How to Convert MP4 to Text Easily 2023?
VoxBox is a versatile tool that allows you to convert audio and video content into text using transcription technology. With VoxBox, you can effortlessly create documents by using your voice or other audio sources. It supports transcription for various languages, making it accessible to a wide range of users. Keep in mind that VoxBox may have limitations on the video duration and file size, but it offers a convenient solution for converting MP4 files to text.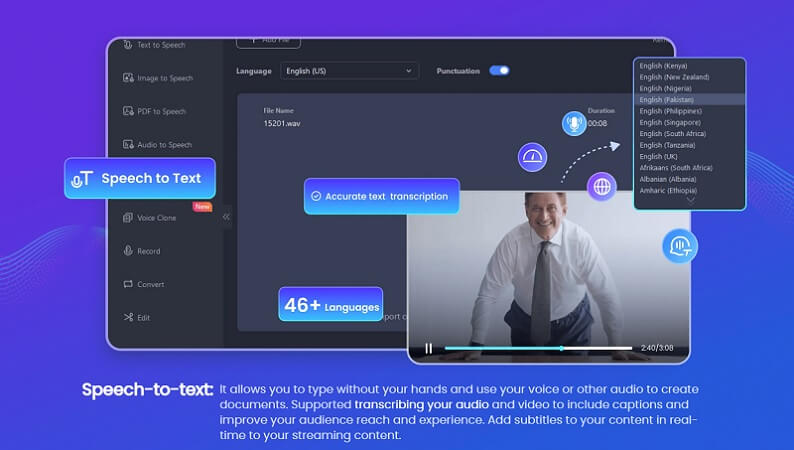 Transcribe MP4 Video to Text Easily:
Step 1: Download and install VoxBox on your device to get started.
Step #2: Launch the VoxBox and then choose "speech-to-text", and then click the Upload video or audio button to import the MP4 video.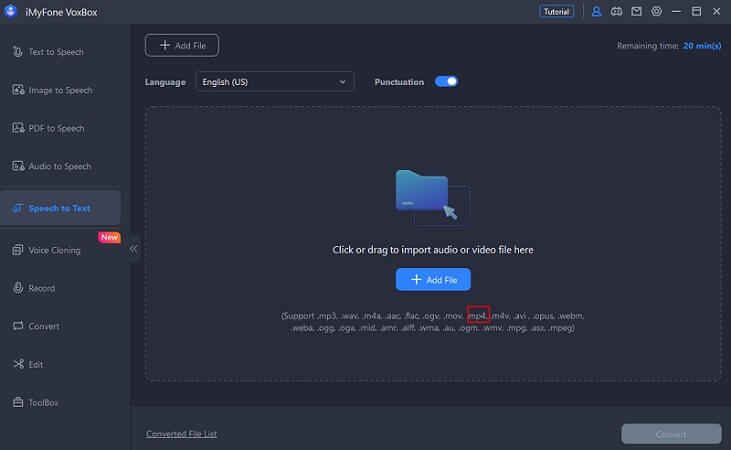 Step #3: Select the language spoken in the video from the list, and then click the Convert button to start transcribing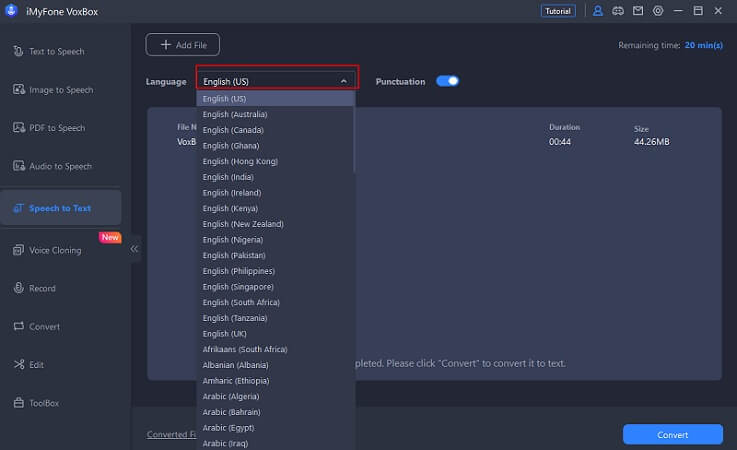 Step #4: After the transcribing is completed, you will see the generated plain texts on the window.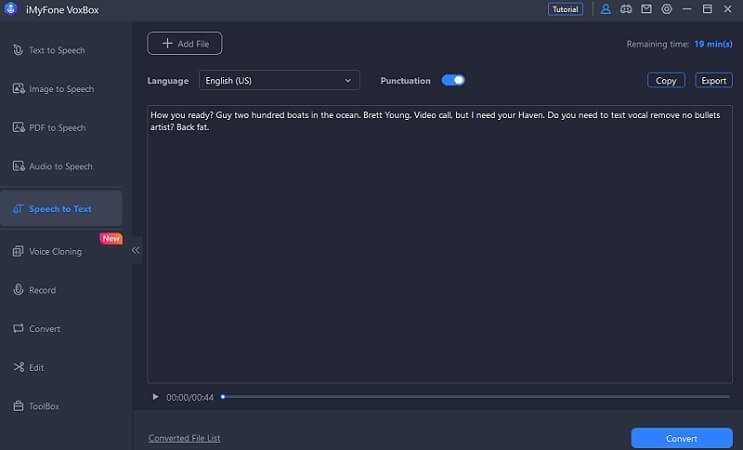 Key Features:
VoxBox supports multiple languages for transcription, providing a versatile solution for your needs.

Accurate Speech Recognition

Support Multiple Formats

More than an MP4 Transcriber ( also supported text to speech, and voice cloning)
Pricing:
$14.95 Per Month.

$39.95 Per Year.

$79.95 for Lifetime.
Part 3: Other MP4 to Text Converter Recommend for Text Transcription
Introducing Media.io's Transcription app, a powerful tool that effortlessly converts your .mp4 files into clear text in multiple languages. This free online mp4-to-text transcriber exceeds expectations, allowing your content to shine and make a significant impact on the internet.

Key Features:
Transcribe in 89 Languages.

Accurate Speech Recognition that you don't need to edit the generated text further.

Fast and Flexible.

Accept multiple files and formats
How to Convert MP4 to Texts and Subtitles?
Step 1: Go to the Media.io video editor and click on Upload Media to import the .mp4 file.
Step #2: Transcribe MP4 to Texts Automatically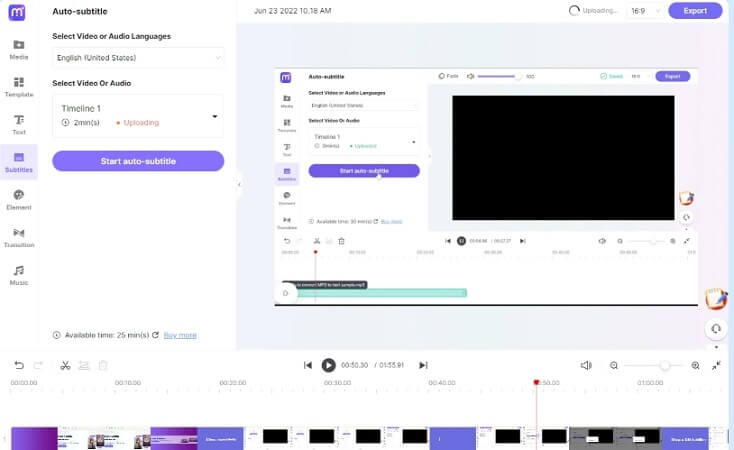 Step #3: Export the Text File.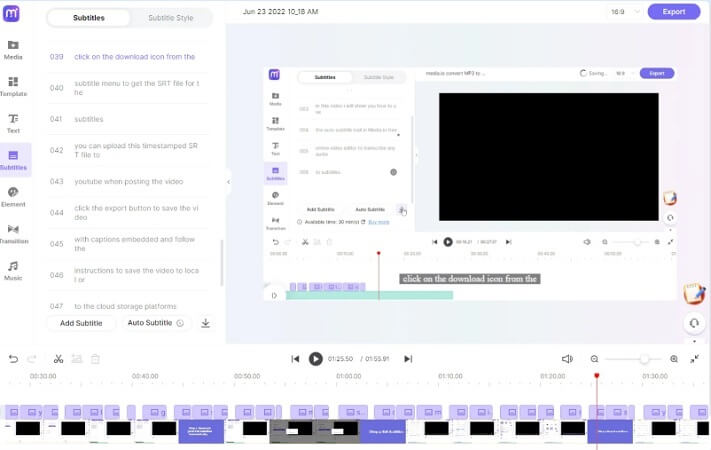 VEED makes MP4 text transcription effortless, enabling your content to engage a wider global audience. No account is needed, and VEED supports over a hundred accents and languages. Choose your desired language, and easily export the transcription as a text file or subtitles file.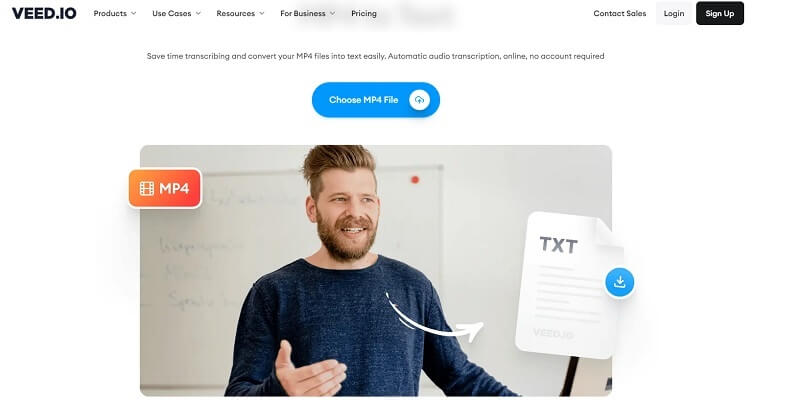 Key Features:
Multiple-language support

Online tool doesn't require download or installations.

Supports over a hundred accents and languages

Quick and easy conversion of your MP4 file to text
How to convert MP4 to Text:
Veed.io is also a online text trancription, so just "Upload an MP4 File">"Convert to Text" >"Download",and save your new converted file as .TXT, .VTT, or, SRT- if you want to create a separate subtitles file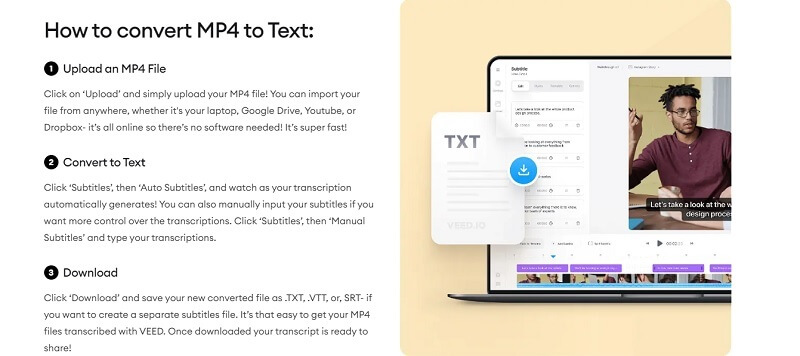 Part 4: FAQs About MP4 to Text Transcription
1. How accurate is MP4-to-text transcription?
The accuracy of MP4-to-text transcription can vary depending on factors like audio quality, background noise, and the transcription software used. While advanced algorithms strive for high accuracy, some errors or inaccuracies may still occur, requiring manual review and editing.
2.Can MP4-to-text transcription handle multiple languages?
Yes, many transcription services and software support transcription in multiple languages. However, the level of accuracy and language coverage may vary. It's important to check if the specific service or software you're using supports the languages you require.
3.Can I edit the transcribed text after conversion?
Yes, most transcription tools allow you to edit the transcribed text. This feature lets you correct any inaccuracies, make revisions, or adjust the formatting as needed. Editing capabilities are typically provided within the transcription software or platform.
4.Are there any limitations on MP4 file duration or file size for transcription?
Some transcription services or software may have limitations on MP4 file duration or file size. It's essential to review the specifications or terms of the specific service you're using to ensure your files meet their requirements. Be aware of any potential limitations before initiating the transcription process.
Conclusion
In conclusion, people utilize MP4 to text converters for various reasons. These converters provide a convenient solution to transcribe MP4 files into text format, offering benefits such as improved accessibility, easy reference and searchability, content repurposing, and enhanced comprehension and note-taking. and the best choice for converting text to mp4 is iMyFone VoxBox
Whether for individuals with hearing impairments, language barriers, or the need to repurpose video content, VoxBox speech-to-text plays a vital role in making audiovisual information more accessible and versatile.