EXP Soundboard is a lightweight audio playing software that supports almost all MP3s and WAVs, and the sounds can be triggered with custom keyboard hotkeys and played through up to 2 outputs. The tool contains a converter tool for converting almost any audio file into a compatible mode.
In this article, we will give insight into the features, advantages, and disadvantages of users, and teach you setting up exp soundboards, and so much more! of course, we also provide some comparison of other top soundboard App
Part 1: How is EXP Soundboard?
EXP Soundboard is an exceptional tool that can quickly assist you in playing multiple audio clips and sounds. Unlike other tools, the exp soundboard can be perfect assistance because it is very simple and lightweight. Launch and make the most of it!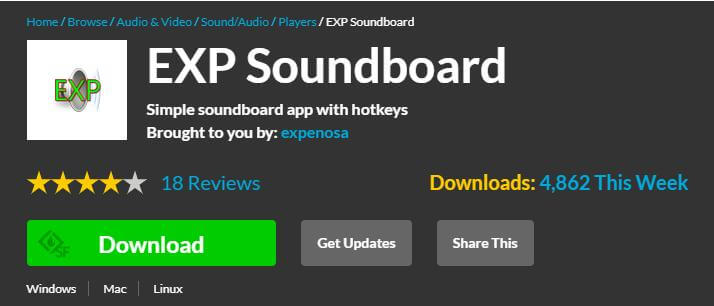 It allows soundboards to be saved, use keyboard hotkeys to trigger sounds, play sounds through a virtual audio cable and still be able to hear them through speakers. There are some components for song creation, such as the loop tool, and it is portable that finds the audios to use, locate them, and assign a hotkey with multiple effects.
Key Features:
When using the exp soundboard, you can even use the hotkeys on your keyboard to trigger various sounds. 

The exp soundboard is the best soundboard because it is user-friendly and allows users to save sounds with ease.

You can play various audios using the exp soundboard using a virtual audio cable.

The exp soundboard has a converter tool readily available on the site; you can make use of it and convert any audio file to a compatible file.

It even has a mic injector to route any sound from your mic to your virtual audio cable.
Pros:

Exp soundboard is an open-source application. You will find no challenge or limitation when using it.

You can easily import or export any of your playlists.
Cons:

It runs pretty slow.
User rating:3.8 out of 5 stars
Most of the users who make use of the application rate it in 4 stars, which shows us that it is a pretty good option; read more to find the best of all!
Which Soundboard Website is Better?|EXP VS 101>>
Part 2: Guide of Set Up Exp Soundboard
EXP soundboard is a digital assistant that can help you create content with sound. It enables you to turn your ideas into captivating videos and audio content. How cool is that!
Step 1: Download & install the free application on your required device— don't forget to download the VB-Audio cable as well.
Step 2: After installing the VB-Audio cable, make sure to restart your PC.
Step 3: Now go to setting, search for "recording devices," and open it up.
Step 4: Go to the recording tab and hit the properties button at the bottom right corner of the window— make sure to keep the microphone selected during this step.
Step 5: A new window will open. Go to 'Listen' and check the "listen to devices" checkbox. Simultaneously, change the default playback to 'Cable input' —this will show up in the dropdown menu. Hit apply now.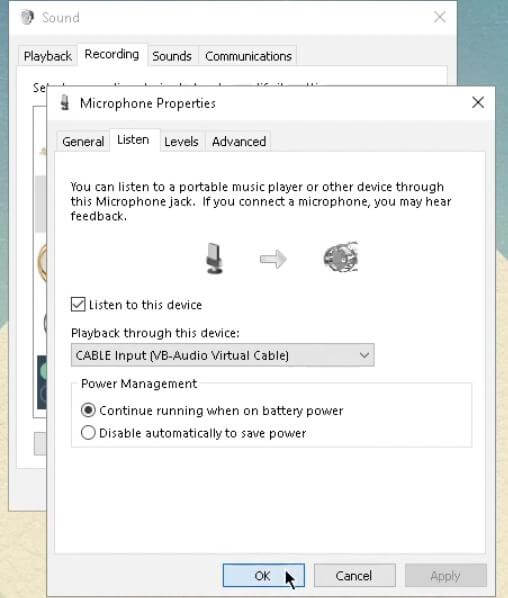 Step 6: The recently opened window will vanish, returning you to the previous window. Here select 'Cable Output' and set it as default. Finally, open the soundboard exp.
Step 7: Select' Cable Input' for 1st Output from the dropdown menu. In 2nd Output, choose your headphones. Check the 'Use' checkbox immediately next to the 2nd Output dropdown.

That's all! Everything is set up; just start enjoying it!
Part 3: More Alternative Soundboard Apps Selections
Magicmic is one of the most soothing and captivating ways of creating mesmerizing sound effects. The feature-rich operation of magicmic ensures a way better experience than even soundboard exp. Whether you need assistance with adjusting levels or applying various effects, magicmic will do wonders for you.
You can find multiple other options in this article, but the mouthwatering experience offered by magicmic is unprecedented. Extremely high useability, exceptional responsive layout, quicker and easier layout set things right from the start. 
Why We Highly Recommend MagicMic:
Magicmic comes equipped with a wide range of voice changing effects that are updated, and newer ones are added on a weekly basis.

If you're struggling to pick the required sound; let Soundboard Selection Dice play the magic for you by automatically selecting the most suited one.

Magicmic comes with the functionality to download soundboards from websites in real-time.

Hotkey functionality has also been added to magicmic for a hassle-free voice changing experience.

Import either your own voiced files or any local music ones to be used in magicmic.

Magicmic offers a free version to you can experience real-time usage before even spending a penny— even premium membership is extremely inexpensive in comparison to cost to value ratio percentage.
In addition, tons of other pros will fall into your bucket as soon as you sign up for it. Just give it a try, and your pocket will thank you later.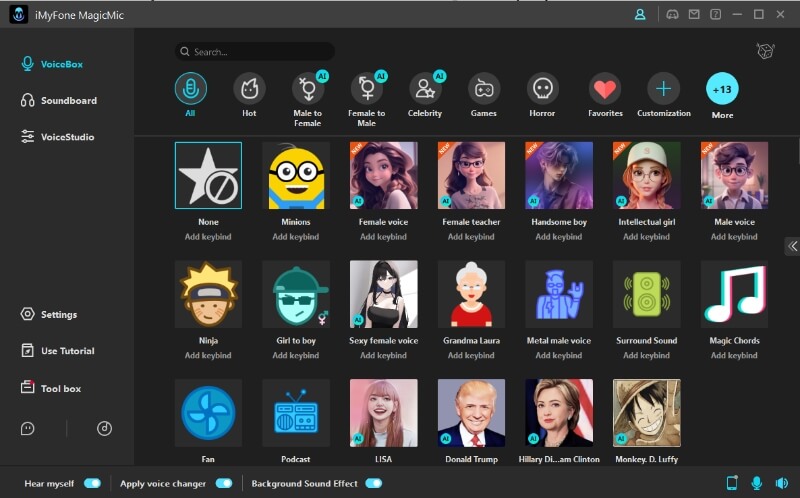 Soundux is a cross-platform soundboard made for the ease of users. The soundboard is open source and enables people to play a sound using a hotkey.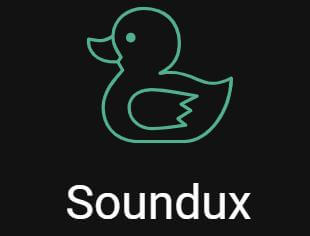 Pros:
Soundux is a soundboard for professionals and businesses that contains over 350 inspiring sound effects.

The interface is easy to use and provides an excellent way for working on advertising campaigns, presentations, public speaking, and more.

Soundux offers professional expertise in the audio industry by providing tools for creating sounds and recording them without having to learn any complicated processes.
Cons:

Another disadvantage is that the quality of recordings can often be lower than other similar platforms as well, which can cause a lot of frustration for people with strict quality standards.
Clownfish is a software program that is designed to change your voice into something that sounds like a clownfish. It's not just for funny purposes, but because it can also be used for other use cases such as voice-overs for radio, podcasting and singing.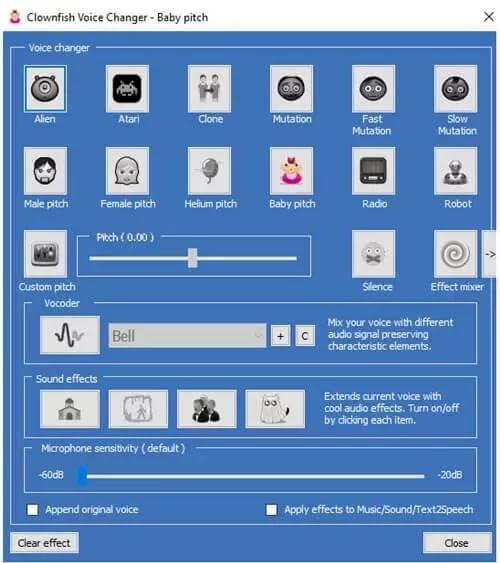 Pros:
Clownfish voice changer offers many unique features, such as changing your pitch or speaking speed.

It provides people with a sound player that has both management and built-in audio.

The music player has enhanced audio control, which is good because it makes your editing easier.

It has VST, which is a Virtual Studio Technology and supports multiple plug-ins.
Cons:

You may find the language a bit challenging.
JN Soundboard is a program that uses hotkeys to play sounds into a chosen device. It's similar to EXP Soundboard, however, it comes loaded with extra features and is not as cross-platformed as EXP. Developed in the C language, it allows you to play various soundbites and audio clips via hotkeys without the need to use an outside media player.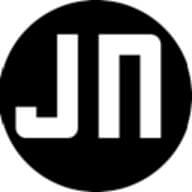 Pros:
Through JN Soundboard, you can play sound through any sound device.

You have the option to restrict hotkeys so that the hotkeys are only played when a certain window is in the foreground.

Has the capability to loop microphone sound through playback device.
Cons:

Only adds one sound at a time.
Developed to run on Linux, Caster Soundboard is a cross platform soundboard and works well with other operating systems as well. Designed for professional podcasting, this soundboard let's you trigger sounds through keyboard hotkeys. It allows you to remotely control the soundboard with your phone or tablet using any app that supports open sound control.

Pros:
Caster Soundboard can be controlled through your mobile phones and tablets using Open Sound Control apps such as TouchOSC.

Provides the ease of soundboard profile saving.

It gives you an Open Sound Control API.
Cons:

The C++ Programming language used in the software can be difficult to understand for many.
The Bottom Line
Now you know how you can make use of multiple soundboards to download playlists, make changes to them, and even use voice changers. From the list of voice-changing websites and applications we have here for you, iMyFone MagicMic is known to stand out! With its excellent and easy-to-use interface, one can make use of it for various reasons, from pranking friends to listening to calming clips. It has it all!