Have you ever made a prank call and tried to mask your voice with a handkerchief or by talking through your nose?
Well, there's no need to struggle with changing your voice manually when there are so many prank call voice changer app options for both Windows PC and phones.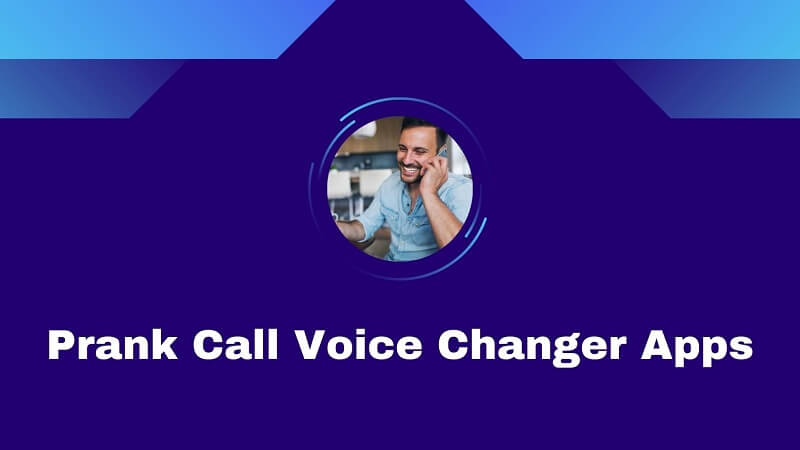 These prank call voice changer apps will give you hours of fun with the range of voice-changing options they offer. So what are you waiting for? Let's jump right in!
Part 1: Helpful Voice Changer to Apply Prank Call Voices on Desktop and Phone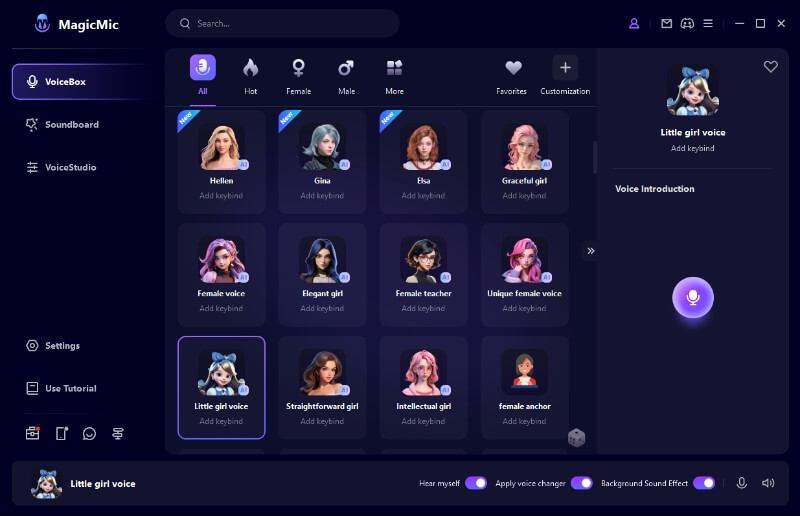 Using a prank call voice changer for your friends and family is certainly fun, but an even more powerful way to do voice change for voice chat,gaming live on various platforms on desktop. iMyFone MagicMic voice changer is one of the option.
Features

It comes with 225+ voice effects and some of them comes with background sounds so that you can change your environment sounds.
With iMyFone MagicMic,you can set hotkeys to control 225+ voices and 600+ sound effects so that you won't be interrupt during gaming or live.
You can create your own voice and preserve and name for it.
It also works with record and pre-record voice changing with multiple voice changing effects.
Pranksters can change their voice in real-time during a call.
It provides a customizable soundboard feature that lets users add sound effects, background noises, and pre-recorded phrases to enhance their prank calls.
Watch Video Guide About Mickey Mouse Generator
Pros

It comes with the most voice filters than other voice changers on market

It is also a background music and sound effect player

It comes with noise reduction technology.

It is lightweight which won't occupy the storage of a computer
Cons

It is new software on the market

It doesn't work with phone calls but with video calls.
Pricing Options
5 different free voices everyday.Pro version: $9.99/month, $29.99/year and $49.99/lifetime.
MagicMic voice changer app for ios and android comes with voice recording and audio voice change. Moreover,it's 100% free.But for PC version,it comes with real time voice changing,voice custom, 225+ voices and 600+ sound effects.
Note
Availability
Available for Windows and Mac,iOS and Android.
Part 2: Best 2 Prank Call Voice Changer Apps for iOS
#1: Live Voice Changer - Prankcall by Xiaoxi Zhang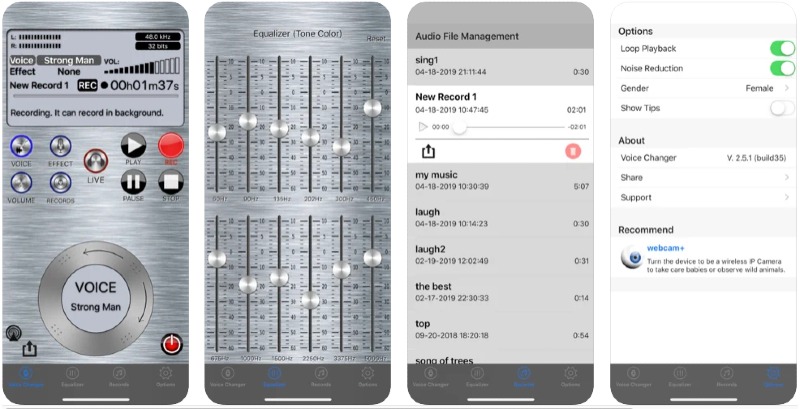 Live Voice Changer - Prankcall is yet another great iOS app to make prank call voices. It has a very sophisticated interface with a ton of different voice changer options, and it comes with an equalizer that lets you change the tone color while on a call or when recording your voice.
Features

11 live voice change options for mobilephones.
You can tune the tone color with a special designed 12-band equalizer to make voices more natural.
Its live mircrophone comes with 15 reverb effects so that your voice can be heard more great.
It can be used as a voice recorder.
Pros

It can be used as a live voice changer,sound player and voice recorder.

It offer you reverb effects to make your tone color better.

It supports bluetooth and airplay output device.
Cons

Live mode voice changing is a paid feature

All advanced features require in-app purchase
Pricing Options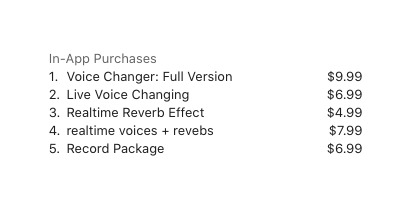 Free to download. Extra features are paid options (in-app).
Availability
Needs iOS 10.0 or higher version
#2: Call Voice Changer - IntCall by Astra Communications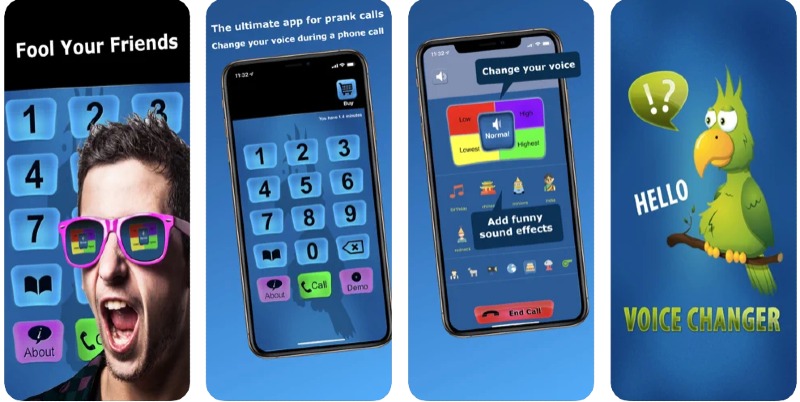 Features

Real-time voice change options for mobilephones.
It can be used as a background sounds player for calls.
You can play fun sound effects like cartoon characters,birthday songs and so on.
Pros

It works with iOS devices.

It offers real-time voice change on phones that you can alter your the pitch of your voice easily.

It supports voice change,background sounds,sound effects playback for calls.
Cons

Only a few free minutes, then you pay to buy more

It is only works with calls,cannot be used on other platforms
Pricing Options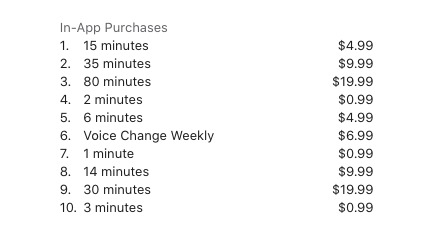 Free for 3 days with the limited minutes
Upgrade to Pay As You Go or Subscription (certain countries only)
Availability
Needs iOS 9.0 or higher - current version (15.0) optimized for iOS 14.0
Part 3: Best 3 Prank Call Voice Changer App for Android
#1: PRANKDIAL - Prank Call App by Lavalsoft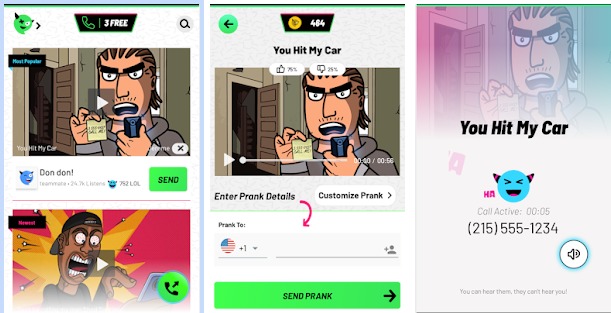 PrankDial gives you three free prank calls per day that you can send to people on your contact list. It includes pre-recorded calls in someone else's voice and features classics such as "Why you call my girlfriend?" and "You hit my car!"
Features

Over 150 recorded prank calls, new ones added regularly
Record and share reactions to your prank calls
You can enjoy 3 free prank calls a day
Pros

Lots of options to choose from for prank calls

You can listen to the hilarious prank call reaction and share it

You can save reactions to prank call history
Cons

In-app purchases are expensive

Doesn't work well 100% of the time
Pricing Options
3 free calls a day, after which users have to make in-app purchases for $2.99 - $31.99 per item.
Availability
Needs Android 4.4 and higher
#2: Prank Call Voice Changer App By Ownage Pranks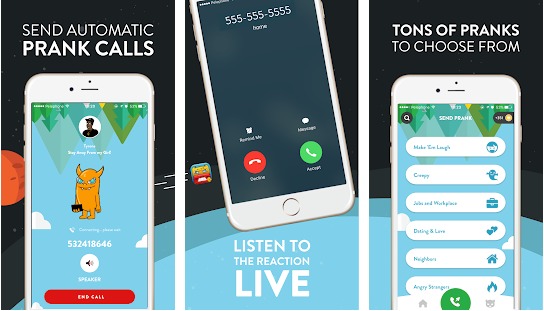 This prank call voice changer app for Android allows you to make up to five free calls, after which you can make in-app purchases to increase the limit. This app is quite unique because it comes with prerecorded prank voices like Angry Boyfriend and Old Lady.
Features

Prank calls prerecorded with professional voice actors
Daily free credits
Prank-call from other numbers
Pros

Unique prank-calling

Realistic background noises
Cons

Free credits features don't always work

Credits are deducted for hang-up and no answer
Pricing Options
Buy credits in-app - ranges from $0.99 - $27.99
Availability
Needs Android 4.4 or higher version
#3: Call Voice Changer Prank by Amaze App Store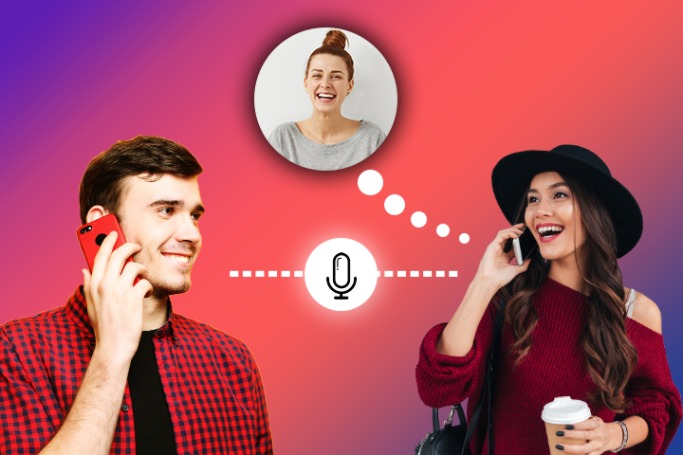 The Amaze App Store call voice changer prank app is unique because you can change your voice for incoming calls. Prank anyone who calls you by triggering this app. You can also record the call with the changed voice and laugh over it with your friends.
Features

Change voice during incoming call
Settings for triggering voice change
Record prank calls and save them as audio file
You can apply funny effects during using this app
Pros

A unique feature to prank inbound calls

It is voice generator,sound effect player,and a voice recorder

It also helps to do video voice change.
Cons

No outgoing voice changing option

Doesn't always work on calls but works on the recording
Pricing Options
Free - ad-supported
Availability
Needs Android 4.0.3 or higher version
Part 4: FAQs about Prank Calling
What are some funny and awesome prank call ideas?
Pretend you're calling from a radio station and tell your friend they've won tickets to an upcoming concert in your city!
Do the "You called me" routine: Confuse the heck out of your friend with this classic. Just call them using a voice-changer app and ask "Who's calling" when they pick up. Let's see how long you can keep it going with the back and forth "you called me", "no, YOU called ME" before they figure it out!
"You hit my car": Pretend you're an angry guy shouting at someone for denting their car in the parking lot at the mall. If your friend recently went to the mall, they'll fall for it hook, line, and sinker. But give them a break after a few minutes - don't let them sweat it out too long. Download PrankDial on Android for a prerecorded prank!
What is the best fake caller ID app?
The one from Ownage Pranks above (the first one in the Android list) is terrific for this because you can keep changing your number each time you call. You may have to make an in-app purchase for additional numbers but it's soooooo worth it!
Can prank call voices be used in real-time calls?
Yes,You can apply prank call voices in real-time during phone calls using MagicMic, allowing you to pleasantly surprise and entertain your friends and family with unexpected voices.
How to change voice on other platforms like Discord?
Then you need a real-time voice changer,iMyfone MagicMic will meet your need.Also, Voicemod,MorphVox pro and Clownfish are suitable.
Conclusion
All these are great prank call voice changer apps to make prank call voices, so all you need to know is what specific features you need to execute your Master Prank on all your friends. But watch out, they're going to be making similar plans to fool you, so be wary the next time you pick up a call. It could be your turn next!