You want to show your excellent performance with your friends or become an influence on YouTube, capturing your gaming talent requires an exceptionally trustworthy game screen recorder that can tolerate the complicated gaming procedures and promises high-resolution gameplay.
Now you can find a ton of game screen recorder PC claiming to be the best ones but finding the right ones becomes challenging. Worry not because we bring you some tried and tested gameplay screen recorders with excellent features to make your day. So, let's begin:
10 Best Game Recorders For Windows And Mac
Professional gamers prefer iMyFone Filme for its extraordinary screen recording quality and the reliability factor that it promises. The software comes with a user-friendly interface along with advance and professional features.
This software is loaded with many video editing features, making it the favorite among professional gamers.
iMyFone Filme Game Recording Features:
The recording of the whole and partial screenplay is possible

You can add transitions, effects, and text formats easily

Powerful enough to support numerous file formats

Lets you create a slideshow of your gameplay with multiple audio tracks, including voiceover, music, and other sound effects
Pros:

Easy and secure interface

Allows direct video sharing on all major social media platforms

The Fast Video mode is super convenient even for the new users

Unlimited time for gameplay recording
Cons:

Limited features are available in the free version

Watermark appears in the free version videos
You can capture your gameplay with the rich features of the Icecream Screen Recorder. You can record your video tutorials, gameplay, Live Streams, and much more with the software. The scheduled time lets you start recording on your set time.
The software gives your recorded video a complete editing overhaul for immediate sharing on your YouTube channels.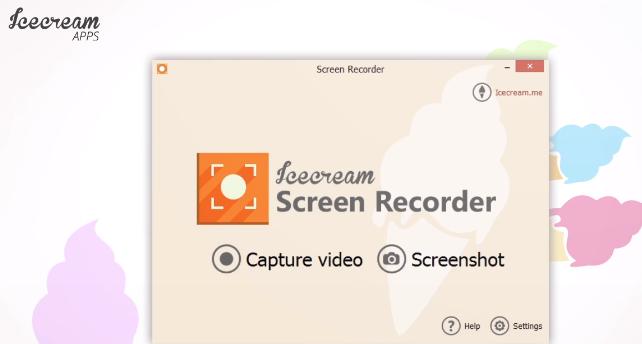 Features of Game Recording:
HD quality professional video recording results

60FPS gameplay in full screen

Offers unique editing features to manage, convert and trim videos

The files could be shared instantly by using URL link

It comes with varying webcam inputs which lets you record audio and video more specifically.
Pros:

Lets you select the output quality

Can record full-screen 3D games

Video can be saved in GIF Format

Watermark of your own could be applied
Cons:

The sound quality needs to be improved in the free version.

The MP4 and MKV file format are only available in the paid version.
Action is highly popular among gamers, and its ultimate high definition screen recording is gamers' favorite feature. Along with the screen recording option, the software allows streaming and editing in more than one video format, I.e., AVI and MP4. The professional-level features let you edit backgrounds, record screens and webcams as well.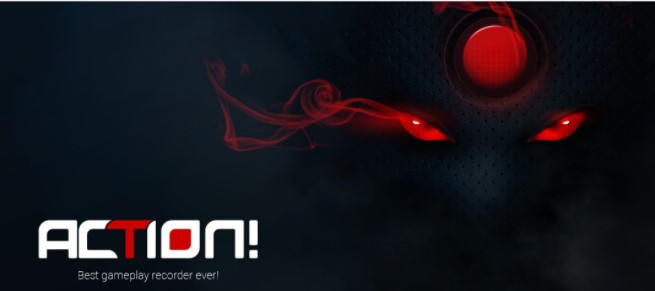 Features:
Its amazing features include exporting videos in various popular file formats. The live streaming could be directly shared over the internet once your video is ready. On the other hand, the current and average frame rates on videos allow for exact recording time.
Pros:

Can add live commentary in your videos

Free trial is longer than its counterparts

Powerful, stable platform to record game videos

Lets you use the slow-motion effect of recording

Adjustments while recording can be made through the mobile app
Cons:

Frame rates cannot be customized

Only 10 minutes of record time is provided in the Free version.
Bandicam for windows is undoubtedly fantastic software to capture your incredible game moments. It has filled the void of limitations that gamers experience with other game recorders. Screen recording with Bandicam means no unusual hangs and messes as the software is powerful enough to handle 2D/3D games without much difficulty.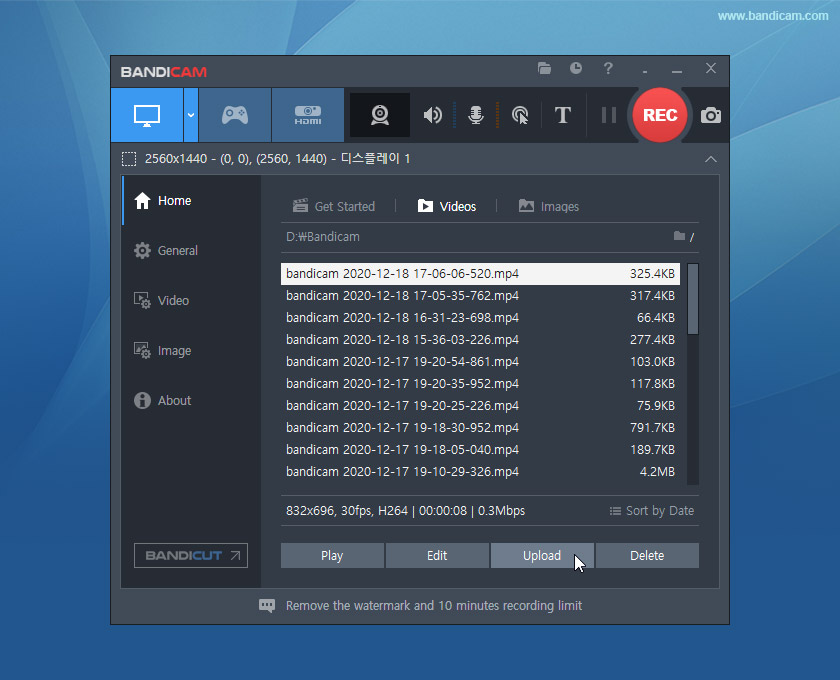 Features:
It uses hardware accelerated H.264 encoder to ensure excellent performance. It's one of the best software to record gameplay as it has many impressive features, such as the 4K ultra HD resolution with a high compression ratio.
Pros:

Compression feature delivers small size files with outstanding quality

Allows screen recording from external sources such d Xbox, PlayStation, smartphone, etc.

Provides real-time drawing, audio editing, and webcam overlay effects.

Recordings could be scheduled for future times.

Screenshots can be saved in JPEG, PNG, and BMP Formats.
Cons:

The free version watermarks the videos

The software is quite costly

The live streaming option is not available
The easy gameplay recording is no longer a dream, thanks to Dxtory. The simple and lightweight software delivers the best quality videos in no time. It collects all the data directly into the surface memory buffer, giving it a high processing speed.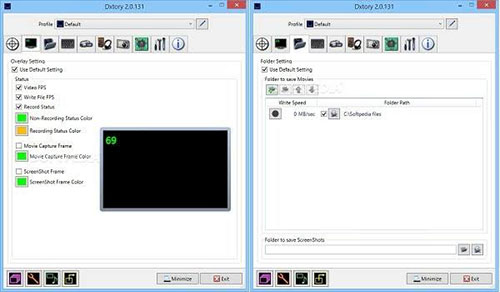 Features:
Its advanced features are enough to leave you in awe of its robust capabilities. The video setting allows customization of video codec and frames from 10 to 120 seconds. The VFW codec can be selected on your own with the option to put pressure on GPU or CPU for recording.
Pros:

Video sizes, frames, and formats could be customized conveniently

Double sound recording options, I.e., game sound and microphone

Clear and simple user interface

Multiple versions could be covered on a single license
Cons:

Constant trial notifications sometimes get on the nerves

A bit tricky for beginners
OBS is the go-to software for compassionate gamers. The open-source flexible game recorder allows both live streaming and video editing as well. The users only have to make some selections for the source and start recording. It allows seamless video production, which could be trimmed, combined, and edited accordingly.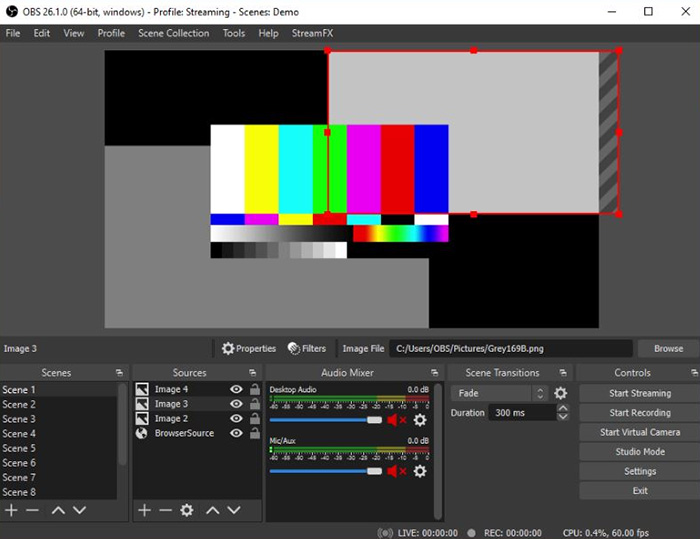 Features:
The recordings are capable of MP4 and FLV format with a ratio of 1:1. The Picture-in-Picture mode, Custom Watermarks, and Push-to-Talk mode allow excellent video recording and saving features. It gives high-quality streaming using the PC's GPU. Noise suppression and audio mixing are other praiseworthy features.
Pros:

Best free game recorder available for everyone

Layouts could be arranged as per the preference

Compatible for multiple platforms such as Windows, Linux, and Mac.

Allows plugins that can double your fun
Cons:

Files become larger after recording

Built-in editing functions are absent
This software is incredible to own as this live streaming software offers excellent support to record the gameplay. The streaming to Facebook and YouTube has become extremely easy with ManyCam. You can use the software for free, but the license purchase would be required at one point.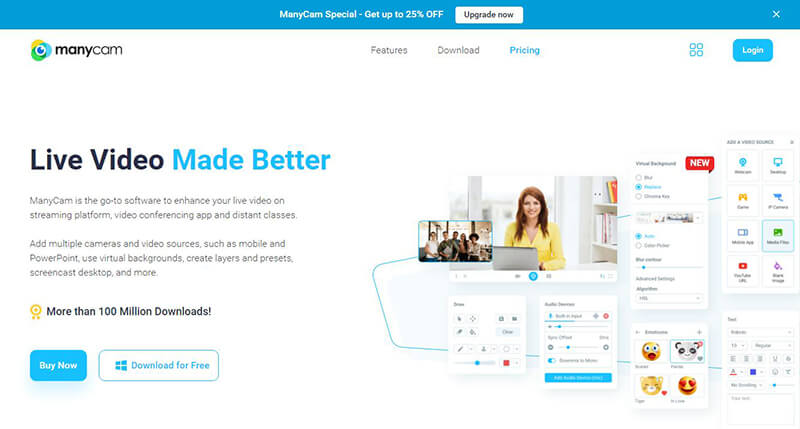 Features:
ManyCam is a capable tool that provides WMV and AVI video recordings, a bitrate setting, and excellent editing features. The blurry backgrounds can be replaced in a jiff, and 3D filters and masks make it even more awesome.
Pros:

Windows 7, 8, 10, and 11 (most likely) are supported

Dual functions of live broadcasting and game recording

Capable of Yahoo and Skype messenger syncing

Rich features to enhance the experience
Cons:

Costly compares to the similar software amiable on the market

The paid version has to be bought sooner or later
The advanced streaming software produced by Mac has got everyone's attention since its release. The quick screen recorder lets you have your videos ready in no time. Being one of the best video converters for Mac OS, it uses the latest technology to connect the content over the internet.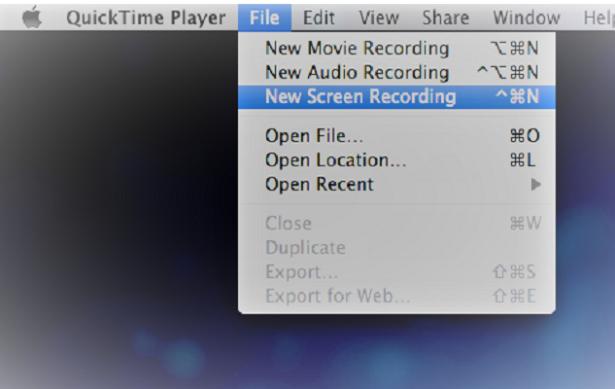 Features:
The onscreen controls used by QuickTime are similar to that of DVD and CD players. It can handle digital videos, picture sounds, panoramic image, and their interactivity. Moreover, narrations in the video are also allowed.
Pros:

It has made video playing, editing, and sharing over the Mac platform extremely convenient.

Streaming to Apple TV is possible.

Share videos directly over social media platforms

Offers advance features of flip, rotate, trim, etc.

A reliable platform that could be enjoyed free of cost
Cons:

Limited editing and recording functionalities

Supports small interface
If you are looking for the best HD game screen recorder for Mac, consider your search ended. ScreenFlow brings super-advanced features to record games on Mac. Not only it brings high-resolution videos for you, but it also lets you share your skills all over the internet without any complications.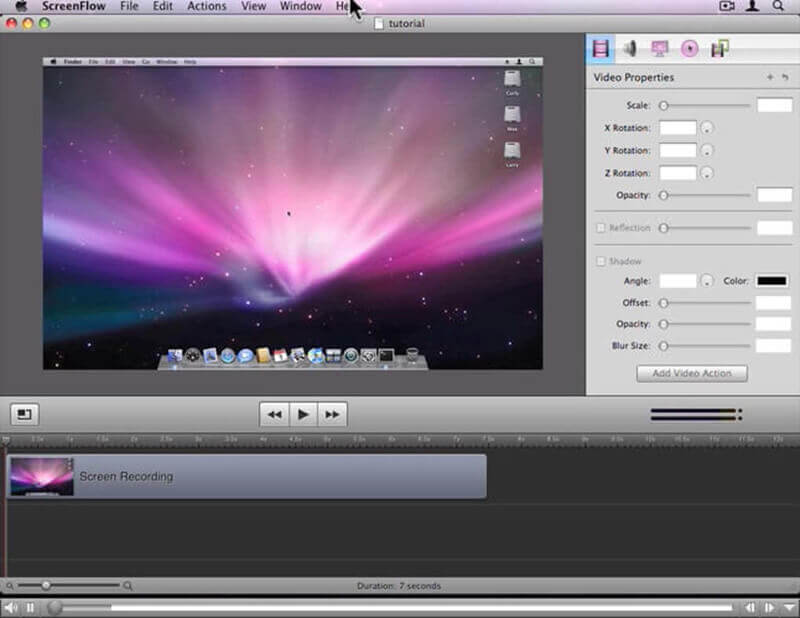 Features:
It records the videos in 720p resolution, which could be arranged systematically in a library. You can combine various videos and change the audio of the clip using ScreenFlow. It has made creating high-quality retina videos easier and quicker.
Pros:

It consumes less CPU and RAM space, making it a lightweight software

It has impressive voice recording features.

The attractive logos, titles, transitions, etc., make it exciting software.

Sharing on Vimeo, YouTube, Wistia, Dropbox is easy and fast.
Cons:

Requires heavy payment to use advanced features

Through customization is not supported
If you need quick software, ScreenFlick might be the answer to your prayers. It is an excellent screen capturing app for Mac OS that works by just clicking on some boxes to import an external voice in your videos. You can also record your microphone audio.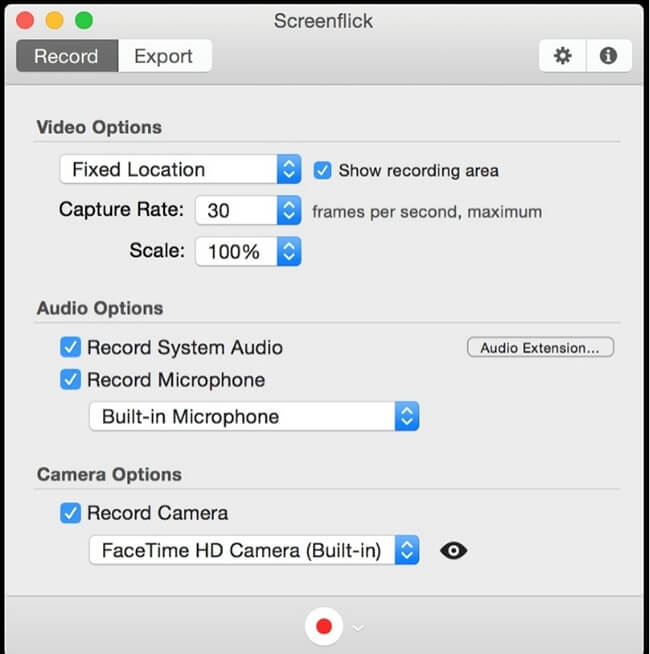 Features:
It allows gameplay recording along with game audio, voiceovers, and team connect on Skype or Discord.
Pros:

User-friendly and streamlines interface

Powerful enough to support 3D gameplays, video chats, training sessions, and much more.

60fps gameplay recording along with game or microphone voice recording
Cons:

Comes with watermark videos in the free versions.
If You Don't Want To Install Game Recording Software, Use Xbox Game Bar
The game recording is a sport many enjoy. Therefore Xbox makers have brought relief for the gamers by adding Xbox Game Bar to record your game-winning strategies and daring game moments using a built-in Game Bar in Windows 10.
It consists of excellent video recording and editing features that completely put an end to download any other app. Ace its usage, and you can create excellent gameplay without needing a video game screen recorder.
So how can you use this fantastic feature?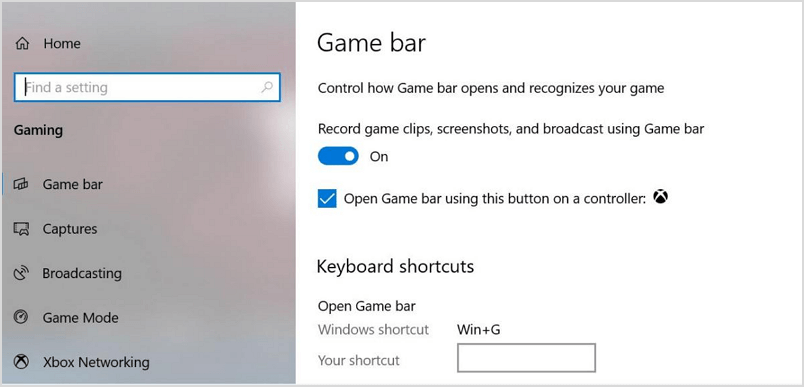 To open the Game Bar on your screen, click the Windows and G on your keyboard together.

You can manually open the Game Bar by following the below-given steps:
Click on the Start Menu

Open settings from the cog icon

Select the option 'Gaming.' Keep the switch on the top switched on to record the clips, save screenshots, and for broadcasting.

You can access the Game Bar commands from this page, such as taking screenshots, play and resume screen recording. You can also enjoy customized shortcut commands.

Recording your Screen
First of all, minimize all of the windows you are not working at and mute the audios you don't want to record. As only one window can be recorded at a time, so it's better to close other apps and pages to avoid accidental recordings.

Now open the Xbox Game Bar as explained above.

If you wish to add video commentary or voice-over, enable the external audio option. The System Sounds allows you to experiment with the audio volume and other aspects.

Once you are satisfied with all the audio sections, click the Record button to start recording. The shortcut key Windows + Alt + R lets you start recording directly.
Saving The Videos
Now you will come across a pop-up bar with a timer and recording controls. Switch on or off the microphone.

Upon the completion of your recording, click on the stop button.

After that, you can save and find your video in File Explorer.

To directly find your file on the computer goes to This PC > Videos > Captures.
The Game Bar allows only one application recording, and when you switch off the audio, it will still record the system's audio. To master using this function, you will need to experiment with the features quite often.
Also Read:
How to Screen Record in Windows 10 [with/without Xbox Game Bar]
Final Check: Which Game Recorder Is Best For You?
If you are looking for a game screen recorder download for PC or Mac, you now have enough options to choose from. From advanced robust software like iMyFone Filme to simple ones like ScreenFlick, all the game screen recorders can help you create beautiful high-quality videos.
If you want to make some dollars out of game recording, go for professional ones such as iMyFone Filme; otherwise, you can also start with the basic ones.