Icecream Screen Recorder is a free screenshot and screen video capture software available for multiple platforms. It is widely used by gamers for gameplay streaming, by professionals to create tutorials and livestreams, and by businesses to record webinars and such digital events. It is a versatile platform for a wide range of users who need a robust tool for screen capture with audio.
Icecream Screen Recorder Review: Relevant Product Information
The screen recording app is relatively lightweight at only 11.6MB (Mac version). It is also available for Windows and Android. The software is available under a freemium license, which means you can use all the basic features free of charge and only upgrade to the Pro plan if you require advanced features like unlimited record time, multiple video output formats, additional video codec options, video conversion, scheduled recordings, etc.
The free version gives you up to 5 minutes of screen recording time, which is a reasonable amount for light usage. However, your output and codec options are limited to WEBM and VP8, respectively.
If you upgrade to the Pro plan, it costs $29.95, which is a one-time fee for lifetime use and covers up to 2 systems for Windows users. There's also a bundle for $49.50, for which you get all of Icecream Apps' other software, such as the eBook Reader, PDF Editor, PDF Converter, and so on.
Download page: https://icecreamapps.com/Screen-Recorder/
Both versions give you access to all the basics, which include:
Full-screen and selected-area recording

Audio recording from a built-in or external microphone (with system sounds)

Annotations on your recordings

Add webcam overlays on screen recordings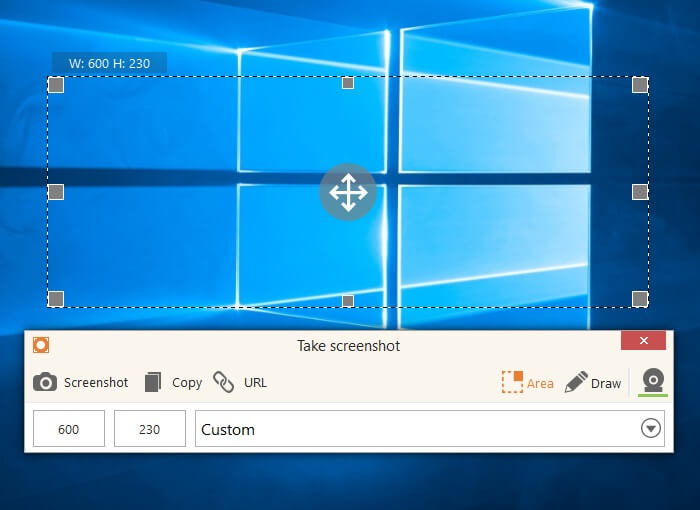 Why Choose Icecream Screen Recorder?
While doing the Ice cream screen recorder review, we realized that it's quite hard to find a robust screen recording tool that works well and is inexpensive. Most of the ones we saw were either lacking in key functionality or were too expensive. That's why we recommend trying out Icecream. You get access to a whole range of useful features. Aside from the ones we mentioned above, the Windows version offers much more:
Choose the last area that was recorded to record a new video capture

Record games in 3D with the PC screen recording tool

Include a watermark to protect your screen capture content

Trim video after recording

Convert to a different format after recording

Scheduled screen recordings with the multiple timer option

Key-press display on your recordings so viewers know what you're clicking on

Mouse animation to show viewers your mouse actions

Use hotkeys for recording
One of the biggest benefits is the cross-platform capability. Since there are different versions for Mac, Windows, and Android, you can do screen recordings across all three operating systems with similar video outputs so they can be edited on a different platform without any compatibility issues. The Pro plan gives you access to additional formats and removes all restrictions on recording time, which makes it worth the money. It's also a lifetime fee, which we thought was a great deal for a versatile and multi-terminal utility.
We looked through YouTube and found a very useful video for first-time users of Icecream Screen Recorder. We hope you like it:
What Are Some of the Limitations of Ice Cream Screen Recorder?
No product is perfect, obviously, and Icecream screen recorder is no different. Of course, there are tons of things to love about this tasty product but there are also downsides to it. Here's a quick list of the not-so-great things about this utility.
The biggest gripe from users is the lack of an iOS version

Some users feel that the company can provide live online training for larger groups

Some usability issues when taking screenshots and saving them have been reported

The free version puts a watermark on your screen recordings

Watch out for audio issues when you edit a video

No detailed editing options other than trim video, such as split video, reverse playback, etc.
Looking at it objectively, some of the issues are not product-related but specific to the user. On the whole, we found that the benefits of using Icecream Screen Recorder outweighed the disadvantages, so we would definitely recommend this product, especially the Pro version if you're a heavy user. However, that doesn't mean there aren't better products out there that are equally affordable. And that's exactly what we're going to show you.
The Best Alternative to Icecream Screen Recorder
iMyFone Filme is a powerful video editor for desktop and mobile that comes with screen recording features that match any dedicated screen recording tool. Due to the fact that it is essentially a video editor, it gives you full control over your screen recordings after you've made them. You can add text, effects, transitions, and even audio tracks. You also get access to a range of editing tools. Here are some of the key features of iMyFone Filme:
Key Features
Dozens of video, image, and audio formats are supported for input/output

Full suite of video editing tools - split, trim, reverse, speed control, contrast, brightness, etc.

Convenient screen capture tool for doing screen recordings

Multi-track timeline editing for video and audio

Audio editing options available

Large library of filters, effects, audio, transitions, text, animation, etc.

Easy drag and drop method to add media

Fast Video Mode to create instant video slideshows from existing content
The process of creating a screen recording is simple. Just follow the steps shown here:
Step 1: Install and launch iMyFone Filme on your PC. Above the timeline (bottom portion of the screen), you will see a video recording icon. Click it.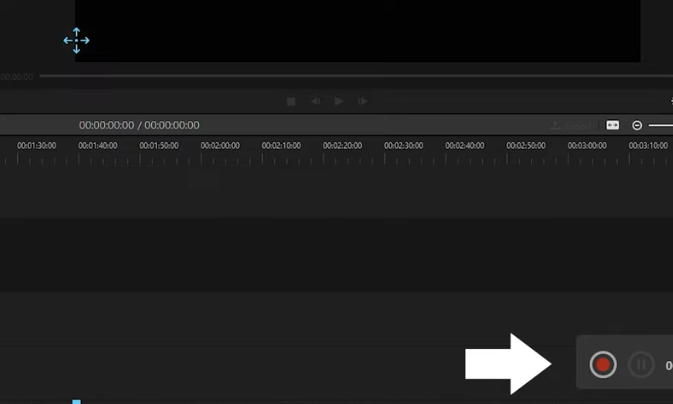 Step 2: You will now see a selection area that you can resize and move around to position at the exact part of the screen you want to record.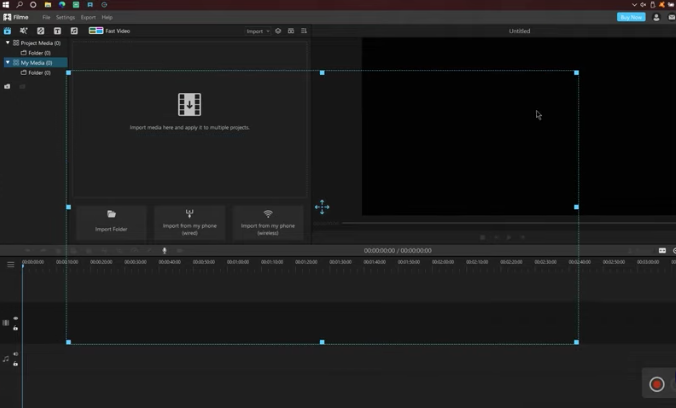 Step 3: On the bottom right, you'll see a Record and Pause button. When you're ready to record, hit the Record button. The countdown timer gives you time to switch windows and have the required window to be displayed on your screen.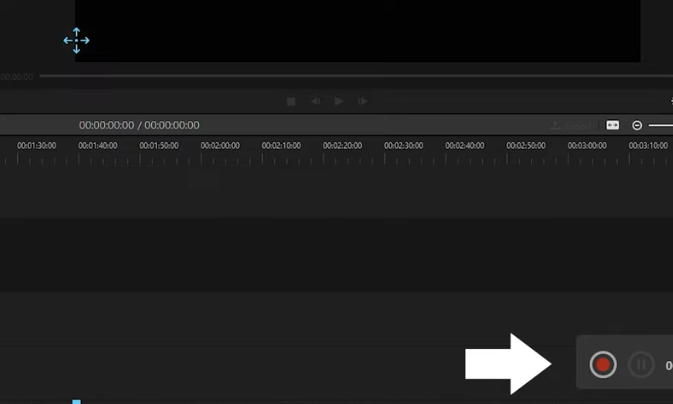 Step 4: Once you stop the recording, the video will be processed and you will see it on the timeline, where you can make further edits or add audio.
Step 5: To record an audio track, simply click the Mic icon next to the video recording icon and click the Record button in the popup window when you're ready. You can play the video while recording so the video and audio sync up to each other.
Step 6: After recording the audio, you'll see it on a new audio track next to the video track in the timeline. You can edit either one by double-clicking the track and then using the editing features in the panel on the top right side of your screen.
FAQs on Icecream Screen Recorder for Windows 10
Is Icecream Screen Recorder safe?
Yes, since Icecream Screen Recorder is proprietary software, it will have the required security patches when you download the current version. Make sure you keep your software up to date, accepting any update notifications when they come.
Is Icecream Screen Recorder updated frequently?
Since the product is in active development, you will get regular updates that you will need to download and install. The software will notify you when an update is available, but make sure you read the changelog so you know what the update contains.
How does Icecream Screen Recorder compare to the competition?
There are several free screen recording tools available, but most have very basic features. Icecream Screen Recorder offers these same features but a whole lot of additional capabilities. You can also upgrade at an affordable price to get even more features.
Is there a totally free Icecream version?
Yes. However, your recording time is limited to 5 minutes and there will be a watermark applied to all your videos. In addition, you only have one output file format option and one codec option. The advanced features are not available in the free version.
Final Thoughts
If you're looking for a low-cost and basic-featured utility, choose Icecream Screen Recorder. But if you need full editing capabilities with effects, text, audio, and other advanced features, we recommend iMyFone Filme. It is equally affordable and comes with all the tools you need to manage your screen capture videos.