For most avid gamers, game music is as important as the characters, environment, and storyline of the game itself. It brings a new level of excitement to the game and keeps the gamer motivated and in a good mode.
Luckily, there're many online resources offering thousands of game music tracks for free. With plenty of video game music download websites vying for attention, we've handpicked the best sites where you can download your favorite game music.
Let's cut to the chase.
Part 1: 5 Best Sites to Download Video Game Music
Here the 5 most sought-after websites to download royalty free video game music. Let's read them up.
Founded in 2008, Bandcamp is one of the best sites to download epic video game music with no technical hassle. The Bandcamp accounts are 100% free and you can buy game music for $0 and download it to your computer.
On the website, search for tags like Free and Free Download to find and buy your favorite game without any minimum price. All it takes you to register your email to the artist and start adding music to your collection.
With just $10, you can buy the Bandcamp Pro account to have access to more features.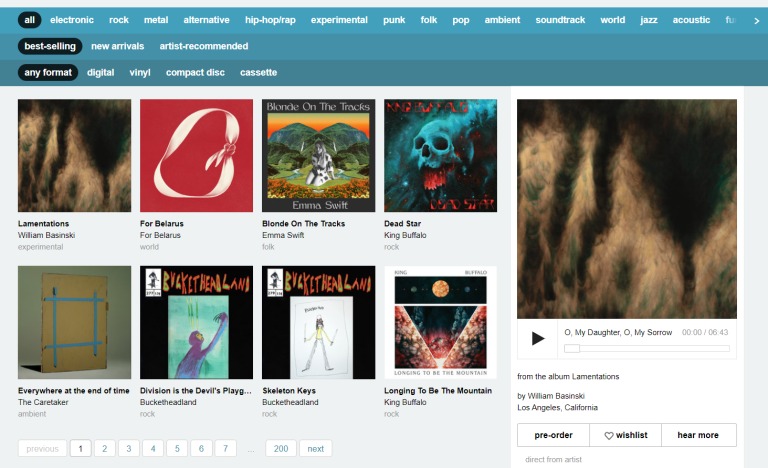 If there was a price for the best video game music mp3, Free Music Archive is always going to be a favorite competitor. Established in 2009, FMA is an online repository of royalty-free music that lets game lovers download legal, high-quality music.
Its simplistic and intuitive interface makes it ridiculously easy to search your favorite game music through specific genres, curated collections, or trending music. Like most game music websites, it also offers premium services for users looking to access extra features.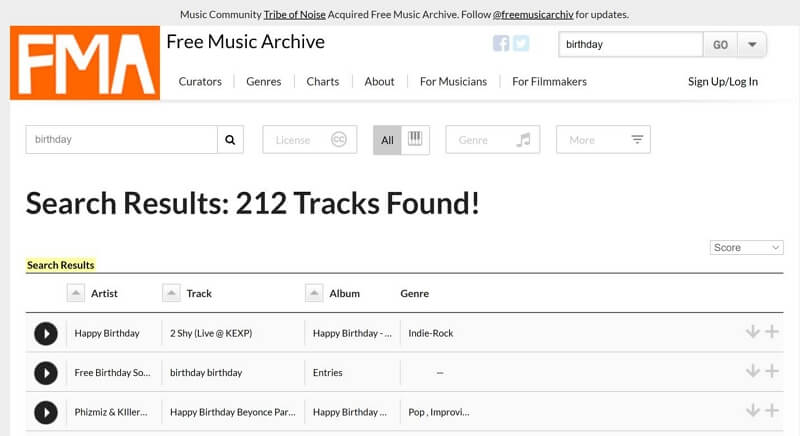 Created in 2008, Audio Jungle is a is video game music copyrighted website offering all the genres of game music you could wish for. It has an ocean of 1.3 million tracks and sound effects starting from as low as $1.
What sets it apart is it offers a weekly summary of popular files and the weekly and annually lists best-selling songs in each genre.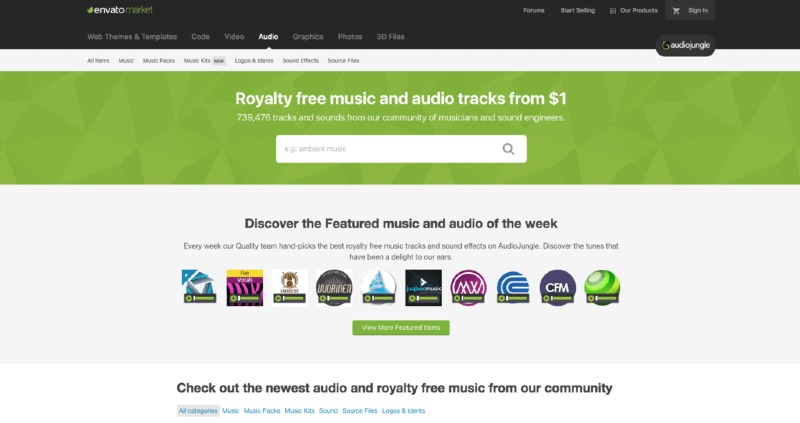 Mixkit is a royalty-free website that provides over 1000 relaxing video game music tracks that you can download for free. Whether it is pop music to heavy metal or vocal to instrumental tracks, you're going to find plenty in their collection
Game lovers can listen and download a track without signing up and can distribute or perform the track on any platform.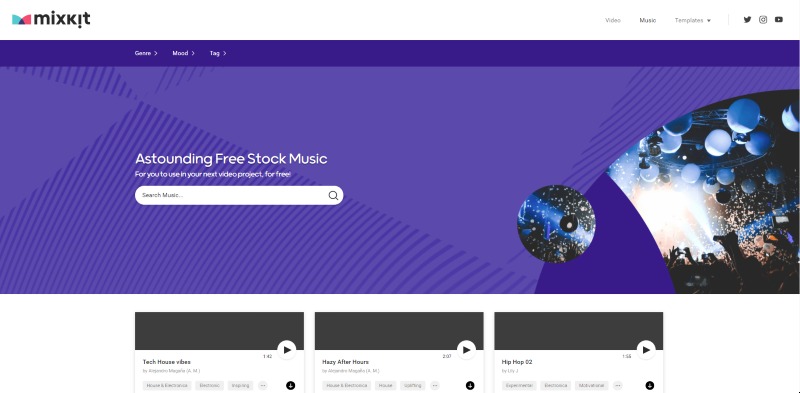 The name needs no introduction. Being the most popular video streaming platform, it has also got a huge pool of amazing video game music for studying that won't let you down certainly. Use filters to make the search process quick as effective.
All you need to do is log in to your YouTube account and access Audio Library from the left menu.
Also Read:
5 Best Sites to Find Free Music for Your Vlog
Adding Music to Facebook Video | Your Life Made Easier
Part 2: Top 10 Best Video Game Music
Spotify is everyone's favorite when it comes to game music. Here are the top 10 best video game music tracks of all time that you can access on Spotify.
1. Super Mario Bros. (1985)
For an avid gamer, Super Mario Bros is a kind of music track that you just cannot get bored of hearing. This classic "do do do do do do do" track makes you smile even when you fail a mission; it taunts you when you have to start all over after running out of lives.
Access this theme here on Spotify.
2. Donkey Kong Country 2: Diddy's Kong Quest (1995)
When you hear the phrase, best classic video game music, there's a good chance the Diddy's Kong Quest tune starts playing in your head. This tune is a perfect blend of a catchy pirate theme with flute and sax medleys throughout.
Spotify URL: Donkey Kong Country 2: Diddy's Kong Quest (1995)
3. The Legend of Zelda Theme
Also known as the "Overworld Theme", it is the main theme for many games. Being a fun and satisfying tune, it perfectly combines puzzle-solving, combat, and exploration tunes to create a charming story.
Spotify URL: The Legend of Zelda Theme
4. PacMan Theme
Having some of the catchiest tunes, it is regarded as one of the greatest themes ever that have been captivating the gamers since the early 80s. No matter which game you're playing, this video game piano musicis bound to complement its storyline and environment.
Spotify URL: PacMan Theme
5. Duck Tales Theme
Also called "Moon Theme", the Duck Tales theme song is still stuck in the minds of thousands of avid gamers. It was originally a theme song for the Duck Tales cartoon season of the 80s and since then, it has been a popular background game music that you should try.
Spotify URL: Duck Tales
6. Super Castlevania IV
This amazing theme outperformed even the visuals of the famous Super Castlevania IV game and its best video game fight music lyrics still grace the background music of many games even after 25 years of its initial release.
Listen to it one if you haven't already.
Spotify URL: Super Castlevania IV
7. Chrono Trigger 1995
One of the masterpieces of classic game music, this tune begins with a soft, ominous tune only to get more bombastic music later on. This wicked game music video reflects an angry character always likely to reach a boiling point – but doesn't.
Spotify URL: Chrono Trigger
8. Halo Theme
This wonderful theme is a trademark choir-heavy theme song that strikes fear in the gamer's heart – and motivates them to go all guns ablaze.
Listen to it here.
Spotify URL: Halo Music
9. Mega Man 2
Being remembered as extremely difficult games, Mega Man games reflect an anxiety-inducing sprint at every stage and this tune perfectly amplifies the storyline.
Love to play breakneck and complex games, this music is going to enhance your focus.
Spotify URL: Mega Man
10. Uncharted: Drake's Fortune
This theme song is famous for building dramatic tension during your gunfight missions. Starting from "getting bad feelings" to otherwise silent sections, this music is ideal for battle royale games like PUBG.
Spotify URL: Uncharted: Drake's Fortune
Part 3: Add Video Game Music to Video with iMyFone Filme
If you are looking for the most efficient and advanced video editor to add game music to your video,then iMyFone Filme is your perfect choice. It's a high-end editing tool offering all the exciting and advanced features to help you create super cool videos and add game music to them with just one click.
Equipped with unlimited filters, themes, and video effects, Filme is all you need to add background music to and edit videos like a professional.
Key Features of Filme
Below features justify why iMyFone Filme is the best Twitter video editor:
Multiple editing modes

Easily add game music to video

Offers thousands of new and exciting effects

Multi-layering of audio, videos, and text

Adjust style and atmosphere of videos

Unlimited video effects and themes

Advanced fast video mode
Pros of Filme

Easy to use

Compatible with all formats

Small in size yet very powerful in functionality

Instant preview of effects while editing
Here's how you add game music to videos using iMyFone Filme:
Step 1
After downloading and installing iMyFone Filme, launch it on your computer.
Step 2
Use the Import Media option to load the video into the program.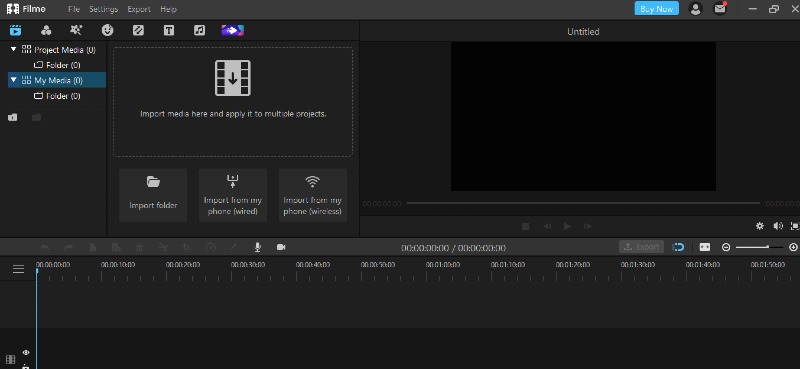 Step 3
Click on the "+" sign on the Twitter video to load it to Filme's timeline at the bottom tab.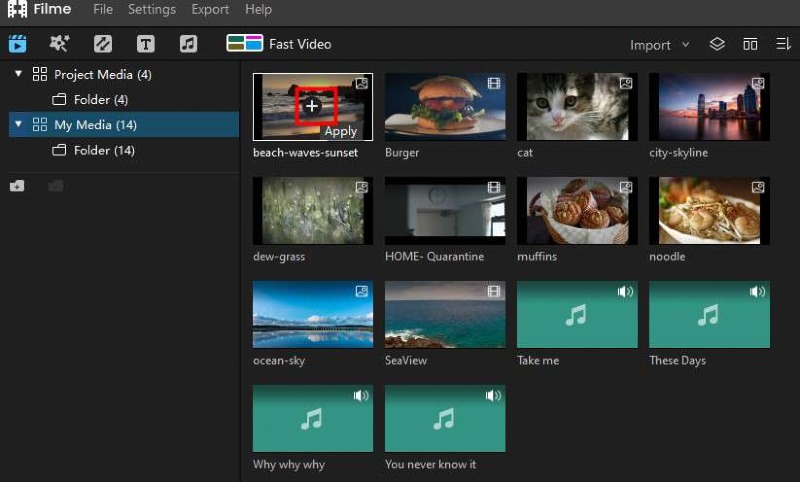 Step 4
Once the video is in the timeline, you can easily add your favorite game music to it. For that, import the game tone to Filme and drag and drop it to the timeline.
Step 5
Now, right-click the audio file and hit on Add from the drop-down menu. The program will add music to your video.
Step 6
Now, click on Export > Export Video at the top tab to download the final product to your computer.

Final Words
To wrap it up, this article has outlined the best video game music themes that still captivate avid gamers. From discussing the top 5 websites to download free game music, we walked you through the best video game music you can find on Spotify.
Want to add game music to videos easily? Install iMyFone Filme and do it like a pro.