If you are looking for a voice changer, you must have encountered Voicemod. It is a very popular tool because of the features, rumors, and various issues users face. Many people say that it is a virus. Therefore, people search a lot before installing it.
In this article, we will discuss whether Voicemod voice changer is a virus or not. We will have a look at the issues. Moreover, we will share the method to uninstall it from your computer.
For your ease, we will introduce an alternative tool to Voicemod, so if you are looking for an alternative voice changer, you can directly skip to that part. Or you can download it for free below and try it our first!
Part 1: What is Voicemod Voice Changer?
Voicemod is a popular voice changer that gamers, pranksters, content creators, and many people use to change their voice in real-time. The advantage of Voicemod is that it can change your voice in an ongoing call or live stream. It is like someone else talking behind the microphone.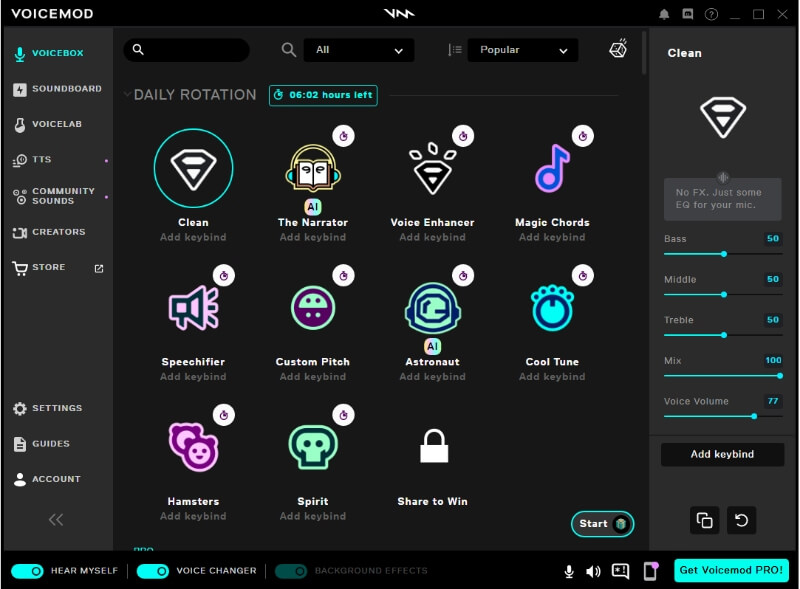 There is a wide range of voice effects available; there is a huge library. You can find the voice of celebrities, characters, ages, and genders. You just need to select the voice effect you need. However, you need to have the pro version to access all voice changers. Apart from voice effects, it also has many sound effects that you can use in real-time. Moreover, you can also be a perfect singer by using the autotune of Voicemod.
You might have seen many voice changers, but the feature that makes Voicemod exceptional is its Voicelab. You can create any voice according to your choice by using its phenomenal tools. There are professional effects that can help you achieve a perfect voice.
Another distinctive feature of Voicemod is that it can be used with many applications. If you are a Twitch streamer, you can use it. It is compatible with many applications, games, and software. Some prominent names are Minecraft, CS:GO, Rust, WhatsApp, Discord, Skype, Omegle, and Audacity.
Also Read:
Part 2: Is Voicemod Safe?
This is a frequently asked question that beginners usually ask. People who have not used Voicemod usually ask this question.
There is no doubt that you might encounter some bugs and issues while installing and using Voicemod. There are some issues with this tool, but it is not a virus. It is completely safe to use.
Users usually complain that they cannot install the tool on their computers. Voicemod is compatible with Windows 10 and 11. If you are using any other version of Windows or macOS, then it will not work. Moreover, sometimes there are issues with the system, or the firewall and antiviruses block Voicemod. You can try disabling your antivirus and firewall for some time.
Another problem with Voicemod is that it runs in the background. Even if you close the window, it runs in the background. Thus, you need to exit it from the taskbar icon. Otherwise, it will keep listening to your microphone and continue its function.
After closing the window, some users check the task manager. They notice Voicemod there and say it is a virus. However, it is not like that; Voicemod works in the background.
Moreover, if you are downloading Voicemod from pirated sites and using it by cracking it, there could be viruses. You cannot trust a pirated site or cracking tools. If you need Voicemod, we recommend you buy from the official website.
Final Verdict
Voicemod is not a virus, and it is completely safe to use. You can use it without any worries.
Part 3: Bonus Tip - If You Want to Uninstall Voicemod
You might have heard that Voicemod cannot be uninstalled, but it is not true; you can uninstall it. However, if you are using the cracked version, there is a different way to uninstall it.
If you are using the premium version, you can uninstall it just like any other tool or software.
Step 1: Click on the Start menu and go to Settings.
Step 2: Click on Apps. You will have a list of all apps installed on your computer. Look for Voicemod.
Step 3: Click on Voicemod. Click on Uninstall. You will have a confirmation message box; click on Uninstall.
Step 4: Grant the administrator permission. Voicemod will get a confirmation for the uninstall; click on Yes. It will take a few minutes to uninstall the tool.
Part 4: What is the Best Alternative to Voicemod Voice Changer
Voicemod has various issues; it does not run on all computers. It also has issues with the sound driver. Many users avoid it because of doubts and rumors. Therefore, we have the best alternative to it.
iMyFone MagicMic works perfectly well and helps you change your voice like a pro. It is an amazing voice changer that almost anyone can use without any hassle. Its simple interface and straightforward steps make everything easy.
Main Features of iMyFone MagicMic
MagicMic is a complete package for changing your voice. It has 20+ voices that you can choose with one click.
Apart from voice effects, it offers 190+ sound effects to make your voice look real and more interesting. It will help you replicate the real background.
It is perfect for almost any purpose. Whether you need to record your voice or change in real-time, it is more than impressive.
You can use it with different applications, games, and tools, including Discord, PUBG, Skype, Twitch, and Fortnite. It makes live streamlining easier than ever.
You have the choice to choose the microphone and output device.
Pros:
MagicMic is available for Windows 7/8/8.1/10/11..

It does not create issues like Voicemod. It is simple to install and use.

The file size is minimal, and it takes less memory.

You can use the trial version before you buy it.

The price of the tool is minimal, which is $4.95 per month. You can also buy the lifetime plan for $39.95.
Steps to Use MagicMic
The steps of using a MagicMic are pretty simple.
Step 1: First, you need to download MagicMic. It will take 1-2 minutes.
Step 2: Open the application on your computer. If you are opening for the first time, it will ask you to select the microphone and headphones. You can also set these things by going to the Settings tab. After opening the application, you will see many voice effects. Click on the voice effect, and it will be applied instantly. Now, when you speak, your voice will be automatically converted.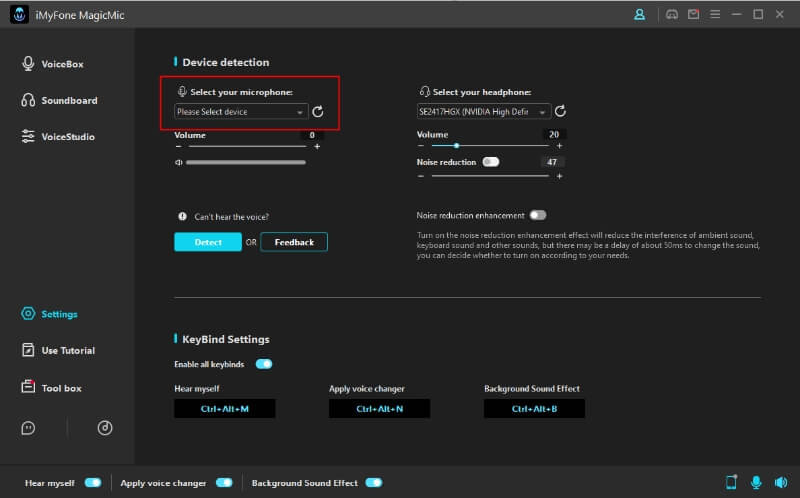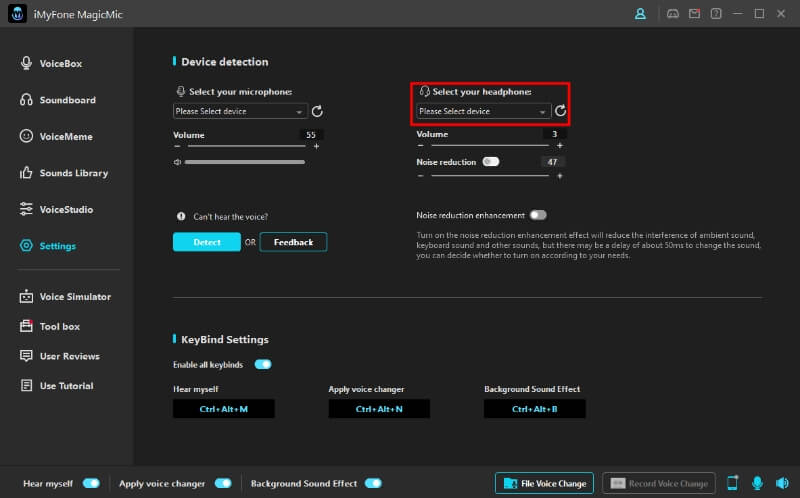 Step 3: If you want to add sound effects, click on the Sound Effects tab. You will have a few sound effects. On the top, you will see categories; you can select any category and then choose the sound effect you like. You just need to click on the sound effect to add it to the audio.

magicmic sound effects

Step 4: If you do not want to hear yourself. Click on the button

Hear Myself at the bottom.

Step 5: Whether you want to exit MagicMic or minimize to tray, click on the close button. Now, you can select the option and click on OK. If you choose to minimize to tray, MagicMic will run in the background and convert your voice.

Also Read:
Conclusion
We have discussed that Voicemod is not a virus. It is just like other tools and software. However, it has some issues and bugs that cause problems for the users. If it is working well on your PC, there is nothing to worry about. But if you are not satisfied with it or don't want to take any chances, we recommend iMyFone MagicMic . It is the best alternative to Voicemod and a simple tool to change your voice in real-time. You can use it without any hassle, and it is compatible with almost all tools, games, and applications.