Voicemod is a tool that people use to transform or manipulate their voices. It offers different voice-changing options along with other sound effects that one can use. However, the free version of Voicemod has limitations. It has few voice-changing options.
Voicemod can sometimes crash or not work, just like other applications. It is not a big deal. In this article, we are going to discuss why Voicemod does not work sometimes and what we can do to resolve this issue. We will discuss some solutions that you can try, and Voicemod will work fine after you perform these steps.
Part 1: How to Fix Voicemod Not Working
Changing your voice and trolling your friends over a call or during a live stream is enjoyable. But what if the application suddenly stops working. It won't be a trick anymore because people will know that you are making a fool out of them.
Apps can stop working overtime as numerous problems can arise during their usage. However, you don't need to worry because this article is about providing the solution to fix Voicemod when it is not working. So, let us see what we can do to solve the problem.
Solution 1: Restart Your PC
If Voicemod is not working, then the first thing you should do is restart your PC. Sometimes rebooting a PC allows software and drivers to boot again, and it fixes the issue.
People often get surprised when this simple trick works. Just restarting the PC makes the Voicemod work again. It is because there might be some drivers or voice issues that need troubleshooting and this restart allows them to reboot. However, if restarting the PC does not work, you can try other solutions that are given down below.
Solution 2: Set Up Your Microphone Properly
The second thing that you need to check is whether your microphone is connected properly and is working properly. Even if your microphone is connected, there could be wrong settings that may prevent the microphone from working. To check your microphone, you can simply press "Windows+I", and it will take you to the settings. Go under the menu of "Sound" and check if the input device is set to your headphone with a microphone.
If your microphone is connected and selected properly, you should perform a test to check if it's working or not. Go to the "Advanced" option and click on "All sound devices". Then go to "Input devices" and select your microphone. Here, you will see an option of "Start test" just below the option of "Format" and "Input Volume". If you have any value ranging above 0% and below 100%, then your microphone is working fine.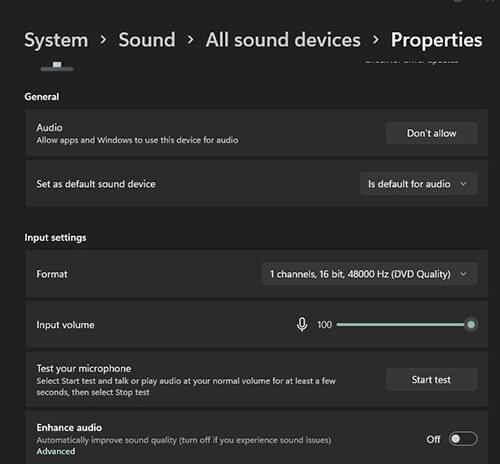 The next thing you need to do is go to the "Sound" option again and click on "More Sound Settings". A small window will pop up. Go to the "Recording" tab and then double-click on your microphone and go to its advanced settings. Change the sample to "2 channel, 16-bit, 44100 Hz (CD Quality)" and click "OK".
Now, come back to the recording tab and select the "Microphone Voicemod Virtual Audio Device", and set it to default. Click "OK". Restart Voicemod and check if it's working or not. It should work. But if the problem persists, then you can try other fixes down below.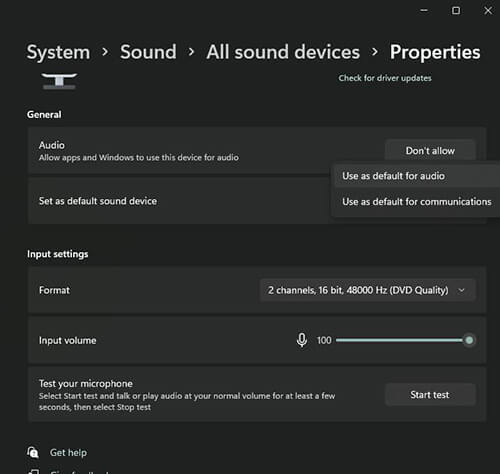 Solution 3: Update Your Windows
p> Windows are provided with updates frequently. What updates do is that they fix some issues arising in terms of security and drivers. It automatically detects the update and updates your windows. Sometimes, updates don't occur because we unknowingly cancel them. Updates usually help the windows to boost up the performance.

To check for updates, you can go to options by pressing "Windows + I". Here, on top of the settings, you will see "Windows update". Click on it and then click on "Check for updates". If there is any update, then update the windows. It will display to you, "You're up to date". Restart your PC and then check Voicemod.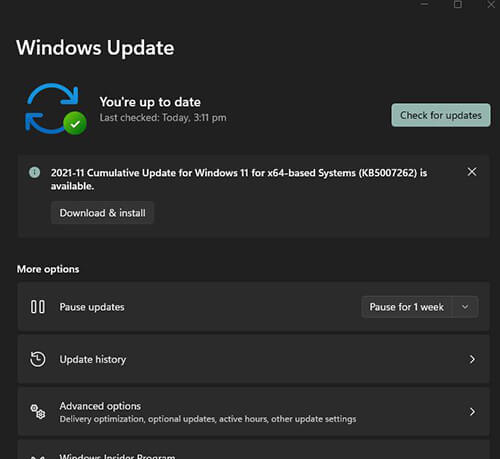 Solution 4: Check Settings of the Program that You Want to Use Voicemod on
We know that Voicemod is not an application that we use to chat on. It is simply a sound effect soundboard that transforms the voice into whatever we want. There are different applications on which we can use Voicemod, for example, Discord, TeamSpeak, Hangouts, Duo, etc. The settings in these applications are a must for Voicemod to work. Let us take Discord as an example. In Discord, you need to select the proper input device.
Open it, go to "Voice & Video", and under the option of "Input Device", select "Microphone (Voicemod Virtual Audio Device)". Then go to Voicemod and check if it is working or not. Sometimes, we forget to change the input device of the application. It is a common mistake that anyone can make. However, if the problem isn't resolved, then try the fixes below.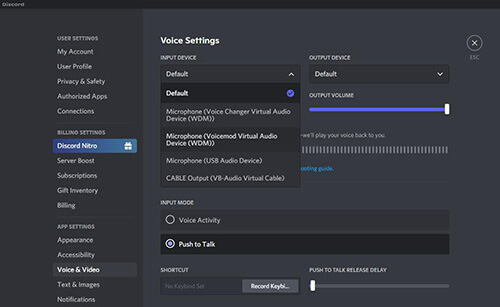 Solution 5: Reinstall Voicemod Drivers
To reinstall the Voicemod drivers, you first need to uninstall the existing drivers of Voicemod. Press "Windows + R" on your PC. It will open the run box. Type "devmgmt.msc" and click on "OK". It will open the Device Manager. Now click on the option of "Audio Inputs and Outputs". Find "Microphone (Voicemod Audio Device)", right-click on this option, and click on "Uninstall".
Now, you can go to the official website of Voicemod and follow the instructions to install drivers manually.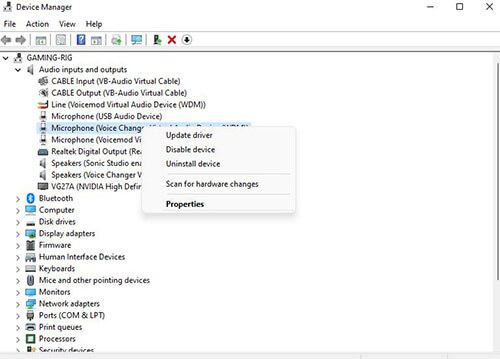 Solution 6: Reinstall Voicemod
Now, if all the fixes and solutions don't work, you need to uninstall the Voicemod because it only means that there is something wrong with the installation. Uninstall and then reinstall Voicemod. Or you can overwrite the current version with the latest if available. Hopefully, Voicemod will work now.
You May Also Interested in:
How to Use Voicemod on Xbox One >>
How To Use Voicemod on Discord >>
Part 2: Try A Real-Time Voice Changer with Better Performance- iMyFone MagicMic
iMyFone MagicMic allows the user to change their voice into different voices. It has voice changing effects that allow it to change the voice easily. You just need to click on the voice that you want to transform your voice into, and your voice will sound like that. But sadly, for the people who use the free version of iMyFone MagicMic, there are only three voices. To be able to enjoy 19+ voice-changing effects, users have to buy the premium version of MagicMic. It is very easy to use, and even a beginner can use it by just following the instructions.
Key Features ofiMyFone MagicMic:

MagicMic has an easy user interface, such that anyone with the knowledge of using a computer can use it.
It is very small in size and can be downloaded very quickly. The installation also takes only a few seconds.
Unlike most applications, it does not occupy much CPU usage.
MagicMic is even compatible with Windows 11.
As this tool is still under development, there are a lot of sound effects and features that will be added soon.
It is also compatible with games like Overwatch, CS:GO, League of Legends, PUBG, Fortnite, and many more. You can also use it with Twitch, Discord, XSplit, Streamlabs, Zoom, and Skype.
As we have listed some of the mesmerizing features of MagicMic, let us see how we can use it. Despite being a new tool in the market, it is being used by many people because of its easy and vast features. Here are the steps that you can follow.
Steps to Use MagicMic Voice Changer:
Step 1: The first thing that you need to do is to download the tool. You can simply go to the website of iMyFone MagicMic and download this tool. Make sure to download the correct version so that it is compatible with your PC. After downloading, install the tool on your PC. As it does not have many requirements, it will run on any PC.
Step 2: Open the tool. But before using this tool, make sure that you have selected the correct audio input device. Go to the "Sound" menu and select your headphones as the input for voice. Now, open the app of iMyFone MagicMic. You will see different types of voice changers in front of you. However, if you are using the free version, then you can only enjoy three-voice changers. But if you are a premium user, then there is no restriction to you.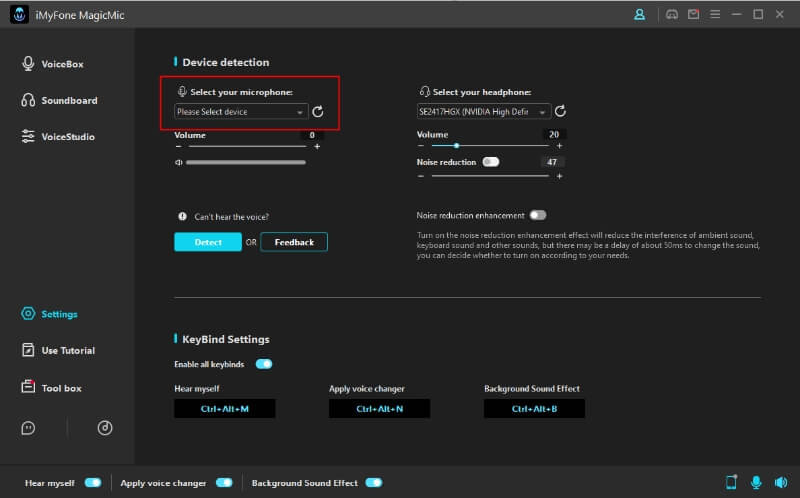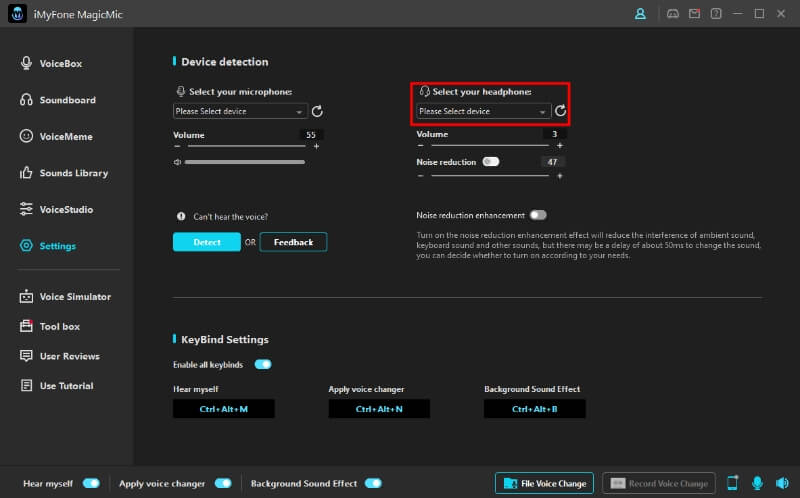 Step 3: If you like to add any kind of sound effects to your voice, then you can click on "Sound Effects". Here, you will find different categories of sounds under different folders. Select the one that suits you and click on it to use it. It is that easy to use MagicMic.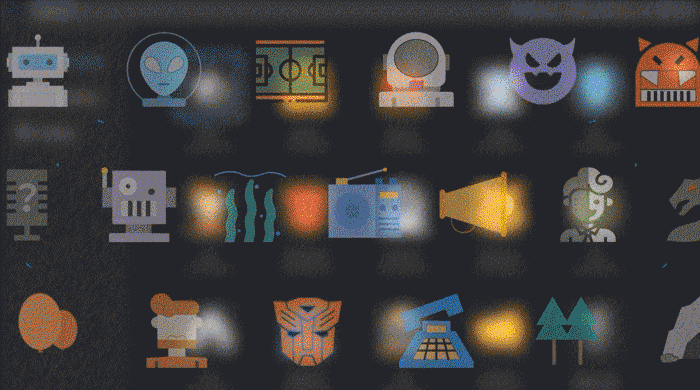 Step 4: If any sort of problem arises, then you can check your microphone. You can also restart your computer or uninstall the drivers and then manually install them. Sometimes, you need to update your Windows as well. But if any of the suggested solutions do not work, uninstall MagicMic and install it again. It will work.
Pros:

It comes with a free trial version.

Changes voice in real-time.

Allows you to set keybind to transform your voice in one click.

Over 25 voice-changing effects.

Over 190 sound effects.

Very easy to use.
Conclusion
Voicemod is a good tool that one can install and enjoy by transforming his/her voice into something else. However, as it is an application, there can be issues, and it might not work. There are many reasons behind the issue. Maybe there could be a driver issue, the window is not updated, systems need rebooting, or something else. We have provided a list of solutions that you can use if Voicemod does not work.
If it does not work, then we have the perfect alternative for you that is iMyFone MagicMic. It is one of the easiest applications that you can use to transform your voice. Before buying, you can even try out the free version to check its working and compatibility.