Voice changer apps are very popular among gamers and liver who need to change or alter their voices on Discord and other platforms. The voice changer applications change the pitch of your voice to make it sound funny. People also use voice changer mac to create funny videos and audios and then post them on different social media platforms.
This article has features different free voice changer mac and some of the frequently asked questions by other users.
Part 1: Hot Tredy To Attract Audience With Voice Changer
Voice changer applications are used to lighten the mood and make things fun. There is no serious use case for voice changer apps. Here are reasons why one may need to use a voice changer for discord mac.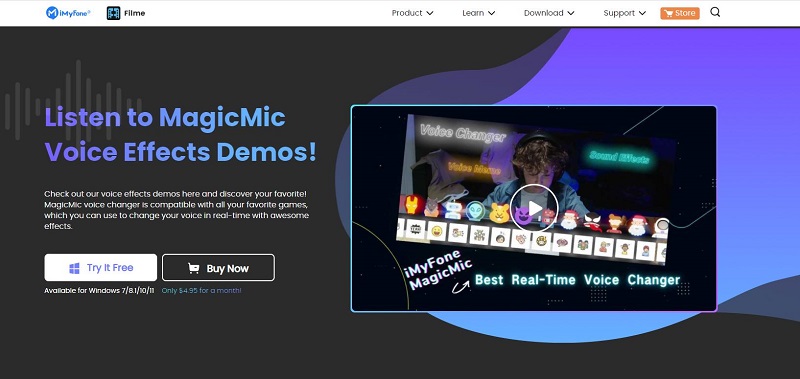 1. To enhance your gaming experience while gaming on Discord with friends.
2. To prank your friends or colleagues using different voice alterations.
3. To disguise yourself in an online chat.
4. To amuse yourself with your friends by taking turns changing your voices.
5. To change your voice while gaming with strangers.
There are many voice changer applications on the internet with different features with their pros and cons. With an array of different options, it may be hard to narrow down to the best choice. This article will help elaborate on top choices of voice changer applications in the market by listing their features, advantages, and disadvantages.
Part 2: Top 3 voice changer for mac
1. MagicMic (Mac and Windows)
When you see the interface of iMyFone MagicMic you may think it is a basic voice-changing application but that is where you are wrong. It has all the features that you may need to use for gaming, for your podcast, in a chat. MagicMic works very well with discord and is compatible with very many applications. Its simplicity in the eye also means it is very easy to use even for new users.
Support Systems:
It is available for Mac OS X 10.10 or later and Windows
Features:
1. Real-time feature. It allows users to set the key bind and also changing your voice is one click away.

2. It can be used on Zoom, Skype, CF, PUBG, Discord, and many other platforms.

3. Surplys voice-changing effects such as monster voices, minions, chipmunks, robots, devil, aliens, and many more.

4. Has more than 200 sound effects that imitate people, the environment, and even animals.
Pros:

1. Offers chance to customize own voice filters.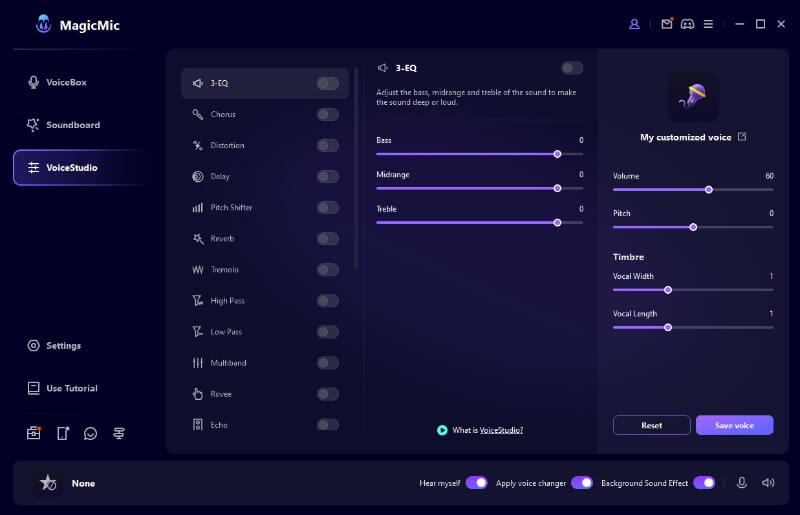 2. The altered voices sound natural and the output is of high quality.

3. It has friendly user interphase which gives users an easy time to start.

4. With this software, you can control voice, sound effects, and background music separately.
Cons:

It is relatively new software and not widely known.
This is among the popular free voice changer Mac that allows users to change their voice in real-time. Users can modify, disguise, and change their voice in any game or application that uses a microphone. It is compatible with VOIP applications, therefore, users can alter their voices into female or male voices while playing the game. Other voices include atmospheric, alien, echo, robot, and many more.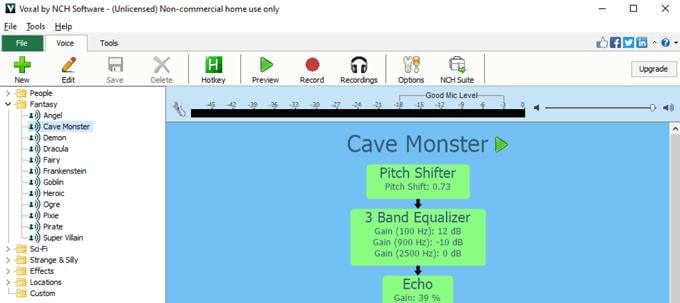 Support Systems:
It is available for Mac OS X 10.5 or later.
Features:
1. The real-time feature allows users to change their voices as they listen to it at the moment.

2. It occupies little space which does not alter or slow the functioning of other apps.

3. Allows users to add background noises.
Pros:

1. Works with any input microphone.

2. The app is compatible with all programs and users do not need to change any settings or configurations in the programs.
Cons:

1. It may be bulky needing restarting of some apps.
Complete Guide for Voxal Voice Changer>>
Voice candy also comes highly recommended among voice changers. The application has a simple graphic user interface and it allows you to alter your voice into that of a chipmunk and other 8 different effects. However, it does not allow you to change your voice in real-time. It is more like a voice converter application.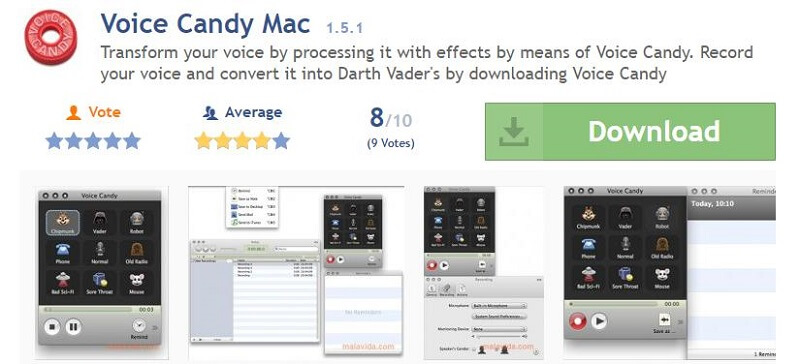 Support Systems:
It is compatible with Mac OS X 10.5 PPC, Mac OS X 10.6 Intel, Mac OS X 10.7, Mac OS 10.5 Intel, and Macintosh.
Features:
1. Users can create simple shortcuts allowing them to record their voices.

2. Users can choose specific custom options.

3. It has different voice effects that can be added to your recorded voice.
Pros:

1. Users do not need to buy an external microphone, because it has an internal microphone.

2. Users can share their recordings to iTunes.
Cons:

1. It does not support local files

2. It has a limited number of voice effects.
FAQs about voice changers
1. What is the difference between the free version and paid version of MagicMic?
The difference between the paid and free versions is that when you use the paid version you can access all the voice effects and sounds without being limited. However, the free version limits how many times you can use effects.
2. Is using voice changers illegal?
It is legal and acceptable to change the tone and format of one's voice with different effects. But, you can only do this for fun.
3. How does one change voice on discord?
To change the voice on discord is easy. On your app settings, tap on voice and video and set it to as usual
Conclusion
There are different voice changer applications for discord Mac. The applications have different features and most of them are compatible with many programs such as Zoom, PUBG, and Discord. The most ranked Is the iMyFone MagicMic which has more than 300 voice effects. It is also compatible with many programs allowing users to fulfill their needs. The main advantage of MagicMic is that it works in real-time. Other voice changer mac applications include voice candy and voxal voice changer.