Voice changer apps are all the hype these days mainly because of how helpful they are for live streaming and YouTube videos. If you're a content creator, you need to get your hands on the best voice changer because it can transform your content.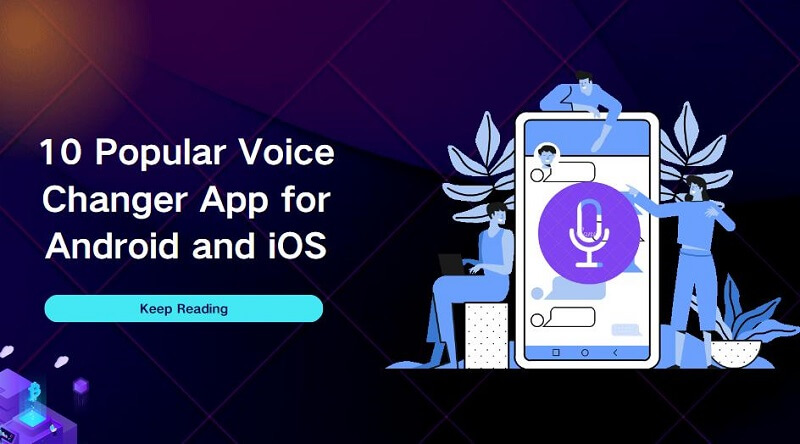 So, make sure to keep reading while we find out the most popular and reliable voice changer app for Android and iOS.
Pros and Cons: 10 Popular Voice Changer App
1. MagicMic Voice Changer App [Windows/Mac/Android/iOS]
MagicMic is the most recommended software and app for voice changing. It offers multiple filters and voice effects. It helps with changing voices in real time on Windows and Mac.Also,it has voice changer app for iOS and Android with voice record and audio voice change function with various voice filters.

Features:
More than 300 sound effects on PC version

Voice recording and audio voice changing

More than 100 voice filters

Voice custom to make personal voice

100% free on iphone and Android,free voices everyday on PC version
Popular Voices:
2. Super Voice Changer- Editor [android]
It is yet another great voice changing app for people who want simple and straightforward voice effects for sending voice messages or calls.As a funny voice changer for phone calls & messengers,you can use Super voice changer-editor for voice games and voice improving.

Features:
funny voice changer for phone calls

fascinating voice recorder for memory & sharing

mine of good sound effects for singing & editing voice

gathering of superhero voices and other film roles

a tool to play an audio in the saved list when you are calling & recording
3. Voice Changer -Audio Effects [Android]
This voice changer app is specifically made for your android device and it offers some pretty impressive effects. It could be used to have a little fun and it's highly compatible. Voice Changer -Audio Effects comes with karaoke effects,moreover,you can change the speed of your voice.

Features:
Has karaoke effects

Offers bass booster

More than 20 voice effects

Helps with changing the speed

Enables voice recording
4. Voice Changer with Effects [Android/iOS]
Voice Changer with Effects offers you more than 40 voice effects and is perfect for beginners who don't have a lot of experience using voice changers. You can also use this voice changer app during calls. .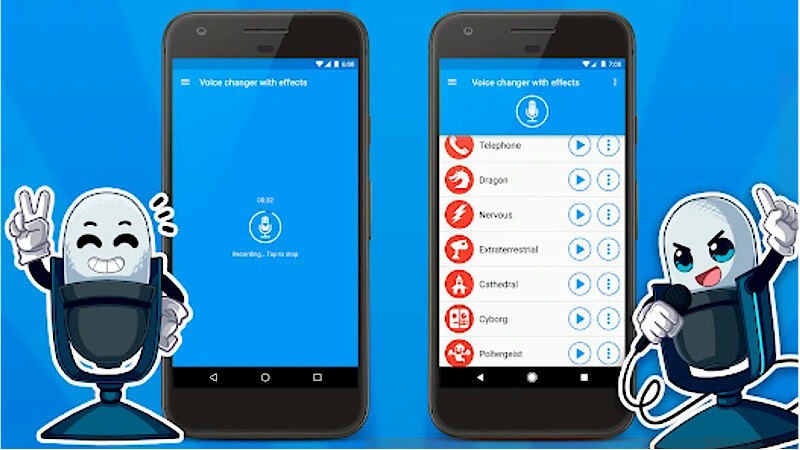 Features:
You can record and save the audio

More than 40 voice effects

Offers multiple speeds for recording voice

Allows you to share the recording

Doesn't threaten your privacy
5. Voice Changer - Voice Effects [android]
This voice changer comes with an option of customized voice effects. You can use it while chatting and it is highly compatible too.Voice Changer - Voice Effects.

Features:
Quick audio import option

Simple and basic outlook

Recording option

help change voice for video recorded
6. Voice changer plus [iOS]
It is the perfect software if you're using an iOS device. This app offers you some basic voice effects and is really easy to navigate.Voice changer plus is not just for talking but also free to save and share your recordings.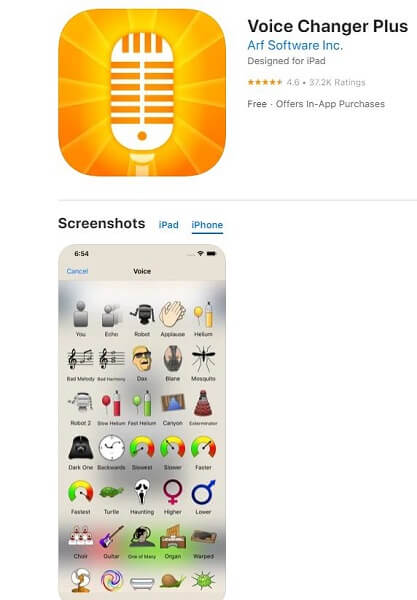 Features:
55 voice effects and background sounds available

Enables recording audio and saving it

Offers trim control

Works flawlessly on iPhone
7. Live voice changer [iOS]
It is perfect for prank calls as it enables you to change your voice in real time. It has got a very basic outlook and also helps you make tweaks in your voice. It wouldn't be wrong to say that it is one of the best voice changer apps. You can make prank calls to fool your friends with Live voice changer . It also a powerful tools for audio recording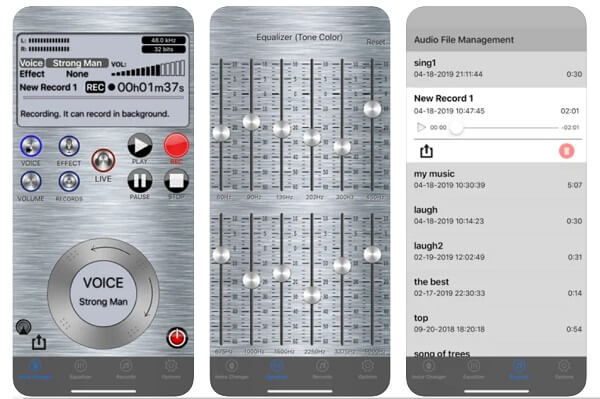 Features:
Can record in the background

Has multiple effects

Helps with equalizing the voice

Works in real time
8. Celebrity Voice Changer [iOS]
Celebrity voice changer is a free iOS app voice changer that offers you a whole lot of celebrity voices in no time. It has a decent rating and even offers you close to accurate voice effects of different celebs.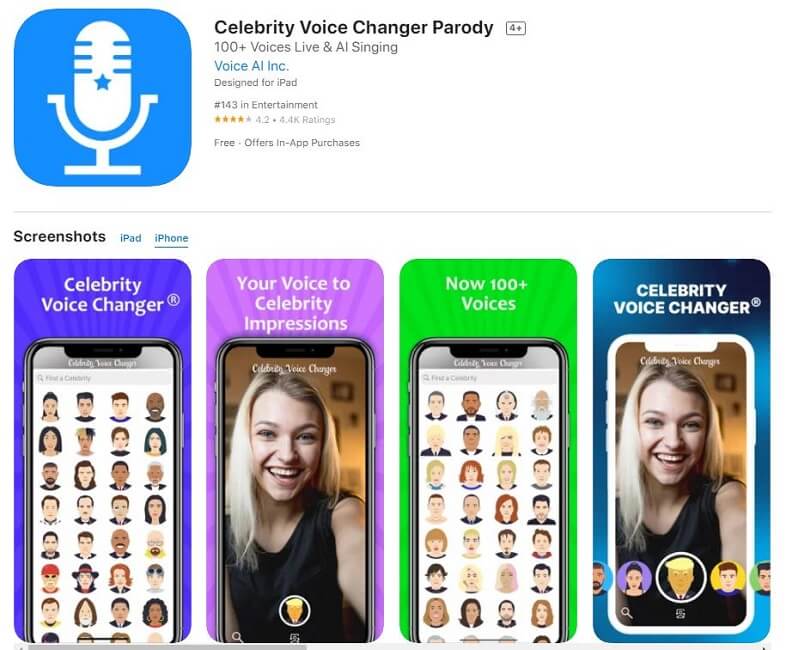 Features:
Uses AI technology

Voice modulation is automatic

Compatible with video files

Basic version is free
9. Prank Voice Changer [iOS]
If you want to prank your friends, you've landed on the right place. This app enables you to change your voice to any celebrity you want. Also, it's super easy to use.On Prank voice changer,there is no limit on the creativity and fun combinations that you can do with Prank Voice Changer. Mix and match your voices and hear yourself as a girl, man, woman, rabbit, turtle, and more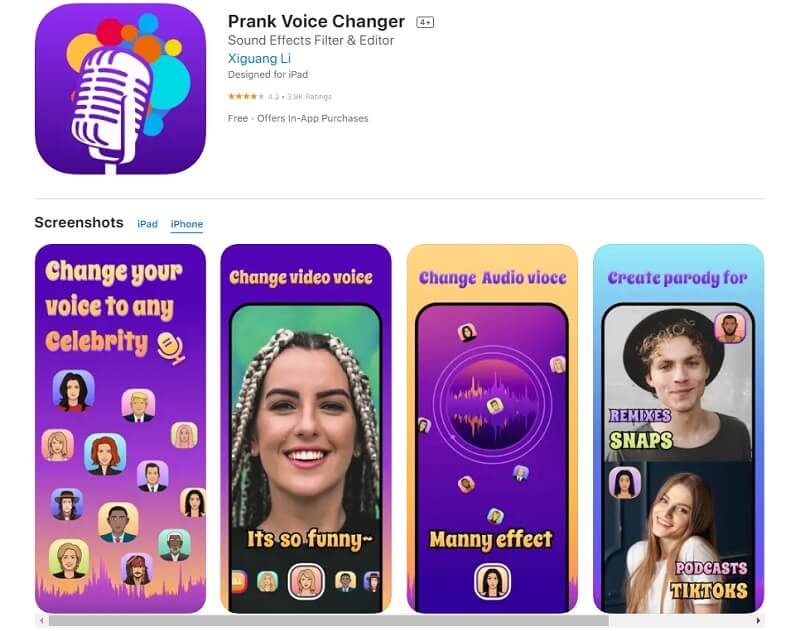 Features:
Change your voice with funny voice effects and background sounds.

Reload saved recordings to layer on more effects.

Easily edit your recording file.

Free to save and share.
10. Funny Voice Effects & Changer [ios]
Funny voice effects and changer is a perfect way to add some fun into your life. It is perfect for people who just want to have some fun and the recent update has also improved the sound quality quite a lot, making it the best voice changer app.comes with karaoke effects,moreover,you can change the speed of your voice.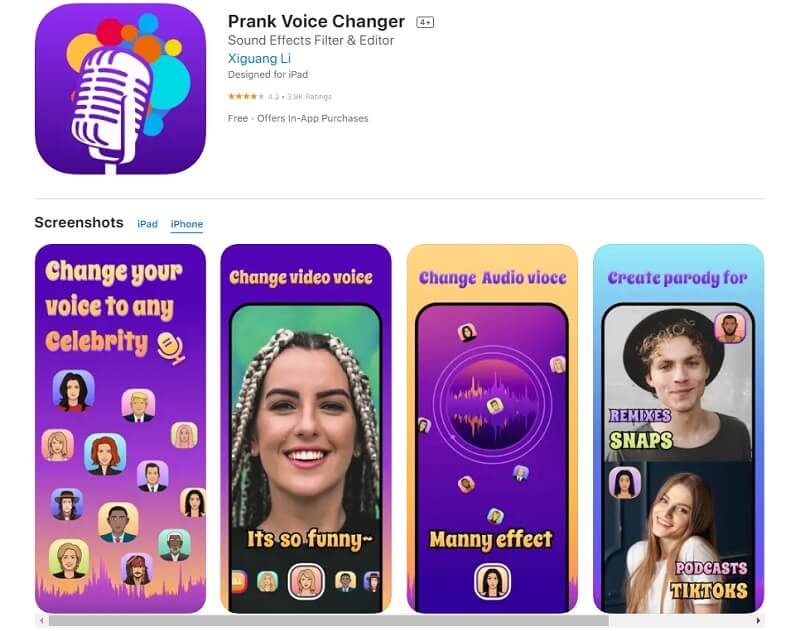 Features:
Offers UI improvements

Fast and efficient

Offers subtitles

Cartoon voices are also added
Conclusion
Finding just the right kind of voice changer app could be a real hassle, especially if you have an android or iOS. But, we've listed some of the finest software that is going to be very helpful for you, and that is the best among the rest. So, make sure to give them a try.
Also, we highly recommend you to tryiMyFone MagicMicbecause it is made explicitly for professional streamers, gamers, and content creators. And it's so simple and easy that even a novice can use it without any hassle. Don't forget to install MagicMic and make your life easier.