Immerse yourself in the enchanting world of Kingdom Hearts with the Sora AI Voice Generator. This innovative tool allows you to transform your voice into that of Sora, the beloved protagonist of the Kingdom Hearts video game series.
Whether you're a fan of cosplay, content creation, or simply want to have fun, the Sora AI Voice changer brings a touch of magic to your vocal performances.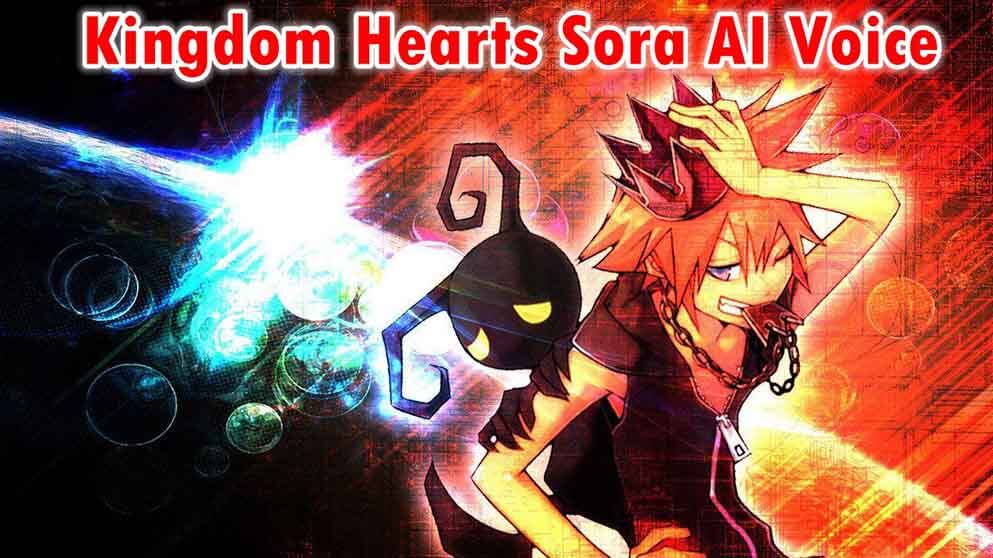 Part 1:Who is Sora?
Sora is the charismatic and adventurous protagonist of Disney and Square Enix's Kingdom Hearts series. He embarks on a journey through different worlds, wielding the Keyblade and battling against the Heartless to protect his friends and restore peace.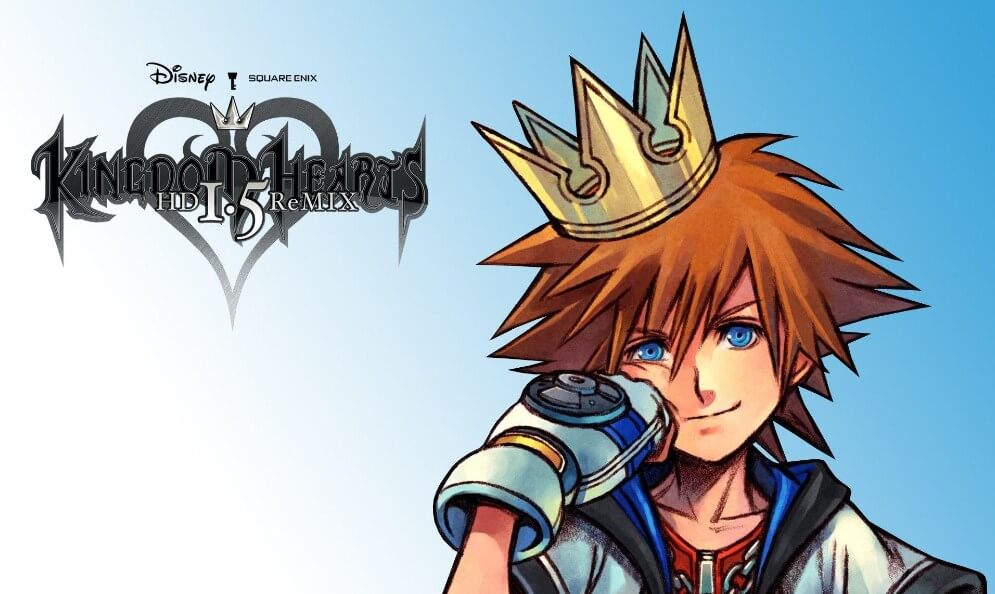 Sora's warm personality, unwavering determination, and unwavering friendship make him a beloved character among fans.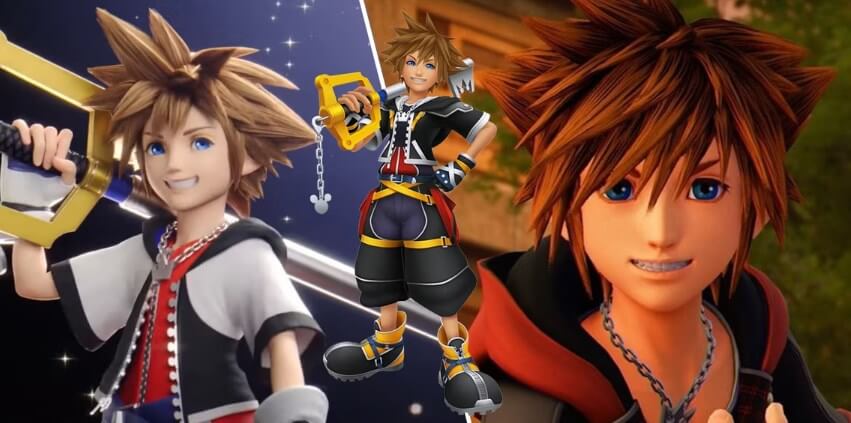 Part 2: How to Get Kingdom Hearts Sora AI Voice - Real-time AI Voice Changer
Simply download and install the real-time AI voice changer software, and you'll be ready to unleash the power of Sora's voice. Customize your voice with Sora's signature tone, inflections, and catchphrases, and bring an authentic Kingdom Hearts experience to your projects.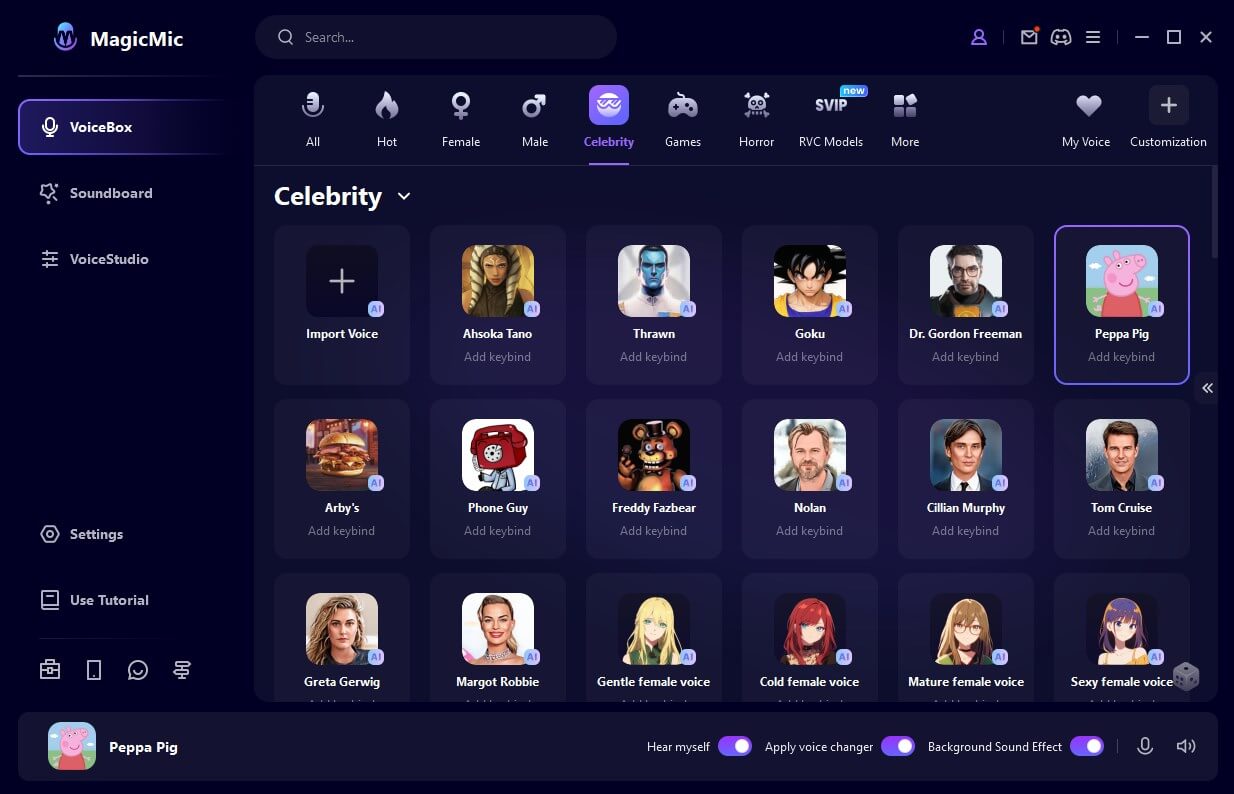 Key features of MagicMic
SoraAI Voice Changer
It provides 225+ voice effects,600+ voice effects and 200+ voice memes.

Transform your voice into that of the beloved Sora character from Kingdom Hearts and bring the magic of the game to life.

It provides a wide range of voice effects, including popular characters like Sora, Peppa Pig, Mickey Mouse, Elmo, SpongeBob and more.

It allows real-time voice modification during live chats, gaming, streaming, and video recording.

Personalize your voice with pitch, reverb, echo, and other effects to sound like Sora or any other character you desire.

It supports various communication platforms like Discord, Skype, TeamSpeak, and more, making it versatile and accessible.
How to get Sora AI voice?
Step 1: Download and Launch
Install MagicMic software, sign in.
Step 2: Configure Input and Program Settings
Set main mic as input, enable "Apply Voice Changer," activate "Hear Myself."
Step 3: Select the MagicMic Virtual Audio Device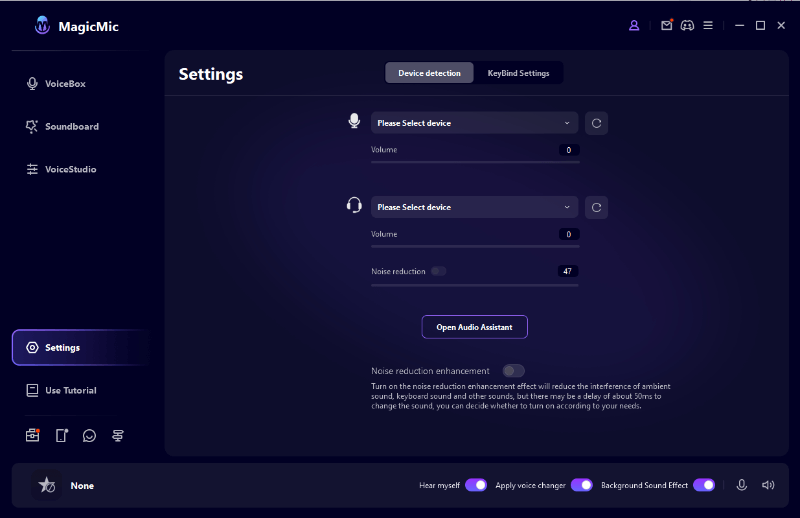 Select Virtual Audio Device as input in desired app for seamless voice modification.
Step 4: Choose Voiceor CreateAI Voice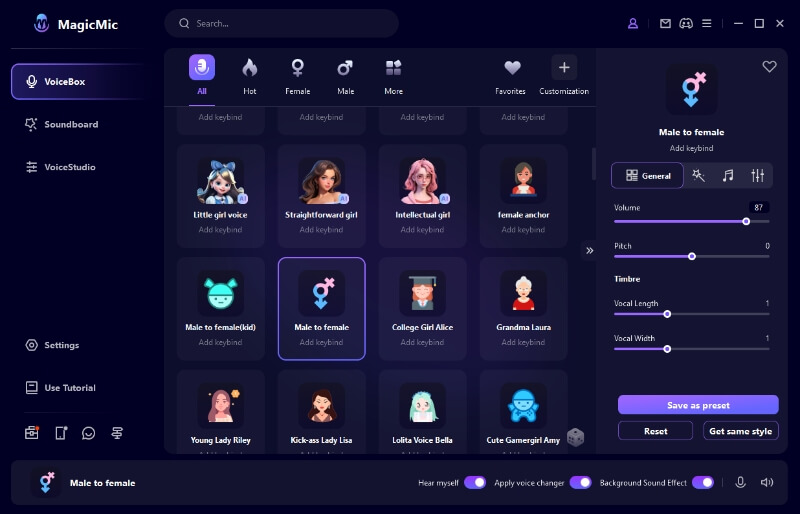 Explore effects in MagicMic, assign keybinds, create personalized AI voices, such as Sora voice.
Watch the Video About Sora AI Voice Changer:
Part 3: Other Sora Kingdom Hearts AI Voice Generator
VoxBox is a remarkable AI-powered voice generator designed to enhance your audio projects. With the Kingdom Hearts Sora voice generator, you can effortlessly infuse the charm of Sora into your rap, pop, and singer voices, unleashing your creativity to new heights.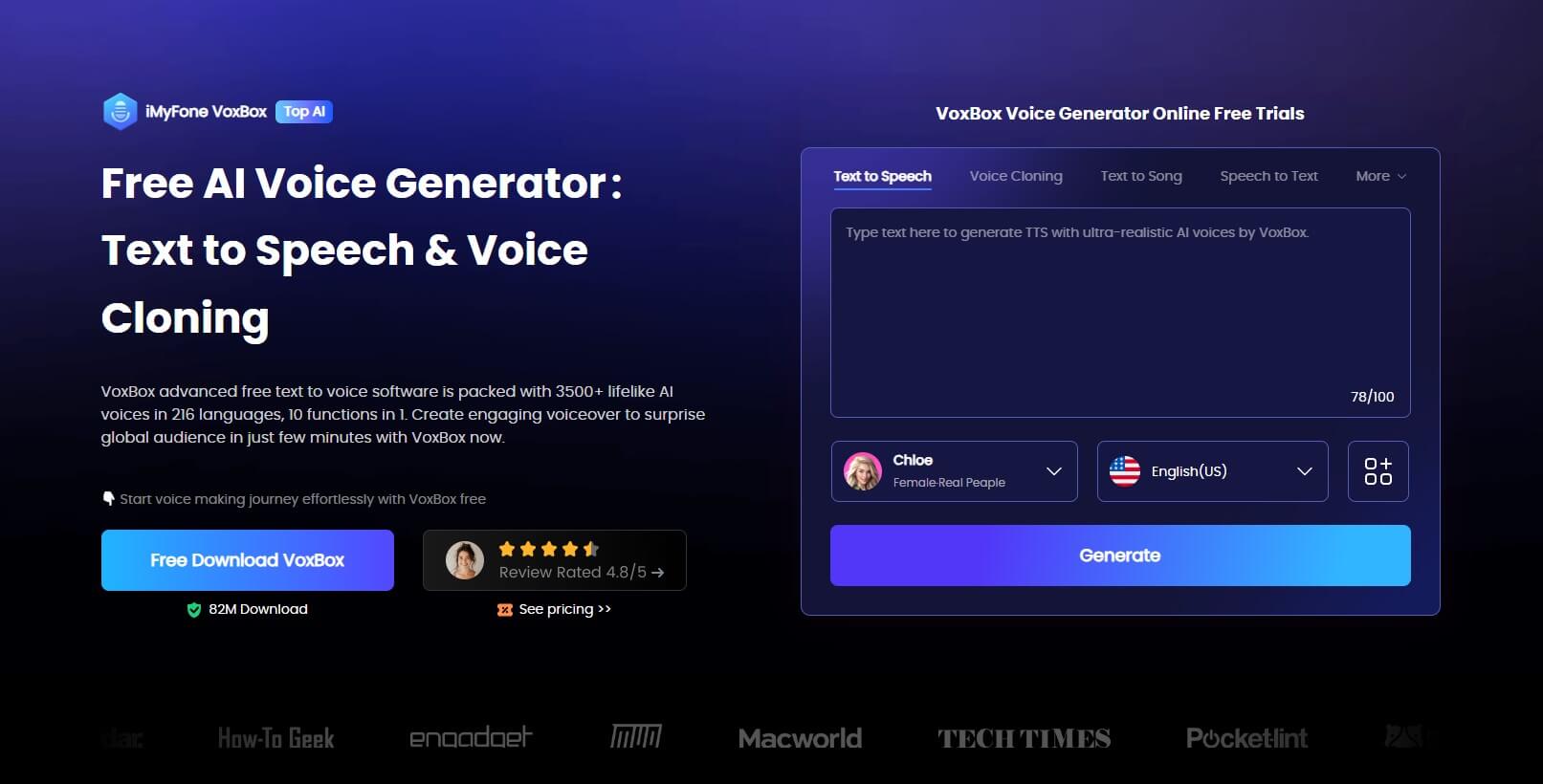 Key features of VoxBox Sora AI Voice Generator
VoxBox offers a vast selection of 3200+ voices in over 46 languages for text-to-speech dubbing.

Voice cloning technology generates authentic and expressive AI voices.

It provides a comprehensive solution, including TTS, STT, cloning, conversion, recording, and editing.

VoxBox supports various input/output formats such as MP3, WAV, and more.

Enjoy a user-friendly interface, enhanced security, and speedy processing for a smooth user experience.
How to use VoxBox Sora AI voice generator
Step 1: Download and install VoxBox, then open the application.
Step 2: Click on "Voice Cloning" and upload your audio to generate avoice.
Step 3: Choose "Text to Speech" from the left side menu.
Step 4: Enter your desired text and specify the anime voice you want.
Step 5: Click 'Convert' to export your personalized anime voiceover.
Part 4: FAQs about Sora AI Voice
1. What is Kingdom Hearts Sora AI Voice?
Kingdom Hearts Sora AI Voice is an advanced voice synthesis technology that allows users to generate a voice that resembles the beloved character Sora from the Kingdom Hearts video game series.
2. Why is Sora so childish?
Sora's joyful demeanor protects him from the darkness, ensuring he stays in the light.
3. How Old is Sora in Kingdom Hearts 4?
Sora's age in Kingdom Hearts 4 is speculated to be 17, as indicated in Kingdom Hearts: Melody of Memory.
4. Who provides the voice for Sora in Kingdom Hearts?
Sora is voiced by Haley Joel Osment in the English version and Miyu Irino in the Japanese version throughout the series.
Final words
The Sora AI Voice Generator opens up a world of possibilities for Kingdom Hearts enthusiasts. Whether you're a cosplayer, content creator, or simply want to have fun, MagicMic Sora ai voice changer allows you to bring Sora's voice to life. Dive into the enchanting universe of Kingdom Hearts and let Sora's voice guide you on your own epic adventures.Experience it for yourself!(use MagicMic)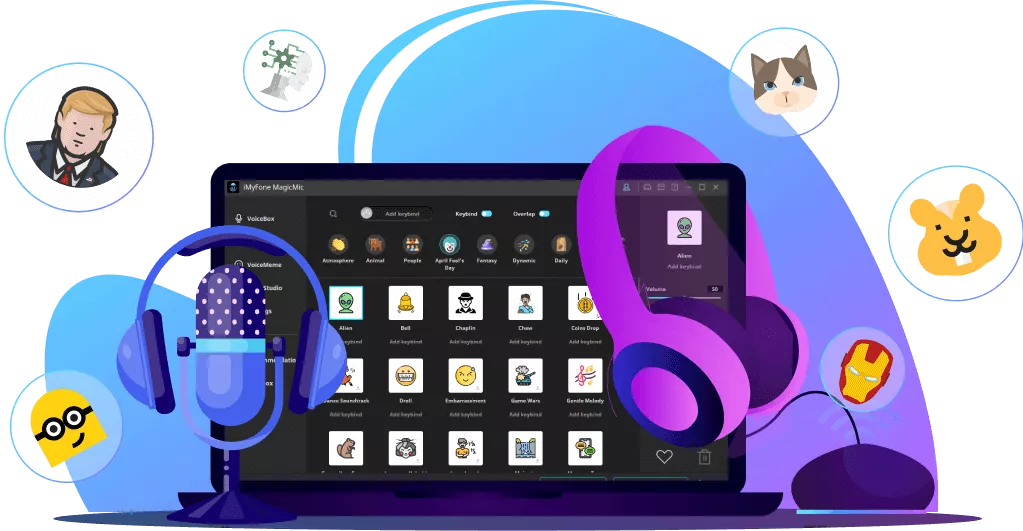 225+ Voice effects for one-click voice changing in real-time.
Huge library with 600+ Voice Effects and 200+ Voice Memes.
Sound emulator in games, live, chatting, online classes, and more.
Voice recording and audio voice changing is supported.
Voice studio lets you create any voice you like.