Ever heard of Leprechaun? He's a classic character, and you've probably seen his image in all sorts of places. But you know what really sets him apart? His voice! Many people have tried to mimic it.
In this article, we're gonna tell you a bit about Leprechaun and how you can use a Leprechaun voice changer to sound just like him. So, keep reading!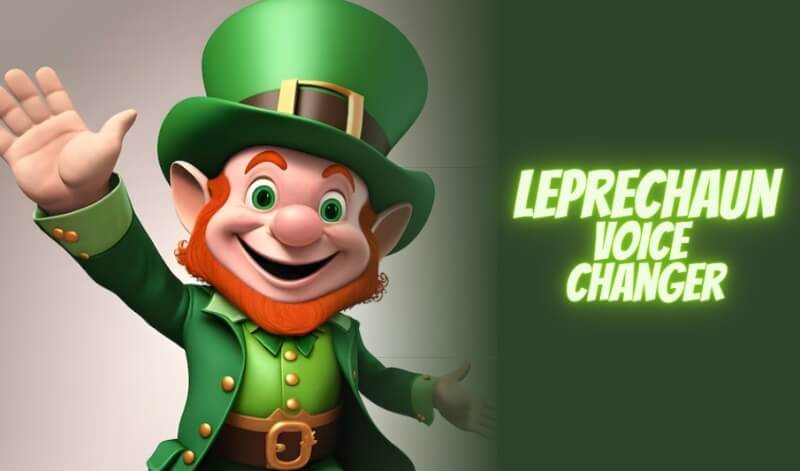 Part 1: The Image and the Significance of the Leprechaun
Leprechauns, in Irish tales, are these tiny, mischievous little folks with beards, sporting coats and hats. Some folks reckon they're like fairies who like to keep to themselves. But in more recent stories, they're often seen as little shoemakers who've stashed a pot of gold at the rainbow's end. You won't find 'em much in old Irish myths – they sort of stepped into the limelight in later stories.
On top of that, there's this 1993 American flick, a comedy-horror one, cooked up by Mark Jones. Warwick Davis takes the lead role as a furious leprechaun who's convinced a family swiped his pot of gold. As he chases them down, they're on a mission to find that gold and calm him down.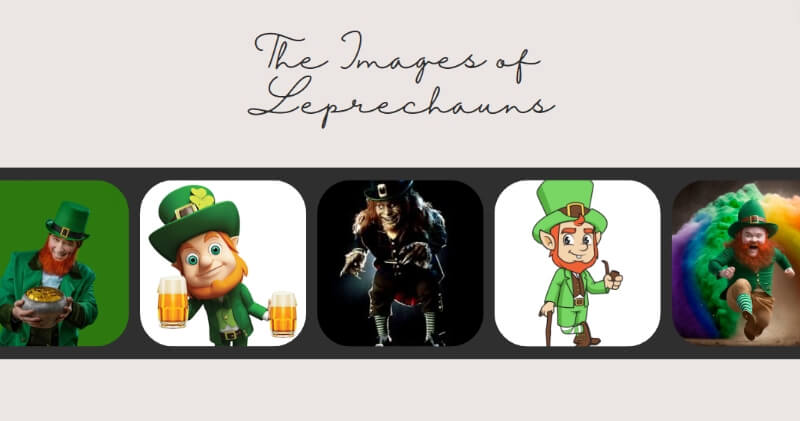 Part 2: How to Sound Like Leprechaun's Voice?
1) MagicMic - Leprechaun Voice Changer
I bet a lot of folks can't get those classic Leprechaun voices from the movie out of their heads. If you want to channel that vibe, you can give MagicMic a try. It's a Leprechaun voice changer that lets you sound like the Leprechaun during your live voice chats while gaming and streaming. Pretty cool, right?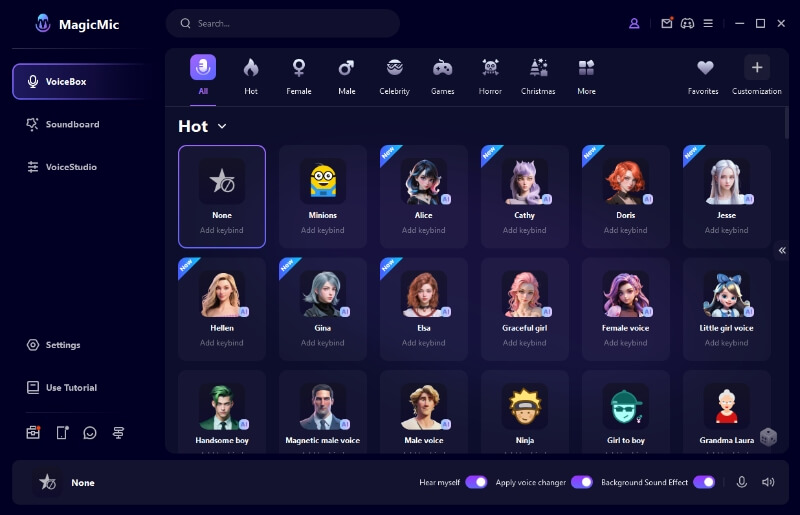 Key features of MagicMic AI voice changer
It offers 250+ voice effects, 600+ soundboards, and 200+ voice memes.

You can change your voice in real-time while gaming and streaming on platforms like Discord, Twitch, Whatsapp, Call of Duty and many others.

AI cloning technology allows you to effortlessly replicate the voices of anime characters and celebrities.

Keybinds help you switch between voice effects easily during your online chats.

This product provides 5 free voices everyday.

Compatible with Windows, Mac, Android, and iOS.
How to use MagicMic real-time voice changer?
Step 1: To get started with MagicMic, download the app, select your microphone and headphones, and then activate "Apply Voice Changer" and "Hear Myself" options below.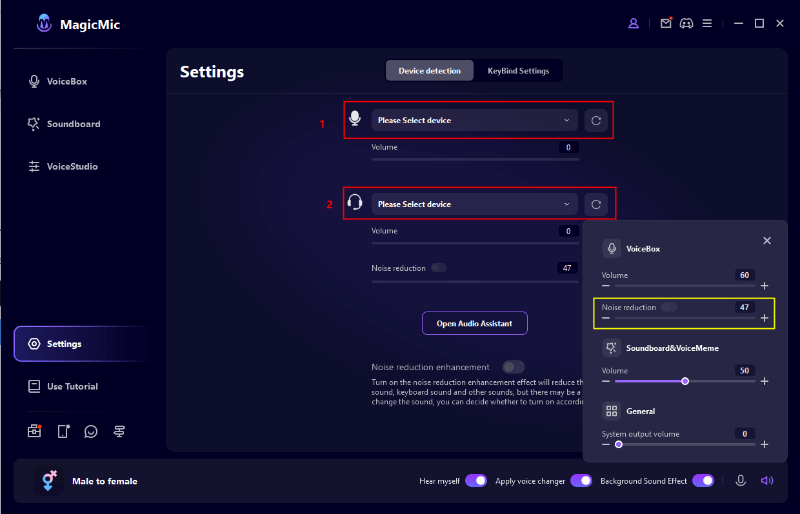 Step 2: Clone Leprechaun AI voice. Go to the top menu and click on "Customization," then import an audio clip of a Leprechaun voice. Save this customized voice, and you'll have yourself a Leprechaun AI voice ready to roll.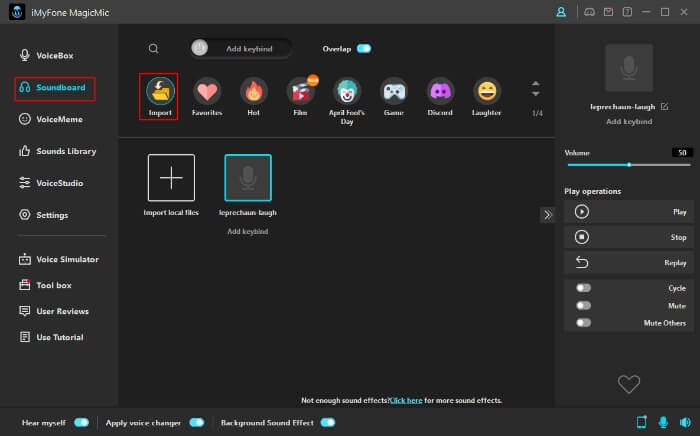 Step 3: How to use Leprechaun voice changer in Discord
Open Discord settings, select the "Voice & Video" option, choose "Voice Changer Virtual Audio Device" as your input device, and now you can use the MagicMic Leprechaun voice changer in Discord voice chats.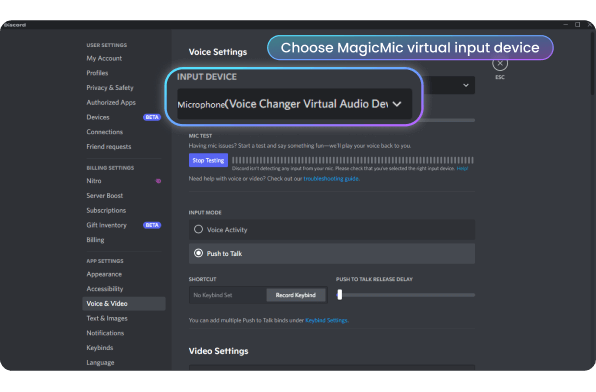 Part 3: Leprechaun Soundboard: Get Leprechaun's Laugh Sound Effect for Fun
Do you want to use the classic Leprechaun laughter sound effects in your live streams, games, and online voice chats? MagicMic has got you covered. With over 800 soundboards to choose from, you can even assign keybinds to your favorite sound effects, allowing you to drop voice memes into your conversations on the fly.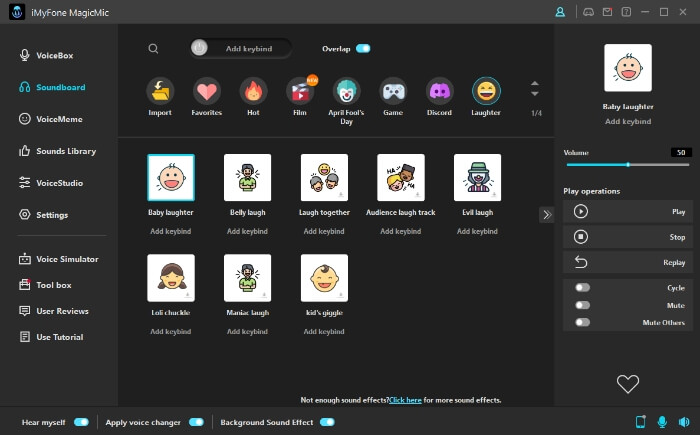 How to use?
Step 1: Follow the instructions above to set up MagicMic.
Step 2: Download a Leprechaun laughter sound that you like from Pond5. Then, open MagicMic, click on "Soundboard," select the "Import" option, and upload the audio clip. Now, you can use the Leprechaun sound effect in your chats.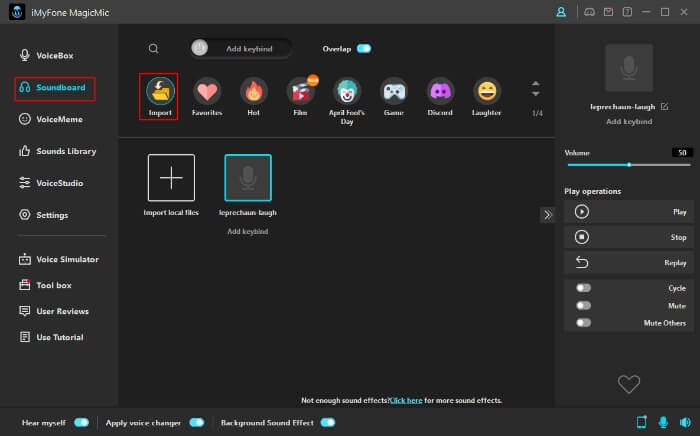 Part 4: FAQs about Leprechaun Voice Changer
How do I change my voice in games?
Once you've got a voice changer up and running on your computer (whether it's Windows, Mac, or Android), and following the steps above, you can pick from a bunch of cool sound effects and tweak your voice while gaming or chatting on platforms like Discord, Skype, Zoom, Fortnite, Overwatch or even during live streams on Twitch.
Are there any free Leprechaun voice changers available?
MagicMic offers you 5 free voices every single day. You can also grab more free voices by sharing the link with your friends.
Can I use my own audio clips or sound effects with a Leprechaun voice changer?
Absolutely! With the MagicMic voice changer, you can import your own audio clips and sound effects and use them in gaming.
Final Words
After checking out what we've talked about, I bet you've got a good handle on how to work that Leprechaun voice changer. But if you're up for even more sound fun, MagicMic's your go-to. Give it a whirl during your gaming sessions and see for yourself!