Looking for a fun way to spice up your voice? Look no further than the cutting-edge voice changer that can transform your voice into the unique and resonant tone of Joshua Graham's AI voice. As a beloved character from the hit video game "Fallout: New Vegas," Joshua Graham voice has captured the hearts of fans worldwide.
In this article, we'll delve into the fascinating world of Joshua Graham's AI voice and show you how you can achieve that same iconic sound. Get ready to have some fun and transform your voice with the voice of Joshua Graham!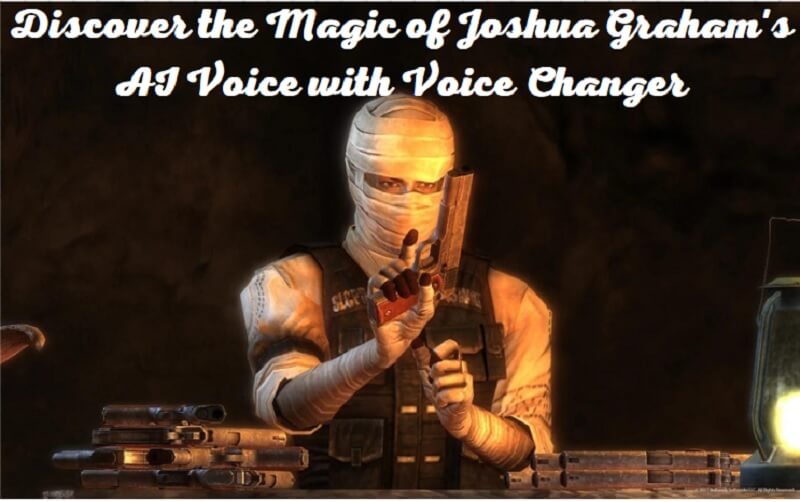 Part 1: Who is Joshua Graham and Who Voiced Joshua Graham?
Who is Joshua Graham?
Joshua Graham, aka the "Malpais Legate," is a Fallout: New Vegas character and former member of the New Canaanite missionary group. He survived being burned and thrown into the Grand Canyon by Caesar and is revered as a legendary figure by local tribes. Encounter Graham in-game and learn about his past and his pivotal role in the conflict between the New California Republic and Caesar's Legion.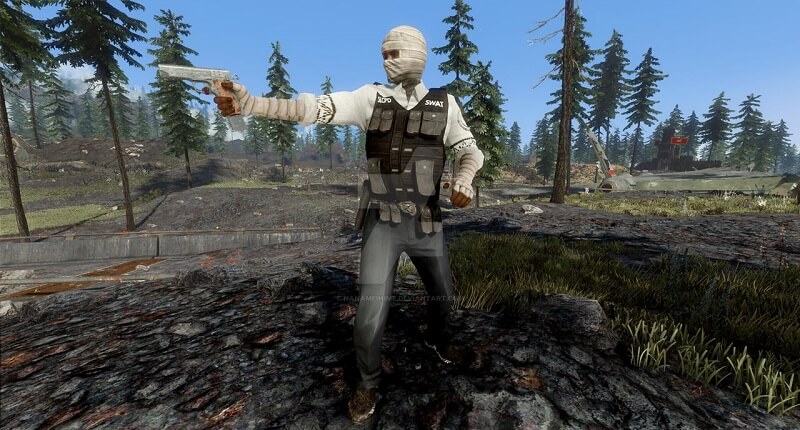 Who Voiced Joshua Graham?
Joshua Graham was voiced by the talented voice actor Keith Szarabajka in the video game Fallout: New Vegas.
Keith Szarabajka's voice acting for Joshua Graham in Fallout: New Vegas added immense charm to the game and made the character one of the most iconic in the franchise. His performance captured the complex personality and rich inner world of Joshua Graham, leading to an unprecedented level of affection from players.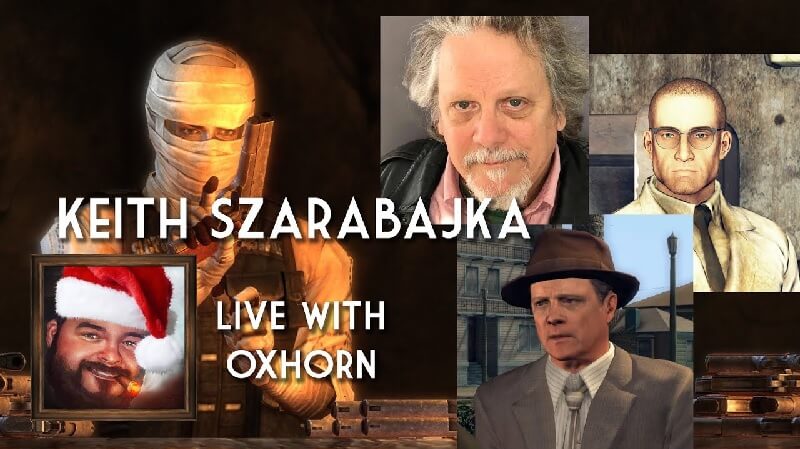 Part 2: The Best Joshua Graham AI Voice Generator - iMyFone MagicMic
If you're a fan of Joshua Graham's voice in Fallout: New Vegas, you might be interested in the latest technology that can recreate his voice through an AI voice generator. In the next, we'll explore the features and benefits of the iMyFone MagicMic and show you how it can help you achieve that same sound.
The iMyFone MagicMic is the best Joshua Graham AI voice generator on the market, allowing you to transform your voice into a variety of different tones and styles. Whether you're looking to sound like Joshua Graham or just want to have some fun with your voice, the MagicMic has you covered.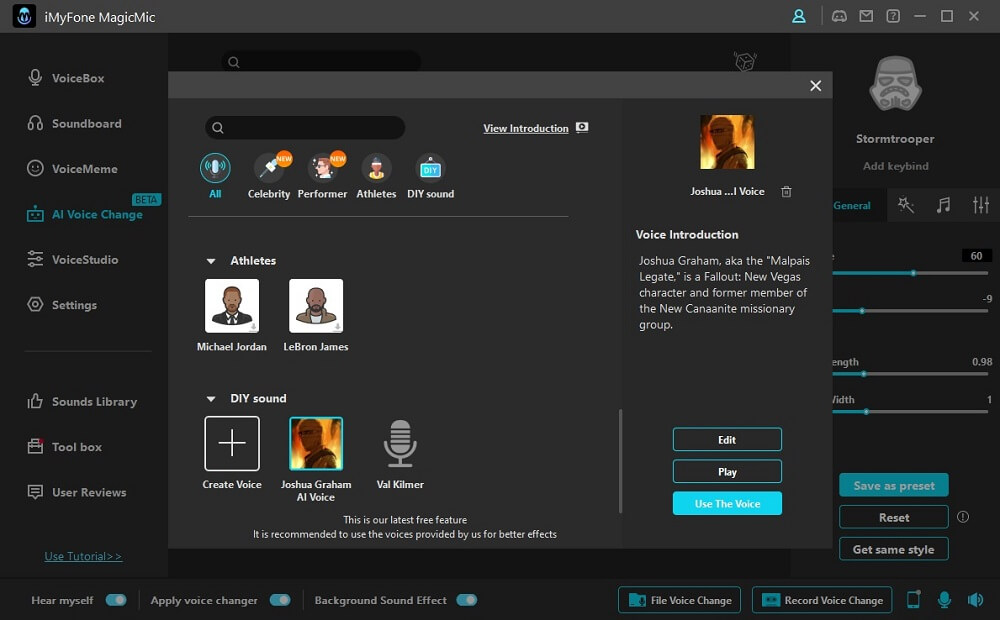 Key features of MagicMic
Joshua Graham AI Voice
Instantly access 125+ voice effects and transform your voice in real-time.

Choose from a vast library of 400+ voice effects and 150+ voice memes to create a unique voice.

Offers a plethora of AI voices to choose from, including celebrity voices, game character voices like Darth Vader,PUBG and more. You can also create your own custom AI voice using the voice studio feature.

Use the sound emulator for gaming, live streaming, chatting, online classes, and more.

Record your voice and apply voice-changing effects to your audio recordings, you can also use joshua graham text to speech function.

With the voice studio feature, you can create any voice you like and make your content truly distinctive.
Part 3: Other Joshua Graham AI Voice Changer for PC/Mobile
AV Voice Changer Software is a professional voice changing software that offers a variety of Joshua Graham AI voices, as well as the ability to create your own custom voices. The software also supports voice recording, background music adding, and many other features.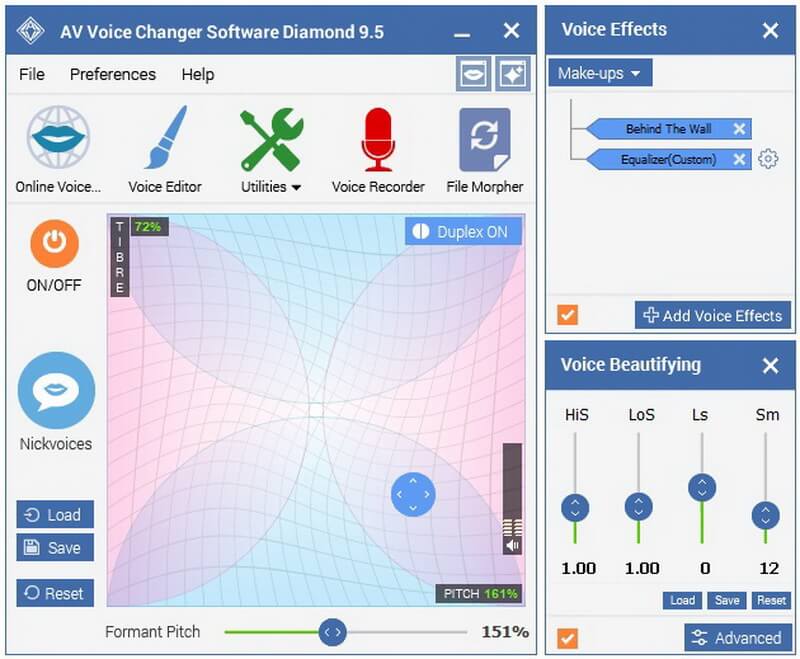 Pros:

Advanced voice morphing algorithms to create high-quality voice changing effects.

Support for multiple audio formats, including MP3, WMA, WAV, and more.

Built-in audio recorder and editor for easy voice recording and editing.
Cons:

It may be overwhelming for some users due to its extensive range of features and settings.

Some users may find the interface to be less intuitive compared to other voice changer software.
VoiceFX is a user-friendly voice changer software that offers a variety of Joshua Graham AI voices, as well as voices of other celebrities and characters. With customizable settings, users can create their own unique voice. The software supports real-time voice changing, making it ideal for use in chats, games, and other scenarios.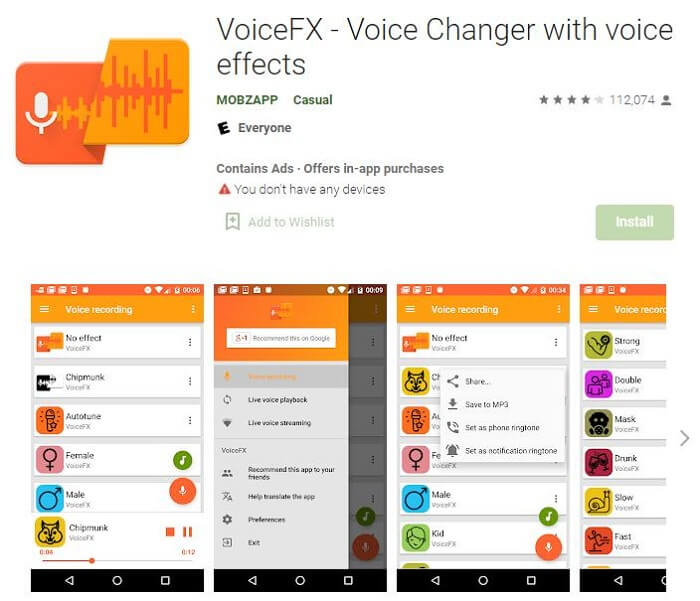 Pros:

Simple and user-friendly interface

Offers multiple Joshua Graham AI voices as well as other famous voices and characters

Allows users to create their own custom voice settings
Cons:

Limited number of voice effects compared to other voice changers on the market

May not have as high-quality voice effects as other more expensive software options
Part 4: FAQs about Joshua Graham AI Voice
How can I get Joshua Graham AI voice?
There are various AI voice generators and software available that offer AI voice Joshua Graham , including iMyFone MagicMic, AV Voice Changer Software, and VoiceFX.
What are some other AI voices I can find besides Joshua Graham?
Besides Joshua Graham, there are many other AI voices available, including those of famous people, fictional characters, and even custom voices created by users.
What can I use Joshua Graham AI voice for?
Joshua Graham AI voice can be used for various purposes, such as entertainment, gaming, online classes, voiceovers, and more.
Final words
In conclusion, with the help of cutting-edge technology such as iMyFone MagicMic, we can now easily transform our voices into the iconic tone of Joshua Graham's AI voice. Whether for fun or practical purposes, these Joshua Graham AI voice changers offer a variety of voice effects and customization options for users to create their own unique voices. As we continue to advance in technology, we can only imagine what other exciting voice-changing possibilities lie ahead.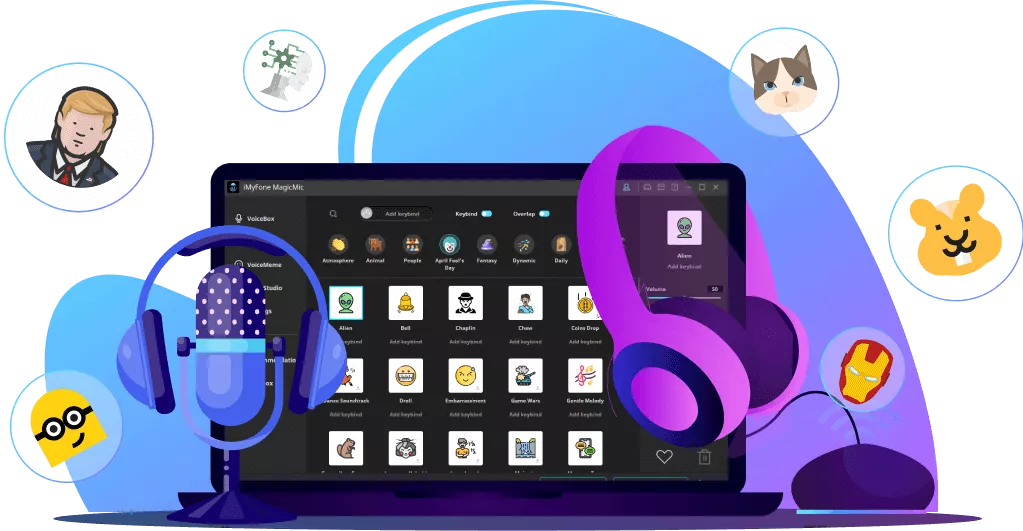 125+ Voice effects for one-click voice changing in real-time.
Huge library with 400+ Voice Effects and 150+ Voice Memes.
Sound emulator in games, live, chatting, online classes, and more.
Voice recording and audio voice changing is supported.
Voice studio lets you create any voice you like.