In the age of digital content creation, having access to unique and captivating voices can make all the difference. Whether you're working on a podcast, video narration, or any creative project that involves voiceovers, the Sir Ian McKellen Voice Changer is a game-changing tool.
In this article, we'll delve into the world of Ian McKellen AI voice technology, explore its applications, and show you how to get started.
Let's get started!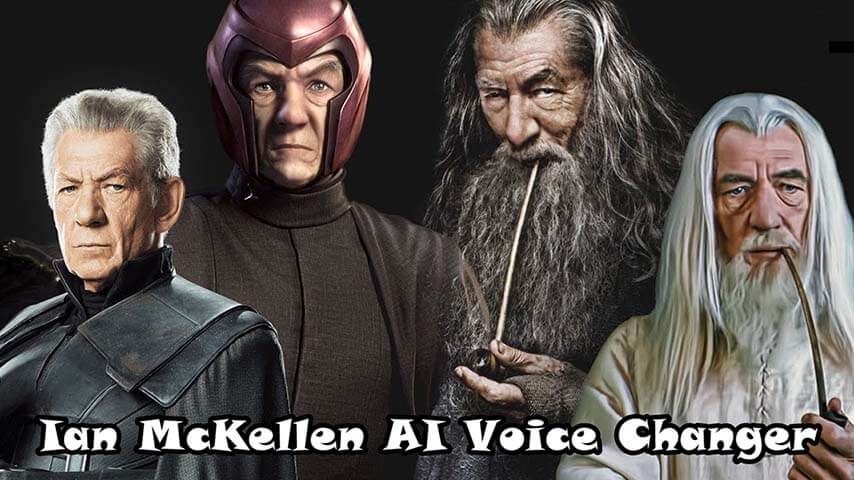 Part 1: Who is Ian McKellen?
Before we dive into the technical details of AI voice technology, let's take a moment to appreciate the remarkable career of Sir Ian McKellen.
Born on May 25, 1939, in Burnley, Lancashire, England,Ian McKellen has established himself as one of the most esteemed actors of our time. His illustrious career spans both the stage and screen, and he's renowned for his Shakespearean performances, particularly as Macbeth, Hamlet, and King Lear.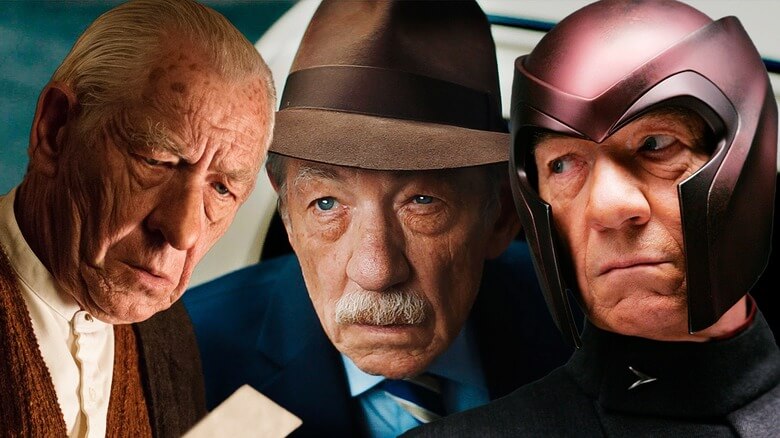 On the big screen, McKellen's portrayal of iconic characters like Gandalf in "The Lord of the Rings" and "The Hobbit" trilogies, as well as Magneto in the "X-Men" series, has left an indelible mark on popular culture. His rich, commanding voice and unparalleled acting prowess have made him a beloved figure in the entertainment world.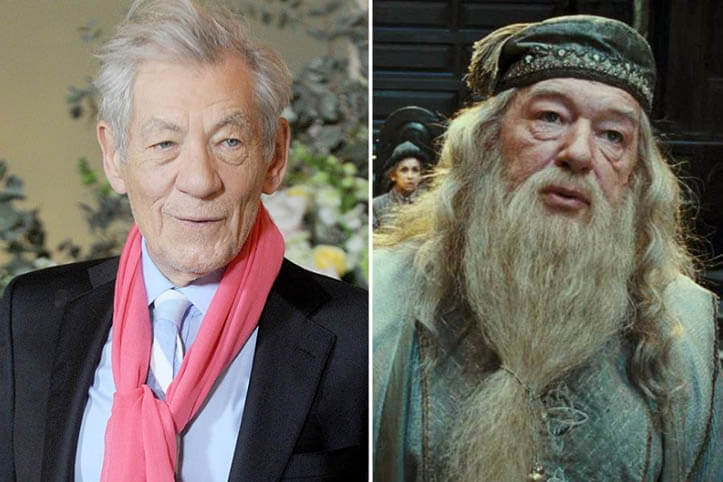 Part 2: Free Get Ian McKellen AI Voice for Text to Speech and Voice Change
1. MagicMic - Ian McKellen Voice Changer
Would you like to infuse a bit of Ian McKellen's enchantment into your voice? With the voice changer feature, you can instantly adjust your voice to mirror the renowned actor's speech patterns and tone.
Whether you're a content creator, a gamer, or just seeking to add a distinctive flair to your audio, MagicMic AI voice changer offers a comprehensive solution.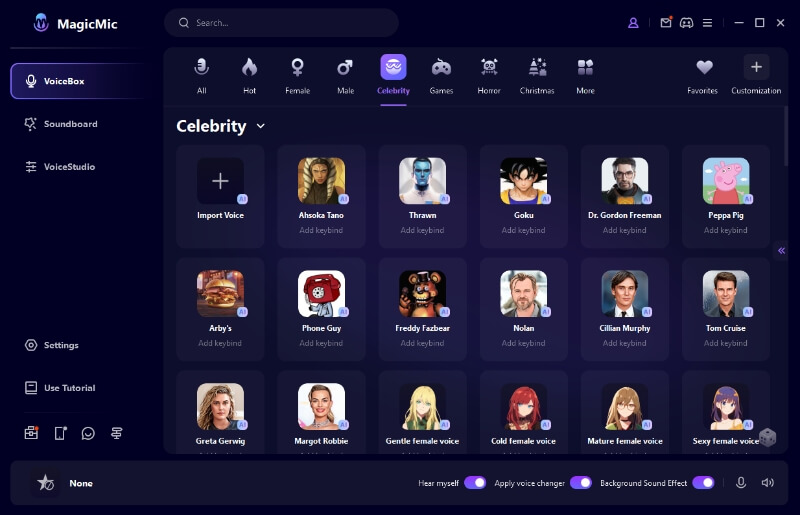 Key Features:
Replicate the voices of your favorite characters, including Ian McKellen AI voice.
Instantly switch between 225+ voices during real-time conversations, streams, and gaming.
Enhance your content creation and streaming with an extensive library comprising 600+ voice effects and 200+ voice memes for amplified creativity.
Easily capture and refine audio files to ensure your recordings meet your exacting standards.
Personalize your voice by adjusting multiple parameters, enabling the creation of a unique and distinctive persona.
Seamlessly integrate with popular programs and platforms such as Discord, Fortnite, Valorant, Zoom, Twitch, and more.
Free Get Ian McKellen AI Voice in MagicMic:
Step 1: Download and Launch this Application
Step 2: Configuration
Designate your primary microphone as the input source.Enable "Apply Voice Changer" for instant voice modification.Activate "Hear myself" to maintain natural interaction with your altered voice.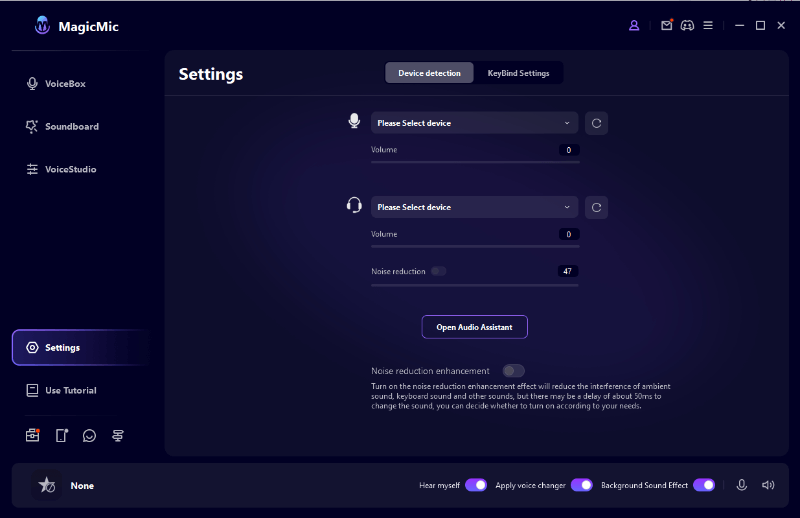 Step 3: Audio Device Selection
Within the application, opt for the Voice Changer Virtual Audio Device as your input source.
Step 4: Voice and Effects
Choose your preferred voice, whether it's Ian McKellen's or another selection. Additionally, configure keybindings for seamless transitions between voice effects.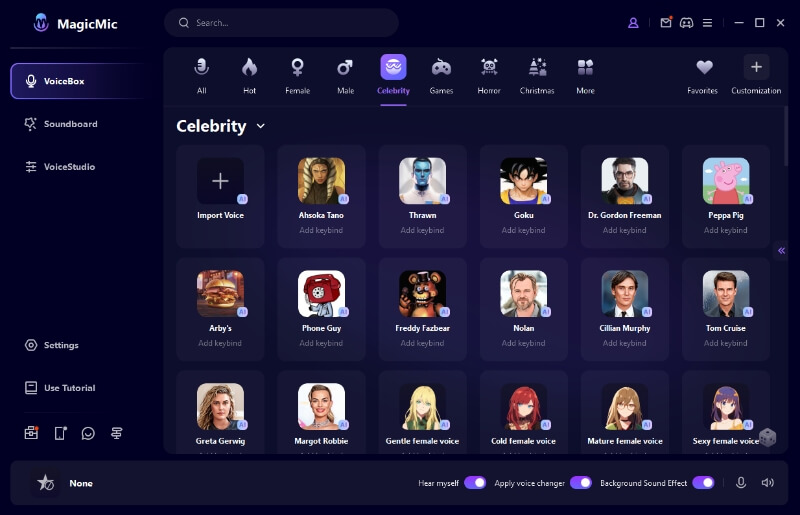 2. VoxBox - Ian McKellen Voice Generator
VoxBox emerges as a robust Ian McKellen AI voice generator, providing an authentic Ian McKellen voice. This versatile tool excels in text-to-speech conversions, video dubbing, and various applications.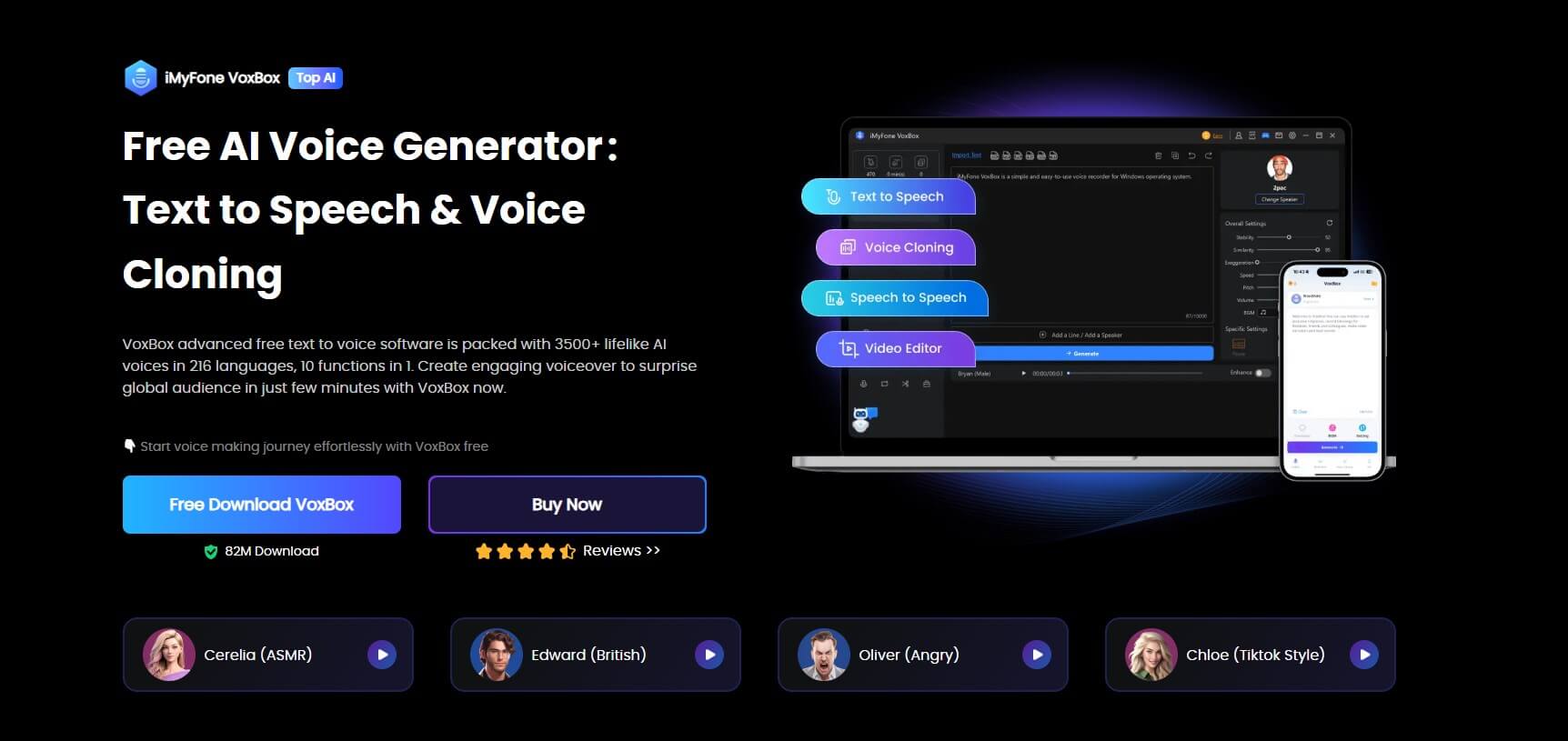 Key Features:
Enjoy 2000 free characters for text-to-speech, including the Ian McKellen AI voice or any character you prefer.
Achieve outstanding voice cloning quality thanks to advanced technology.
Ideal for a wide range of applications, such as audiobooks, podcasts, content creation, gaming, and more.
Explore a diverse selection of 3200+ voices spanning 77+ languages.
Benefit from a comprehensive solution that covers text-to-speech, speech-to-text, recording, editing, and audio conversion.
Seamlessly save your voiceovers in convenient formats like MP3, WAV, Ogg, and more.
Part 3: FAQs About Ian McKellen AI Voice
1. What is Ian McKellen AI Voice?
Ian McKellen AI Voice refers to an artificial intelligence-powered voice generation technology that can replicate the distinctive voice and speech patterns of the renowned actor Sir Ian McKellen.
2. Is the Ian McKellen AI voice compatible with popular platforms?
Yes, it seamlessly integrates with platforms like Discord, Fortnite, Valorant, Zoom, Twitch, and many more.
3. Is Ian McKellen gay?
Yes, Sir Ian McKellen is openly gay. He came out as gay in 1988 and has since been an advocate for LGBTQ+ rights and visibility in the entertainment industry.
4. Who is Ian McKellen's husband?
Ian McKellen is not married, but he has been in a long-term relationship with his partner, Sean Mathias, who is a British director and writer. The couple has been together for many years and is known for their advocacy for LGBTQ+ rights.
Conclusion
MagicMic Sir Ian McKellen Voice Changer opens up a world of creative possibilities for content creators and storytellers. Whether you're a professional podcaster, a video producer, or simply someone who appreciates the art of voice, this technology allows you to infuse your projects with the captivating essence of Sir Ian's voice. Embrace the future of voice transformation and elevate your content to new heights with the Ian McKellen AI voice. It's time to let your creativity shine.Try it for free!(use MagicMic)