Whenever we hear the name Mario, we get nostalgic because it brings back a lot of memories from childhood. It doesn't matter if you were born in the 1980s or 1990s. You would have heard and played a game of Mario. Mario had a distinct voice that we all could recognize in seconds. In this article, we will discuss how you can get Mario's voice using text-to-speech generators.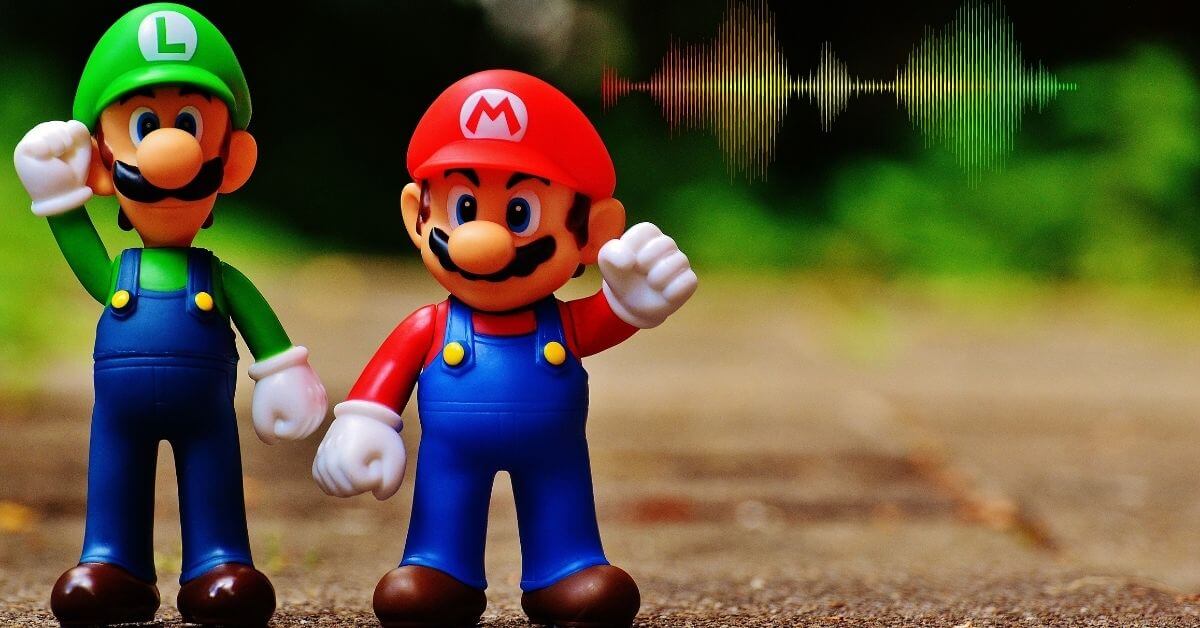 Try it Free
Part 1: Do you Know Who Mario is?
We all know Mario from our childhood. It was and still is one of the most iconic games of all time. Mario was first introduced in 1981 in the game "Donkey Kong". After that, there have been a series of games that we can't even live up to.
Mario is also Super Mario, and he is Italian with a mustache. By profession, Mario is a plumber and has a brother named Luigi. Shigeru Miyamoto is the creator of Mario, and it is the most successful video game franchise series from Nintendo.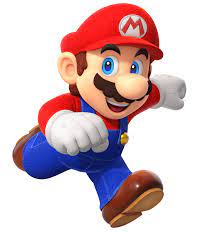 Part 2: Best Ai Voice Generator Make Mario's Voice- VoxBox
iMyFone VoxBox is a text-to-speech generator that has a clean interface and just a few clicks to help the user create the voice of a Mario, also supports a voice recorder, video convert, speech-to-text, and audio editor.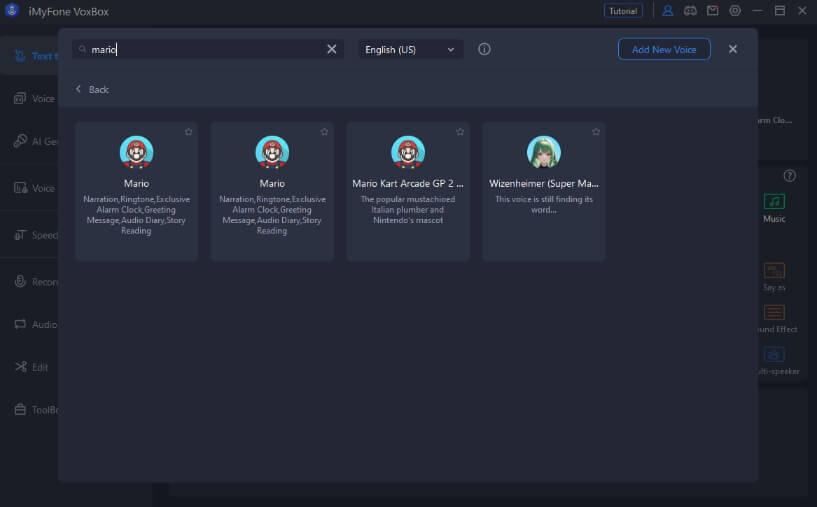 Features:
3200+ voices like Rappers, YouTubers, Cartoons, Celebrities, etc.

46+ languages like Spanish, Japanese, Indian, etc.

100+ accents like a British accent and a Hindi accent, etc.

Supported voice record even from platforms like iTunes.

Supported text-to-speech,voice record, audio edit, video convert.

Supported adjust audio parameters like Speed, Volume,Emphasis, Pitch,Pause.
Pros:

User-friendly interface, it is very easy to use.

It is safe.
Cons:

Only available for Windows users.Mac coming soon.
Tips
Listen to the Mario Voice Generated by VoxBox.

Try it Free
Part 3: Top 2 Online Mario Text-to-Speech Ai Voice Generator
1) UberDuck.ai
UberDuck.ai is online Text-to-Speech Voice generator, also supproted creat voice of mario. You can use it and take advantage of its wide library of different voices.
Features:
Developers can use Uberduck.ai APIs to develop audio apps.

It has more than 5000 expressive voices.

This community can give you feedback on your work so you can improve precisely.

Concerning audio, you can sing along with the song or even rap.

You can also synthesize yourself by customizing your voice clone.

As it is an open-source voice AI community, it is quite diversified.

Moreover, contribute to the community by sharing your ML models, datasets, and art.
2) FakeYou
FakeYou is another online text-to-speech voice generator that you can use to transform your text into mario's voice. It also has a wide range of categories and voices from which you can choose.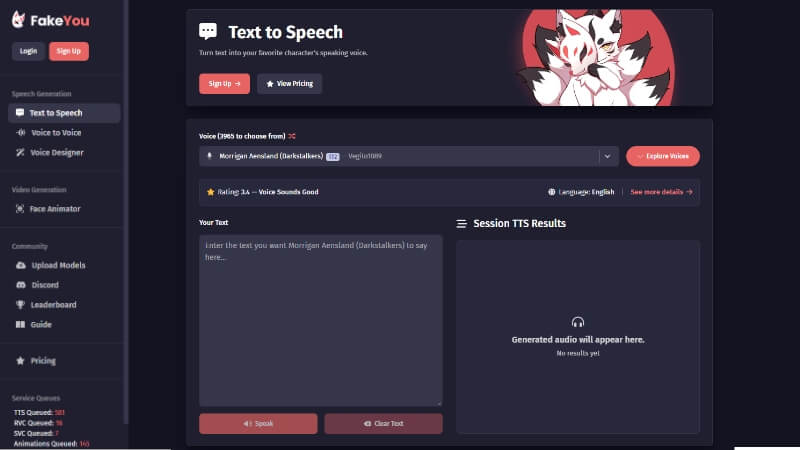 Features:
FakeYou has probably the most variety of voices, more than 2400 voices.

You can create a clone of your voice and customize it.

It also allows you to create videos.

It is the most simple and easy-to-use online text-to-speech voice generator.

Allows you to listen to the generated voice before you can download it.
Conclusion
Mario is an iconic cartoon and game character. Different TTS voice generators have Mario's voice, but I'd recommend the best tool—iMyFone VoxBox.
As I mentioned before, there are more languages and Ai voices to choose from, which not only fulfills your entertainment purpose but also supports your business purpose. You can download and install it, to make more Ai voiceover for your video. or online course, or storytelling Apps
Try it Free