Creating an engaging and exciting presentation is the goal of every presenter. However, it is a bit difficult to create something that can attract an audience. In this article, we will share some ideas and tips to help you create a presentation that can stand out from the crowd. We will also introduce a beginner-friendly video editor that can help you create fantastic video presentations.
Part 1. Top 20 Presentation Video Ideas to Wow Your Audience
1) Include Your Brand
The first thing that you need to do is include your brand. It is better to have a logo in slides but make sure to have a big logo at the start as well.
2) Start with a Quote/Statement
You can make a statement or quote anything that relates to the topic you are going to discuss. It could be the gist of the whole presentation that can give an idea to the viewers. After that, you can proceed to explain or back your statement with findings and proof.
3) Create a Story
Creating a story is important. You can create a story around the topic to explain the statement or idea. It can be a short story to convey the message and explain things with ease.
4) Visualize Data
Data visualization is quite essential. Your audience cannot remember the figures and numbers you mention. It is better to create charts, tables, graphs, or anything else. You can add images of visualized data.
5) Use Graphics
Graphics make your videos more engaging. You can add stickers, emojis, images, and tags to the video. It makes the videos more attractive.
6) Add GIFs
GIFs are great for explaining things and ideas. These are short forms of videos that make things more clear. You can take small parts of videos and convert them into a GIF.
7) Text
Text is necessary to communicate with the viewers. You can elaborate on things, add an explanation, write captions, include titles, and use text for many other purposes. Moreover, make sure the text is clearly visible. It could be bold, large, or capitalized according to the needs.
8) Incorporate Memes
Memes can make the audience laugh. These make the video presentation more interesting and exciting. You can include some trendy memes that can help you present the idea or explain anything with ease.
9) Use the Right Colors
Choosing the right colors is important. You need to create a suitable color theme according to the color contrast. Make sure the text is visible enough. You can use bright colors and express your creativity.
10) User Humor
Humor can help you convey your message easily. It will keep the viewers engaged and does not let them get bored. However, it would be best if you did not overdo it.
11) Background Music
The background music plays an important role. There should be relevant music. For instance, if the video is for inspiration, you should use inspirational music. Moreover, please make sure the music volume is not too loud; otherwise, it will irritate the audience.
12) Animations
Animations give a unique and interesting look to your videos. There can be animations for fireworks, celebrations, balloons, etc. These give a stunning look to your video. You can create animated slideshows using Filme.
13) Narration
If you are explaining the video in person, then there is no need for narration. However, you can include it in some parts of the video, such as stories. If you are not explaining it slide by slide, then narration is necessary. You can add a voiceover.
14) Video Background
The background of the video must be set according to theme or color contrast. There can be a background representing your brand or anything you find suitable according to the content.
15) Transitions
There must be transitions between the slides. However, the transitions must be simple. There are dozens of transitions available, and you only need to select a suitable one.
16) Sound Effects
Sound effects also create an impact on the viewer. They can elaborate on the feelings and message. Sometimes, they can be for fun and humor. Adding sound effects can increase the engagement of your video.
17) Add Questions
The best way to engage an audience is by adding questions. You can add questions to know about the thinking of your audience. They can give their opinion and thoughts. This way, you can clear their doubts and issues.
18) Keep It Simple
Simplicity is the key. No matter how challenging the topic is, it is better to keep things simple so that the audience can understand. The more you make things effortless to understand, the more will be watch time and engagement.
19) Object Organization
While placing the objects on your slides, make sure everything looks clear and clean. Do not overpopulate the slides and organize everything properly. A slide should have excessive content that the audience cannot digest in a short time.
20) End with a Statement
Finally, you can close your presentation with a statement. It could also be the one that you have quoted at the start. It will leave an impact on the audience, and they will remember the gist.
Part 2. Best Video Editing Software to Better Edit Videos
Filme is a splendid video editor for Mac and Windows. It can help you create breathtaking video presentations without any hassle. It is more than excellent, and your video presentation will definitely stand out from the crowd.
Filme is a video editor, and it has everything you need to create tremendous video presentations. You can import all the slides, images, objects, charts, graphs, and everything in the form of images. After importing them to Filme, drag them to the timeline, and arrange them.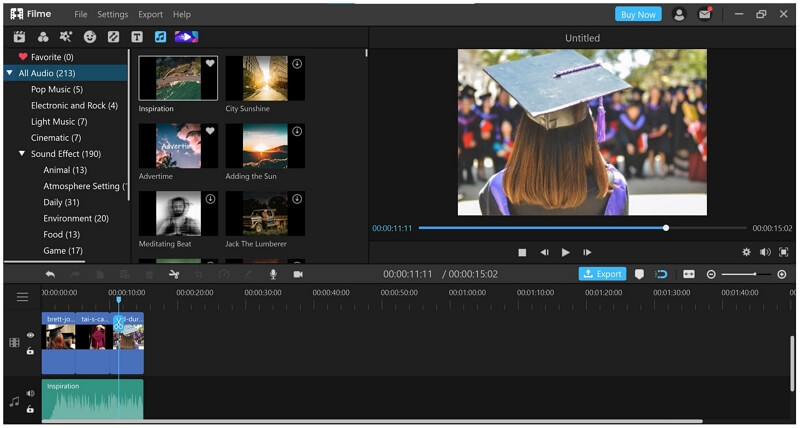 Filme has multiple audio and video tracks, so you can easily create layers. You can have a background layer and then place the desired objects over it. You can add images, GIFs, charts, or anything you like. The best part is that you can control the duration of each slide separately.
After adding all things to the timeline, you can add text, effects, stickers, filters, transitions, and graphics. Everything is in your control, and you can create video presentations like a professional.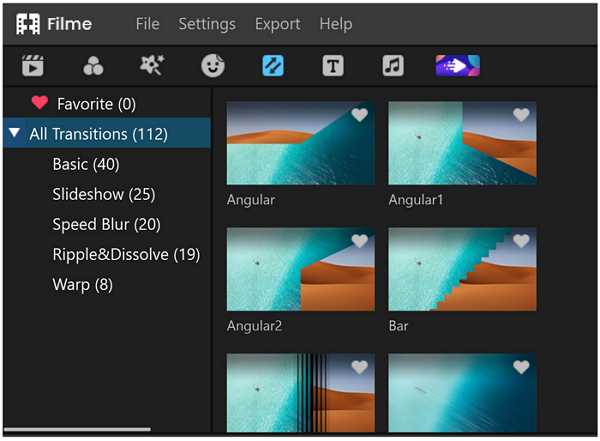 You can add the music you like. Filme also has its own library of sound effects and music. You can add whatever you want with one click. You can record your own voice for narration, and if you want your voice to sound different, you can use the voice changer.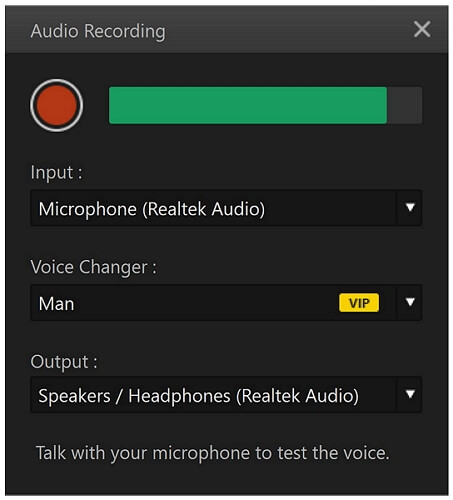 The slideshow maker can also help you make quick video presentations effortlessly. There are dozens of templates available for different occasions. You can select a template and add images to it. It will be a slideshow with amazing animations. After that, you can edit the slideshow just like a video and add whatever you need.
Watch this video to see how to use Filme to help make YouTube video intro:
Final Words
Beginners can also create an eye-catching and engaging video presentation if they know the right tool and the right ideas to implement. We have listed the top 20 ideas that can make your audience wow. We have also introduced Filme to create wonderful presentations with minimal effort. It is a simple video editor with great tools and magnificent features. You can easily create an awesome video presentation in less time.