It's all fun to watch video on Snapchat, until your friends have to tilt their phones to view your landscape/horizontal photo and everything gets a little annoying. How to rotate Snapchat videos and avoid such situations when Snapchat doesn't even have an option to rotate the pictures? We got you all covered up.
Now that you can upload video to Snapchat Spotlight from computer, try Snapchat video editor Filme on desktop to rotate video, along with more Snapchat video editing features.
Part 1. How to rotate video on Snapchat
Snapchat is the hot favorite social media platform for millions of people out there. It has many brilliant features that made it the talk of the town in just no time. But there's one feature that we find missing in the app. It lacks the feature to rotate pictures accordingly to the right orientation. And this seems pretty much unfair to your favorite landscape pictures that cannot be viewed horizontally without actually tilting the phone. And it leaves most of us annoyed every single time. Sometimes your friends miss your streak snaps as, by the time they manage to tilt the screen to see your landscape snap, the snap already vanishes.
All those wondering how to rotate a video on Snapchat can use the following steps to fix the issue:
Step 1: Open your Snapchat and view the memories. Select the Landscape video you want to convert into a vertical orientation.
Step 2: Import your camera roll if it isn't already present in the camera roll. And even if it is already in your camera roll import to camera roll again so that it's in your recent videos.
Step 3: Close the Snapchat, and open any other app such as your Instagram app.
Step 4: Now, as you have your Instagram app opened, go to your stories section where you normally import snaps to post as stories.
Step 5: Now select the video you want to convert and import it to your story, adjust it accordingly, and when it's all set just hit the download button.
Step 6: Now you can exit Instagram, and open Snapchat. Then view your edited video from the camera roll to send it or upload it as a story on Snapchat.
These steps will most probably help you rotate Snapchat video android and get over this situation.

Part 2. Set Snapchat default camera orientation
Many people annoyed by how Snapchat prefers the vertical orientation even for the horizontally recorded videos, would feel even more annoyed when every time after they finish recording their video, they have to head on to the Instagram app for further adjustment. And all the wonder is that why can Snapchat not introduce a feature that fixes this? If you're somebody not ready to invest the time later on for conversion of the orientation of your landscape videos. Snapchat has an option to change the default orientation.
Following is a complete guide to change your default camera orientation in Snapchat.
Step 1: Open your Snapchat app, and look for the "gear icon" on the screen. This is the settings menu. You'll find it in the top-right corner of the screen.
Step 2: As soon as you have your settings menu opened, scroll through to find the Advanced section.
Step 3: Tap on Video settings from the given options.
Step 4: Tap on Camera Orientation from different video setting options. Here you can select the camera orientation you generally prefer. If you record landscape/ horizontal pictures choose the Rotate 180° option that records your videos in horizontal format.
Step 5: The Standard option tends to keep all your videos in portrait mode. Choose the most suitable one for your use. And there you are, it was that easy.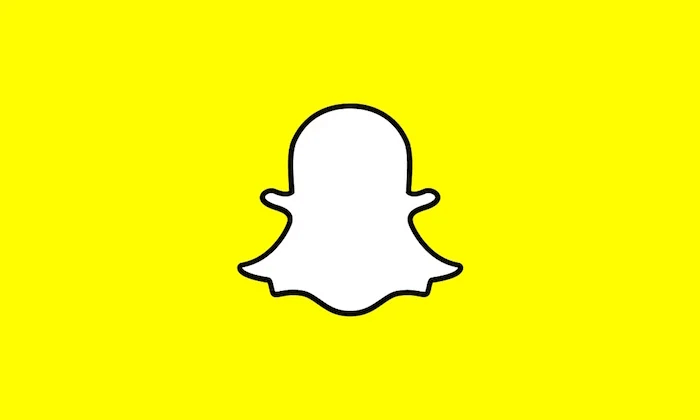 Part 3. FAQs about rotating Snapchat video
1. Snapchat's start rotating pictures 180 degrees recently? Can't fix it?
If you're experiencing something like this i.e. the Snapchat app starts rotating your picture to 180° on its own without any change in the default camera settings of the app. You can simply fix it through these simple steps:
Step 1: Open the settings of your phone, then tap on the app manager.
Step 2: Look for the Snapchat app among the installed apps.
Step 3: Tap on Snapchat, and then clear all app data.
Step 4: Open Snapchat and log in once again. This is most likely to fix the issue.
2. Why is the Snapchat camera not working?
A. Connection Issues
This might not be a technical issue with your app but just a connection issue, try switching between mobile data and Wi-Fi or disconnecting and connecting it again.
B. Update your app
Make sure that your Snapchat app is updated to the latest version, and if you find out that it needs an update download an update from Google Playstore or Apple App store for android and iPhone respectively.
C. Restart the Snapchat App
The issue may also be fixed through something as simple as just restarting the Snapchat app. restarting the app smoothens up all the operations.
D. Restart the device
Restarting the device can also fix many minor issues in the apps by refreshing them.
3. Snapchat won't open on iPhone?
If your Snapchat App isn't working on the iPhone, it is probably corrupted. You can simply fix it by deleting the app and downloading it again from the Apple app store.
Also Read:
How to Make Boomerang Video on Snapchat >>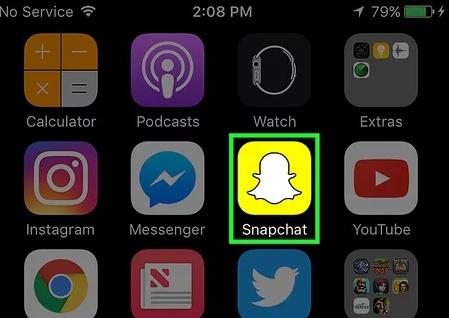 Part 4. Best video editors for Snapchat [More than rotating]
Looking for something that can do a lot more than just rotating videos? If so, then you need an all-in-one video editor that could do all the magic you want. We have two most commonly used video editors here:
iMyFone Filme video editor is equipped with numerous editing options that make sure that you're never tied down to limitations. No matter if you're a professional or a newbie, iMyFone Filme video editor has you all covered up.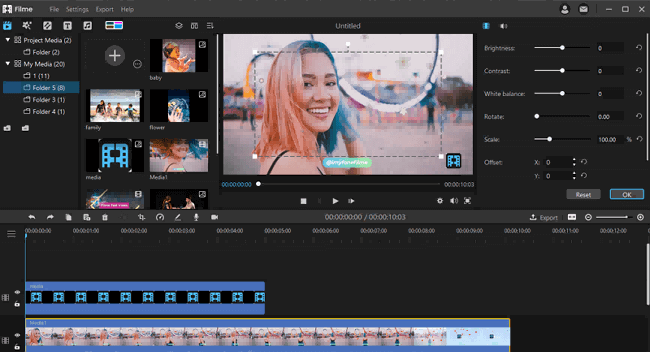 Fast Video Mode
Fast video mode has you covered up if you're a newbie who doesn't really know all the editing technicalities but still wants to create fast videos like professionals. It's always just a single touch away, create your personalized slideshows and videos.
Trim, Rotate, and flip the video
We're not new to the orientation issue in most of the apps, even as popular as Snapchat. These apps do not consider making the camera orientation intelligent enough and this ends up ruining our recorded moments. But iMyFone Filme helps you fix everything within a single touch. It can do a lot of video editing such as trimming video for Snapchat.
Adding Audio Tracks from the library
The right audio gives life to your videos, and iMyFone Filme knows this well. It makes lifeless videos lively and sprightly with the option to easily add an audio track to your videos.
Effects
Various effects from iMyFone Filme make your beautiful moments just perfect. No matter how dull are your videos, it dazzles them up by touching up with your favorite effects.
Take a look at this video to see what Filme can do for you for editing video for Snapchat :
2. Splice - [iOS & Android]
Splice is one of the best video editing Apps for Snapchat. It is simple yet powerful to use for different kinds of video editing.
Effects and Transitions
You might want your video to look like a 70s classic, you can add the black and white effect for that. There are a few other effects as well that help your video content stand out on social media platforms.
Sharing
You can directly share the edited videos to various social media platforms such as Snapchat and Instagram without downloading them to your device.
Trim the Video and add audio
Trim the parts of your Snapchat videos that you find annoying or useless. And make the videos fascinating by adding some music from the huge library.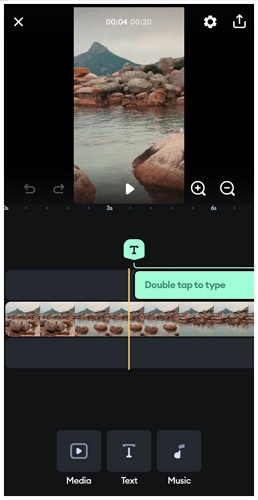 Wrap up
Fixing video orientations on Snapchat can be annoying sometimes but you can fix the issue with a few steps like switching to a different app like Instagram or changing the default camera orientation on Snapchat. And if you want to talk your experience to an all-new next level, get yourself an all rounder video editing app like iMyFone Filme with several editing options that help you edit like a pro.