Snapchat is a popular social platform for sending, receiving, recording, and editing videos and pictures. Like all other applications and software, Snapchat also shows some problems and occasional errors. There are two major kinds of errors that users usually face, and these are "Snapchat not sending videos or snaps" and "Snapchat not sending messages".
In this article, we are going to share the troubleshooting tips to solve the problem of Snapchat not sending videos. We will also share some awesome video editors, like Filme, to edit your Snapchat videos like a pro.
Troubleshoot Snapchat Not Sending Videos
Follow these easy tips and methods to solve your Snapchat not sending videos problem in a few minutes. Without wasting time, let's have a look at these error-solving tricks.
1) Check Your Internet Connection:
While using Snapchat, the first thing you should keep in mind is a good and fast internet connection because Snapchat can give its best only if a good internet connection is provided. People usually ignore checking internet connection while facing such problems with Snapchat.
Go and check whether your internet is connected to your device or not. You can also turn off your mobile WiFi for a few seconds and then turn it on again to see the results. If it does not work, switch to your mobile data from WiFi. This can solve your problem if there is an issue with the internet. If your Snapchat does respond accurately after this step, then follow other tips.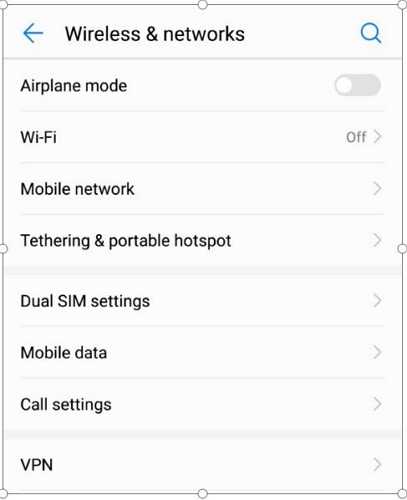 2) Check Video Permissions:
Before using Snapchat, the application asks users to give some permission so that Snapchat can work smoothly and give a satisfying experience to users. If anyone does not allow the video permission to Snapchat, then it will make issues for sending and recording videos on Snapchat. Moreover, you will get problems with video editing on Snapchat.
Check whether you have given the permissions or not. For this purpose, open Snapchat and tap on the Profile icon on the top left corner of the screen. You will see a Setting's icon on the top right corner of the next screen, tap on it and scroll down the screen to get the Permissions option under Privacy. Tap on Permissions and allow Snapchat to use your Camera, Microphone, and Storage as well.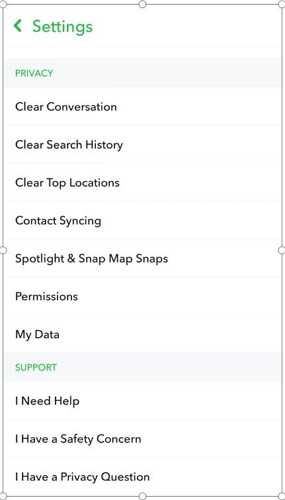 3) Clear Cache:
The cache contains all the stored summary files of Snapchat. It sometimes stores corrupted files that slow down Snapchat's working ability. Clearing cache means you are going to clear all the errors and corrupted summary files of Snapchat. This act allows Snapchat to work smoothly and seamlessly.
For clearing Snapchat's cache, go to Snapchat's Settings and scroll down the screen. You will see an option Clear Cache under the section of Account Action. Tap on Clear Cache and then on Continue. After it, restart the Snapchat app and see if the problem is solved or not.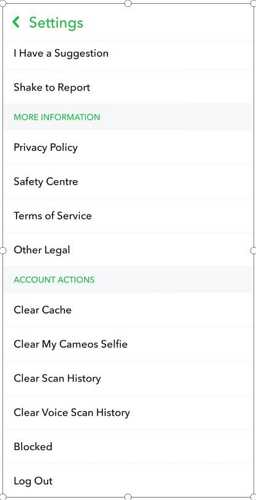 4) Snapchat Reinstallation:
If your problem is not solved after following all the above-mentioned tips, then the problem will be in the installation files. In such a case, you should reinstall the Snapchat app on your mobile.
For this purpose, uninstall Snapchat first from your mobile and then go to the Play Store (for Android users) or App Store (for iOS users). Search for Snapchat and install it on your devices. Make sure to download and install the latest version with all the updated features. Then go back to your Snapchat account, and your problem will hopefully be solved after doing this step.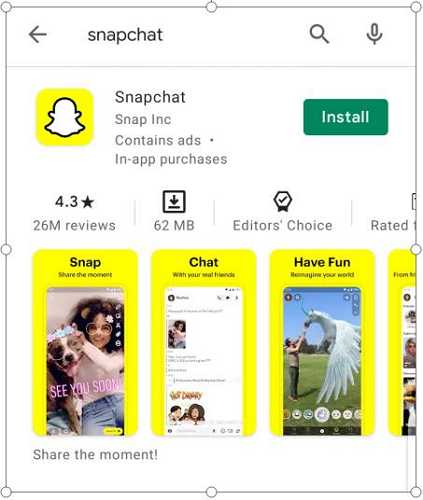 Some Hot FAQs About Snapchat Video
Q1. How long a video can you send on Snapchat?
Snapchat has a limit on sending and recording videos. It allows its users to record six videos of 10 seconds in a row. It means you can record and send a video of 60 seconds easily to anyone on Snapchat. This is the limit that Snapchat allows. However, any user can send multiple videos of 60 seconds consistently to anyone on Snapchat. Moreover, if you want to upload or share a story, you will be allowed to share the stories within the same limitations.
Q2. Why does it keep saying sending on Snapchat?
No doubt, Snapchat is an awesome and a good app, but sometimes it starts showing an irritating option of Sending and gets stuck on it. It happens because of some internal issues like overloaded cache and outdated version that slows down the app performance. To solve it, restart your phone. Clear cache from Snapchat settings and check the performance of Snapchat. If the issue does not solve after it, reinstall the app to fix the error.
Q3. What happens if you clear cache on Snapchat?
Snapchat's cache contains summary files that are automatically saved to cache without your knowledge. Clearing cache is always advantageous for you because it optimizes and normalizes the performance of the app. Moreover, you do not need to worry about clearing cache because it will not delete any of your personal or important data from the Snapchat app. It will just clear the unwanted files that are running in the background without your permission. You will feel your app is working seamlessly and smoothly after clearing the cache on Snapchat.
Q4. How do you delete a video on Snapchat that won't send?
Here is the easiest way to fix the problem of deleting the not sending files. Deleting a video from a Snapchat conversation is quite easy for users. Just go to the conversation, tap and hold the video you want to delete from chat, and then tap on Delete. If it does not work, just close the Snapchat app and remove it from recent apps. You can also restart your mobile to make it normal and optimized. After this, open Snapchat and go to Settings > Clear Conversation and then delete the not sending file or video.
Edit your Snapchat Video before Sending
After solving Snapchat video problems, you can share, send and record beautiful moments through videos easily. But let's make the moments more captivating by editing the video before sending it to anyone on Snapchat. Here are the best four video editors that can help you to make your videos more attractive.
Filme is an all-in-one and versatile video editing application. It can help you edit your videos like a professional, even if you have no experience in video editing. You can edit your videos for Snapchat as you like and make them appealing in no time.
Features for Editing Snapchat Videos
Filme has all the basic tools for video editing. You can trim, cut, change speed, adjust color, split videos, and make any changes you like.

The cool effects and transitions of Filme can make your videos more appealing and engaging. There are many effects and transitions available.

Filme has a Fast Video mode for creating quick slideshows. You only need to add images to create a slideshow.

You can edit music in Filme. You can change the voice recorded audio or change the voice in real-time.

Filme has advanced export options. You can select the desired file container, resolution, frame rate, codec, and other settings.
Compatibility:
Filme is compatible with Windows 7, 8, 8.1, and 10 and macOS 10.10-10.15.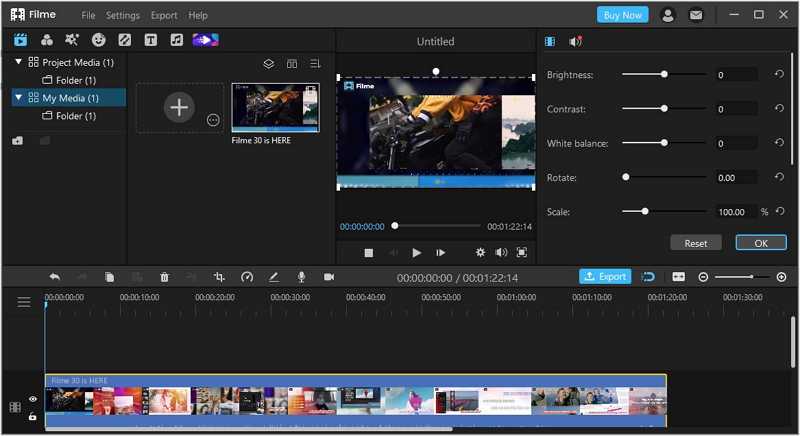 Splice is an easy-to-use and amazing video editor for editing videos for Snapchat. It can easily be used to edit your Snapchat videos like a pro before sending them to anyone. It is a simple but very powerful app to customize videos on mobile phones without being charged.
Features for Editing Snapchat Videos:
You can cut, trim and merge different photos and short movie clips on Splice.

It allows adding slow and fast motion to videos.

You can add music from the library.

You can add text overlays and different titles.

You can fix the aspect ratio of your video depending on your own choice.
Compatibility:
Windows XP, 7, 8, 8.1, 10, Android devices, iPhone, and iPads.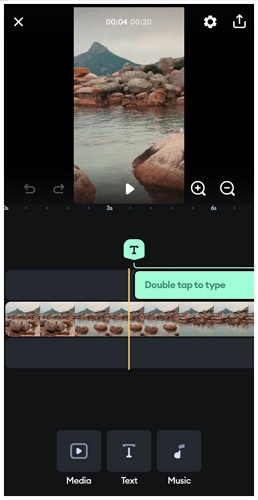 Snap Video Maker is another amazing and user-friendly application to make and edit videos. There are several features of this editor that can be used to enhance the quality of your Snapchat video.
Features for Editing Snapchat Videos:
You can choose many pictures to create beautiful slideshow videos.

You can add different effects to your videos.

Different frames are available to make the videos more appealing and decorated.

You can choose any music or song from your device and set it as background music.

You can change video speed by setting time duration.
Compatibility:
It is for Android devices.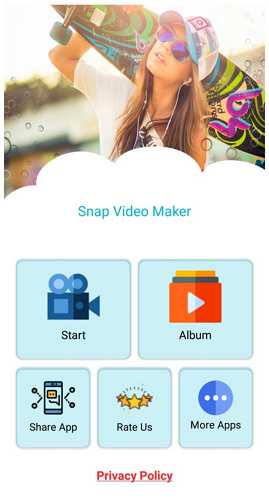 Clips is a free app to make funny and engaging videos for your family and friends. You can easily use the pre-installed free features of the Clips app to give your Snapchat videos different looks. It is free to download and install.
Features for Editing Snapchat Videos:
You can create your clips by merging snaps and videos from your device.

Effects can change the outlook of your Snapchat video.

You can add text, posters, and captions while editing.

You can use funny emojis and stickers to have fun.

You can adjust the length of your video.
Compatibility:
Compatible only for iOS devices.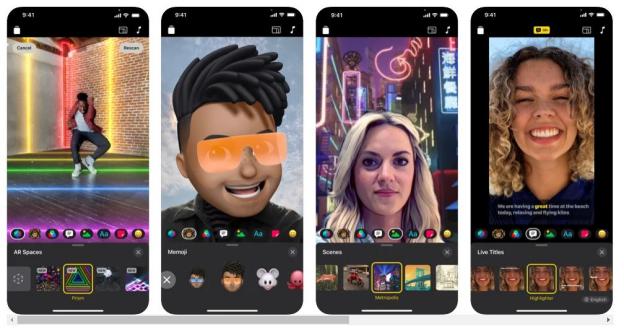 Final Words:
Snapchat is one of the most loved applications, but it irritates when it gets stuck. People get frustrated while finding solutions to solve issues, like Snapchat not sending video problems. But we have made it easy for you through this article. We have listed some easy tips to solve Snapchat video problems. Moreover, we have also introduced four excellent video editors for editing Snapchat videos before sharing. We recommend Filme as it a simple tool, and it contains many features and tools to make your videos stunning.