Planning to promote your cover band on YouTube with a fun music video? Or simply want to create a music video for your recent school, friend, or family event to share on social media? Well, here is a step by step guide to teach you how to make a music video for YouTube that any beginner can easily follow!
Part 1. How to Make A Music Video for YouTube Using Top 4 Easy Tools
As we know that not everyone has the same access to video-editing software, to make things even easier, we have broken down the tutorials for the top 4 easy to use software!
1

Built-in YouTube Studio
YouTube Studio is YouTube's very own in-house video editor software. While convenient, it is a basic video editor at its core.
While it allows you to do basic edits like trimming clips and cutting out sections from your footage, and even blurring faces, it has discontinued other more interesting features like rotating videos, colour filters and more.
But not to worry, if it's something simple you are looking for, you can add and customize audio in your footage in the following simple steps.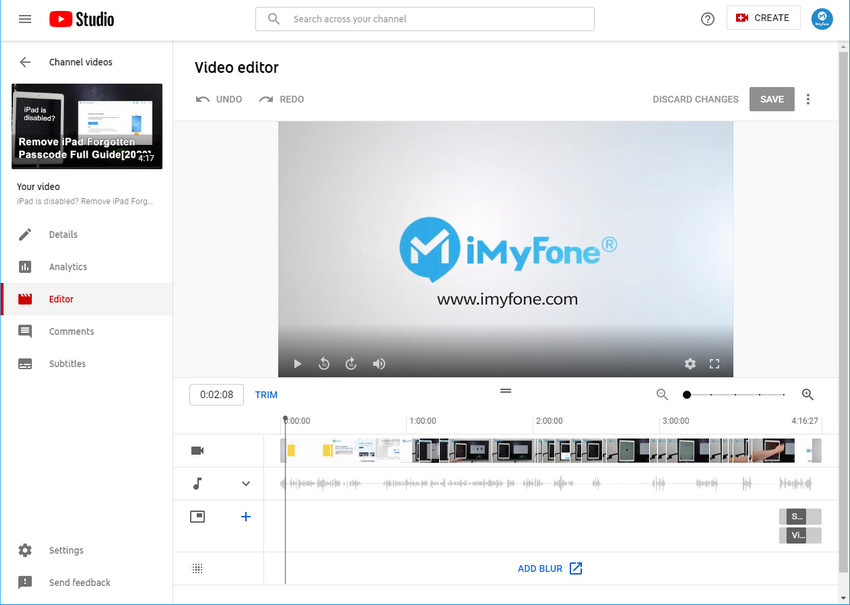 How to Make A Music Video for YouTube Using Built-in YouTube Studio
Step 1: Sign in to YouTube Studio (on your Channel account) and select Video Manager > Videos from the menu to see a list of your uploaded videos.
Step 2: Select the video you want and click the Editor button on the left pane. This should lead to a dropdown menu where you can select the option of "Audio" which will bring you to a library to select your music track. You can search for suitable tunes based on mood, genre or even instruments you are looking for.
Step 3: Found one you like? Simply click "Add to Video" and the track will appear in the editor under the video preview.
Step 4: For further customization, you can easily drag and trim the audio track like any other software, to adjust its length and position in the video.
Step 5: Simply click "Save Changes" when you are done!
Price Plan: It is absolutely free – I mean with the basic functionalities it would be a crime to charge for it. This is great for absolute beginners who don't need so many special features in their videos!
Need more special features but hope for a software that is still easy to navigate for beginners? Well, that's iMyFone Filme for you.
As an easy to use video editor that runs on Windows, it offers users an incredibly easy and efficient way to edit videos with lots of smart features like our favourite, "Fast Video Mode" which creates a video with one click, and a whole variety of templates.
Below is how you can create and add audio easily to your music video using iMyFone Filme.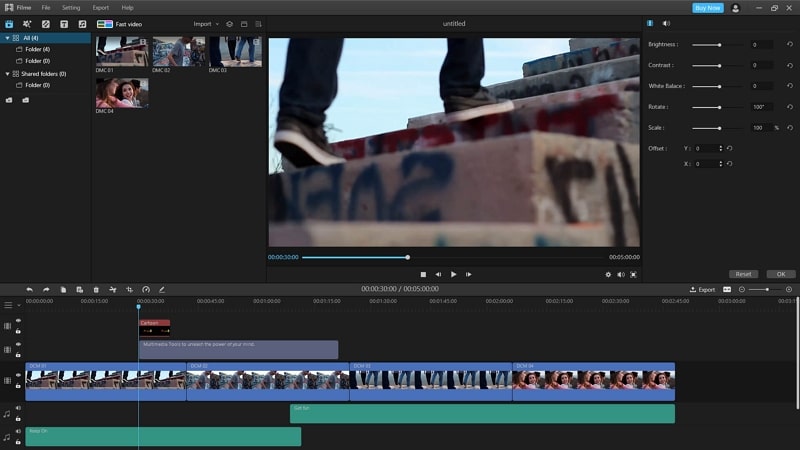 How to Make A Music Video for YouTube Using iMyFone Filme (for Windows users)
Step 1: Download your copy of iMyFone Filme on the official site.
Step 2: Import your footage and open it up in the video editor.
Step 3: To add stock music: Simply select the "Music" button at the top panel of quick shortcut buttons and you will be brought to a royalty-free music library. Find your favourite pop, electronic rock or even cinematic tracks and just click the "+" button on the track to add it to your video.
Step 4: To add your own audio file: If you have your original music you'll like to use, you'll need to first import the file. Head over to "Files" and click "Import" for that. Once uploaded into your iMyFone Filme Media Library, head over the left panel, you can add it the same way as above.
Video Tutorial of Filme
3

iMovie (for macOS users)
If you are a hardcore iOS and macOS user, this is the perfect video editor for you. Like many other Apple products and software, iMovie is a top-in-class product. Easy to use, intuitive and full of useful features, it is one of the most popular video editing software that consumers love.
Here, we will be teaching you how to make a music video in iMovie Mac (for iMovie iPhone and iPad – learn more in our tutorial here):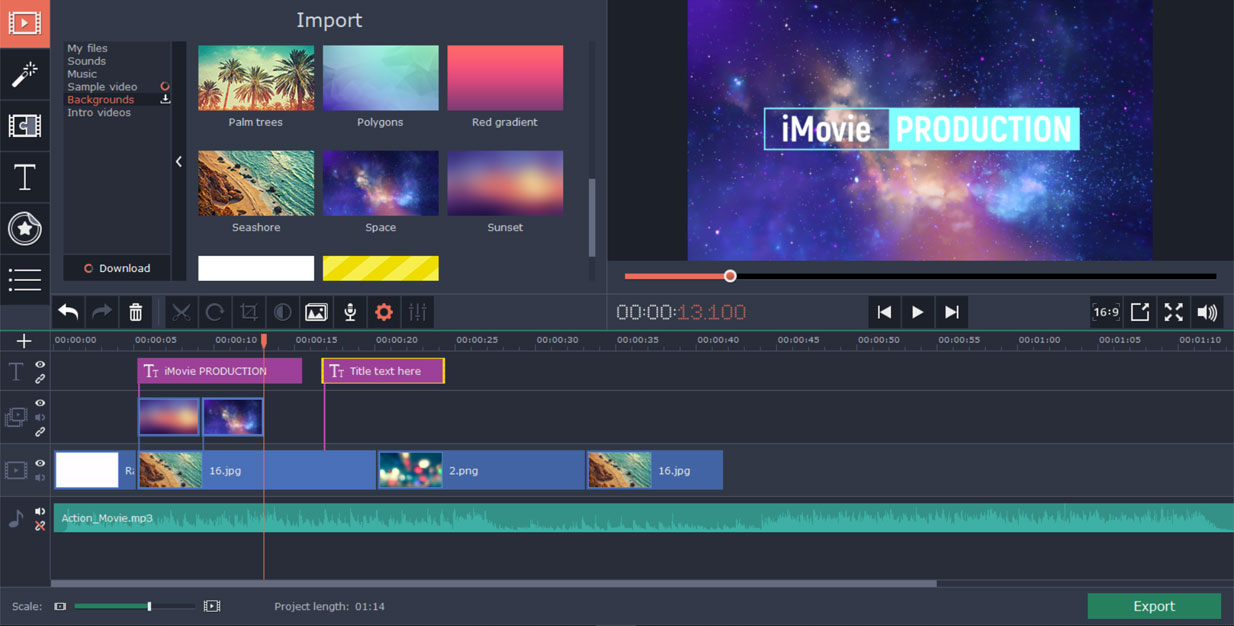 How to Make a Music Video for YouTube Using iMovie (for macOS users)
Step 1: Download your free copy of iMovie and start up the software.
Step 2: Start a new project by heading to "Projects" and Create New > Movie. You'll be prompted to add footage (so do just that).
Step 3: Next, click "Audio" on the top panel. It should release a dropdown where you can pick from "Sound Effects" (royalty-free stock sounds and tracks), "Music" (you own library of songs) or "GarageBand" (if you have recorded your music there).
Step 4: There are 2 ways you can add music to a video in iMovie: either as background music or an audio clip (You can make adjustments like further trimming, positioning or even volume adjustments etc for both cases).
Step 5: For adding background music: Find the audio track and drag it to the "Background Music Well" (It is right below the timeline).
Step 6: For adding audio clips: Find the clip and drag it to the "Timeline" instead. Now your audio will be attached to the video clip.
Price Plan: It is absolutely free – it is a wonder how Apple continues to offer this powerful video editor with no strings attached! This is perfect for anyone starting out as a beginner!
4

Renderforest (Online Editor)
If you are looking for an all-in-one offering for your video-editing, logo, and website needs – Renderforest is the one for you. Popularly known for helping create impressive easy to make intro videos, animated explainers and music visualization videos commonly seen on YouTube, Renderforest's video capabilities can be useful in creating a simple music video!
Below is how you can make your music video easily using Renderforest.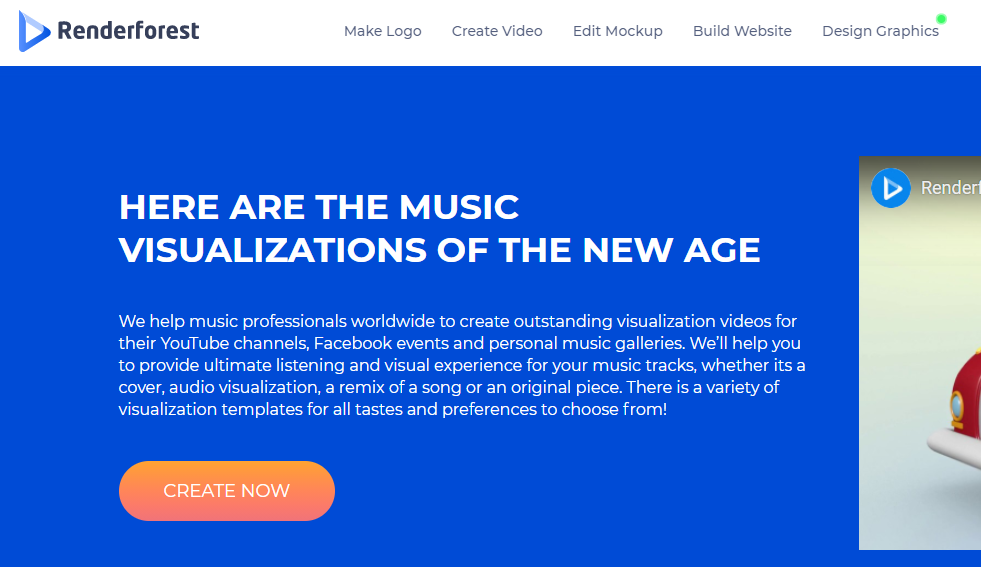 How to Make a Music Video for YouTube Using Renderforest (Online Editor)
Step 1: Create a new project with one of their popular video templates. Pick one that suits your needs the best to start with – and click "Create Now".
Step 2: Choose "Add Scenes" to have the option to edit the video.
Step 3: Select from the variety of scene templates from the left panel to add your footage and customize them accordingly to the prompts (can upload your footage by clicking "Add" under Edit Video prompt).
Step 4: Once the video is added, you can move along to the "Music" section – where you can "Upload" your own audio file, select background tracks from the "Music Library", or even "Add Voiceover" to sync with the video. It is that simple!
Price Plan: The most basic account is free with 300MB storage, but the videos come with watermarks. For non-watermarked videos, they have plans starting from $6.99 / month billed annually or even pay per product options at $9.99 for a single video.
Part 2. Other Useful Tips When Making A Music Video for YouTube

For YouTube in house editor: Only one audio track can be added to each video currently. So, if you have transitions required, make sure you make the adjustments separately before uploading.

If your music video is for a cover song, make sure you include the word "cover" in the video titles to be clear.

Check YouTube's copyright policies before you upload your video to avoid infringing on any rules.

Choose the proper video editor to make a music video for YouTube, and if you are a Windows user, then iMyFone Filme is highly recommended for you!