Sometimes this automatic adjustment isn't much accurate and you might need to manually alter the white balance. Are you interested in knowing how to adjust white balance in Photoshop? This article will guide you on how to use Photoshop to adjust white balance.
What is the Defination of Color Temperatures?
If you want to know how to adjust white balance in photoshop elements, then you must understand what different color temperatures are and how they can affect your video quality.
Different colors can be classified into two types; warm and cold tones. Light colors with shades of yellow and orange tend to be warmer colors while other more darker color with shades of blues are classified as cold colors. Warmer colors with temperatures below than 5000K are the most comfortable colors for eyes. Below is a list of the color temperatures of few of the most common light shades: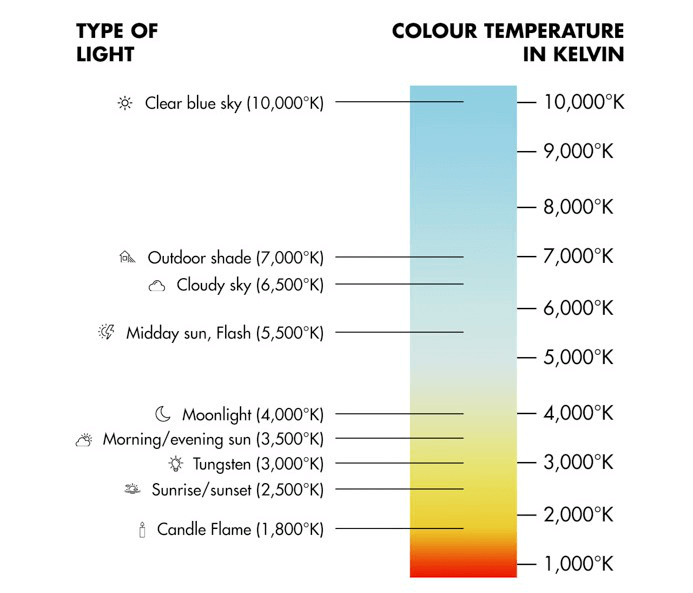 A clear blue sky produces light with a color temperature of 10,000 K.

Moonlight has a color temperature of 4,000 K.

Tungsten bulbs produce light with a color temperature of 3,000 K.

A candle flame produces light with a color temperature of 1,000 K.
How to Adjust Video White Balance in Photoshop?
Adobe Photoshop is arguably one of the best picture and video editing software with countless notable features and extraordinary workability. With Photoshop, you can perform all sorts of basic and advanced video editing functions, including trimming, cropping, rotating, adding special effects, and more, with ease.
So how to adjust white balance in photoshop cs5? Photoshop allows you to alter the white balance of your images, which in turn, affects the brightness of the image. The complete process of doing this is somewhat difficult; however, the steps below will guide you over the complete process to ensure that you don't feel lost along the way.
Make sure that you have the latest version of Adobe Photoshop installed on your computer. Launch Photoshop and import the image that you want to brighten.

Afterward, select 'Image' from the top menu and go to 'Adjustments'. From the list of available options, select 'Curves'.

The Curves menu will now show up on your screen. Here, you'll be able to change and set the relevant pointers for your image. At the bottom of this menu, you'll see three eyedroppers representing different pointers. Select the highlights eyedropper given at the far right.

The cursor will now change into an eyedropper icon. Use this tool and tap on the whitest part of your video to set the white pointer.

After you've set the white point, you must now select the grey point as well. For this, select the middle eyedropper icon and tap on the area with the moderate amount of color and light giving a grey shade.

Lastly, you must now set the black pointer for your picture. Select the eyedropper at the far left and tap on the part of the image with the darkest shade.

By now, you must've realized that your image is much darker than you expected. To fix this, select the box given at the bottom left of the curve box. Drag this box up to the point at which you seem satisfied with the results. Press 'OK' once done.
Easier Video Editor to Adjust Video White Balance
After going through the above method of how to adjust the white balance in photoshop, you might've found this method to be difficult to perform. For this reason, I have a much more easier and efficient way for you to accomplish this. iMyFone Filme is a perfect video editing software that is specially known for its sleek interface and easy-to-use features. This is the perfect tool if you're looking for basic or advanced video editing with minimum effort.
Filme is an all-in-one video editor that allows users to perform all editing tasks fast and simple, no matter which level you are in video editing, you can create beautiful stories with ease.
Key Features of Filme
iMyFone Filme isn't only capable of adjusting white balance but it has numerous other unique features that are sure to impress you. Filme qualifies to be one of the best video editing softwares because of the various functions and tasks that it can help you with. Some of the most notable features of Filme are listed below:
Filme's 'Fast Video Mode' allows users to instantly create a well-edited video or slideshow by using built-in templates found exclusively on Filme.

Filme also allows you to include special effects like filters and animations to make your video stand out.

Filme provides a number of transitions to make your story an artpiece.

Advanced video editing tasks like alter speed rotate, and split are also available on Filme.
How to Adjust Video White Balance with Filme?
So how do you adjust video white balance with Filme? The process is actually pretty simple and takes little time. The steps below illustrate how you can do this in just a matter of minutes.
First and foremost, you need to download and install iMyFone Filme on your computer. After installation, launch the software to get started.

Next, you need to import the video clip into Filme. To do this, Tap the 'Import media here and apply it to multiple projects' option. Browse and select the desired video to import it into Filme's media library.

Next, add this video clip to the timeline by hitting the '+' button on the video clip. You will be able to edit the video once it's successfully added to the timeline.

Afterward, simply double-tap the video clip from the timeline to open up the edit menu for this clip. You'll see a setting labelled 'White Balance' in the edit menu.

Drag the slider given in front of this option to adjust the white balance. Moving the slider forward will make the video brighter while moving it backwards will make it darker. Press 'OK' once the adjustment is made.

To make the change permanent, go to 'Export' in the top menu and select 'Export Video'. Select the format in which you want to export the video. Also, enter the name and destination for the video and hit 'Export'.
Watch this video to see how to use Filme to brighten up a video:
Conclusion:
You must know how important it is to match the lighting of your video with the scene to capture flawless videos. This makes your videos much more attractive as it helps you reflect the natural and real-life colors through your video.
Even though you know how to adjust white balance in photoshop cs5 and cs6 by now, I'd recommend you to try iMyFone Filme for this purpose as it is much easier to understand and use.  The process of this beginner-friendly video editor is quite simple and helps you achieve the desired result within minutes!