You might end up recording a dark video with no differentiation between colors in the absence of camera white balancing, but nothing to worry about. You can brighten video online by using one of the many tools available online and offline.
We will walk you through some of the best and free online video brightness editors in this article.
Part 1. 3 Ways to Adjust Video Brightness Online:
Our first pick for today to brighten video online is Clideo.com. It is an online video editing tool with millions of satisfied returning users. (Can you mention what feature clideo has instead of this?)
If you are looking for a packaged online video editor where you can do each and every kind of video editing, the Clideo is for you. It wouldn't be wrong to say Clideo is all in one video editing platform where you can do minute video editing or create an impressive digital slideshow story with images.
You can also resize video frames that is often considered an impossible task by Lehman. Some other utility tools of Clideo include video merging, image to video, cutting videos to create social media Gifs, adding or removing audio, compressing videos and adding details that can enhance the overall video watching experience.
How to Adjust Video Brightness on Clideo
Let's talk about how you can brighten dark video online free with Clideo.
1. Go to Clideo and upload your dark video by clicking on "Choose File" and selecting the video you want to edit.
2. Once the video is uploaded on the site, the editor page will appear. On the right-hand side, you get various editing options with 'brightness' at the top.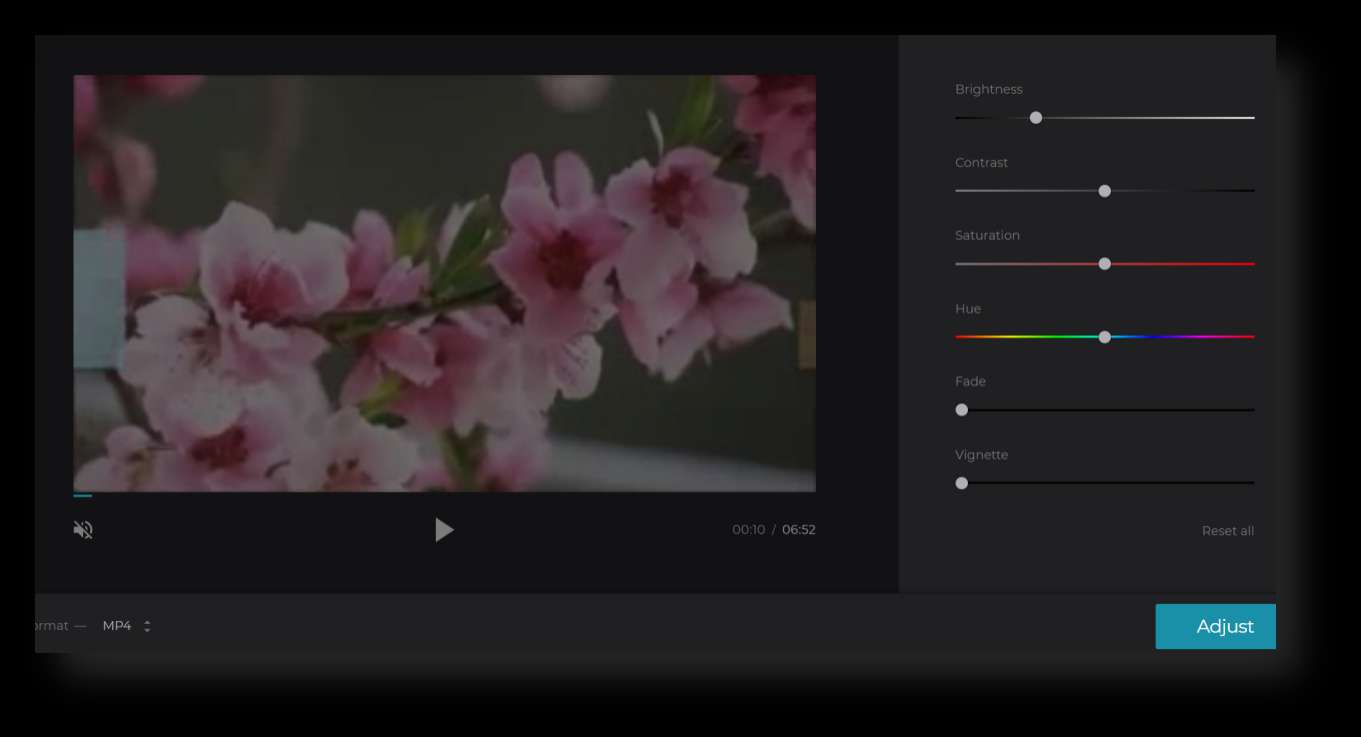 3.When you are happy with the results, click the adjust button on the bottom right side.
4.Click the download option that appears in the next window.
Just four steps, and you have your video brighter online for free!
The second option to brighten video online free is online converter.com. You can add brightness to video online according to the tool's set standards, which will be shown in the brightening process.
How to Adjust Video Brightness on Onlineconverter.com
1. Go to onlineconverter.com, and a window like this will appear. In the second option, 'Video Converter,' click on the tools, and a drop-down menu will appear. Select 'Brighten Video' and click 'Go.'
2. A new window will open up. You can upload files from local storage or add Url to the video. Upload a file or add a URL to brighten the video online. Add brightness to video online by selecting from the three available options in the drop-down menu that are 'a little,' 'default' or 'much' according to your required brightness level.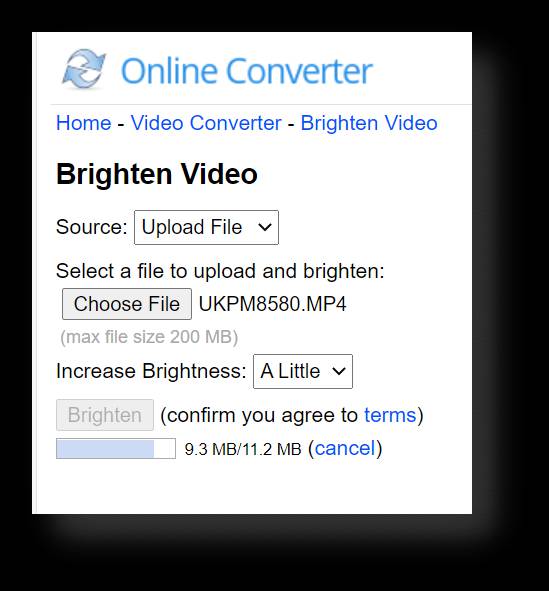 3. Click the Brighten Button, and the video will start uploading.
4. Once the conversion is complete, you can download your video by clicking 'Download Now.'
Kapwing is the third tool that can help you brighten video online free! (Can you talk more about kawping? For example features?)
Kapwing is more than just an online video editing tool. It is a collaborative video editor where you can free your inner creativity and do magic to create impressive videos. From a small video rotation tool to video resizing, looping, images to gif, adding music of your choice to video and a lot more are some features of Kapwing.
How to Adjust Video Brightness on Kapwing.com
1. Go to kapwing.com and click on start edit.
2. Upload your file by clicking on the "click to upload" that appears in the next window.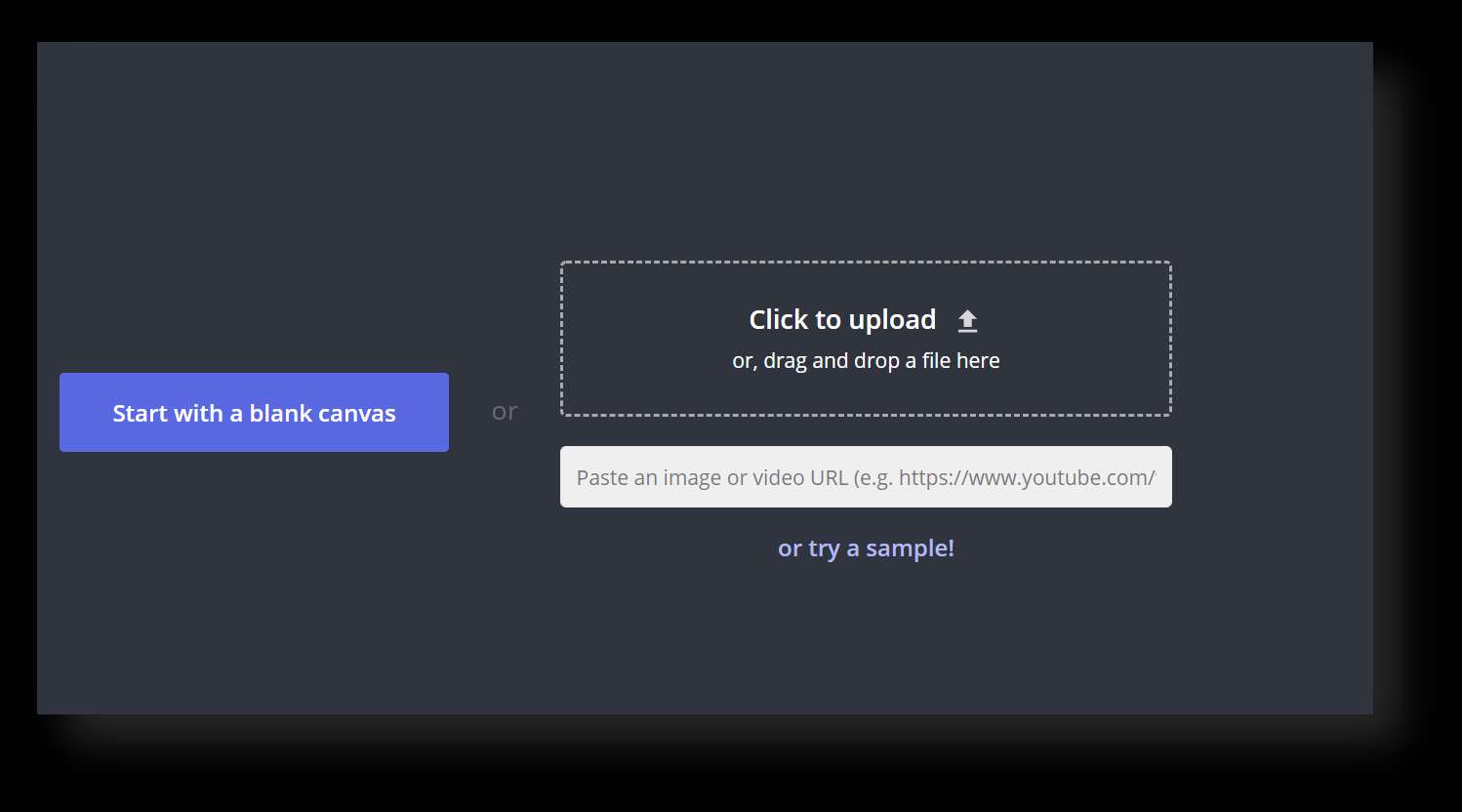 3. Once the video is uploaded, click on the video will pop-up the "Adjust" option on the window's right side. Click 'adjust,' and a new window opens.

4. The next window will have a brightness adjusting option. Brighten video online as you require by moving the pointer on the brightness option left or right.
5. Once you have brightened the video online, click on the "Done adjusting" button on the bottom right side of the window.
6. Finally, download your video by clicking 'Download.'
Part 2. Alternative Video Editor to Adjust Video Brightness - iMyFone Filme:
Various tools are available to brighten dark videos online. But, if you do not want an online brightness video tool, we have a reliable go-to solution for your laptop. iMyFone Filme is an all-in-one video editor that is perfect for beginners. It comes with various number of basic to high level editing tasks, your editing will be done within seconds will this amazing software.
How to Adjust Video Brightness with Filme:
While iMyFilme software comes with a number of tools to make your video editing struggle easier, it also has a feature of brightening the video and reducing your recorded video's darkness. Let's find out how we can add brightness to the dull, boring videos using iFilme.
1.  Download iMyFone Filme on your device.
2. In the interface, you will have the option of importing media files. Click on 'import.', choose 'import by file' or 'Folder.'
3. Once the video is added, it appears on the top left corner. Double-clicking the video will show the video preview in the center of the window.
4. Click on the plus symbol '+' to add it to the timeline so that it can be edited easily.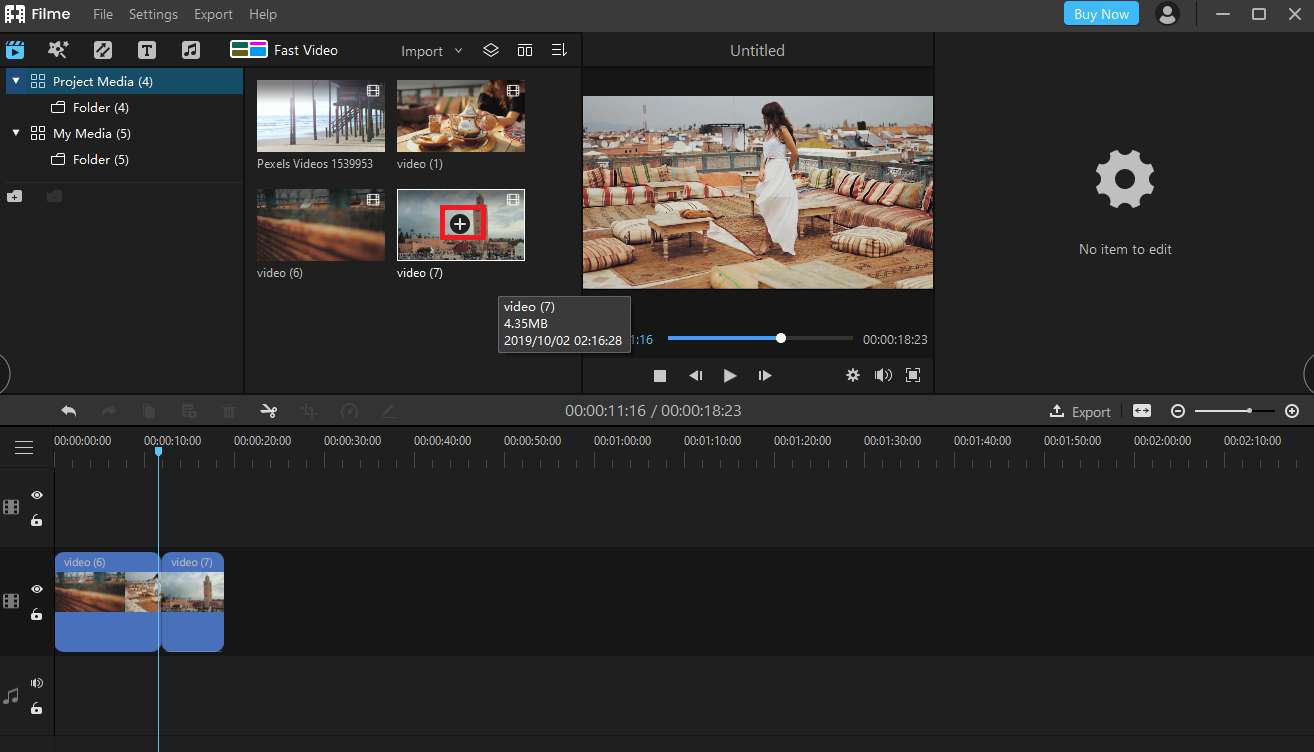 5. Double-clicking the video timeline will open a lot of editing options on the top right side. The brightness and contrast video option appears at the top, and you can adjust the brightness by moving the pointer left or right.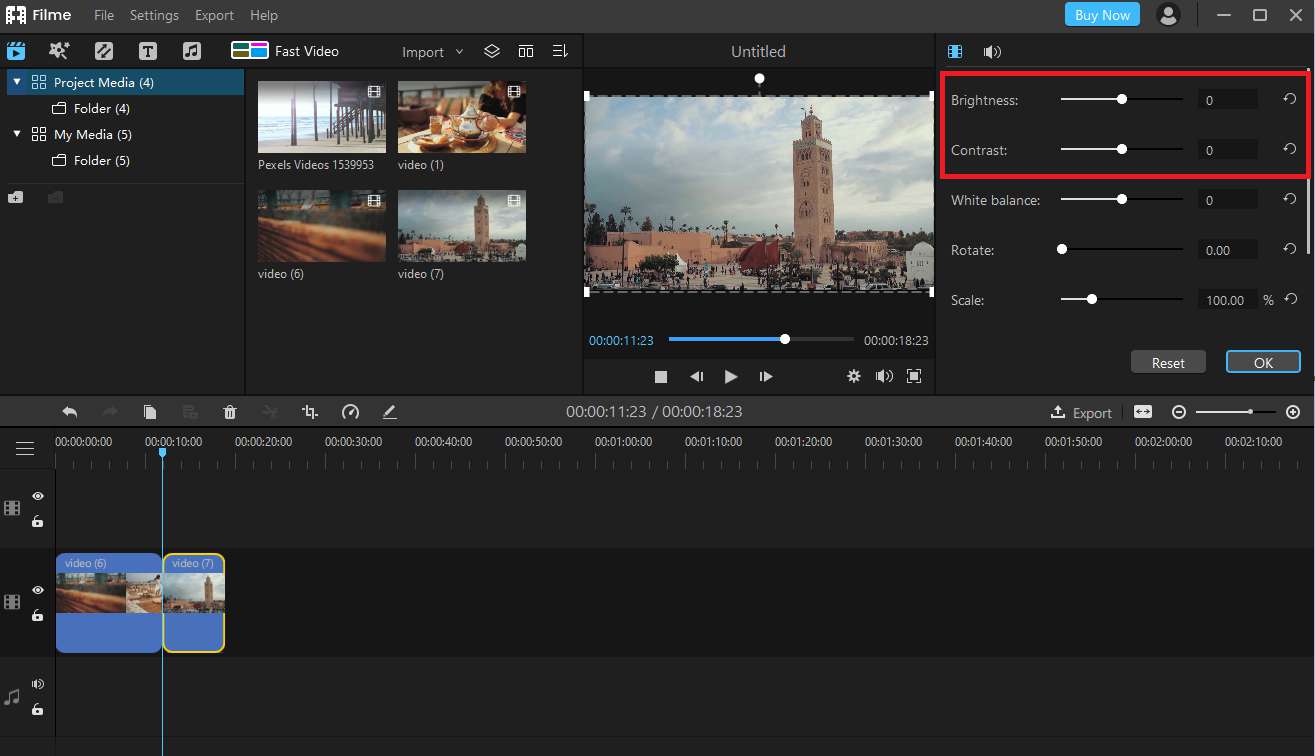 6. Once you are done with adding brightness to your video, click export on either the toolbar on the top or on the bottom right corner of the page and select the folder you want to save the brightened video in.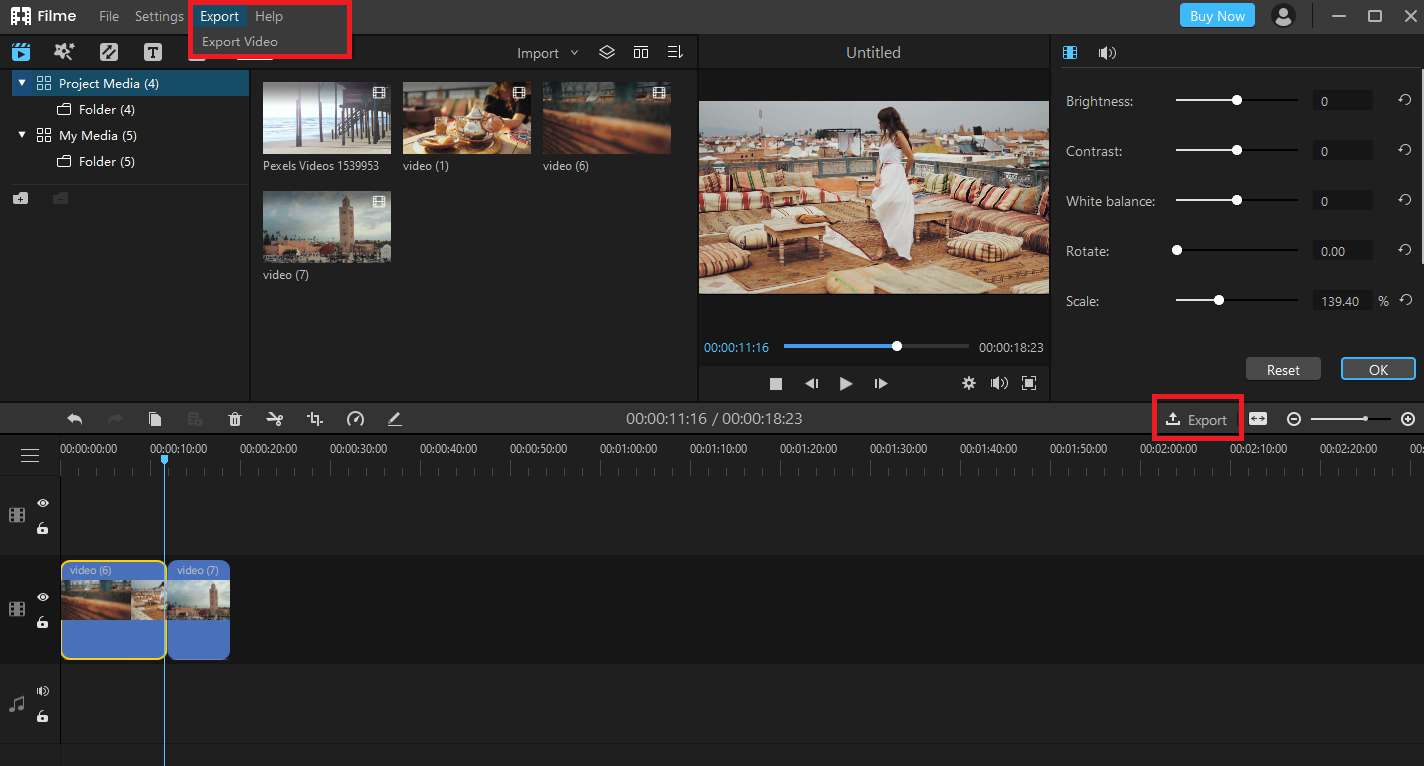 Key Features of iMyFone Filme:
iMyFone comes with various effects to add filters to your videos. It also has various types of fonts to be added to your video. You can add different audios and voice recordings according to your requirements.

You can edit, trim, add effects, adjust brightness, rotation, and so much in this one package.

You can make a slideshow or video within seconds with build-in features called Fast Mode.
Watch this video to see how to use Filme to brighten up a video:
Also Read:
How to Adjust Brightness on YouTube Videos >>
Top 10 Brighten Video Apps to Brighten a Video Professionally >>
Conclusion:
No matter how brilliantly your video is recorded, if it is not properly lit, it will not grab the attention it deserves! Therefore, we have shared different tools which can add brightness to video online.
However, besides the online video brightness tools, we have also shared a hassle-free, easy to use video software called Filme. Free to download, unlimited video editing tools, seamless experience, and all-in-one video editing software are just a few of the many exciting iMyFone Filme features that can take your video editing experience to the next level.