Adobe Premiere Pro is a world-famous technical platform that lets you play with your videography skills as it offers endless features to play.
A video is never complete without the addition of texts, and for this addition, Adobe Premiere Pro is the finest choice of many professionals worldwide. It let you add creative titles, subtitles, crew details, or any other text detail using top-notch features.
Creating these attractive titles demand skillful hands that know how to make a text video on premiere pro.
Are you curious to find out how to add text in a video in premiere pro or how to overlay text on video in premiere pro?
If yes, this article will be your sweet spot to learn how to add text to your videos creatively. Scroll down to read a step by step easy guide.
Adobe Premiere Pro - The Finest Video Editor
Adobe Premiere Pro is a one-stop solution with easy-to-use unique features to create exciting titles and texts. Let's learn how to play with the text using this software;
1. How to Add Text to a Video in Premiere Pro
You can stick to the following steps to add text to a video using Premiere Pro;
Download, Launch, and Open Premium Pro on your PC. Follow top > New > Project. Select a name for your Project. Import the video file and drag it to the timeline.

From the toolbar, select "Titles," followed by clicking New Title > Default Still. You can do this with a simple Ctrl+T key. Select other settings accordingly and hit "Ok."

From here, the next window will show a wide range of title designs. Choose type color, spatial transformation, a type tool, and type alignment accordingly.

You can keep these titles perfectly in place by clicking on the assistive miniature monitor on your screen that previews the changes.

In this window, click "Type Tool" at the right and click on the area you want to add frame text. Use the type tool at the right and then click on the site you wish to add frame text.

Once you've added words, try to play with some settings like color, size, font style, and displacement, etc.  Find your sweet spot and finalize the adjustments.

Text animation: Find and click "Effects Control Window" to add dramatic animation effects to your text. Using play-head, you can select the start and end of the Effect in the video. Later, click "Stopwatch" to apply the animation effect.

Next, try to align your text until perfect. For this, you can use the horizontal center and horizontal left movements and click the close button once you're satisfied.

Here, the titles will show in the project panel. Just drag them on the timeline where you want to set them in a video. Preview all your edits. You can add more than one text overlay upon your wish. Once you're all done, click File > Export > Media to save or directly share your video on other social media.
2. How to add titles in Premiere Pro
Adding titles to a video using Premiere Pro is simple and convenient. Here's how;
Create your title by clicking Choose File > New > Title. Give this title a name and click "Ok."

Click on the video where you want to add text. It will open up the "Title Tool Window" containing unlimited text, adding features to soothe your creativity.

Next, write your text by clicking the "Type" tool on the top left. Create a text box and write-in your Text. Use Arrows or "Center Action Tool" to rightly place your text.

Once you've added the text, you can customize it just the way you want by clicking the "Properties" bar on the right side.

Once you have done all the customization, it will appear under the project window. Drag it to the timeline.

You can adjust the length of the text in a video and can also add effects and transitions. at this time. You can also save these titles as templates for later use.
3. How to Create Text Templates in Premiere Pro
Creating a text template is also easy and convenient using Premiere Pro following some simple steps stated as;
Open Premium Pro and click Title>New Title>Default Still.

Name your Title and add a new title using the "Title Editor."

Click the "Template" icon and in the next video, click on "Menu Icon" in the top right.

Now, choose "Import Current Title" as your template.

In the next window, save your template with a unique name and click "Ok," and it will be stored in "User Template Menu" for future use.
These steps may seem easy, and to some extent, they are, still, customizing and adjusting so many thick and thin details is quite challenging. It becomes more complicated when you use specialized and professional software like Adobe Premiere Pro.
If you are still finding answers for "how to add text on video in adobe premiere pro" in a quick and easy-peasy yet professional way, the answer is iMyFone Filme.
The easiest way to Add Text to a Video - iMyFone Filme
Although Adobe Premiere is a highly-professional platform but deep inside, we all want professional results without much time and effort. If you're also searching for a beginner-friendly video editor, iMyFone Filme is going to be your love for video editing.
It can create all types of texts to embellish your videos, including Titles, Subtitles, End Subtitles, and Bottoms.
Let's see how magically Filme can do the things;
Download and launch the setup of iMyFone Filme on your PC.

Click "Import" to add a video file on the board and drag it to the timeline.

Edit the video by dragging it to the timeline of the Filme in the lower section. Check for any basic editing like cropping, scaling, etc.

To Add Text, click "T" to open the text style page. Choose the title that you want and click "+" to apply.

Tip: Another way to do this is to right-click on the text style and select "Apply."

Double click on the text frame will open the text editing panel. Or, you can right-click the text effect, followed by selecting "Edit" to open that panel. There, you can choose from multiple options, including font, alignment, size, color, text space, opacity, line space, and position.

Once you're done with all the editing, save and "Export" your file to your PC.
And you're all set with your new video having all the text details you wanted for your video.
iMyFone Filme is a smart platform that allows beginners to taste professional-grade video editing but in the most effortless manner. Here are the main key features of iMyFone Filme that inspire and lure many users worldwide:
Key Features of iMyFone Filme:
Filme is an easy-to-use video editing software that is quite beginner-friendly yet professional, excluding any technical complexities.

The Fast Video Mode allows you to make videos quickly, saving you a lot of precious time.

You can enjoy a full blend of templates, special effects, and transitions to embellish your videos right just as you want.

You can rotate, crop, scale, resize, and split your videos in a fun way like never before.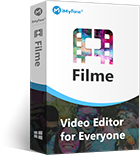 At the end of the article, let me treat and please you with another helpful guide; some expert's tips regarding "Adding Text" to the videos. Read, and thank us later!
Essential Tips to Add Text to Videos:
Here are five considerable tips for you regarding the addition of text to the videos; have a look.
1. Size matters a lot
The text in a video should never be too small to read or too large to block the visuals. For better-adjusted text, create a mockup of your text and view it on different platforms to know how they look.
2. Readability of the Fonts
There are hundreds of styles and shapes of the fonts. Never go for a font that's tough to read as it may loosen the viewer's interest. It's also vital to consider Serif and San-Serif elements accordingly.
3. Obstruction/Backgrounds
Sometimes, obstructions are acceptable, but most of the time, the text should never be obstructing the screen or picture behind it. In simple words, the text should never block the video's visual content unless you want it intentionally.
4. Safe Margins
If you're making a video that might be viewed over different platforms, you need to set it in safe margins to enhance visibility and acceptance. Safe margin templates are mostly included in NLE's and keep your text safe from aberrations.
5. Overall Read Time
Apparently, a text in a video is a distractor of the visual content, and thus, the right balance is a must to avoid any distracting inconvenience. To maintain the balance, leave the text over your video for a sufficient time but not for a long time.
Conclusion
To add attractive and attention-grabbing text to your videos, you have enormous platforms, including the Adobe Premiere Pro, but they aren't always easy to use. To ease beginners' stressing strings in the video editing market, an easy-to-use yet professional software like iMyFone Filme comes in handy.