Adobe user, DudeMaister88, asks:
   Ok, so what I'm wanting to do is have a timecode on some 20min footage. I then want to speed up the footage as if it's playing in fast-forward but also have the timecode speed up with it. So, at the end, I would have 10min of footage but the timecode still says 20min…. I'm new to premiere pro and I can't seem to find an answer to this elsewhere. -DudeMaister88
Adobe Premiere Pro can be tricky to learn, especially when it comes to speeding up video clips.  If you're like DudeMaister88 and cannot figure out how to speed up the video, read below to see how to adjust the speed in Adobe Premiere Pro.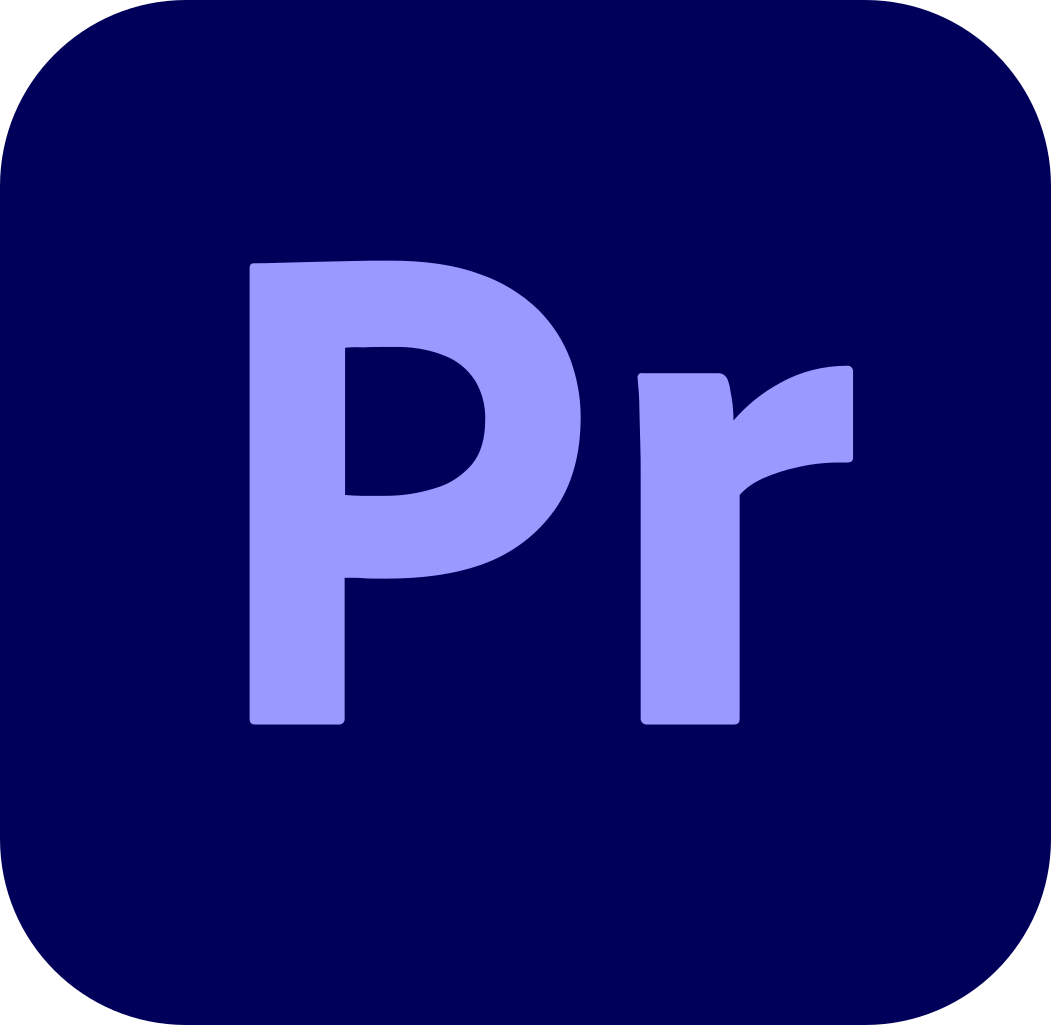 How to Speed Up Video in Adobe Premiere Pro?
Adobe Premiere Pro is Adobe's professional-level digital video editing software. Premiere Pro is only available via subscription to Creative Cloud, Adobe's suite of creative software. Premiere Pro is designed for use in tandem with the other Creative Cloud programs, including Photoshop, Illustrator, and InDesign. Premiere Pro runs on either macOS or Windows. Adobe Creative Cloud is $19.99 a month with an annual commitment or $29.99 on a month-to-month basis.
There are three methods to speed up your video in Premiere:
with the Speed/Duration command, with the Rate Stretch tool, or with Time Remapping.
1

The Speed/Duration command
The Speed/Duration function allows you to speed up or slow down your video clips. Select your clip(s) in either the Timeline Panel or the Project Panel. Select the Clip menu, and "Speed/Duration", or right-click on the clip(s) and select "Speed/Duration". The speed is shown at 100% and can be adjusted through this menu. The clip will be faster as that percentage increases. A clip at 200% will be twice as fast as your original clip. Conversely, a clip at 50% will be half the speed of your original clip.
There are also options to maintain the audio pitch despite the changing video speed or to play the clip backward (Reverse Speed) on this menu. The option "Ripple Edit, Shifting Trailing Clips" will adjust the clips after your selected clip(s) to compensate for your speed changes. If you leave this option unselected, you may have overlapping clips or dead space in between clips.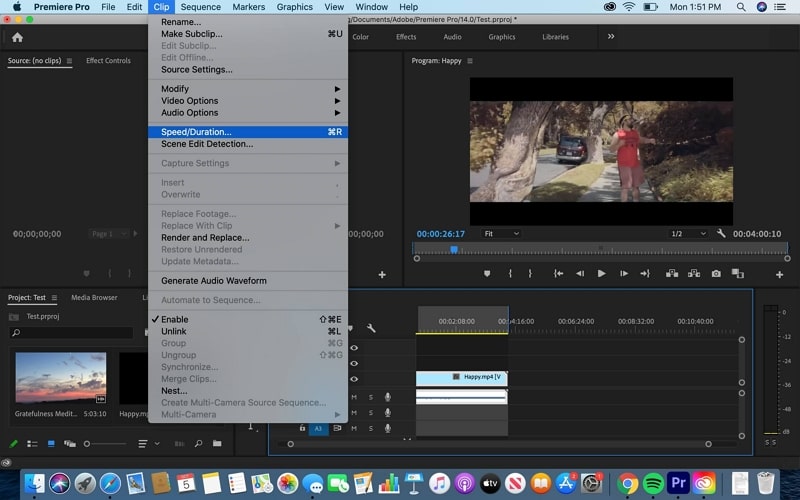 2

The Rate Stretch tool
The Rate Stretch tool allows you to stretch or contract your clips, which also adjusts the speed. The Rate Stretch icon is located on the main toolbar, or you could press the X key on the keyboard. Then click and drag the clip(s) larger or smaller to decrease or increase the speed. The speed will be shown as a percentage in brackets after the clip name, like ClipName [35%]. The percentages work as described above.
3

Time Remapping
Time Remapping is a third way to speed up a video clip in Premiere. Right-click on the clip and click Show Clip Keyframes > Time Remapping > Speed. A horizontal rubber band will appear across the center of the clip. Drag this rubber band up or down to increase or decrease the speed. The speed percentage will show as you move the band around. The clip will shorten as you increase the speed and lengthen when you reduce the speed. The audio track for the clip will remain the same.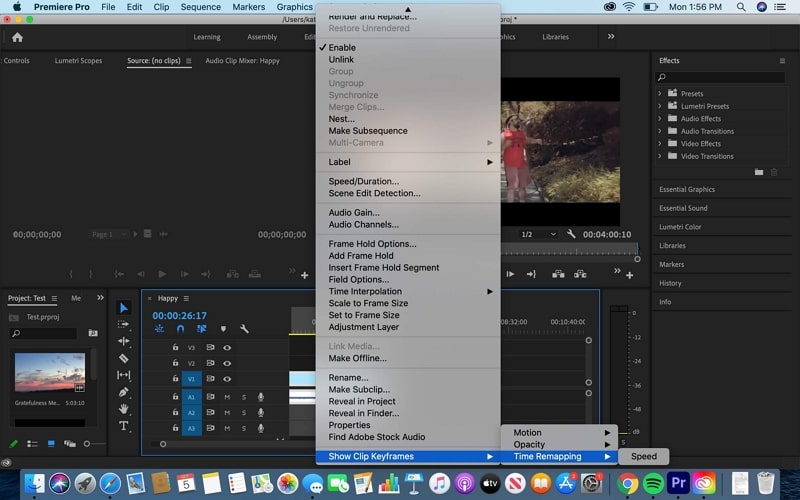 Tips and tricks for Speeding Up Video in Adobe Premiere Pro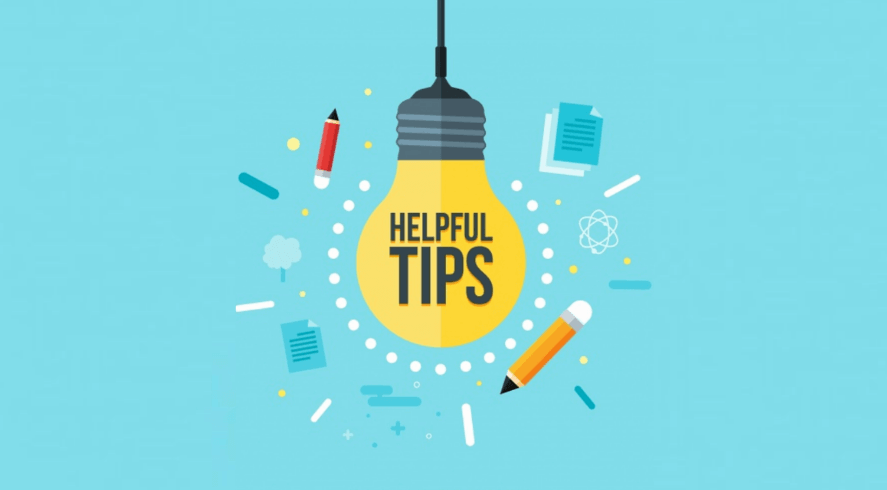 You might need to vary which tool you use, depending on whether you want the audio to be sped up or not. The Speed/Duration function has the option to maintain the audio pitch or not, while Time Remapping will not alter your audio at all.

Your clips need to be in the Timeline panel of your project to work with Rate Stretch or Time Remapping. The clips can be either in the Timeline panel or the Project panel to use the Speed/Duration command.

Rate Stretch is the proper tool if you need to fill a specific length of time with a speed-altered clip, but you don't care what the clip's precise speed will be. You can expand the clip to fill the gap, and the speed will adjust accordingly.
Is There an Easier Way to Speed Up Video?
If these options are a bit confusing, you could try an easier-to-use film editor. iMyFone Filme is a simple but powerful video editor. It is excellent for use on videos to share with family and friends or on social media. You can trim clips, add effects or text, and customize the video atmosphere, among many great other features. The iMyFone Filme's Fast Video mode even creates professional-looking video clips in one click, no editing required! In iMyFone Filme, it is quick and easy to change the video speed of your clips.
To change your video clip's speed in iMyFone Filme:
Import the video to iMyFone Filme.

select the clip and press the Speed icon on the toolbar to open the Speed window.

A slider bar will pop up. Move the slider right to speed up your clip and left to slow down your clip.

Click OK to confirm your changes. That's it!
It's so easy to change the speed of your video clips in iMyFone Filme. You can do it without any prior video editing experience or knowledge.
Not only is iMyFone Filme easy to use, but it is also very affordable! You can receive a one-month license of Filme for free!
Final Thoughts
Adobe Premiere Pro can be confusing, especially when it comes to speeding up video clips. It has several ways to edit your video speed, which can be overwhelming for a newer video editor. Plus, the Adobe Creative Suite can get expensive, with its monthly fees of $29.99 if you don't want to commit to a full year at a time. iMyFone Filme offers a free trial for a month, and a quick and easy way to speed up your video clips. Click here to try iMyFone Filme today!