41% of videos are inaccessible without sound or captions. 80% of people are supposed to watch an entire video only when it displays captions.
Following the statistics, Facebook added captions to its videos - in turn, view time increased to 12%. YouTube added captions, and as a result, views increased by 7.3%.
These facts with figures have the same bottom line — the substantial need for subtitles to increase accessibility.
In this post, we will show you how to add subtitles to IGTV videos to gain accessibility and attract more traffic.
How to Automatically Add Subtitles to IGTV Videos
The auto-captioning tool is the new, most helpful feature for Instagram Users. It allows the users (who are deaf or hard of hearing and cannot watch videos with sound) the opportunity to understand the video and interact with it.
Here we will give you a step-by-step tutorial on how to turn on auto-captioning in IGTV videos to make your content more accessible and inclusive.
Step 1: Close All The Unnecessary Apps:
Always remember to close all the unnecessary apps that are running in the background. It will make it convenient for you to edit your videos properly.
Step 2: Go To "Account":
Firstly, open your Instagram app, go to settings and then click on "Account."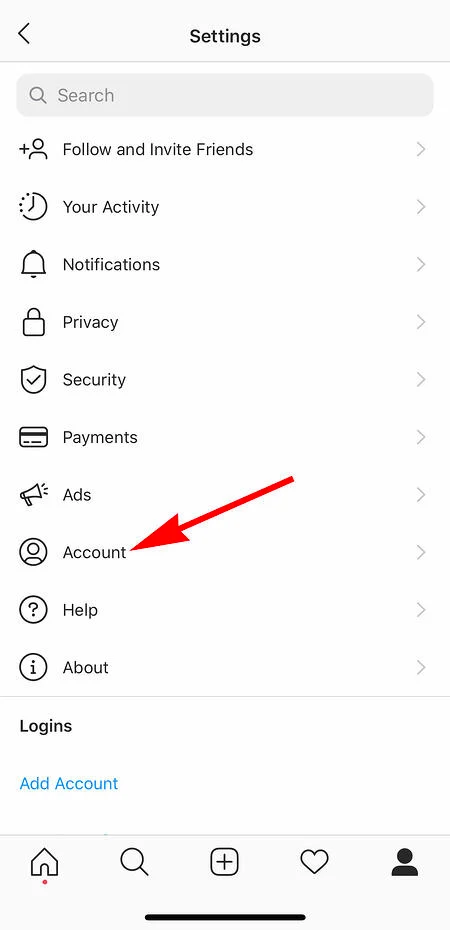 Step 3: Switch On "Auto-Generated Captions":
Secondly, in the Account section, tap on "Captions." In Captions, the first option will be "Auto-Generated Captions," turn it on.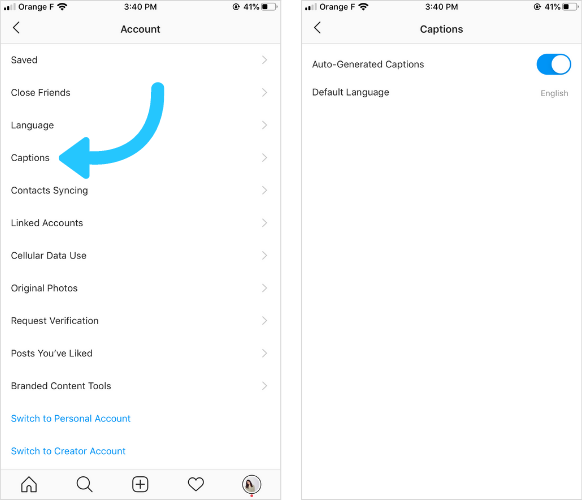 Note:
Auto-captions on Instagram are available in 16 different languages. You have the option to choose the one that best suits your interests.
Step 4: Move to IGTV Settings:
Once you have turned on auto-generated captions, and then visit your IGTV settings to switch on auto-captioning on it too.
Step 5: Upload IGTV Video:
Now, upload your IGTV video as usual and choose a cover photo.
Step 6: Visit "Advance Settings":
After uploading the video with the cover photo, on the "New IGTV Video" page at the bottom, you will find an "Advance Setting Option" tap on it.
Step 7: Turn On Option "Auto-Generated Captions":
In the "Advanced Settings" menu (under Accessibility Title), you will find an "Auto-Generated Captions" option, switch it on, and click "Done."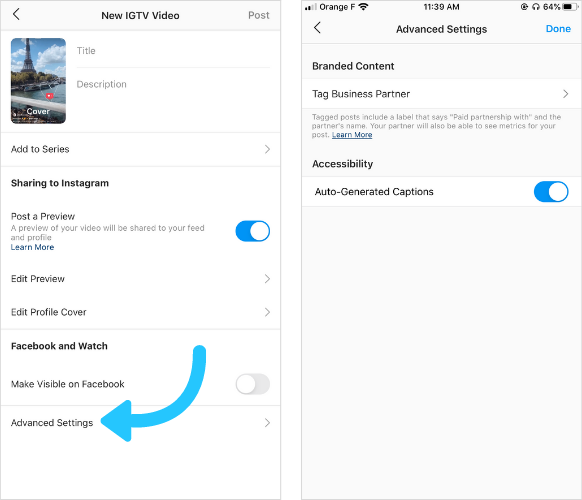 Bingo!!! You have your black and white captions appearing on the bottom of your IGTV video.
Track the views and likes on this video (with captions), and compare them with the number of views on the older videos (without caption). You will find more views, likes, engagement, and a rise in traffic.
What is Accessibility? Why Does It Even Matter?
According to the dictionary, the word Accessibility means ease of access/ease of use. In design, it means the ease of access or ease of use of digital content by all kinds of users, including users with hearing, visual, motor, or other dysfunctionality.
In simple words, accessibility of any content means that it can be easily accessed, viewed, heard, understood, interacted with, and navigated by every user, may it be a user with special needs.
Now, let us see why accessibility matters in the first place.
1. For The People With Disabilities:
According to the study done by the Centers for Disease Control and Prevention (CDC), 'Among the world's population, over 5% are deaf or hard of hearing while 3.5% have some degree of vision loss.' That means 360 million people cannot hear content, and 253 million people cannot watch the content. Accessibility makes it possible for the visually impaired person to perceive the content through audio description/narration. For those who are short of hearing, accessibility makes it easier for them to comprehend the video through captions/subtitles.
2. For The People Who Want To Watch The Video At A Noisy/Quiet Place:
According to the 2006 study by the Office of Communications, the regulatory body for U.K. television broadcasting, 'Among the people who use captions, 80% of them are not deaf or hard of hearing.' However, they need the accessibility of captions to watch the video because they are unable to hear the sound clearly, and they do not have earbuds available. For instance, when you are at a crowded place, or at home with noisy kids, or when your spouse needs their beauty sleep.
Why Brands Should Add Subtitles to IGTV Videos?
High-Quality content is not enough anymore! The market is getting saturated and competitive. Subtitles are effective as they add context to your videos and images and share details that people may not know otherwise. Hence, they increase accessibility and engagement. They are crucial if you have a Brand or Business profile.
Here are three reasons why brands need to add subtitles to their IGTV videos:
#1: To Increase Accessibility
Accessibility is fundamental to bring in and engage with a broader audience, including people with visual and hearing impairments.
Facts are 71% of disabled people back off from a website as soon as they find the content inaccessible, and 20% of people with disabilities cancel subscription service because of accessibility issues.
By adding subtitles to your IGTV videos, you will allow people who are deaf or hard of hearing to view your content and interact with your brand. It will make them come back again to enjoy accessible content and possibly to make a purchase.
#2: To boost engagement
Most people, who are watching a video, are not watching it, but they try to perceive it through other senses. Thus, they need either audio description or subtitles to understand the video.
According to the statistics, 92% of people watch video content without sound; therefore, making your content consumable without audio is beneficial.
By adding subtitles, brands can allow 92% of people to remain engaged with their content even without the sound.
#3: To Escalate the Video Traffic
Besides increasing accessibility and boosting engagement, captions can also help brands improve video views, increasing traffic.
Turning on auto-captioning on your IGTV videos and then sharing it on the Instagram feed will bring more views. The perfect pairing will keep the viewers entertained for a more extended period and bring in more traffic.
You might be interested in:
Pro Tip: Add Stunning Custom Subtitles to IGTV Videos with Best Video Editor
To add customized subtitles to your IGTV videos, none other third-party software is better than the iMyFone Filme Video Editor. It is a one-click, online video editing tool, which works best on windows and Mac both. It is user-friendly and has an interactive interface.
Striking Features:
Filme is Instagrammers, Millennials, and Gen Z's cup of tea. It provides quick and high-quality video editing tools.

It is a beginner-friendly video editor. Cropping, trimming, multi-layering, putting effects, and adding captions are as easy on Filme as ever before.

It lets you create cinematic titles and text quickly with multiple types of fonts and colors.

It offers various types of text styles. These styles can help you create attractive text for subtitles to make your Instagram videos more accessible.

It allows users to adjust the properties of text with ease. The size, opacity, and position of the captions can be adjusted in few seconds.

Moreover, it comes with 20+ fast video mode, 110+ transitions, 170+ filters, 50+ soundtracks that can make your Instagram videos outstanding and engaging.
How to Add Suitable-Custom subtitles to IGTV Video using iMyFone Filme
Well, in the end, let me show you how to add custom-made subtitles easily to your IGTV video through iMyFone Filme software:
Step 1: Start a New Project:
Start with initiating Filme on your desktop. Enter the File menu, click New Project, and select the desired ratio.
Step 2: Import Video:
Click on the Import option, tap on Import Files, and select the video you want to edit.
Step 3: Drag the Video:
The video is in 'My Media library' now. To edit it, drag the video and put it at the start of the timeline.
Step 4: Select the Text type and style:
Now, go to the 'Text' option in the toolbar. Different styles of texts for Facebook and IGTV videos will appear on the screen. Choose 'subtitles' as a text. Take the cursor to the location where you want to add subtitles, then right-click on the text style and click on Apply.

Step 5: Edit the Properties of the Text:
In the timeline, double-click on the subtitle; editing options will appear on the right side of the screen. Adjust alignment, font size, position, opacity, change color, and click on OK.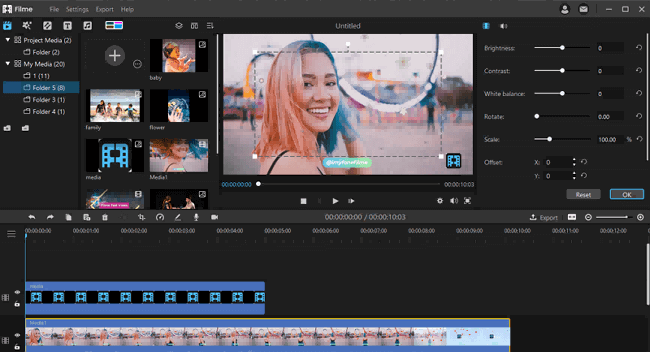 Step 6: Export video:
Check the preview of the video. Edit your IGTV videos if you want to make changes; otherwise, go to the Export menu, and click on the Export video, edit information, and save the file on your computer.
Now is the time to enjoy the fruit you sow! Upload these subtitles added a video on IGTV, gather a colossal audience, and many pats on the shoulder.
Conclusion
Still not sure whether to make all the efforts to add the subtitles? It looks like a 'time consuming and hectic task.' Let me share with you a statistic about engagement that will surely help you make your mind – Video content that has captions cause 12% rise in viewership.