Do you like to prettify your videos? Well applying filters to your videos can help you upgrade your video clip and make it look more impressive. Filter applications can completely convert the look as well as the mood to sync better with your creative ideas. Fortunately for iPhone users' iOS has an amazing feature in the Photos app with a great collection of video editing filters along with tools that lets you apply filters to the videos on your iPhone.
Whether you wish to create a perfect clip, the process of adding a filter to a video is also pretty smooth and straightforward. The filters can help you enhance your videos with artistic effects and make the clips look more polished. Whatever you choose to do, the change will be astounding! Here is the step-by-step guide on how to put a filter on a video on iPhone.
Part 1 : How to Add a Filter to a Video on iPhone
The Default iOS Editing Tool – Photos
The right filter can be a big help when you need to enhance your iPhone photos quickly. iPhones have a filter range that will aid in boosting colours, converting to monochrome, adding a vintage look, and simply applying some artistic textures to your photos.
The Default iOS Editing Tool Features
2x Telephoto Zoom to get a zoomed-in photo

Flash to increase exposure

Live Photo iPhone Camera to create long exposure

HDR to balance exposure

Filters to edit the photo
How to Add a Filter with The Default iOS Editing Tool
Step 1.Launch the Photos app on your iOS gadget.
Step 2.Select a video from your Photo library from the Photos tab.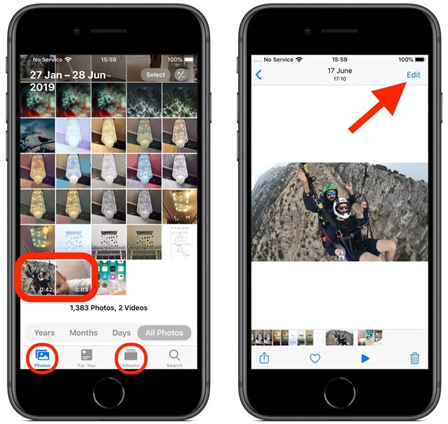 Step 3.Once you've selected a video, tap on Edit. The option will be on the top-right corner of the screen.
Step 4.The Filter icon will look like a Venn diagram and will be situated at the bottom of the screen. Click on it.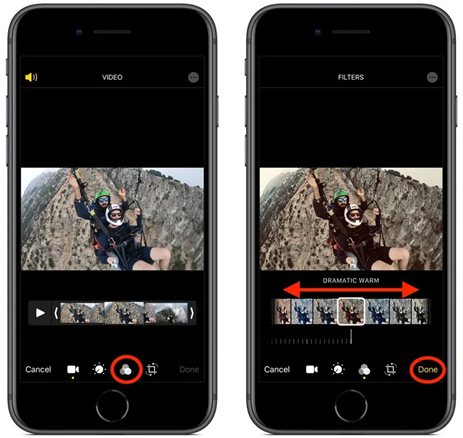 Step 5.Choose one of the nine available filters, and a horizontal dial will show up below the selected filter for adjusting the filter's intensity level.

Step 6.The Filter icon will look like a Venn diagram and will be situated at the bottom of the screen. Click on it.
 This application is free.

Part 2 : A Better Way to Filter a Video By Using a Third-Party IOS App
VivaVideo is a video maker that is used by iPhone and iPad users. It has a great interface design with various editing features.
Special Features of VivaVideo
● Create video collages 
● This application allows you to make a slideshow where you can add text art, animated texts, and Amazing photoshop features. 
● Videos can be trimmed, cut, cropped, merged, made into a collage, and looped 
● Add effects to video such as background blur, video speed adjustment, fade in and out, animated texts and fonts, GIF, Giphy video stickers, a music editor, and more.
How to Add a Filter to a Video With VivaVideo
Step 1.Select the video you wish to edit to add it to the viewer screen.
Step 2.Click on the Themes options for filters and swipe through them to choose one of your likings.
Step 3.After choosing a filter, you can increase or decrease the intensity of a filter.
Step 4.Click OK to apply the filter to your video.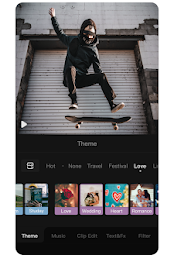 VivaVideo is free of any cost, but you'll have to cope up with a watermark and SD quality while exporting videos. To not deal with watermarks you will have to buy the Premium Pack for $4.99.
iMovie is the latest innovation in video editing. iMovie app helps you to record, edit, and export your personal, professional-looking HD videos on your iOS device or your PC.
Special Features of iMovie
● Video filters that include B&W (black and white) and Sepia.
● Adjust the Ken Burns. The effect that sweeps across and zooms in and out on the image. 
● Colour adjustment tools
How to Add a Filter to a Video With iMovie
Step 1.Tap the video clip you need in the timeline to select it.
Step 2.Tap the Filters button. You can tap a filter to preview it on the video.
Step 3.Tap outside the filter if you wish to apply the filter. Tap None if you don't wish to use the filter.
If you want to apply a filter to an entire project:
Step 1.Open a project in the viewer.
Step 2.ap the Project Settings button and choose a filter. Tap Done to apply the filter to all the video clips in the project. The filter will not be applied to photos or other still images.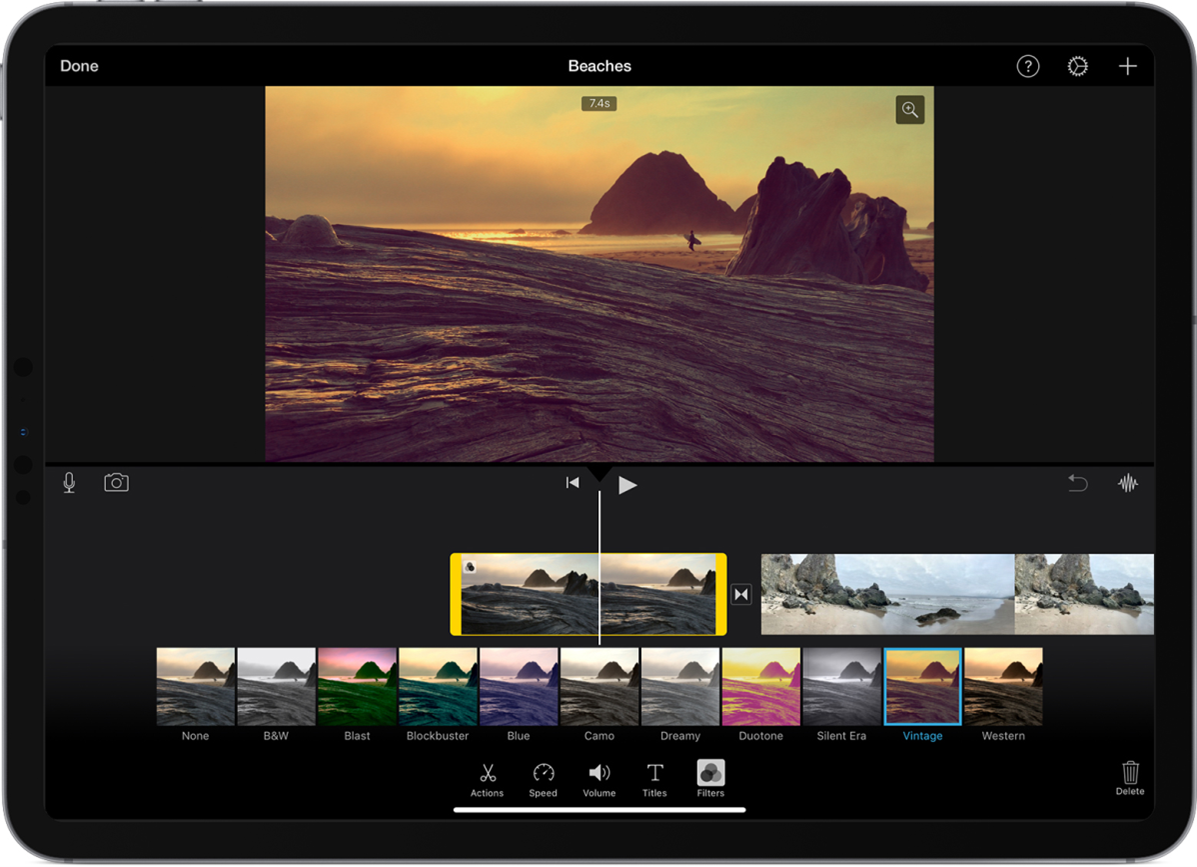 iMovie is a free video editor application and can be used in macOS and iOS
With Spark Camera, you can easily change the way you shoot videos on your smartphone. You can capture, edit, and share your videos with just a few taps.
Special Features of Spark Camera
● Capture and Import your videos 
● Apply filters and trim, reorder and make transitions to your videos 
● Add music or voice-overs
● Easily accessible advanced camera controls for FPS and stabilization. 
● Add text over your videos.
How to Add a Filter to a Video With Spark Camera
Step 1.You just have to swipe left and right on the playback screen to browse through filters. Choose any of the 20 handcrafted looks for your video.
Step 2.You can purchase some filters that are available in the app. There is an option to purchase all current and future filters.
Step 3.After choosing a filter, you can change the intensity of a filter by scrolling up and down on the playback screen.
Step 4.Click Done to apply the filter to your video.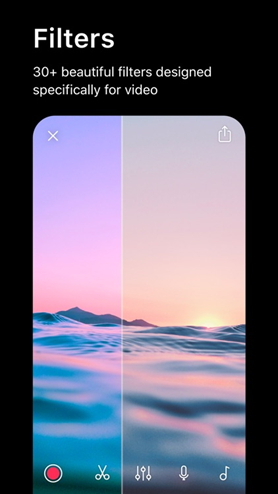 Spark Camera charges $2.99/mo or $29.99/year for its subscription. The subscription allows access to tools that provide you with more editing control such as many beautiful pro filters, an ever-growing music library, and voice-overs, stabilization, and transitions.
Part 3 : A More Advanced Software to Put Filters on Videos
It's a no brainer that editing videos on your computer is a better option. The best photo editing tools in the market can only be applied on a PC. They provide a suite of tools but may run on the expensive side. iMyFone Filme will help you edit the precious memories you've captured in a seamless creative way. Perform basic editing, add gorgeous effects, or use the advanced features to make videos by yourself.
Some great filmy features of iMyFone Filme:
Adding Filters – Filter adds a wow factor to videos. With iMyfone Filme, you can add a great variety of filters to create vivid videos with just a few clicks.

Speed Adjudication: Keep your audience entertained by slowing down the playback speed of your video. Filme lets you adjust the speed of a video to highlight an important moment and creating breath-taking time lapses in your video.

Transitions: Transition refers to what the author shows between two clips by joining them. By adding various transitions in your video, you can make your videos more interesting and flexible.

Picture-in-Picture Effects: With this special feature, two images or videos can be shown at the same time with one smaller video on top of a larger one. To use this effect in Filme Video Editor, you just need to add another video upper to the already added video in the timeline.
How to Apply a Filter to a Video with iMyFone Filme?
click on the "Effect" tab and choose the filter of your liking that you want to add to your project.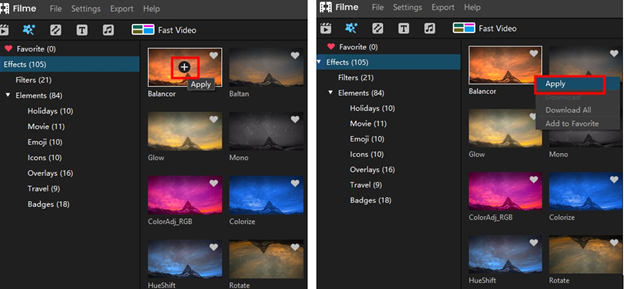 There are three ways for you to apply the filter:
●  Way 1: Select the "+" icon in the middle and add the effect to the timeline.
●  Way 2: Right-click on the filter and click "Apply" to apply it to the video or timeline you want.
●  Way 3: A filter can be dragged and dropped to the point where you want to add it to the timeline.
Part 4: FAQs You Should Know about Filtering Video
1. Can you add a filter to a YouTube video after uploading it?
Yes, you can add a filter to a YouTube video after uploading it. YouTube Video Editor provides you with the opportunity to edit your videos straight from YouTube's platform; this also goes for the videos that have been published already. However, the tools are basic which is why an online editor is better for complex editing.
2. Is it possible to add filters while I am on a video call?
It depends on the video call platform. For Snapchat, you will need to hold down on your face and look at the different options that come up. Whereas for Facebook, the different filters are present at the bottom of the video chat screen and you can preview them on your face before you reveal the filters to other people on the call. However, for a video call through Google, there are no options to add a filter.
3. What is the best filter app for iPhone?
VSCO and Instagram are among the best filter app for the iPhone. If you want to personalize the filters, select a more sophisticated application like Snapseed, Enlight, or Afterlight 2. Finally, when it comes to the best filter app think about whether you want to use any other photo editing tools along with filters.
4. What is the filter everyone is using on Tiktok?
The current filter that everyone is raving about on TikTok is the Line Filter, also known by the name the Time Warp Scan, it consists of a blue line in constant motion across the screen. This filter lets the user try out new cool tricks. Several thousands of users have already tried this filter to make an interesting TikTok video.
Final Words
And that is a wrap. Indeed, adding filters to your videos can make them look more professional as well as a sounder. Filters can make your videos more engaging. We have discussed step-by-step methods to help you understand how to add a filter to a video on the iPhone using several video editing tools. We suggest using the iMyFone Filme because it is simple video editing software and it can save you a lot of time. It is an ideal software for beginners and fulfills all the expectations.
We have thoroughly explained everything, and we hope that now you know how to filter a video on iPhone easily like a professional. Share your views about the iMyFone Filme software in the comments, and feel free to reach out to us if you have any questions regarding the software.