TikTok is community-driven by passionate people coming together from all around the world. This platform is a place where you can find viral dance videos to the funniest skits.
Have you shifted your thought from scrolling through TikTok and liking other's videos to making your own? But wondered how you could edit videos that are similar to the trendy ones?
Unlike Instagram, TikTok has a massive library full of filters and effects. Ranging from flattering ones to the most hilarious, they are constantly updated to newer options.
So, if you haven't played around with some of these best TikTok filters, consider this guide, your friend, as we take you through the best filters on TikTok.
Part 1: The Best TikTok Filters of 2021
You can find some filters in TikTok itself, but if you want to make cool video and upload to TikTok, i would recommend iMyFone Filme, it has many beautiful filters, special effects, transitions, Download iMyFone Filme on PC now.
The highlight of TikTok filters, which make them stand out from other apps, is the wide variety you get while choosing from them.
You can easily edit a dull video into a livelier one with just a few clicks. These best filters on TikTok are here to save your day and produce some excellent videos, all for free!
Filters on Tiktok are named by one single letter and a number combination. Although many may look similar, they have subtle differences.
The four default categories of TikTok filters encompass numerous other filters titled similarly. Many of them are noted for being trendy and famous – all for the right reasons. Not only do they upgrade the video quality, but you can also have fun editing them as well.
Check out these five best TikTok filters of 2021, without which your videos will be incomplete:
1. Portrait F4
The portrait category has various other filters which are aimed at enhancing the user's face. Similar to the portrait mode found on mobile cameras, which focus on the face, these filters perform similar functions and give you that 'perfect 'look.
The portrait F4 is a famous filter on TikTok. This TikTok filter lightens your videos if they come out dull or dark. It enhances the gray areas in the video and makes it look lighter.
F4 is the best filter for TikTok that provides a warm hue and increases the contrast. It is ideal for making you appear as if you are present in the 'golden hour.' Lastly, it also adds a soft bluish tint to the video, making it appear aesthetic.
2. Vibe V1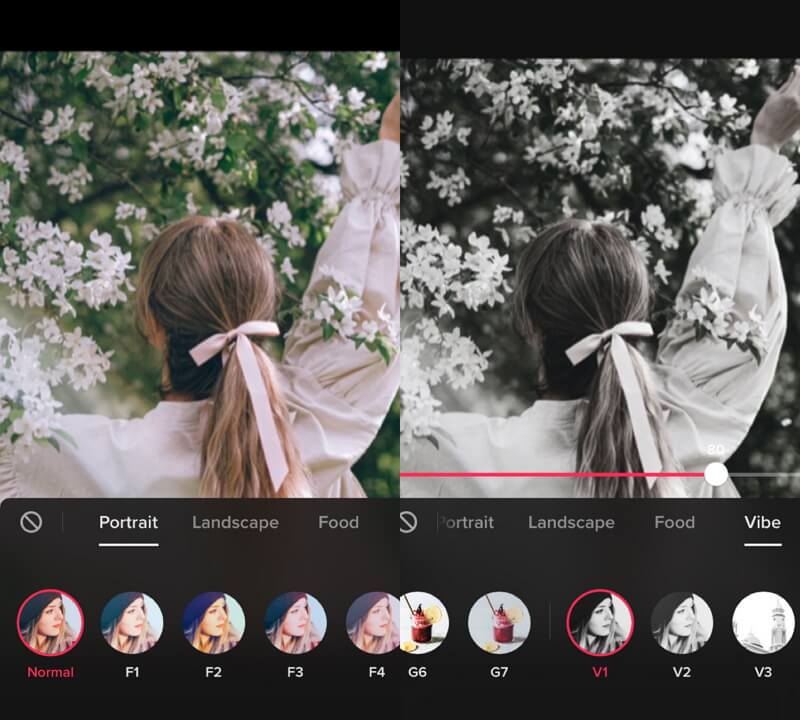 The Vibe filters are usually used to make you and your surroundings look a certain way or colour. Here, the Vibe V1 is the most famous TikTok filter that makes your videos appear straight out of a 60's film.
In short, it makes your videos look retro and overall have a dark hue over them. V1 from the vibe category is perfect if you'd like your video to look like a vintage film.
3. Vibe V6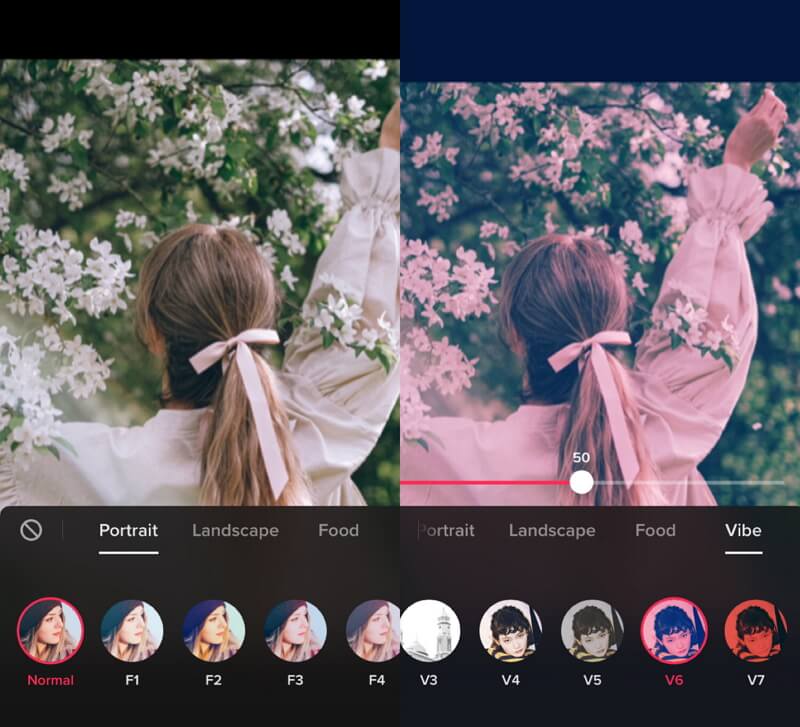 Another one from the vibe section, V6, is for those looking to add a bit of funkiness to their videos. Once you've applied this filter, your video has a summer vibe to it. It also casts a pink or purple colour glow over it.
This filter is for those who would like to give a party feel to their video and instantly warm up the colour. V6 is a popular filter on TikTok used by many popular TikTokers as well.
4. Food G6.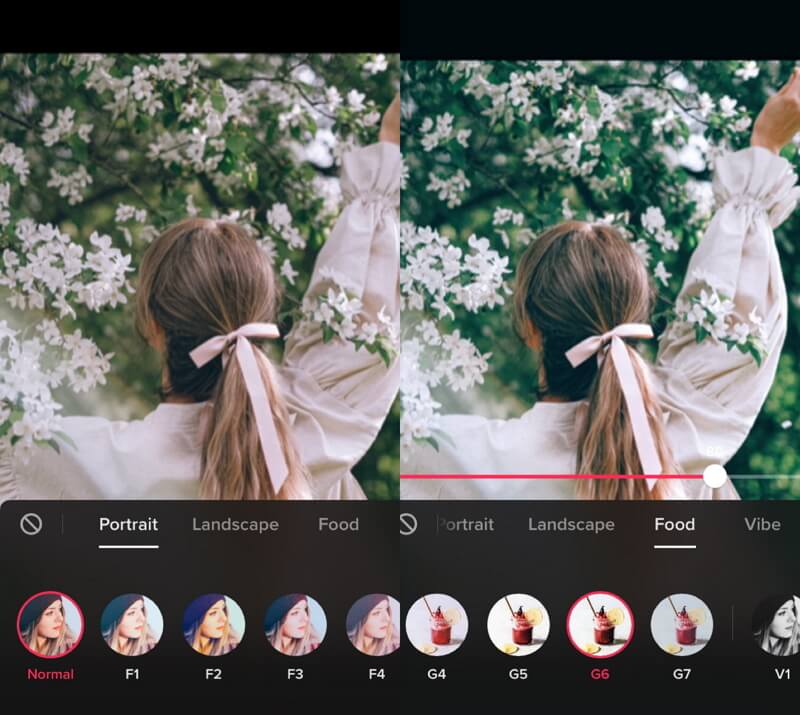 You can find the G6 filter under the food category. Just as its name suggests, filters titled 'food' are usually used while uploading food-related videos.
The G6 filter is one of the most famous filters in the food category. Applying this filter will make your video appear a bit retro or grunge yet colourful and bright. This filter adds an element of depth to any video and alters its looks.
Food G6 filter has grown increasingly popular for its features and is used in videos other than food-related.
For instance- if you go on TikTok and search for 'glow up' videos, this popular trend solely uses the G6 filter for the videos.
5. Landscape B10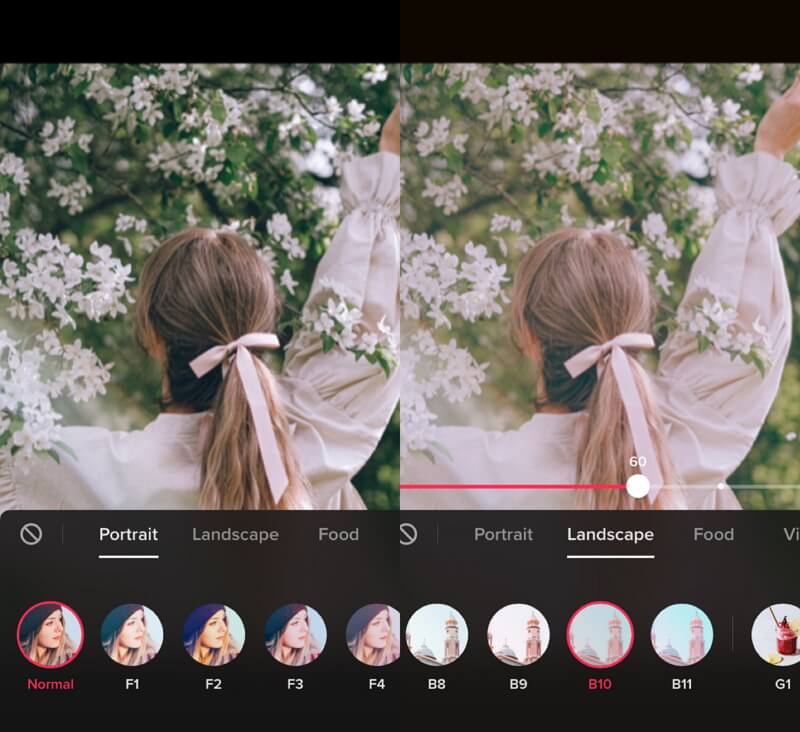 The landscape filter on TikTok is used to edit the surrounding around you. The B10 filter under this category is designed initially to add a shade of colour over the video.
However, TikTok users realized that this simple landscape filter provides much more than a colour shade. Tiktokers swear by B10 as it does something spectacular to your eyes, especially those having dark eyes.
This filter, when applied to the face, changes the way your eyes look. The brown or dark brown eyes appear shinier and brighter. It naturally changes the eye colour, adding hazel and green tinges to it.
B10 makes your eyes appear sharp and pop out with more colour.
These five best TikTok filters are not only popular but can help you create better videos.
Besides providing the original intent they were designed for, you can also use them in various ways. Just look at how many people use the Food G6 filter and landscape B10 filter, not limiting only to food or landscapes videos.
You can always experiment with the filters and create videos that are one of a kind.
Part 2: How to Use the Best TikTok Filters to Your Video?
Now that you are aware of which best TikTok filters are made for your videos, it's time to apply them. It is effortless to use these filters as they are accessible and easily found on the app.
Here is a step-by-step guide on how you can use these filters and make fun videos. You can access all five filters through this guide conveniently.
You can find F4 under Portrait, V1 and V6 under Vibe, G6 under Food and B10 under the Landscape categories.
Each category has several filters, so make sure you select the right filter.
1. Open the TikTok App.At the bottom of the screen, you will come across a '+' button.

2. Hit the '+' button and before you start recording, click on the 'Filters' icon on the top right corner of the screen.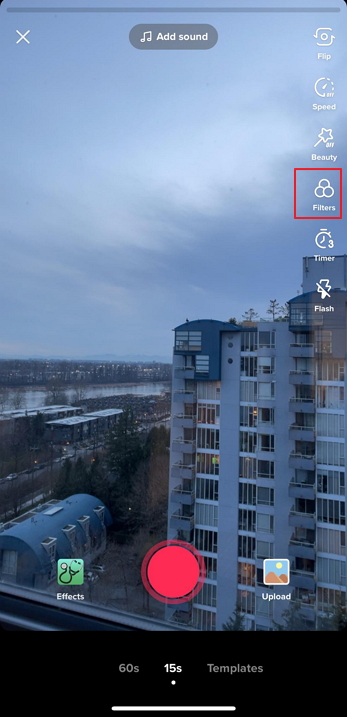 3. Click on any of the five categories displayed. Once you select the category, choose the filter you'd like.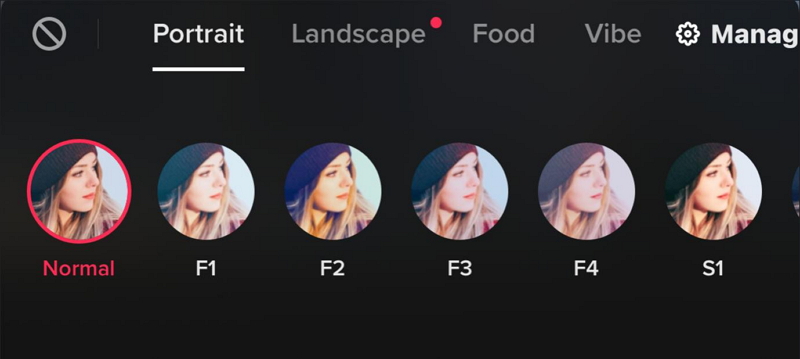 4. Exit the filter page and start recording your video.
Note: There is no need to worry if you forgot to apply the filter before recording the video. You can add the filter later. Before you upload the video, TikTok will guide you to a preview screen.
While observing the screen, you can add preferred edits to it. Along with filters, you can insert stickers, music, and captions to the video. After you are satisfied with the results, you can upload them.
To add music, stickers and different effects, follow the guide mentioned above. Instead of clicking on the filter icon, you will have to select the 'sticker' and 'effect' options.
Part 3: How to Find More Filters for TikTok
If you are still looking for more options for TikTok filters, there is editing software available. For a perfect video, you need to look for the best editing tools other than those on TikTok.
To do this, you will need to start editing your videos on a computer or PC rather than a mobile phone. Mobile phones have some of their limitations, while PCs are easy to use.
Adding to this, if you are looking for the best editing software for TikTok videos, many of these can only be applied to PC.
One of the best software available for video editing is iMyFone Filme. This software is full of benefits and offers tools for better editing.
You can upload the most creative videos by using iMyFone Filme. Basic editing, enhanced effects and advanced features are all laid out for the user.
Here are four significant features of iMyFone Filme:

1) Filters – Adding filters becomes an easy task with Filme. With just a few clicks, you can add various filters to the software and make your video more vibrant.
2) Speed Adjustment – If you would like to highlight an essential part of your video, Filme allows you to adjust the playback speed. Through this, you can create professional-looking time lapses that will keep your audience entertained.
3) Transitions – By adding transitions, you can make your videos attractive and flexible. You can join two clips together and create a seamless transition in your video.
4) Picture-in-picture perfect – This is a unique feature in Filme which lets you add two images or videos on one screen simultaneously.
Filme editing software is perfect for beginners who lack editing skills but want to create engaging TikTok videos. No matter your experience level, you can add features to your videos and take it one step further through Filme.
Follow these steps to add TikTok filters in Filme:
1. After downloading the Filme app, launch the project and select the aspect ratio.
2. Click on 'Import' and select 'Import Files'. Open the video you want to edit and drag the video to the timeline.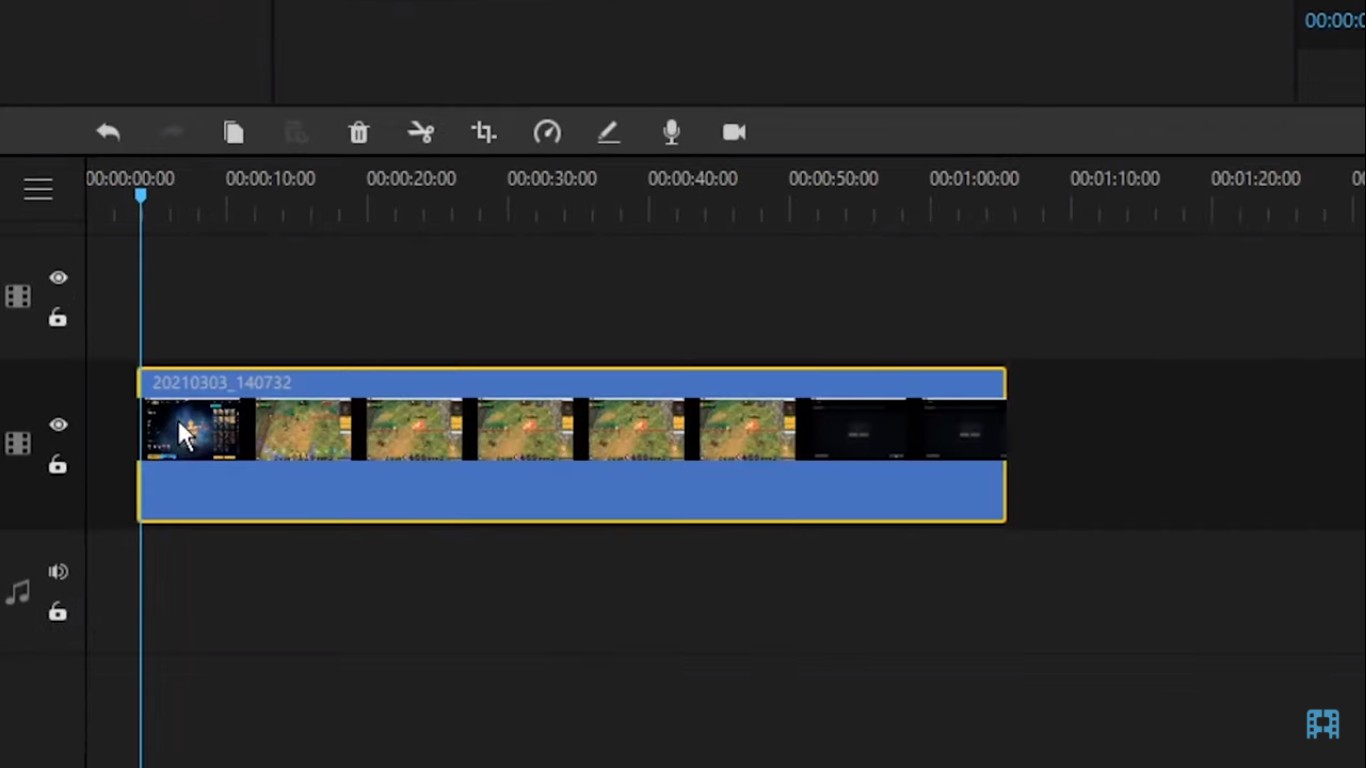 3. Above the timeline, you will see different tools lined up on top of the window. From there, you can choose from various editing tools.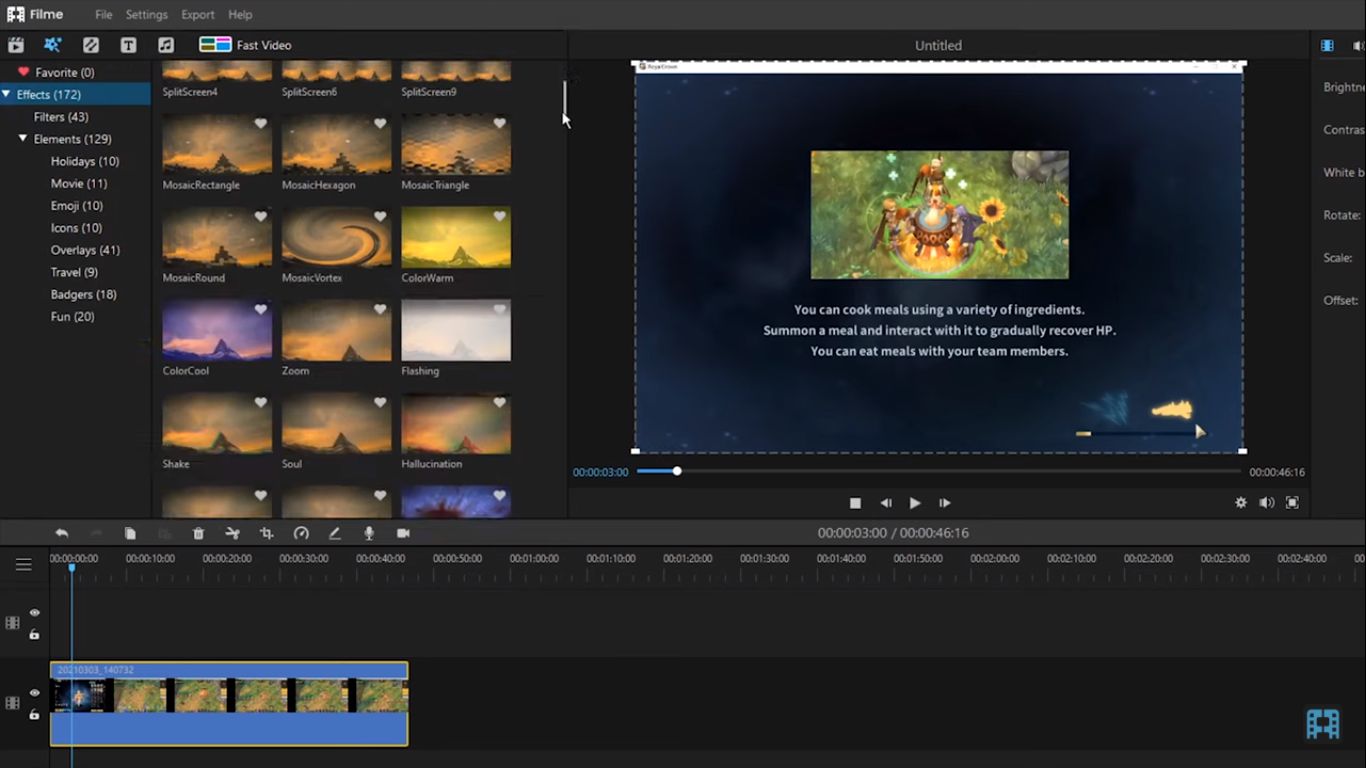 4. Navigate to 'Effects' and click 'Filters.' Filme will display an array of filters on the screen. You can add these to your videos using three ways: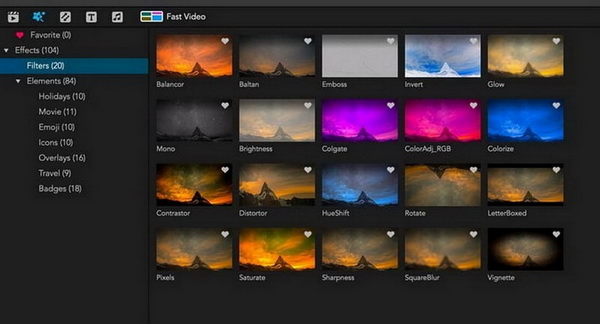 Method 1: Place your arrow on the desired filter and select the '+' icon in the middle. Add the effect to the timeline.

Method 2: Right-click on the filter and add it to your timeline.

Method 3: You can drag and drop the filter wherever you would like to add to the timeline.
5. When you are done editing the video, go to the Export menu and click on the 'Export Video' option.
Upload it on your TikTok, and you are done! Not only is editing through Filme easy, but it is also fun and exciting.
You can upgrade your editing skills by using this software and transform into a pro editor in no time.
Suppose you would like to grow on TikTok and want your videos to stand out from others, experiment and implement different filter types. You can put your twists to the filters and spin out some unique videos for the audience.
Part 4: What are The Differences Between TikTok Filters & TikTok Effects?
Often the term filter and effects are used interchangeably. If you think both have the same purpose, this isn't the case.
A filter is a pre-set edit that can change the entire video's look according to the user's preference. They are similar to those found on Instagram, Snapchat and other third-party apps like Snow and VSCO.
On the other hand, effects work to add details to your video. They are used to alter and change a wide variety of aspects of your videos, such as changing face shape or using a green screen. In addition to this, you can change your voice, add stickers, split your videos, add transitions and create time-wrap effects.
These provide fun and creative ways to edit your videos on TikTok after recording them. The main categories for TikTok effects are Trending, Editing, Interactive, New, Beauty, Funny and World.
Nevertheless, specific filters and effects have become quite popular on the platform. Yet, if you want to focus on levelling up your videos, you need to select the best filters on TikTok.
And while trying out the TikTok filters, don't forget to have fun!