You see your friends posting all these cool videos on Facebook, getting hundreds of likes on their content and their general popularity increasing. Don't become envious, it is time to do something about it. Ever wanted to do something different to make your social media profile more attractive? If you have replied a "yes" to this question, then you have landed at the right spot. We will guide you step by step on how to create a video on Facebook.
Part 1: How to Create Video Clip on Facebook Creator Studio
This is an amazing feature for people who record a 45-minute Facebook live but want to pick out the most important message to create a video on Facebook from their message for their audience. This feature allows you to cut the longer video into shorter clips.
Step 1: Click on "Creator Studio".
Step 2: Click on Content Library and go to Post type and select "Video".
Step 3: Select the video you want to edit.
Step 4: Click on edit post and move down to "Video Clips".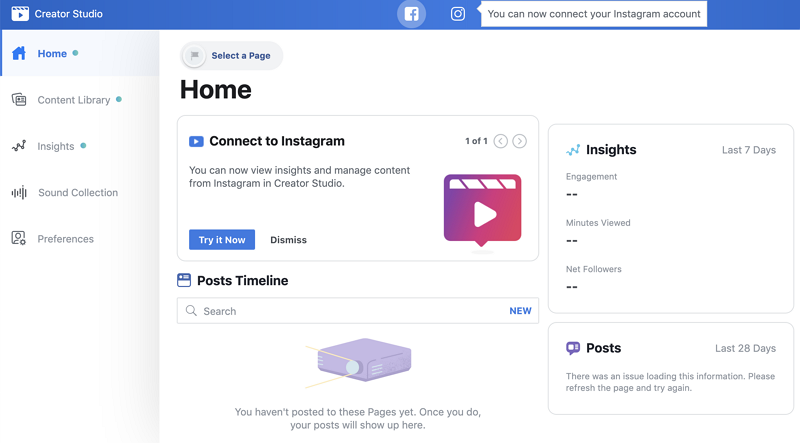 Step 5: Edit the duration timings- start and stop timings of the new clip.
Step 6: Click "Add Clip", rename, save and then save again. You can repeat the steps to pick out and make them a video on your Facebook.
Watch this video to learn create video clips inside creator studio:
Part 2: How to Create Slideshow Video on Facebook
This is to make a photo slideshow video directly from Facebook without the use of an external video editor. This feature is only available on Facebook Business Pages and can only be used on computers.
Step 1: Go on your Facebook page and click on the create post area, then click on photo/video.
Step 2: Then move down to select create slideshow.
Step 3: Edit the settings as per your desire and then click on Add Photos.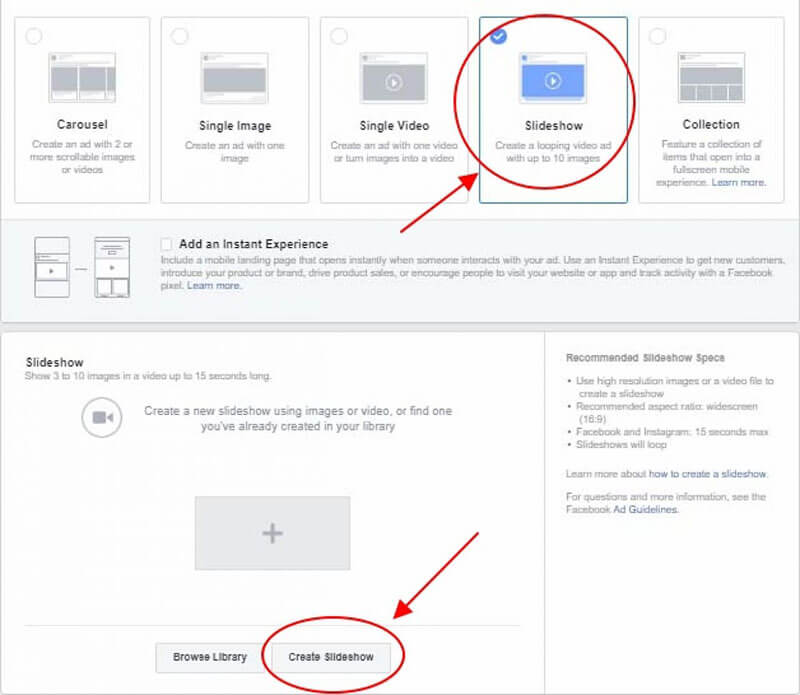 Step 4: Click to upload photos, you can choose music from the library, then create slideshow.
Step 5: Once the slideshow is created, you will be taken to your original post. You can share the slideshow; either now or schedule it for later. Choose this from the drop-down menu.
Watch this video to learn how to create slideshow video on Facebook:
Part 3: iMyFone Filme: The Best Tool for Creating Facebook Videos
iMyFone Filme is a powerful video creation and editing tool, it will fulfill all your editing needs, through its multi-feature interface. It is an excellent tool for creating Facebook video including slideshows videos and cover video. There are many options available to the user, which makes Filme an attractive editor choice.
Key Features- Why Choose Filme?
Some features that make Filme the great editor that it is:•••

Extensive video editing tools. You can use it make a professional video.

Abundant effects and resources. Filme has a large variety of animations, transitions, filters, music, and a vast stock image library.

Fast Video mode. Create video with music in just 1 click.

Advanced features: multi-layering, multi-track audio options, instant preview, and style adjustment.
1. How to Create Facebook Slideshow Video
Filme allows you to create a Facebook slideshow video with a single click. The user-friendly interface allows you to make a Facebook slideshow in no time! So, what are you waiting for? Follow the easy steps below to create your own slideshow.
Step 1: Open Filme Interface and Click on "My Media" and click "Fast Video".
Once you have the software downloaded, click on the tab which says "my media" and then click on "Fast Video."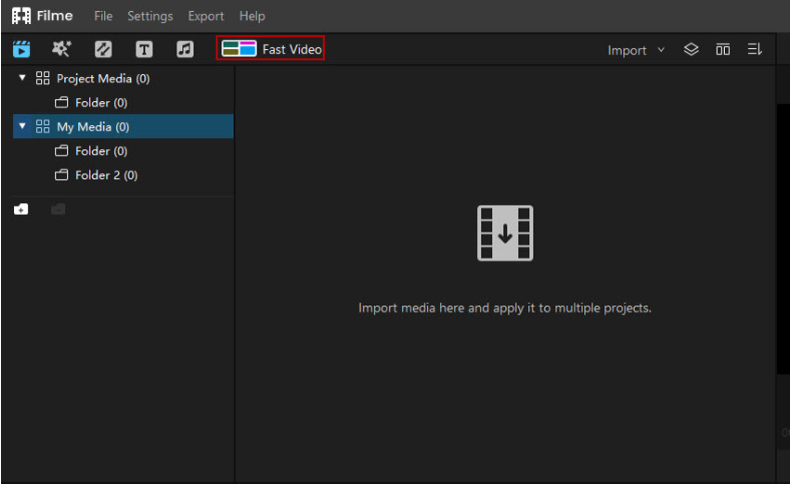 Step 2: Choose appropriate template for your slideshow.
When you get to this step, there are 7 themes of templates that you can choose from, once you decide on which you want to use, click on "Add your media."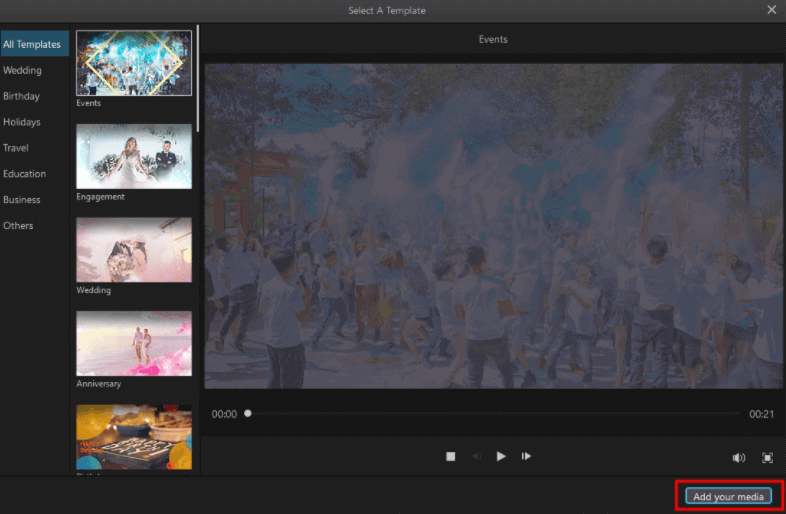 Step 3: Import your file
You can import your files by clicking anywhere on the screen, OR, click on import to add files from your computer. If you want to delete, just select the file and click on "delete selected file". To select another template, click "back". To preview your slideshow, click "preview".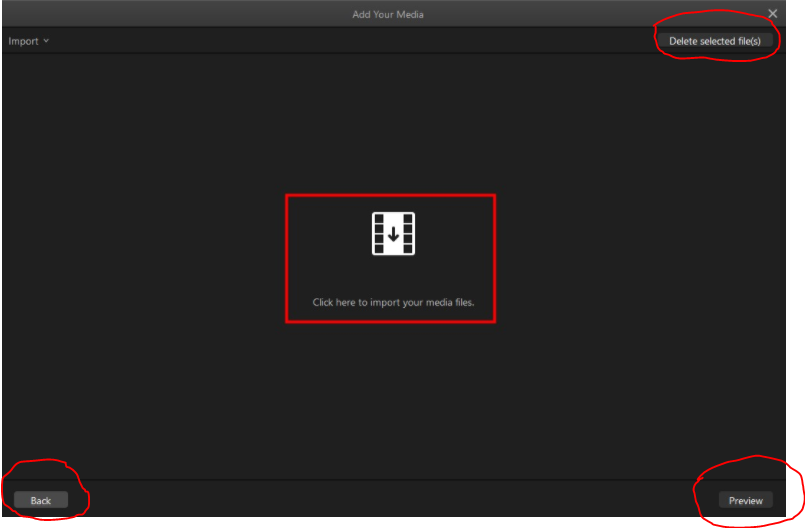 Step 4: Rearrange images for slideshow.
Now you click on your files to rearrange as per your desired order by dragging and dropping. You may preview your slideshow by clicking "preview."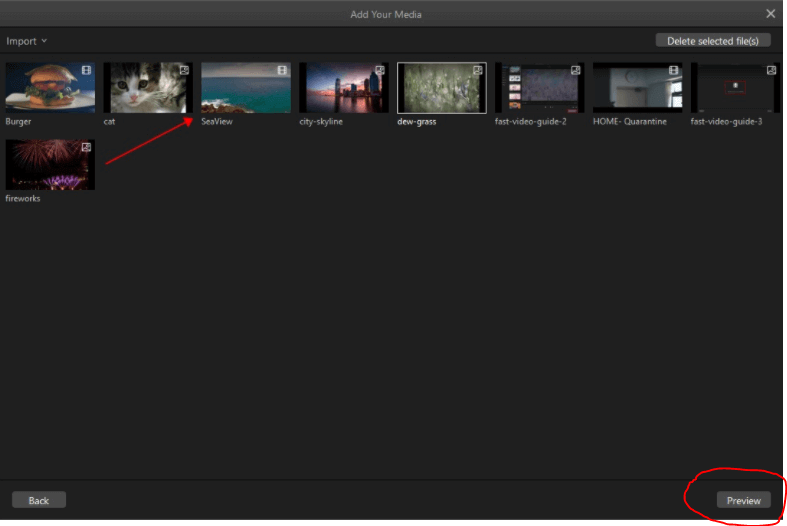 Step 5: Adjust duration time and click "export".
In the last step, you click on the clock icon to adjust the duration of your slideshow and then click "export."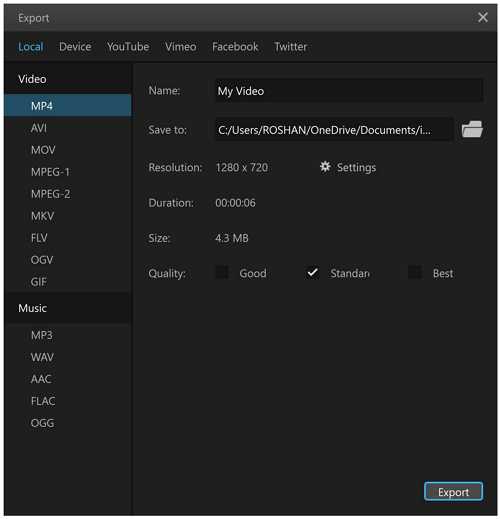 Watch this video to see how to use Filme to make a video for Facebook:
2. How to Create Facebook Cover Video
Step 1: Add media to your timeline.
Drag and drop media files that you want to use in your video.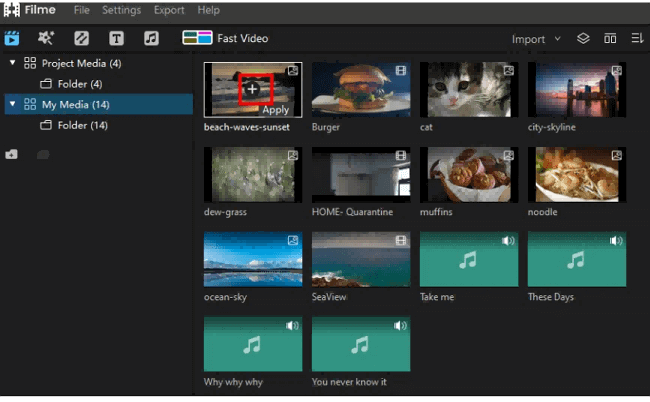 You may delete media files as well by clicking on the clip you want to delete and selecting delete from the drop-down menu.
Step 2: Trim Video Clips
You can drag the clip back to shorten the duration of the video
 Step 3: Add various effects such as picture in picture.
Place two media files on different tracks, resize/reposition the picture that should appear smaller.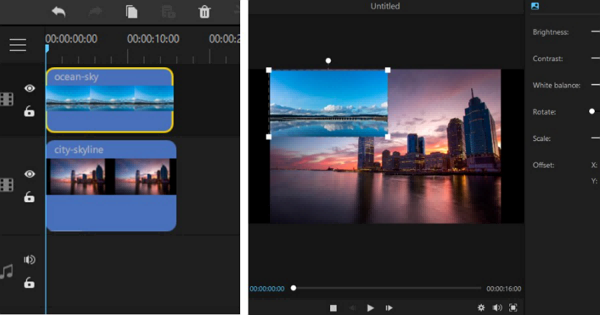 Step 4: Click "Export" to save the video on your computer.
Once you are done editing your Facebook cover video, click export to save it on your computer and then post it on your Facebook profile!

Part 4: 6 Tips for Getting More View for Your Facebook Videos
Now that you've learned the art of making quick and easy Facebook videos, we can move on to see how you can attract your audience to your video posts and get more views on your Facebook videos. Let's look at some tips to increase your Facebook video viewership.

1.

Avoid Long Introductions
People usually do not spend a lot of time on Facebook videos; hence you have the first three seconds to grab your audience's attention. Do not waste this precious time with giving long and boring introductions, in fact, get to the punch line, so that the audience is intrigued to watch the entire video.
2.

Select an attractive name
It is essential that your video title has the relevant keywords, to make it easy for the audience to search for it. A title that is descriptive yet intriguing is what you should aim for. Much like SEO, targeted keywords should be used to optimize traffic and visibility to your content.
3.

Add Captions to your videos
Most Facebook users tend to watch videos without opening the audio, therefore, it is a great idea to add captions to your videos. This will also serve as an advantage as if your captions can grab the attention of the audience, they may proceed to click and watch the video with the sound on.
4.

Give a preview of your content
In order to tell the audience what your video is all about, it is a good idea to add a description of the video using Facebook Post Copy. An attractive thumbnail with descriptive sentences can help tell the audience what your video is all about and whether they should engage or not.
5.

Make Square Videos
Studies show that videos made in the square shape tend to get more engagement than those made in landscape mode. This is so because most Facebook users use Facebook on their handheld devices; cellphones so naturally square videos form a larger part of the content they engage with.
6.

Keep it focused and simple
It is important to focus on one important idea instead of bombarding the audience with complex, elaborate, and multiple ideas. Simple and focused content is ideal.