Online users are always in for tools that can help communicate their right emotions to the right person. Whether you are on Facebook or Twitter, GIFs are a fun, creative, and excellent way of sharing your feelings using social media platforms.
If you think that converting a Facebook video to GIF is way out of your league and you need some high-end software for this purpose, well, that is not at all true. This article will show you some pretty simple tricks for creating a GIF, answering the question of how to make a GIF from Facebook video.
Way#1: Use video editor - iMyFone Filme to Make a GIF from Facebook Video
You can make stunning GIFs using iMyFone Filme, which is a powerful video-creating software. It is a fast and easy-to-use video editing tool that allows you to convert your favorite videos to GIFs within the blink of an eye. Besides allowing you to convert a Facebook video to GIF, the software is loaded with tons of features suitable for all your video editing needs. Where the Fast Video Mode enables you to edit videos with a single click, the editing tools give your videos a more professional touch.
Features:
Features that make iMyFone Filme the best video editor includes the following:
It offers multiple video templates that make your video even more impressive.

The Fast Video Mode can create a slideshow with just a simple click.

It has all the essential video editing tools such as crop, rotate, import and split.

The tool improves the quality of your video by adding transitions, audios, filters, and even add cinematic text to your videos.

The advanced features offered by this software include multi-layering, instant preview, and it also lets you adjust the style of any video.

The best feature of iMyFone Filme is that it won't occupy a huge space of your RAM.
How To Make GIF From Facebook Video Using iMyFone Filme?
Want to create a funny and dynamic GIF from a fantastic video that you just saw on Facebook. With iMyFone Filme, you can convert that any video into GIF using the following simple steps:
Step 1: Download Filme and click on the "Import" button. Next, go to "Import Files" and import the video you want to convert to GIF.
Step 2: Dragging the video to the timeline, use the various editing tools, including cropping, adjusting the brightness and speed of your video, and much more.
Step 3: Now, you need to adjust the duration of the video as GIFs are only 5-7 seconds long. So, to make a GIF out of a Facebook video, drag the ends of the video. And then adjust the duration of your GIF.
Step 4: Insert effects and texts to make your GIF more appealing. Include effects from the effects menu. For including text, go to the "Text" option and select the text you want to insert in your GIF. Set the font, alignment, style, and duration of the text.
Step 5: Now, click on the "Export" option and then choose GIF as your output format and press "OK." Your GIF is ready to be shared.
Way#2: Create Facebook Video To Gif With Online Tools
If you intend to convert Facebook video to GIF online, the following online video editing tools can help you do it pretty easily.
The major advantage of using an online video converter for GIFs like the ImgFlip is that they are free to use. It is a powerful tool that lets you convert videos to GIFs without any hassle. The tool offers fast conversion of Facebook video to GIF and supports unlimited formats, including MP4, MPG, 3GP, MPEG, and much more.
How To Make GIF From Facebook Videos Using ImgFlip?
Step 1: Go to the web link of ImgFlip at https://imgflip.com/gif-maker.
Step 2: Either copy-paste the URL of the Facebook video you want to convert to GIF, or if you have saved the video in your system, upload it directly to ImgFlip.
Step 3: The website will create a GIF in few minutes, and then you can press the option "Download.gif" to save your GIF.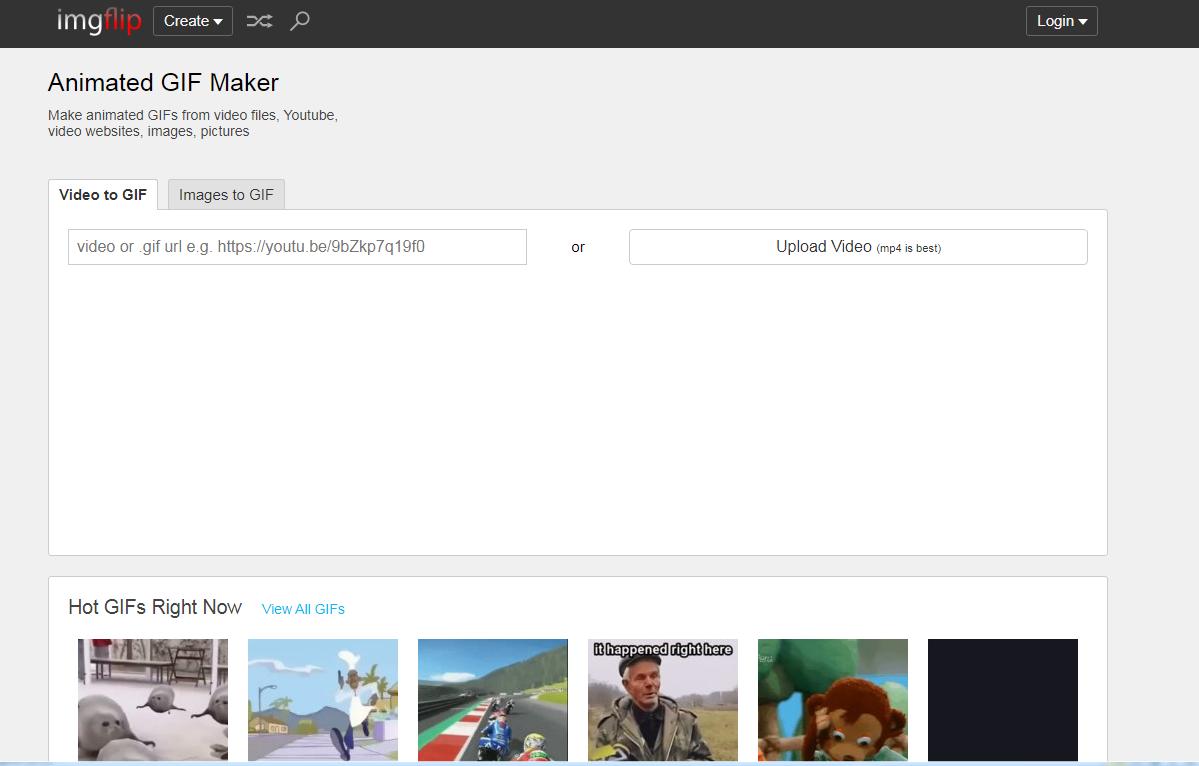 Ezgif is an all-in-one video converting and editing tool supporting a file size of 100MB. It offers fast processing and is equipped with dozens of features, including cutting, crop, resizing, reverse videos, adding text, and much more. So, you can not only create an interesting GIF from this tool but can also edit it in whatever way you like. Moreover, it supports a wide variety of video formats such as MP4, MOV, WebM, 3GP, and so on.
How To Make GIF From Facebook Video Using Ezgif?
Step 1: First, you need to open the official link of Ezgif https://ezgif.com/video-to-gif.
Step 2: Next, copy-paste the URL of the video in the text bar below. You can also upload the Facebook video link if it is available in your system or from your smartphone.
Step 3: Once the video is uploaded, you can cut the part you don't want in your GIF using the cut option.
Step 4: After your video is converted to GIF, you can change the dimension of the video and can also crop and resize it using our video editing tools.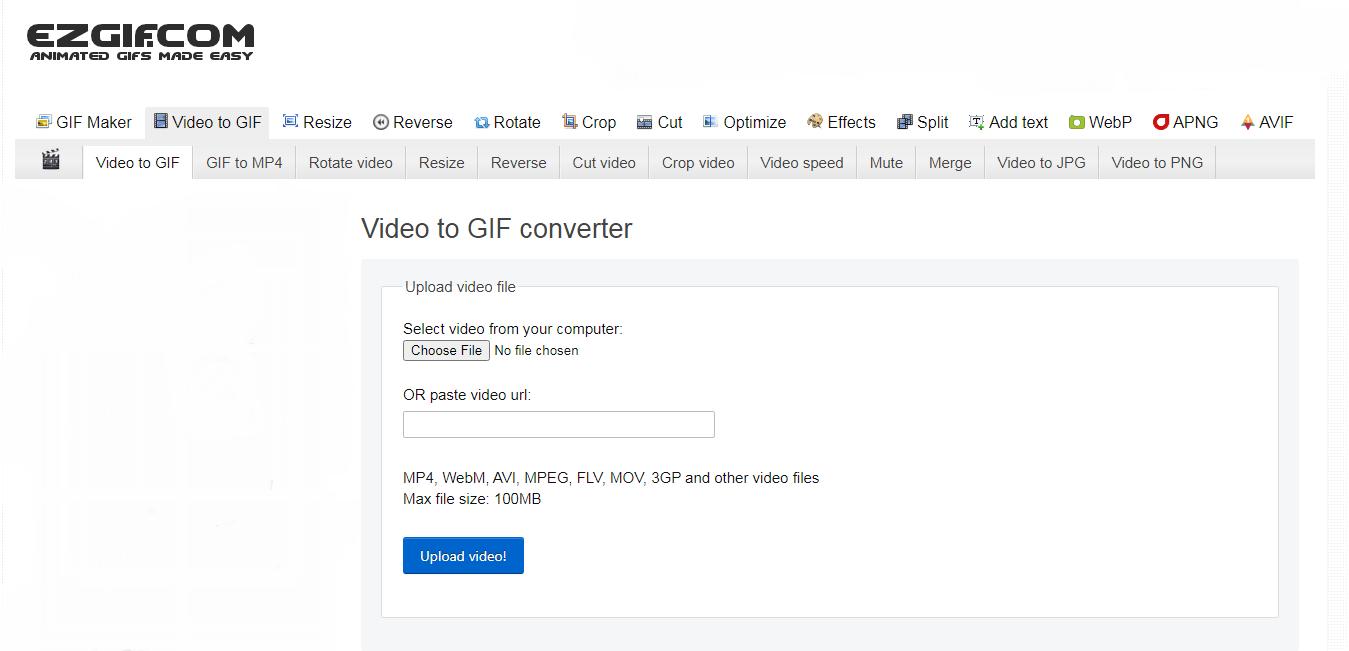 Way#3: Make Facebook Video to Gif Via Chrome Extension
Chrome extensions are making things way easier for online users, including converting a Facebook video to GIF. Using the web browser, you can directly upload videos from your Google Drive or your computer and start creating amazing GIFs to be shared online. Along with having a friendly user interface, it supports some essential functions, including WebM, mp4, m4v, ogv, and mkv.
How To Make GIF Using Chrome Extension?
For converting Facebook videos to GIFs, you need to use "Video To GIF Animation" and then go through the steps below:
Step 1: To install "Video to GIF Animation Converter," go to the chrome web store and install the chrome extension for Video to Animation Converter by clicking on install.
Step 2: Next, open the chrome browser at https://chrome.google.com/webstore/detail/video-to-gif-animation-co/kbjnohibfajlocjlfboonfofdchmfijl?hl=en-US.
Step 3: Select "Video To GIF Animation converter." A page will appear where you can convert your videos to GIF.
Step 4: By selecting the option "Choose File," upload your Facebook video from your device.
Step 5: Now click on the "Capture Frame" option and start capturing frames of the video. Then, click on "Compile to GIF" to create a GIF from the Facebook video.
Step 6: Once you are finished with the conversion, click on "save to computer," and the GIF will be saved on your computer.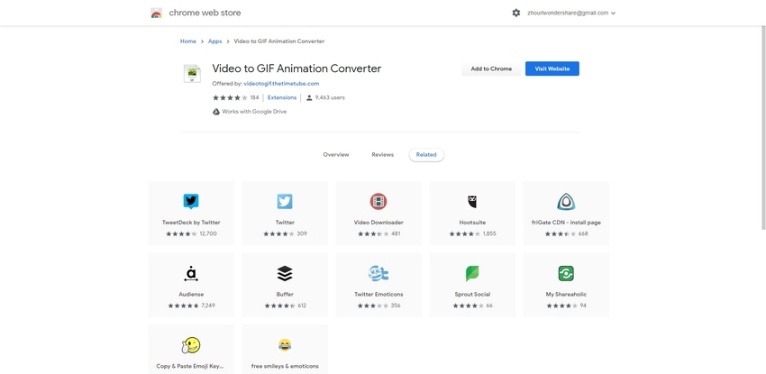 You might be interested in:
How to Rotate Video on Facebook & Video Rotating Tips >>
How to Make a Slideshow with/without music on Facebook >>
Bonus Tip: How To Download Facebook Video Easily
With no proper video downloader, downloading a Facebook video is not possible at all. Facebook only allows you to share and save videos on your social media account. This makes it impossible for users to download the video and save it to their devices to be used later. But we have the perfect Facebook video downloader for you.
Getfvid is an online video downloader that enables you to download videos not only from Facebook but also from Instagram and Twitter. The tool is free to use and is compatible with all devices, including computers and smartphones. With a simple user interface to having the best privacy policy, this online downloader is perfect for downloading as many Facebook videos as you want.
How To Download Facebook Videos With Getfvid
To download Facebook videos to your device using Getfvid, go through the following steps:
Step 1: Go to the official website of Getfvid.
Step 2: Copy-paste the URL of the Facebook video in the bar on the webpage.
Step 3: Finally, click the "Download" button to save the Facebook video to your device.
FINAL WORDS
GIF is an interesting way of conveying the right feelings. With all the tools mentioned above, you can convert as many Facebook videos as you like quickly, share them with your friends and family, and have unlimited fun. From iMyFone Filme to online tools, all offer a super-easy way of converting any Facebook video to GIF with few simple clicks.