What is Adobe After Effects?
Adobe After Effects doesn't need an introduction. It is one-of-a-kind software that helps you turn your imaginations into reality. It is splendid to take graphics creation to the next level.
This article is going to be all about Adobe After Effects. We are going to explain Adobe After Effects price and features details. Moreover, you will also get to know how you can use Adobe After Effects to get its 100%. The last part of this article will give you some alternatives to Adobe After Effects.
Part 1: What is Adobe After Effects
Adobe After Effects is an animation software that allows you to add multiple layers of videos and pictures during the post-production phases. In TV, web, and film video production, this software is used for visual effects, animation, and composition of a motion picture.
This software is basically used to create modern motion graphics along with the addition of media like photos and video clips. In other words, you can use it to mix the reality and imaginary world to explain any story or point of view. It is a compositing program specially designed for animators, designers, and compositors.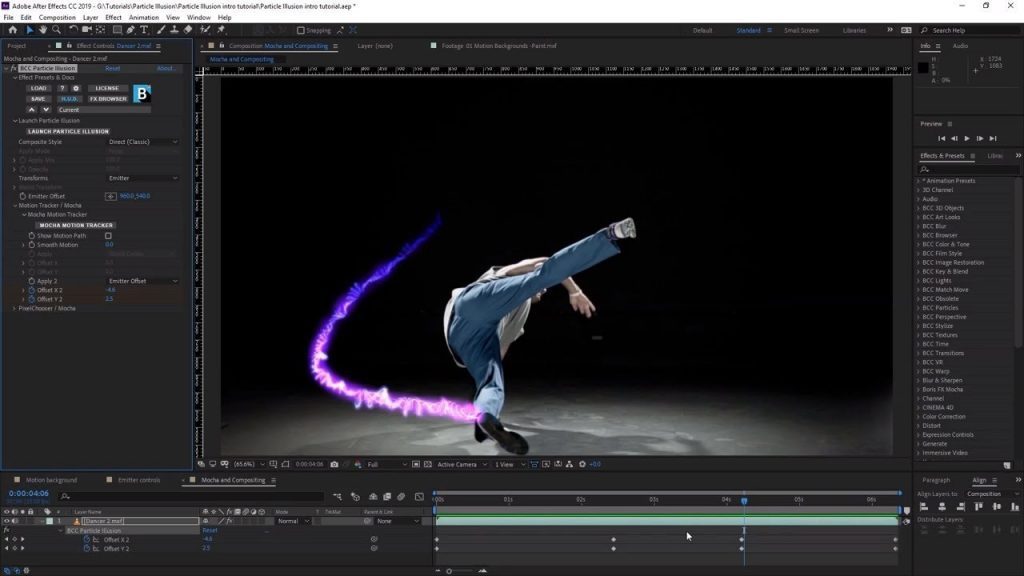 Part 2: Main Features of Adobe After Effects
Adobe After Effects is strongly capable of creating high-quality content due to its versatile features and tools. This program offers many useful features like:
1. Animation:
Adobe After Effects allows you to manipulate different layers of art to create 2D vector animation, character and basic 3D animation, visual effects, and kinetic typography.
The latest version of After Effects has introduced a new tool that is used to create different graphics using data files. Due to the new feature, people can use JSON data files for the composition of moveable graphics, characters, and sliders.
2. Text Effects:
Adobe After Effects allows you to use different After Effects text effects through which anyone can easily put the words into motion and action. It offers you to add 3D virtual reality titles and captions to your creation. Adobe After Effects also offers text effects presets, which make it easy to choose and apply dazzling motion and action of your words in titles.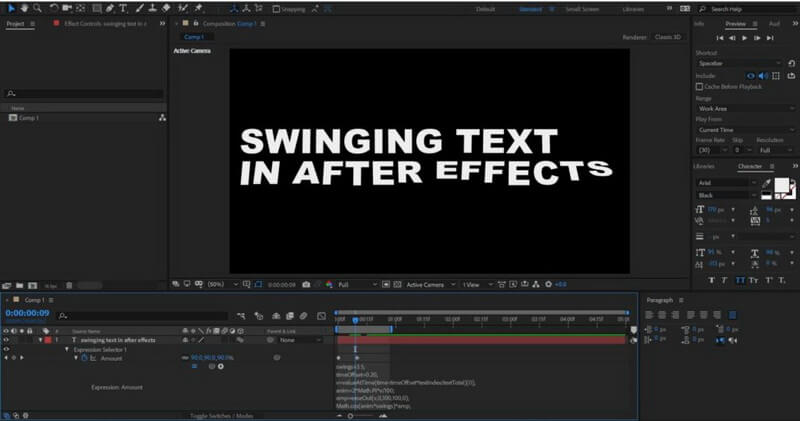 3. Green Screen:
Adobe After Effects provides some built-in presets to customize the green screen effects for changing the backgrounds accurately and sharply. The presets are used with a combination of other effects to provide quick and accurate results with little effort.
4. Transitions:
Adobe After Effects provides a wide range of transitions to make the animated videos more joyful and real. You can use any of the built-in transitions from After Effects to give your creation smooth and acceptable changing moments for photos or video scenes.
5. Keyframes:
After Effects offers Keyframes for adjusting the motion of graphics and characters correctly. You can set two Keyframes to move a single animation, one as a starting point and the other as an endpoint. Then you can customize the speed, direction, and type of motion between these two points. In this way, you can move your animation in an easy way without getting messed up.
You Might Also Be Interested In These:
Complete Solution to Brighten Video in After Effects >>
Easy Way to Resize/Scale Video in Adobe After Effects >>
Part 3: Adobe After Effects Basic Tutorial and Pricing
After Effects Tutorial:
Step 1: Install After Effects on your device and open it. The interface is divided into panels through which you can proceed with your work easily. You can view your composing footage or already composed footage in the panel.
Step 2: Click on Create New Composition or New Composition from Footage, or you can also import your media by dragging and dropping the file to start using After Effects.
Step 3: Your files will be added to the middle right panel. At the bottom of this panel, you can click on the 3rd small icon for composition settings. After clicking on it, you will see a small pop-up window named Composition Settings. Here, you can make composition settings according to your wish.
Step 4: Now, drag and drop the selected video to the main View Panel. After it, you will start seeing a Timeline at the bottom of the screen. On the right side of the timeline, you will see your selected videos and other things. You will also see a small arrow. Click on that to have a list of other options through which you can change the position, size, and motion of your selected media.
Step 5: At the top of the screen, you will see a Toolbar with many options. You can add Text, Rotate your videos, Zoom-in your video, or Paint your video. Suppose you want to add text, then click on the T alphabet and add text. On the left side, you will have a list of some options. Here, you can add text effects to your text. Adobe After Effects offers built-in text effect presets. Click on Effects and Presets to add effects to your text. You can also customize the effects.
Step 6: To save the video, click on the Compositions > Add to Render Queue from the Menu bar. The timeline will change automatically, and you will have options like Render's Settings and Lossless. Click on Lossless to do output settings. Now, make changes and click on OK. Choose the location on your device where you want to save the file and click on Save.
Adobe After Effects Price:
| Plans | Price |
| --- | --- |
| 1. Adobe After Effect | $20.99/month |
| 2. Creative Clouds All Apps | $52.99/month |
| 3. Student and Teacher | $19.99/month |
| 4. Business | $33.99/month |
Part 4: After Effects vs. Premiere Pro: Which One is Better?
After Effect and Premiere Pro are two widely used software in the film and video industries. Both tools have their own importance, and they both are different from one another. It matters a lot to choose the right option for what you are going to do.
After Effects is software for mankind animated and compositing content, while Premiere Pro is a video editing software mainly used to merge, cut, split, trim video clips, and make other changes.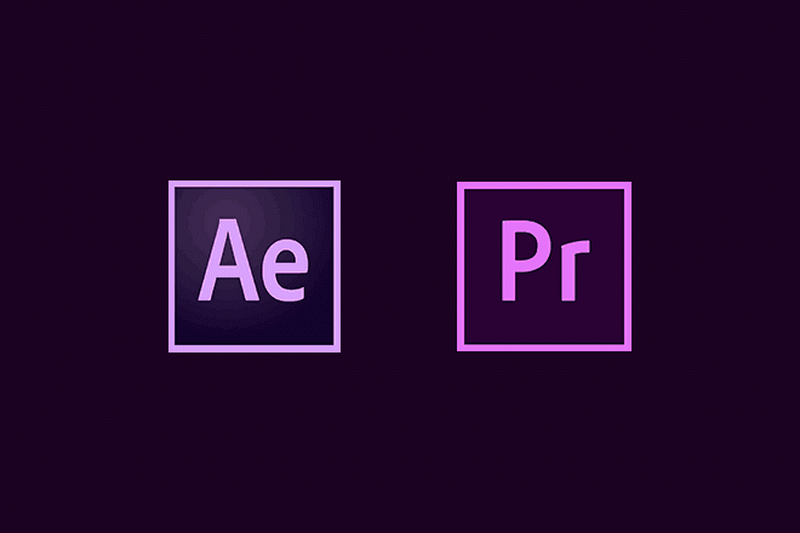 Comparison:
1. Visual Effects:
In the case of Visual Effects, we suggest using After Effects because this software uses different tools like Rotoscoping and Keylight to provide better and more customizable visual effects that Premiere Pro lacks. Furthermore, After Effects allows the creation of 3D effects and animations along with virtual reality effects. It can also add text and graphics to your videos in a better way as compared to Premiere Pro.
2. Interface:
The interface of Premiere Pro is more Beginner and user-friendly rather than After Effects.
After Effects requires a learning curve to have a grip on the software, while Premiere Pro is easy to use for the first time. Moreover, After Effects is associated with graphics and animations, so users need to learn a lot before using it.
3. Animation:
When it comes to animation, After Effects wins. It allows users to create cartoons, different characters, animated scenes, and moveable text and graphics. All these features are not provided or supported by Premiere Pro.
4. Text:
After Effects is our suggestion for adding text to any video because it has many advanced built-in text effects that can move your text with different styles. It gives motion to your words or titles. On the other hand, Premiere Pro does a lot with words and text but cannot leave After Effects behind.
For those who are looking for a video editor, Premiere Pro is our recommendation because it is specifically designed for this purpose. You can use After Effects for editing purposes, but it will be an irritating experience because After Effects is tough to use.
On the other hand, After Effects is our suggestion for those who are looking for software to create animated movies by using different effects and advanced features.
Part 5: 3 Best Alternatives to Adobe After Effects
Adobe After Effects is great software and program for market and professional use, but it is tough to learn and use, especially for a beginner. Here are some options other than After Effects or Premiere Pro to edit videos like a pro in an easy way.
Filme is a professional and versatile video editor. You can use it to make your videos stand out from the crowd. It has all the basic and advanced features and tools. The best thing about it is that anyone can use it without any experience.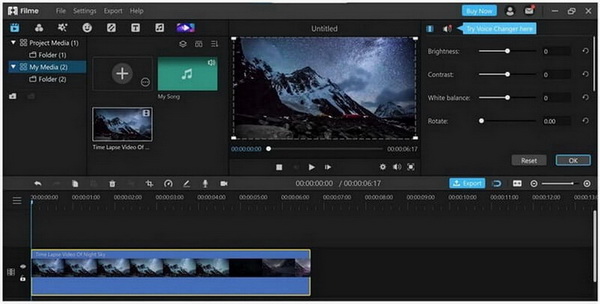 Filme is a versatile tool because it can be used as a video converter, audio editor, voice changer, slideshow maker, screen recorder, and video resizer. It is an all-in-one tool to take your video editing skills to the next level.
You can make almost any change to your video. You can add text, images, effects, transitions, stickers, filters, or anything you like. Within a few clicks, you can make your videos appealing and engaging. It has a vast library of text styles, soundtracks, filters, transitions, effects, and stickers. Last but not least, it can export videos, audio, and GIFs to any format, and you can change the advanced settings, such as codecs, resolution, frame rate, and bitrate.
Wax is another lightweight and simple video editing and composing software that runs smoothly and effectively. It is totally free to install for Windows users and can be used to create special effects like a professional tool. It has transitions and various plugins to make your videos more appealing. However, it is an outdated video editor with an old-fashioned interface. Beginners might find it a bit difficult to use.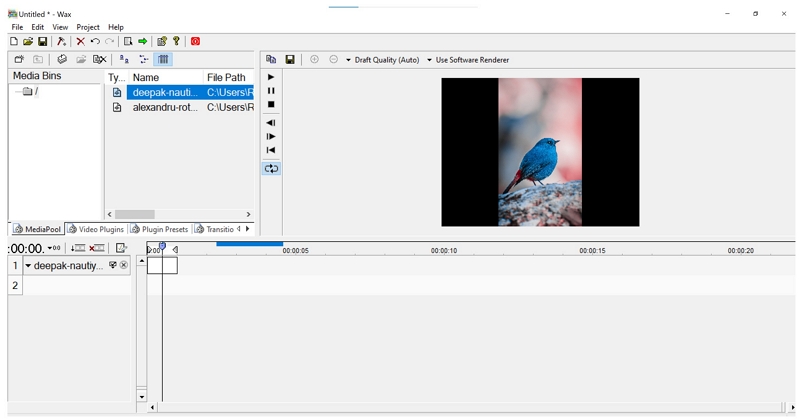 Hitfilm Express is a good option to add video effects, transition, audio, sound, music, and text to your video like professional tools. This software provides a professional experience without compromising the video quality.
Hitfilm Express's free version is supported by both Windows and MAC platforms. Anyone can use it to import 3D models for creating animation. It provides screen simulation, advanced tracking, backdrop changing, lighting, muzzle flash, and realistic shotgun effects. Overall, it is a great tool to make necessary changes to any video.
Final Words:
Adobe After Effects is one of the most loving programs by professionals. It has features to develop and compose an animated video with animated graphics, characters, and text. It can also be used for video editing purposes. We recommend going with Filme for video editing purposes. It is a professional video editor with all tools you need for video editing. You can make your videos engaging without any hassle.