Every content creator wants to be a bit creative when it comes to creating a video. When we talk about different aspects, we often undermine the importance of a video's frame size.
Sometimes, you'd surely need to convert vertical video to horizontal format video; changing the Frame Size comes in handy in this regard.
Without changing the Frame Size or without adjusting it will make your video patchy or irrelevant at times. It is why you need to adjust the frame size to make it worth admiring.
You can easily change the frame size of a video by creating a sequence and then editing the sequence's settings.
In this blog, we'll mention the methods to change frame size in Premiere Pro and its alternative video editing tool.
Part 1. How to Change Video Frame Size in Premiere Pro
Premiere Pro allows you to change the frame size of your video effortlessly. Importantly, your video will not lose any resolution quality when you alter its frame size. Here are the simple steps for changing the Frame Size in Premiere Pro.
Step By Step Guide with
Premiere Pro
Step 1: Install the program
To start the editing procedure, you need to download and install Adobe Premiere Pro on your device. Later, you need to launch the application quickly.
Step 2: Import your video file
Now, you only need to look for a video file you'd like to change the frame size. Start the new project and upload a file from your computer.
Step 3: Open your project
In this phase, you'll need to open your project file by double-clicking on your video.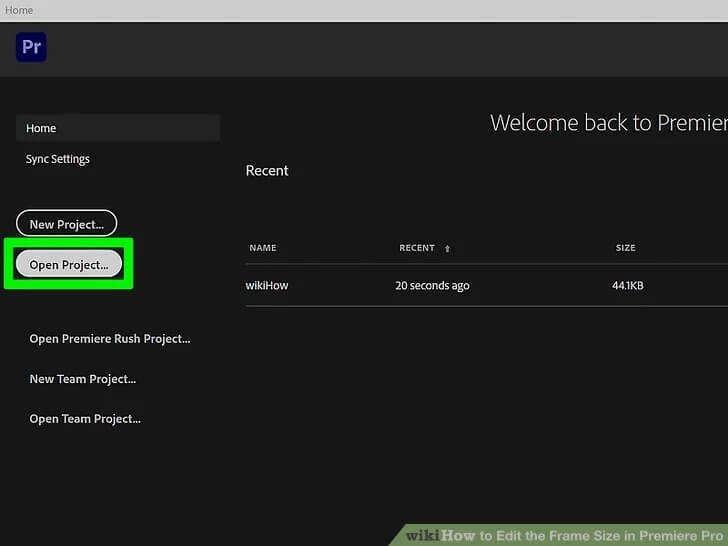 Step 4: Create a sequence
After selecting your project, you'll need to right-click on your video and choose New Sequence from your clip.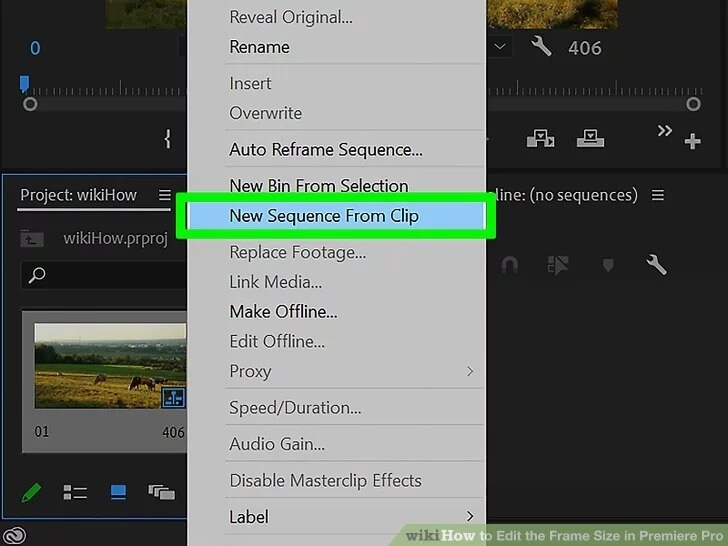 Step 5: Select sequence settings
After taking a few steps, you'll need to right-click the sequence option and hit the Sequence setting option. This process will show the sequence setting of your video clip.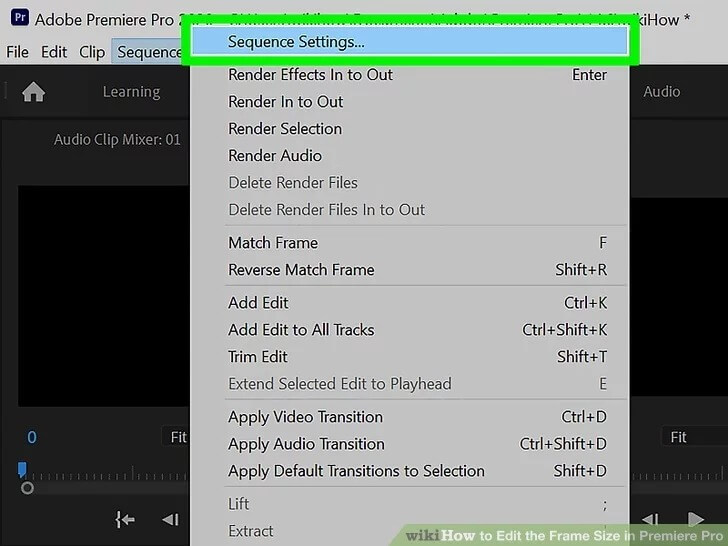 Step 6: Select the frame size
Navigate around the upper side of the window, and you'll see a Frame size option out there. It would help if you remembered that the aspect ratio would rely on your selected frame size.
After entering the horizontal value first, you'll need to navigate to the 2nd box and enter your vertical value.
If you don't find the option to alter the resolution, you need to duplicate the sequence first to check whether it helps or not
For this purpose, you need to hit the Cancel button and select Duplicate after right-clicking the sequence. After, you need to click your duplicated sequence and select Sequence Settings. This process will make sure you can edit the sequence now.
You can select frame sizes like 1080 x 1920, 1080 x 1080, and 1920 x 1080.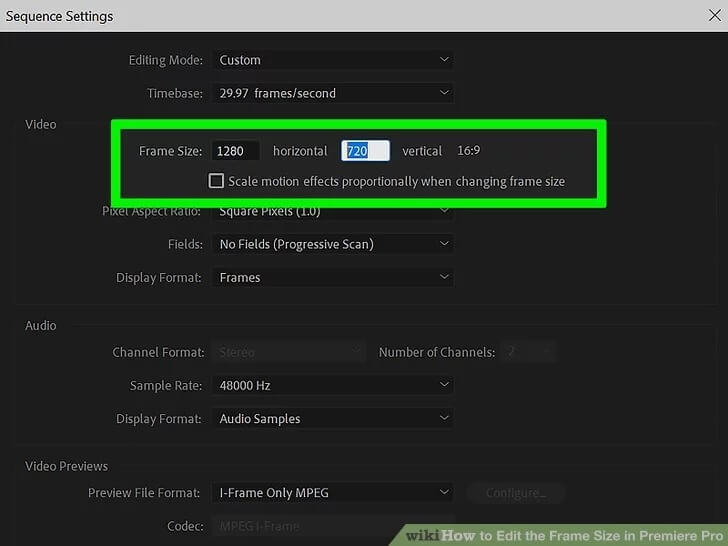 Step 7: Export your file
After changing the Frame Size, you need to play the video and check if the video's result lives up to your expectations.
Hit the Export button if you're satisfied with the outcome. But, if you want to make other changes, you can drag the file to the timeline again and edit it again.
Part 2. Best Alternative Video Editor to Change Video Frame Size - iMyFone Filme
Premiere Pro is indeed a great video editor that can help you adjust the frame size of your video. But, you may have some problems with Premiere Pro considering its expensive subscription. So what should you do now?
You can take the opportunity to hire the services of iMyFone Filme. It offers as many quality services that you expect from Premiere Pro. Even though iMyFone Filme is still new in the market, it has impacted the editing world enormously.
Downloading and installing iMyFone Filme is way too easy. You only need to navigate to iMyFone Filme's official site, and you can download it from there.
Features
Filme has many unique features, and we will discuss notable features.
Picture-in-Picture Effects
It is called a picture-in-picture effect when more than one video or image is simultaneously shown on a single screen.
It is a pretty helpful feature for podcasters and reviewers. Luckily, Filme provides fantastic ability to add prolific picture-in-picture effect features in your video.
Basic Editing Tools
iMyFone Filme offers numerous basic editing features that can make your video more innovative and impressive.
Here is the list of some editing tools that Filme offers.
Volume

Brightness

Contrast

Rotate

Fade in Volume
Basic Effects
Filme gives bountiful effects resources for you to add animations and filters to construct colorful and clear digital stories.
Primary Effects is as follows
Transitions
In video editing, transitions are presented between different clips and shots. A combination of those clips is the transition from one to another.
Transitions can be any digital effect like instant scene change, dissolve, fade, fade to black, etc.
You can add up transitions in your video and make your video innovative and impress the media audience in Filme Video Editor.
Text Options
Your title summarizes the whole context of your video. Search engines like YouTube and Google give massive attention to the keywords on your content.
If you induct trendy keywords in your title, it can make your content viral.
Your title contains the essential details of your video, and including keywords is necessary.
In Filme Video Editor, you can rapidly construct colorful and clear titles and text with all types of font sizes, styles, and colors to select from.
How to change the frame size of the video?
Step 1: Import a video file
After getting iMyFone Filme installed on your PC, you need to open it and get on with things. Later, please select a video file and import it to iMyFone Filme.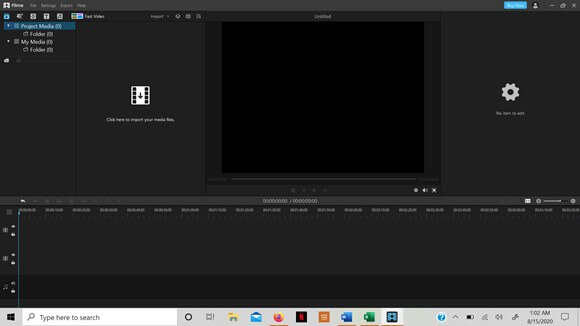 Step 2: Double click the video
After pushing the video file to the timeline, you need to double-click the video. Now, you can see some editing options there.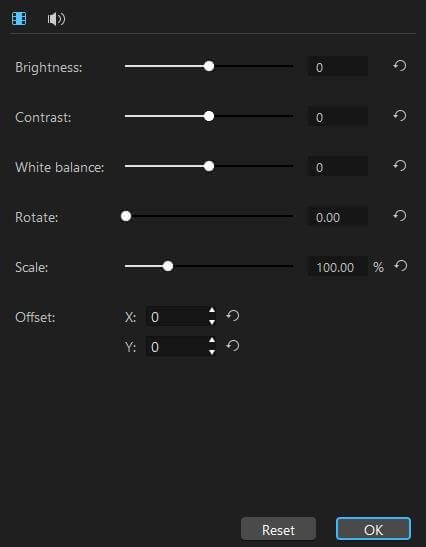 Step 3: Resize the video
If you want to change the frame size of your video, you'll need to adjust the scale's percentage. Now, you can adjust the frame size according to your preference. To make the video smaller, you can reduce the scale's percentage.
After resizing your video, you'll also need to position your video; you can position it wherever you want.
Step 4: Export the file
After adjusting the frame size, you can export the video now.
Navigate to Filme's export button option and then click '' Export'' to get the job done.
Part 3. FAQs about how to change video frame size in Premiere Pro
1. Why do people prefer Premiere Pro for changing the frame size of a video
There are many important things you need to think about when creating a video. After all, you'd want to create healthy and captivating content to attract the eyes of your audience.
Video quality is surely one of the most important aspects of an adorable video. Everyone wants to upload videos in a high definition quality. However, sometimes it happens when you shoot a video that turns out to be lacking high-quality resolution. What should you do in this scenario?
You can change the frame size of your video in a video editing tool. The most recommended and famous editor in Premiere Pro. It is a sensational asset of the online video editing world.
You'd get many benefits by changing the frame size in Premiere Pro. First, you'll get a video of the highest resolution quality. Second, you won't see any negative impact on the overall quality of your video.
2. Which video editor is the best alternative to Premiere Pro when it comes to altering a video's frame size?
Even though Premiere Pro ticks all the boxes when you talk about editing a video or changing the video's frame size, you'll still have video editing tools that can compete with Premiere Pro. The number one tool that can give a healthy competition to Premiere Pro is iMyFone Filme.
It is nothing less than spectacular that it has been offering mind-blowing and advanced features to its users. Surprisingly, it has been seen that iMyFone Filme works even faster than Premiere Pro.
The reason for this supremacy is that iMyFone Filme gives importance to even the smallest aspect of editing. It is why Filme becomes a stand-out video editor.
Final Words
Changing the frame size in Adobe Premiere Pro is all too easy. You only need to follow some simple instructions, and that will be enough.
However, you can't always rely on Premiere Pro for making the edits of your video. You have to look for an alternative at some stage.
In this regard, iMyFone Filme seems a perfect option. Whether you want to change the frame size of your video or edit the video in another manner, Filme offers you the most reliable and trustworthy services.
You'll see some unbelievable features with iMyFone Filme. First, it comes with an effortless user interface, making the job easier for newcomers.
Second, you'll not face issues editing the video because Filme has hired professional technicians to overcome all the obstacles you may face.