Blender is a well-known 2D and 3D graphics software available for free. It is open-source and free software, which is why people like to have it. It also offers a video editor, and in this article, we will give you an in-depth review of Blender video editing. We will discuss every aspect so that you can understand whether it is good for video editing or not. We will also share some alternatives if you are looking for an easy and powerful video editor.
Part 1. Interface of Blender
The user interface of the latest version is much better than the older versions. In Blender 2.8, the UI of Blender has improved a lot, and the current version has an excellent user interface. If you compare the UI of Blender with other 3D software, then Blender is commendable.
The user interface of Blender is not as easy as other video editing tools. Even importing videos is a hassle if you are using Blender for the first time. It is not suitable for beginners, and you cannot just start using it. You need to learn and see the tutorials before you start. Since Blender has tons of tools, everything is overpopulated, and it is difficult to find the exact tool you need. We can say that it is an ocean of editing tools, so you need to know where the tools you need are located/available.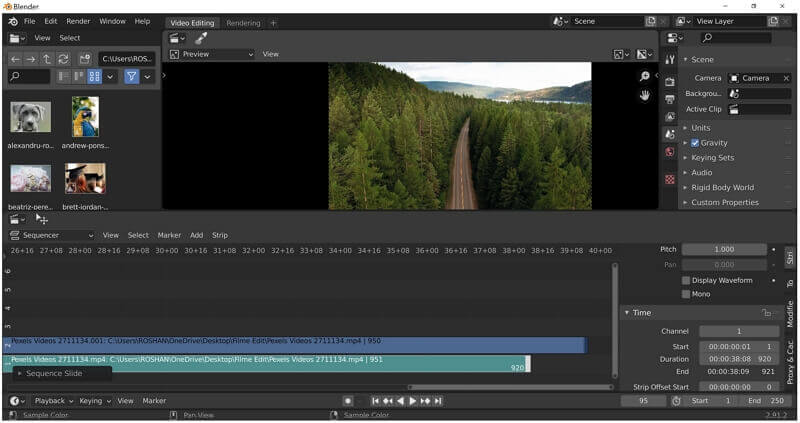 There are many tutorials available. Blender also offers some tutorials for beginners. It is true that beginners find the user interface a bit difficult and overpopulated, but when they understand everything after watching tutorials, everything seems simple. Moreover, you need time to explore all tools as there are too many, and you will understand everything by exploring all tabs and options one by one.
Part 2. Top Video Editing Features of Blender
Blender is a complete 3D graphics software that allows you to create 3D models, animations, sculptures, VFX, and a lot more. But here, we are going to look at the top video editing features of Blender.
1) Basic Tools
Blender has all the basic video editing tools to make your videos as you like. You can crop, cut, trim, adjust speed, adjust duration, and make other basic changes. You can adjust the color of the frames and change the background if you want. You have complete control over video, and you can edit it frame by frame.
2) Add Text
Adding text in Blender is quite simple. The best part is that the texts are, by default, Alpha Over. It means the text will have a transparent background by default. After adding text, you can adjust its size. Using the color palette, you can select the desired color. The shadow of the text can also be adjusted. Other than that, you can adjust opacity, mirroring, blending type, offset, cropping, and duration. The best part is that there is a wide range of fonts available, and if you want to add a new font, you can also select that file.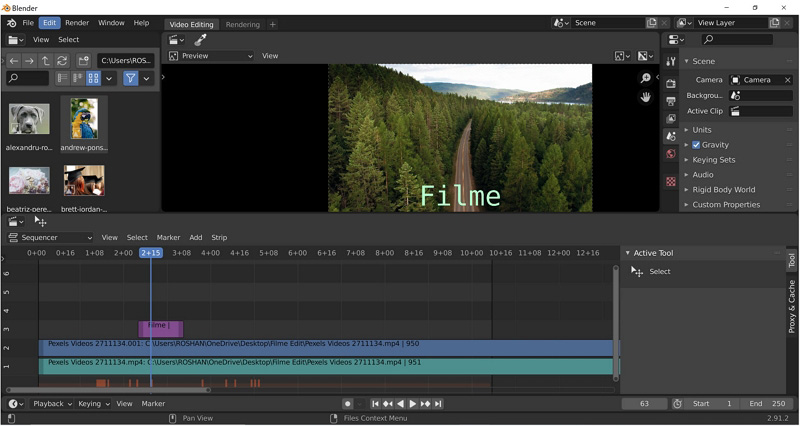 3) Timeline
The timeline of Blender is praiseworthy. You can go frame by frame and select any frame you want. It offers extra precision that you will not find in other video editors. You can adjust the duration of your clips by removing the frames. You can split and trim your video with perfection. The best thing about it is that you can have 32 slots for placing video, images, audio, scenes, effects, and other objects. This huge number of slots is not available in common video editors.
4) Effects
Blender has taken effects to another level. As Blender is a complete 3D suite, you can create your own visual effects and apply them to your videos. In other video editors, you have pre-made filters and effects; you have limited options. But in Blender, you can create any type of effect without any limitation. You can be more creative. You can create/import the VFX elements and make your videos stunning.
5) Audio Editing
You can also edit your audio frame by frame. You can change the pitch and volume of the sound. Thus, it also works as a voice changer.
Blender is an excellent tool for audio mixing. It is perfect for audio syncing and waveform visualization. You can easily add multiple audio effects and sounds in the timeline to mix them and create something new.
Take a look at this video to see how to edit with Blender:
Part 3. Pricing of Blender
Blender is open-source software, and it is available for free. You don't need to pay for anything as all the features and tools are available free of cost. There is no premium version or premium tools; everything is accessible to everyone without paying a penny. You can download it from the official website and use it as you like, whether for commercial or personal use.
The software is free; however, you can donate something if you want. By donating, you will contribute to the development of the software. There are different levels of monthly plans available for donation. The levels are available from $6/month to $300/month. Moreover, there is a special level for corporations.
Part 4. Pros and Cons of Blender
Pros of Blender:
Blender is a versatile 3D creation suite. It has everything to create stunning animations and videos. You can turn your imagination into reality, and the sky's the limit. You can create stunning videos if you know how to use Blender. Your videos will definitely stand out from the crowd.

You can precisely edit videos by selecting the frames. It offers you precise and complete control over your videos. You can precisely trim, crop, adjust color, and make other changes.

You have 32 tracks in the timeline to add media. It helps in adding different layers, videos, scenes, images, songs, stickers, and other things at the same time instant.

You can create your own effects, transitions, and filters. Everything is under your control, so you can customize everything as you need. There is no need to limit yourself to the available options.

Blender also offers some simple and easy tutorials to get started. Moreover, you can also find tutorial videos on social media.

The best thing about Blender is that it is free. All its features and tools are completely free whether you use them for personal or commercial use. You don't need to buy a subscription or premium package.

Blender is updated from time to time to ensure the best features.
Cons of Blender:
Blender is a difficult application. You need a lot of time to master its tools and features. You need to explore everything on your own.

The tutorials available on the official website are limited. Moreover, you need to search a lot if you are looking for something. Most of the time, beginners get frustrated.

The UI of the latest version is better than the previous one and other 3D software, but it is still difficult for beginners.
Part 5. Other Alternatives to Blender Video Editor
Filme is a user-friendly, professional, and simple video editor that can help you create stunning videos without any hassle. It is specially created for beginners and social media users to edit videos on their own. You can use it without any experience in video editing.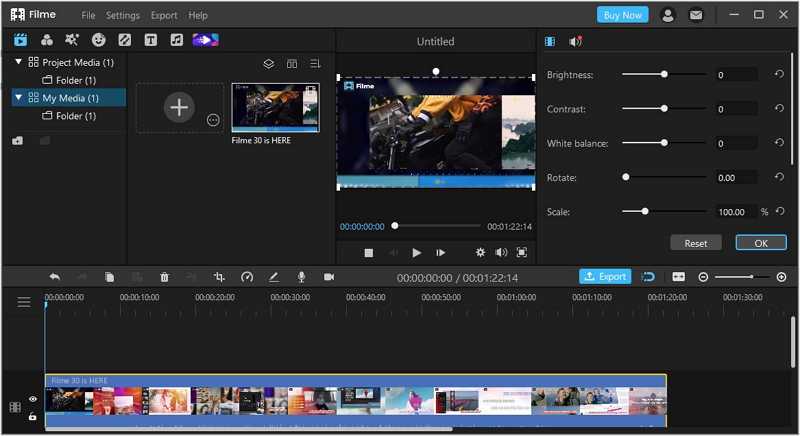 Filme offers every tool you need for video editing. It is a versatile video editor that has a voice changer, video converter, audio editor, slideshow maker, screen recorder, voice recorder, GIF editor, and many other tools.
You can add text, apply cool filters and effects, add transitions between the video clips, paste stickers, and do everything to create an awesome video. You can also add music from Filme's native library. The best part is that you can precisely edit your videos, audio, and GIFs and adjust them in the timeline as you like. Filme is an all-in-one tool to make video editing simple and speedy.
PowerDirector is an amazing desktop video editing application. It is also available for Android and iOS. It is a simple yet powerful video editor with exceptional tools and output video quality. The best part is that if you're a social media user or content creator, you can use the templates to create stunning videos in no time.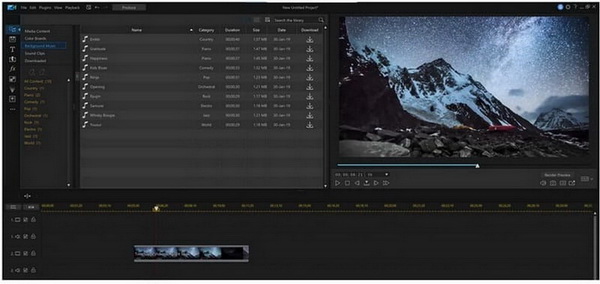 From basic editing tools to green screen removal and visual effects, this video editor has everything. You can use animated and catchy titles in your videos. You can add cool effects and transitions to your videos to make them more engaging. It is an amazing video editor that beginners can also use.
Final Words
Blender is no doubt a powerful 3D tool, and it can help you create outstanding videos. But it is quite difficult for beginners. If you are looking for a simple yet powerful video editor, you should try Filme. It is an amazing video editor with all the basic and advanced tools you need.