Have a new song that you would like to promote? Want to create a special little something for your upcoming anniversary? Or maybe you and the family want to create something fun together during your time together at home?
Regardless of what your objective is, you are probably wondering how you can create a music video without spending a fortune on it! After all, not everyone has the budget of MTV. Lucky for you, we have a simple step by step guided solution (perfect for beginners) on how to make a music video on iMovie for you!
Part 1. How to Make A Music Video on iMovie
In this tutorial, we will be teaching you how to make a music video across all 3 Apple devices – Mac, iPhone and iPad. From adding background music to sound clips, we'll cover the basics.
1

How to Make A Music Video on iMovie (Mac)
Step 1: Start up the iMovie for Mac software. Click on the "Audio" tab in the header.
Step 2: From the dropdown, select from "Music" (your own music library), "Sound Effects" (you can choose from available choices of stock sound-effects) or "GarageBand" depending on where the source of the music clip is.
Step 3:
For background or theme music: simply find the clip you want to add to your music video and drag it to the "Music Well". You can find it right below the timeline.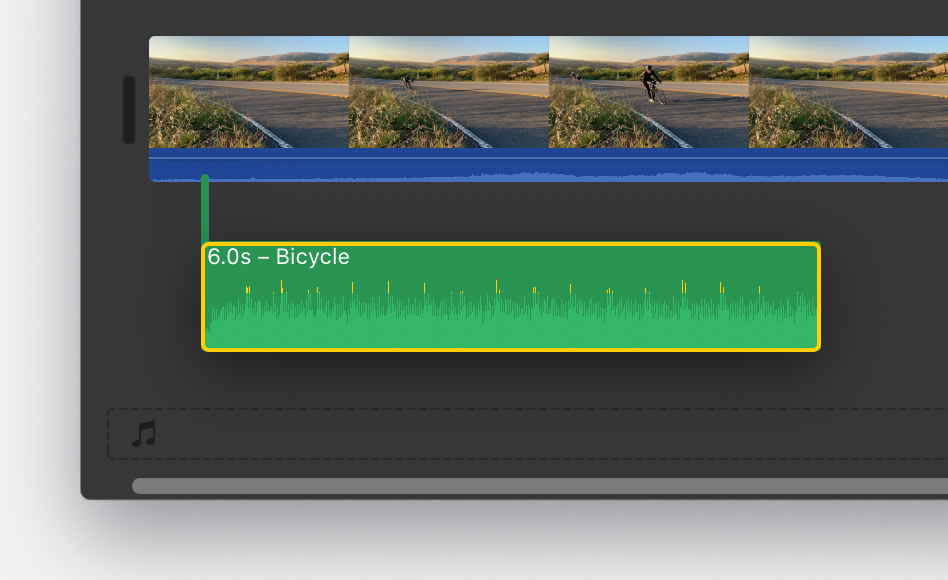 For audio clips: find the clip and drag it to the "Timeline" instead. Now your audio will be attached to the video clip.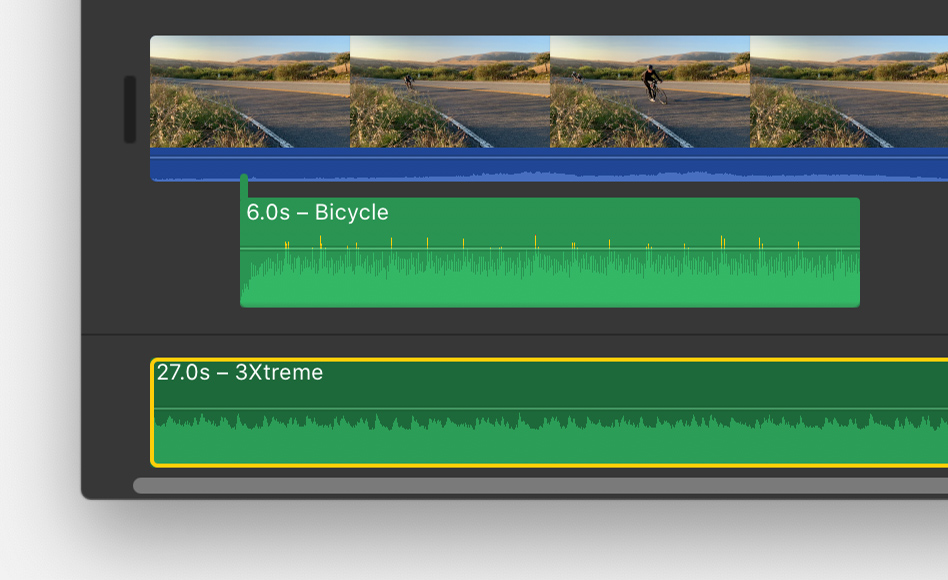 Once there, you can trim, edit or move it to the right timing accordingly as you would with any clip.
2

How to Make A Music Video on iMovie (iPhone)
Step 1: Open the iMovie app, click on the "Create A New Project" (+) symbol and choose video.
Step 2: Select the footage or pictures from your iPhone library to add to the music video, and proceed to "Create Movie" when completed.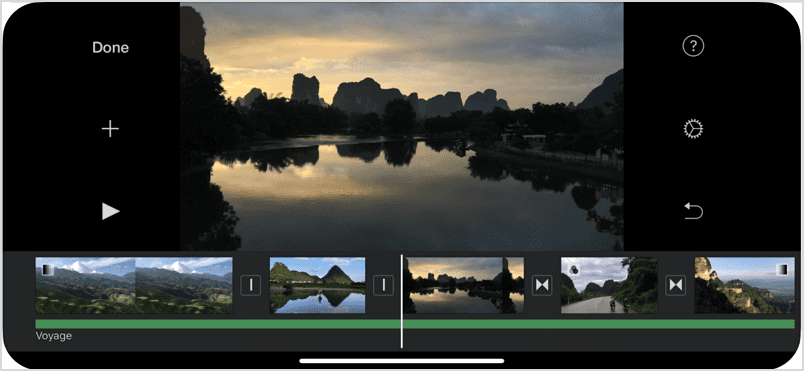 Step 3:
For stock music: On the next page where you make edits to the "Project Settings", you will find a button that is labelled, "Theme Music". Click on it to turn it on. And you can select stock music that accompanies the various themes the software provides.
For specific songs: On the project editing page, click the (+) symbol. A screen with videos & photos option should appear. Select "Audio" > "My Music" and select from your playlists, albums and more for the specific song. And there it is added!
3

How to Make A Music Video on iMovie (iPad)
Step 1: Open the iMovie app > Open your project / create one.
Step 2: Select the "Add Media" button and select "Audio" > "Soundtracks"/ "My Music"/ "Sound Effects".
Step 3: Choose your favourite and click the "Add Audio" button to add it. Voila!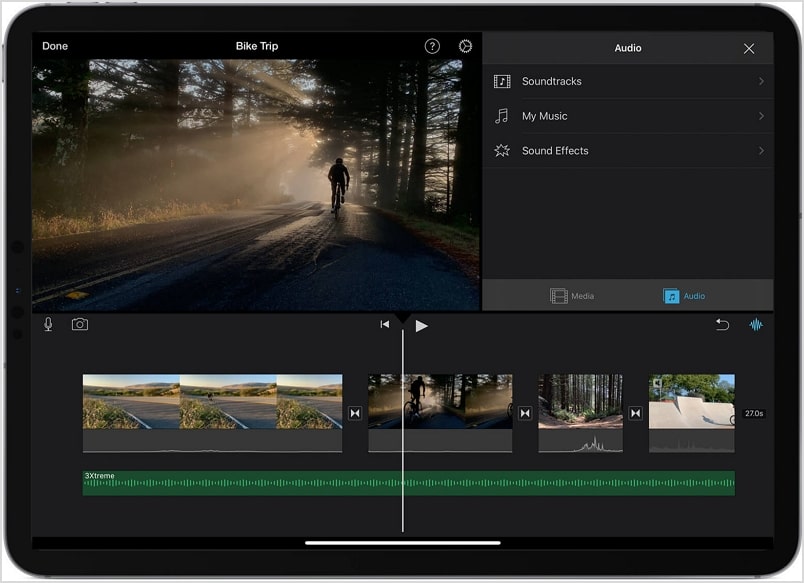 To customize the music clips, simply click on audio clips, right click, and select to trim, adjust the volume and more. Need to move the music to a certain part of the video? Simply drag and drop the clip to wherever it should be.
Yes, it is as simple as that!
Part 2. About iMovie
1

What is iMovie?
Introducing iMovie – if you haven't already heard of this popular Apple software – a top video editor for iOS and macOS that even non-professionals (like you and I) to edit our own videos. Jam-packed with loads of powerful features that allow you to turn simple footage into impressive "Hollywood-style trailers", it is THE perfect no frills music video maker for non-tech savvy beginners.
Are you an Apple fan? If you own an iPhone, iPad or Mac, this is the perfect software for you. It works seamless across these 3 Apple devices so you can work on the go!
And the best thing yet? Not only is iMovie a powerful and easy to use video editing software, it is also free! Yes free! It is little wonder why so many video creators start their video editing journey with this software! And now it's your turn!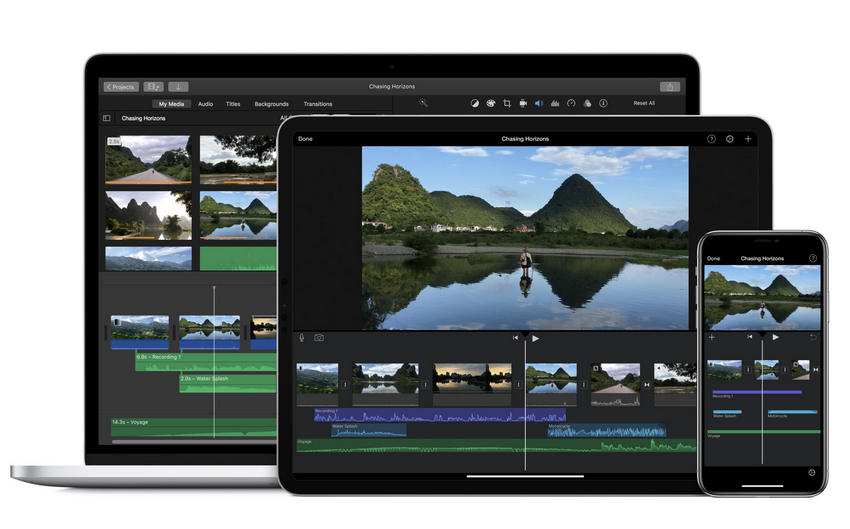 2

Useful Tips When Making A Music Video on iMovie
If you want your video clips to match certain beats in the music, make sure you add the music before the video. Use the special feature "Beat Markers" to set points in the track and when you drop in videos, it will intelligently cut the clips to match the beats! How cool!

Turn on the "Trim Background Music" toggle in your movie settings so that the audio clips in the "Music Well" will be cut to match the length of your video.

To adjust the volume of an audio or video clip, just tap the clip in the timeline, tap the "Volume" button at the bottom of the window, then adjust the slider to increase or decrease the volume.

For the professional touch, you can set audio fade-in and fade out effects to make it match the introduction and end of the music video.
Part 3. Making Music Videos with Ease: iMyFone Filme
Although iMovie is a popular software with beginners, it has its limitations. It is after all an iOS only software. If you don't use Apple products, you will not be able to work with iMovie on other software platforms.
And that's where the best video editor for Windows - iMyFone Filme - comes in! Not to fear, you can still create amazing music videos!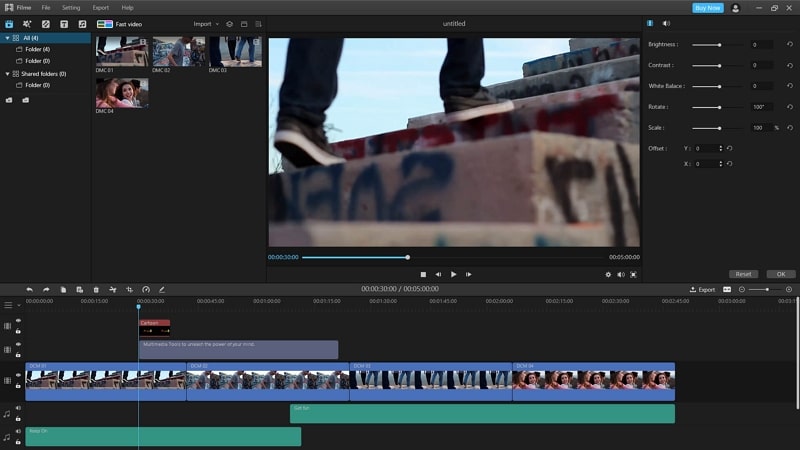 Filme Video Editor offers Windows users a simple way to edit videos quickly and efficiently with the following convenient features:
Fast Video Mode: One click, and it pulls together all your footage and audio intelligently into one final video. Sounds like a super easy way to make your music video now doesn't it?

Cool Effects: Need to make your music video fun and cool? There is a whole catalogue of effects and filters to choose from!

Text Options: Want to add lyrics? Do so easily with the text templates and wide variety of fonts!

Basic Editing: The interface is simple enough for anyone without technical knowledge to navigate!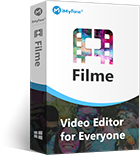 1

How to Make a Music Video in iMyFone Filme
For comparison's sake, let us take a look at how you can easily add audio clips for your music video in Filme video editor:
Step 1: Use stock music: Click the "Music" icon which opens up a royalty-free audio library. To select, simply right click on your choice and select "Apply".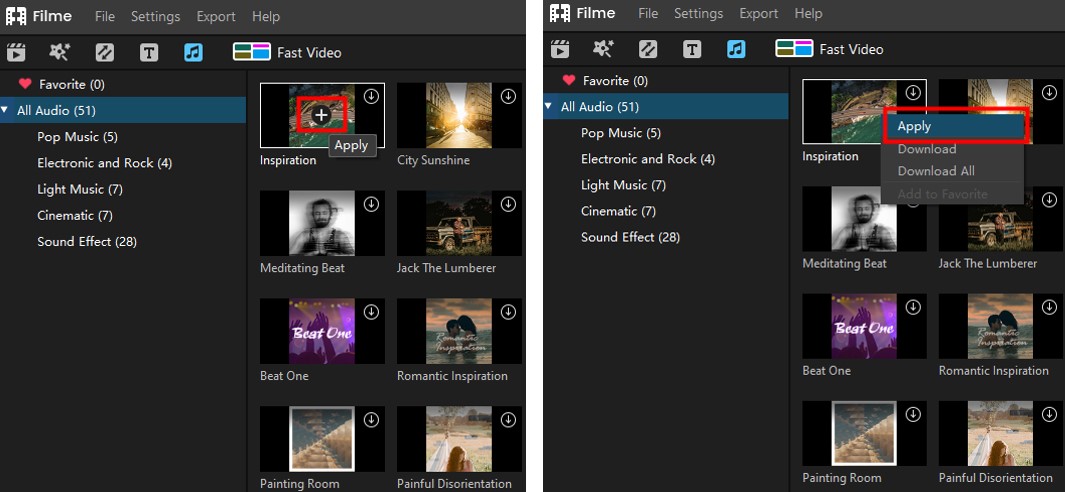 Step 2: Use own audio: First head to Files and "Import" your own track to Filme. It should appear under "My Media". Simply drag and drop it into the timeline Track to use.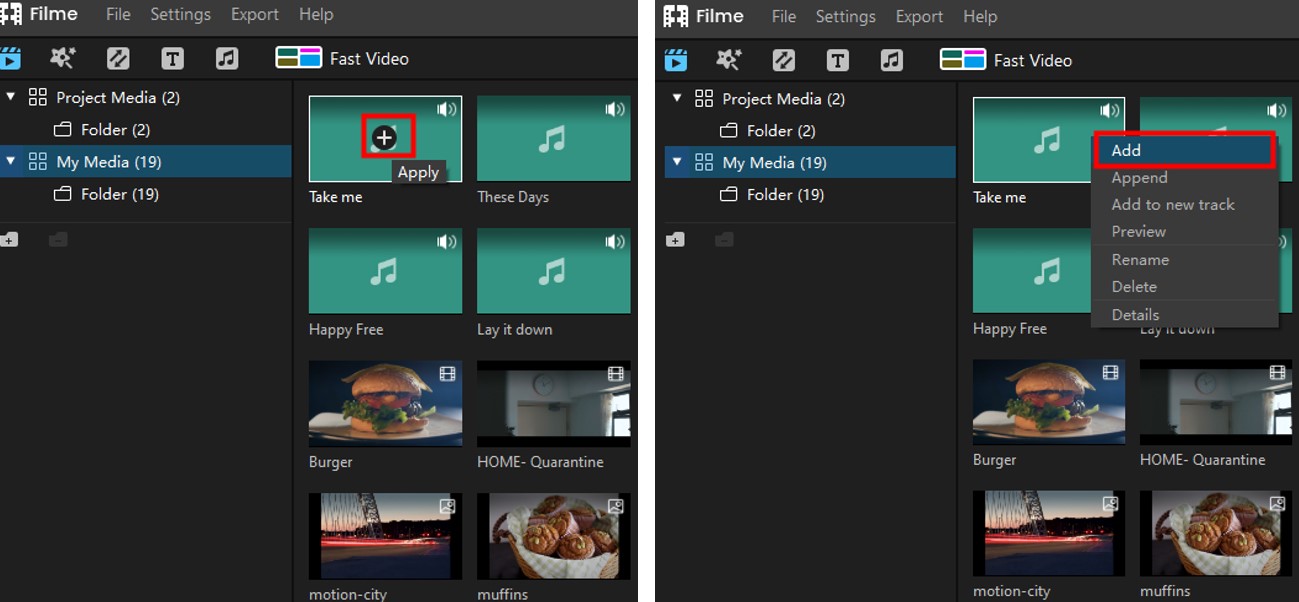 Sounds simple enough too, doesn't it?
For beginners and amateur music video makers, this is the ideal alternative to iMovie!
Get Started on Your Music Video Now!
We hope that our simple step by step guide has been helpful for you in creating your very first music Video in iMovie. However, if you are unable to use iMovie, you might want to consider iMyFone Filme to help you with your music video creation journey!