Everyone wants to learn today by editing a video or an image to make it better than the original. Primarily because of the Reels and TikTok culture, which has inspired the users to share their moments with their audience in different ways and tweaks.
Keeping aside all the effects that a person can add to a video, we will focus on adding the VHS effect with apps and extensions. Consequently, we will know the best VHS effect app for Android and iPhone.
Using an in-app VHS effect provider can help you edit the video shot in 2021 and make it look like it was shot back in the 80s or the 90s. Let's see how you can do so with different platform-based applications.
Best Video VHS Effect App for Desktop -iMyFone Filme
Even though mobile phones have made our life easier and more accessible than before, they still lack the extent of compatibility, speed, and agility offered by a desktop. This is especially the case when you have to do a work-intensive task like editing videos and images.
So, while you have nine different options to add VHS effects to your videos, we have another and a much better way to do the same, and that is iMyFone Filme.
Filme lets you edit your videos in a few steps and gives it a professional video quality outlook when you work for only a fraction of time on editing relative to other apps and tools.
Filme is a desktop-based VHS effect app. You need to download it to start using. Once downloaded, add the video you want to edit on the timeline and go to Filters. From here, select Retro, and you will get 19 different but unique filters to create one amazing video.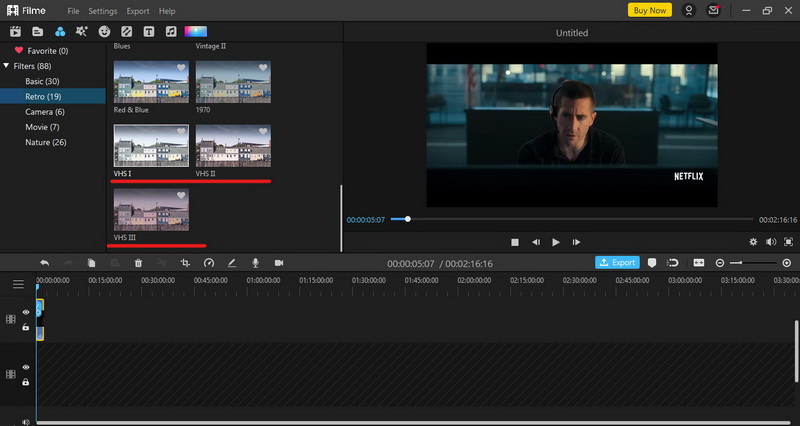 For best results, select VHS I, VHS II, or VHS III and edit their settings as per your requirements or whatever looks good to you.
Also Read:
Best Video VHS Effect App for Chrome
There are two ways to add the VHS effect via an app on Chrome; one is by using an extension, and the second is by using an online tool. Here are your options;
OpenShot(Chrome Extension):
Working as a chrome extension, this tool lets you edit and create videos online in a few clicks. The application is easy to use as it has pre-formatted filters and effects.

You only need to select the required effect, and it will be layered over the video you have added to the app. On OpenShot, you can add the VHS effect app by selecting the Color Shift effect from the options. Further, you may have to change the variables under this effect to get the desired results.

One of the drawbacks of using OpenShot comes from its strengths only. As it's an extension, you will have to make do with limited functionalities and features.
Veed(Online tool):
On Chrome, another VHS effect app comes in an online tool. Veed helps you add the required effects online without downloading or installing software.
Veed has a wide variety of options to help you edit the videos besides letting you make it look like a 90s recording. Working with Veed is as simple as it gets. To add the VHS effect, you must upload your video and select VHS from the filters list.
One of the issues of working with Veed is pricing structure and inaccessibility to more effective tools without taking a plan.
After Veed, if you must try another VHS effect app, it must be ClipChamp. It's an intuitive online tool to help you create and edit bespoke videos with ease.
With ClipChamp, you can add the VHS effect; you need to select the VHS Crackle from Filters accessible from the timeline. Adding the VHS effect in ClipChamp is done by selecting VHS crackle from the Filters and Effects menu.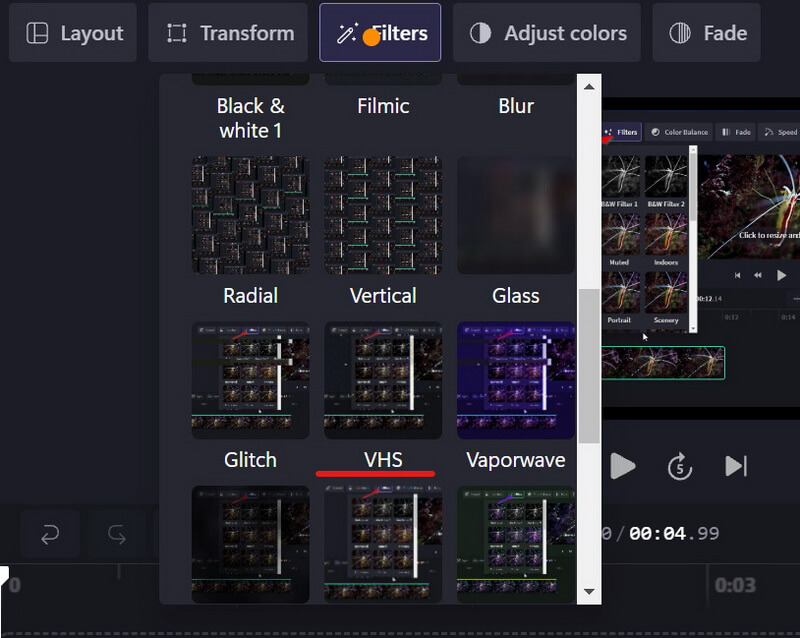 To do this, you must click on the video timeline and find the Filters tab in the editing menu, followed by selecting VHS crackle.
These were the best apps and platforms you can access via Chrome to add the VHS effect to a video or image.
Best Video VHS Effect App for Android
There's not much a phone cannot do these days, and editing a video is not one of these things. Instead, you can edit, improve, and make some fantastic videos from your Android phone.
To add the VHS video effect app Android, choose one out of the three applications below.
KineMaster lets you create high-quality videos and image presentations on your Android phone. Besides adding the VHS video effect, you can choose from 2500 transitions, effects, and other powerful editing options.
Not only can you create great videos, but the audio effects and modification features of the app make it a must-have for all sorts of video makers.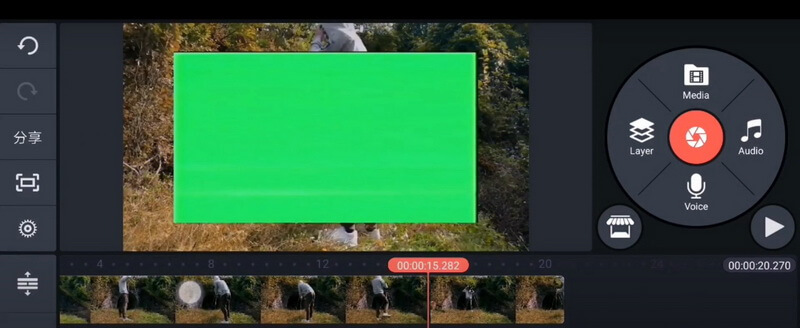 On the KineMaster app, you can add the VHS effect by adding a green screen (you can download it from the web).The green screen video is added on top of the video that needs to be edited.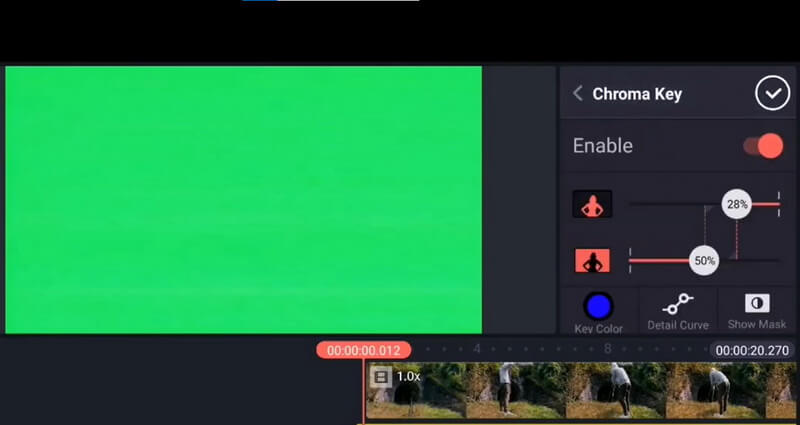 Once the green screen is merged, you can tweak the settings in Chroma Key and export the video to save it on your device.
VivaVideo is one of the best Android applications to customize your videos. To add the VHS effect app Android, you need to select the right filter given in the Effects menu on the app.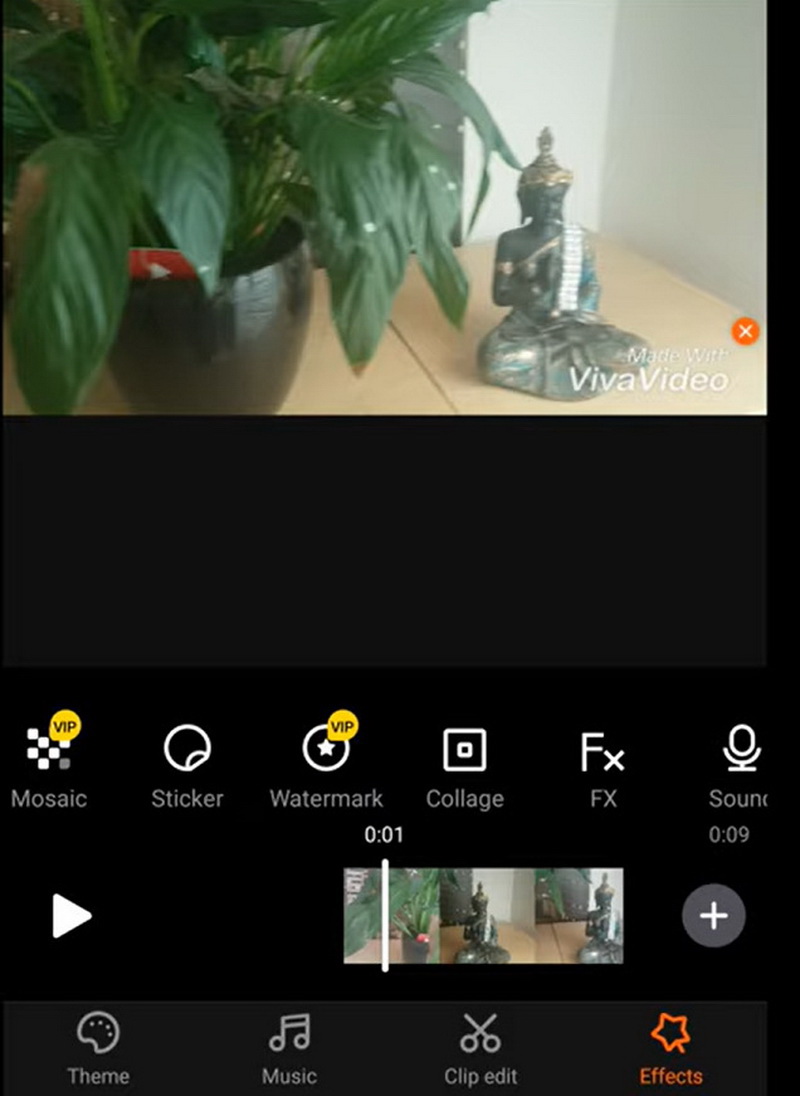 To start with, add the video to the application. Go to Effects and select the VHS Camcorder effect to get the desired output.
One of the drawbacks of using VivaVideo is that videos made in the free version will have a VivaVideo watermark.
PowerDirector is available to use as an Android app and iOS app. But here, we will find out how to add the VHS effect on the android mobile app.
Once you have added the video on the PowerDirector mobile app, click on Layers and find Retro VHS.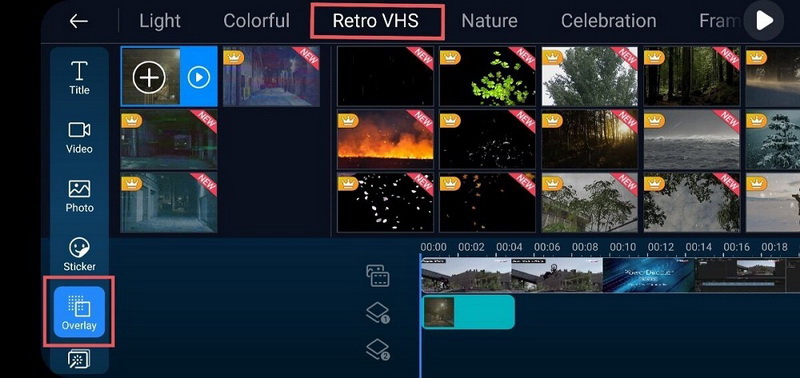 With the effect added, you can adjust its length by clicking on Overlay and adjusting the effect's length to match your video's timeframe.
Best Video VHS Effect App for iPhone
Editing and modifying the videos on your iPhone involves going through the same steps as you would on an Android device. The best VHS effect app on iPhone will give access to ready-to-use filters and effects.
The best part about using an iPhone for editing is the smooth user experience and speed. Some parts of video editing are power-intensive, and it may not be the case with every device, but iPhones are better built to handle such functions.
Here are the top three VHS effect video apps for iPhone.
LumaFusion is a powerful and paid application, but it's worth every dime spent. Even professional video makers and YouTubers use this application to work on their editing.
To add the VHS effect on LumaFusion, you first need to download a VHS static video file with a green screen. To make it even better, you can also download a retro-style timestamp. Begin by changing the screen layout to 4:3, as this was the frame size prevalent in the 80s.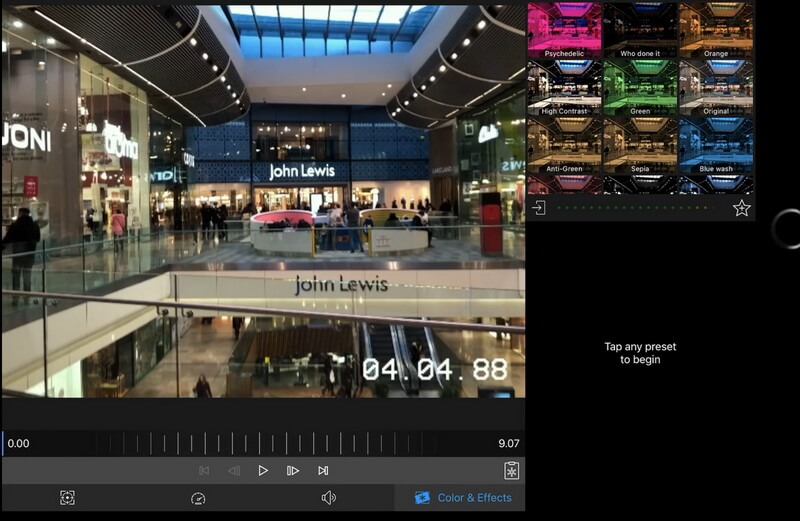 To add the VHS effect, you need to make three layers of the same video and add a green tinge and a blue tinge to two of them. Once done, you can add the static video downloaded earlier to the timeline and change the green static color to white, cream, or noir night.
The only drawback of using this app is that you won't get a one-step solution but have to go through a series of steps to get it right.
The VideoFX movie maker application lets you add VHS and other exciting effects to any sort of video recorded on your iPhone. To add the effect, add your video in the app by importing it from your device memory.
Select Effects and Filters and select VHS from the provided list of effects. To make it better, you can also add some colors over the top, like Vine, and get a better output.
The only thing with VideoFX is that you cannot make a lot of changes to the added and customized videos.
Similar to Android, you will get KineMaster on iPhone as well from the App Store. We saw one way of adding the VHS effect app in the Android section, and the same applies to iPhone as well.
Besides that, there's another way to make your video look like it's been shot in the 80s, and this one applies to the Android version as well.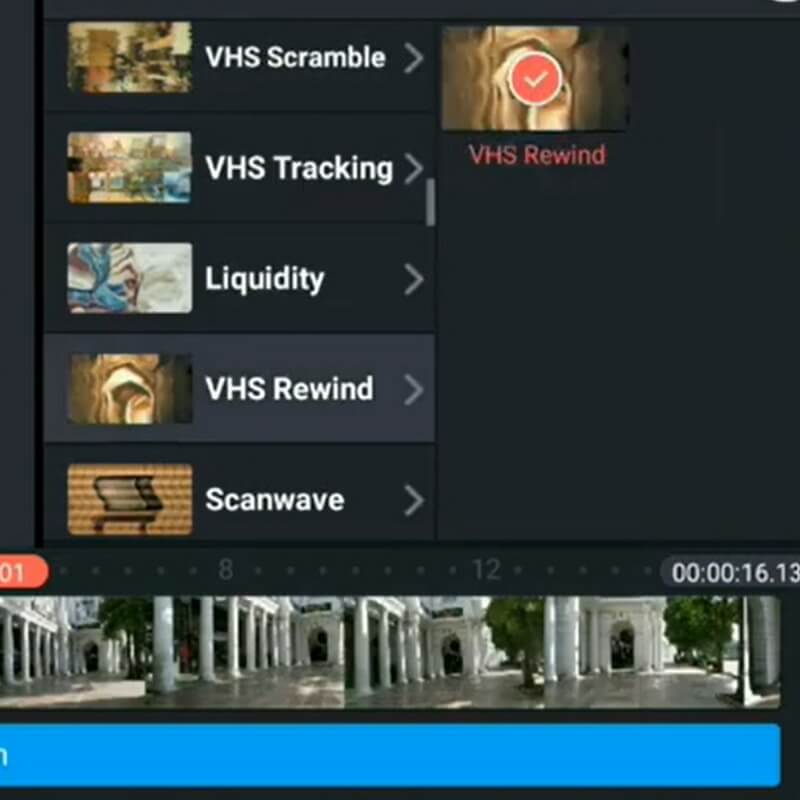 Start by adding a Split Screen Layer and then selecting it from the Effects menu. Once it's added, go to Layers again and select VHS Rewind to complete the editing.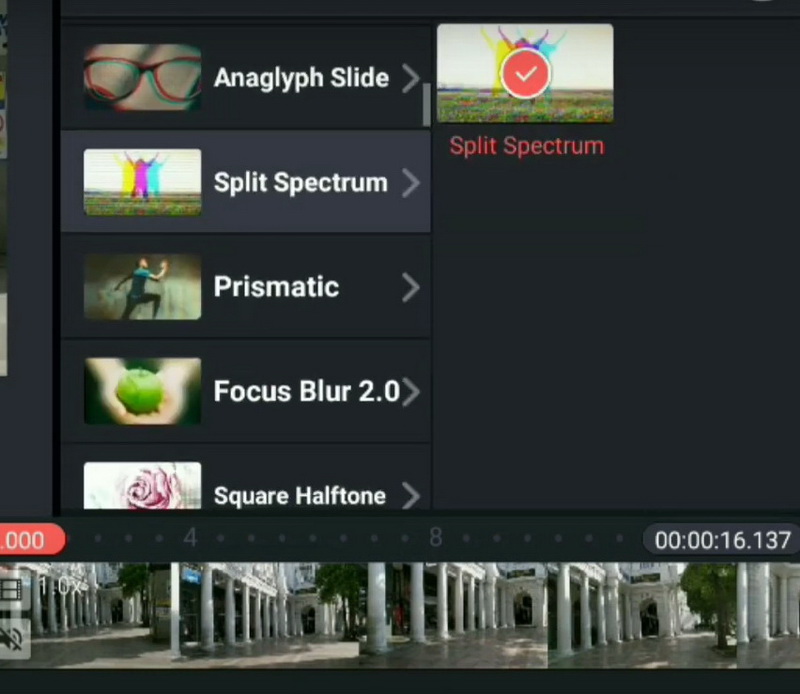 If required, you can also fine-tune the effect-specific tuning by accessing the settings for each of them.
Final Words
Editing and customizing your videos by adding VHS effects to the same can turn out to be a boring or an interesting thing to do. The outcome of the video and the type of process depends on the app you choose to edit and customize.
Selecting the right tool is more important if you are choosing to work from your phone. Work with an app that lets you do the work and has an intuitive interface. Using the app to edit your videos is more important than the amount and variety of effects.
You will find the best VHS effect apps for Chrome, Android, and iPhone above, along with desktop-based software to edit and customize your videos. Choose the right tool and start editing videos like a pro.