For a perfect Halloween video, there are different Halloween backgrounds that you can add to the video. We will discuss some websites from where you can download backgrounds for free. We will also share a video editor that you can use to make awe-inspiring Halloween videos.
Tips
If you want to find a video editor for making Halloween videos, we recommend iMyFone Filme. It comes with muultiple fun emojis and voice changers that helps you create Halloween video easier.
Part 1. Top 5 Sites to Free Download Halloween Video Background
1- Mixkit
The first website is mixxit.co. It has more than 300 free Halloween background videos. You can use these backgrounds to give your video more of a Halloween touch. Moreover, you can improve the horror and scary look of the video by adding in a scary and creepy background. On this website, you can find free-of-cost backgrounds that can be downloaded easily.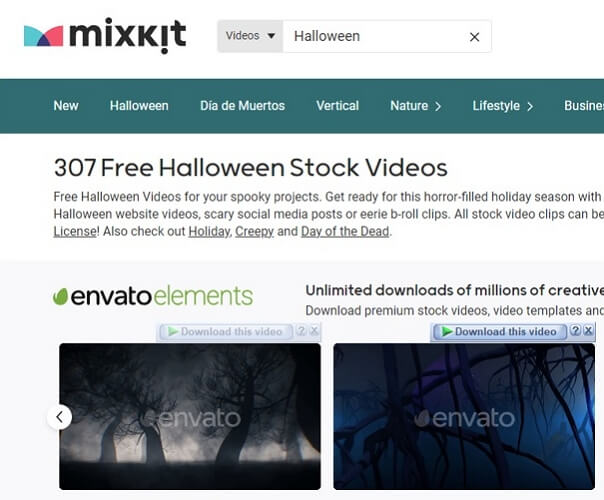 Website: https://mixkit.co/free-stock-video/halloween/
2- Pixabay
As it is the season of Halloween, people are busy preparing for this event. People come up with different creative ideas for themselves to enjoy this event as much as they can. With Pixabay, you can download free Halloween videos. It contains around 180+ stock Halloween background videos that you can use to edit your video.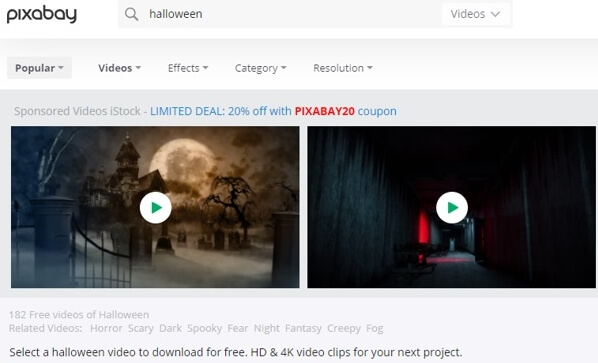 Website: https://pixabay.com/videos/search/halloween/
3- Storyblocks
Whenever we think of Halloween, we think of ghosts and vampires; it is a natural thought that comes to our minds. Just like that, Storyblocks is a website that offers more than 650 motion Halloween backgrounds that users can download for free. If you like variety in your video, then you must visit this website to find new Halloween backgrounds.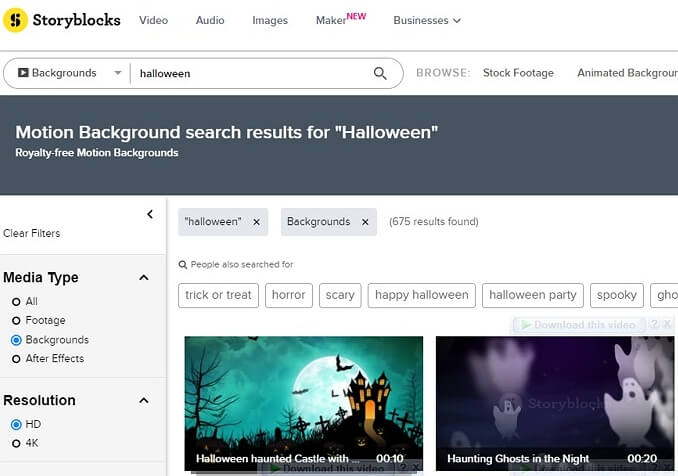 Website: https://www.storyblocks.com/video/search/halloween?media-type=motion-backgrounds
4- Adobe Stock
This is another best website that you can use to download free Halloween background videos. Although this website is not free, if you have IDM (Internet Download Manager), then you can download Halloween background videos for free. This website contains more than 100,000 Halloween videos that you won't find anywhere else.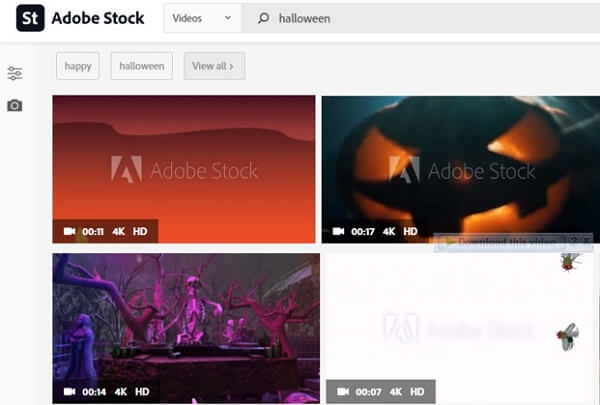 Website: https://stock.adobe.com/search/video?filters%5Bcontent_type%3Avideo%5D=1&hide_panel=true&k=halloween&search_type=usertyped
5- Envato Elements
If you are looking for a free Halloween background video download, then you can visit this website. Here, you can find different types of backgrounds. You can download the specific background that suits your theme and video. It has over 12,000 Halloween stock videos that can be used to create a Halloween video easily.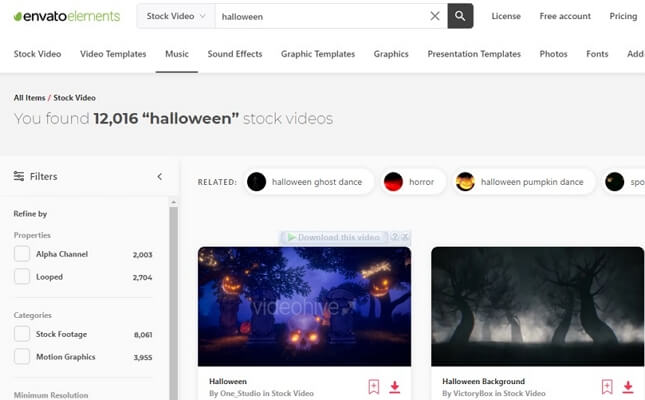 Website: https://elements.envato.com/stock-video/halloween
Part 2. Use Halloween Video Background to Create Video with Filme
When you have successfully downloaded the Halloween background video, then you can use iMyFone Filme to edit and create a Halloween video. Filme will help you with the editing as it is easy to use and is not as complex as other video editing tools. Let us see what Filme provides and how you can create an awesome Halloween video.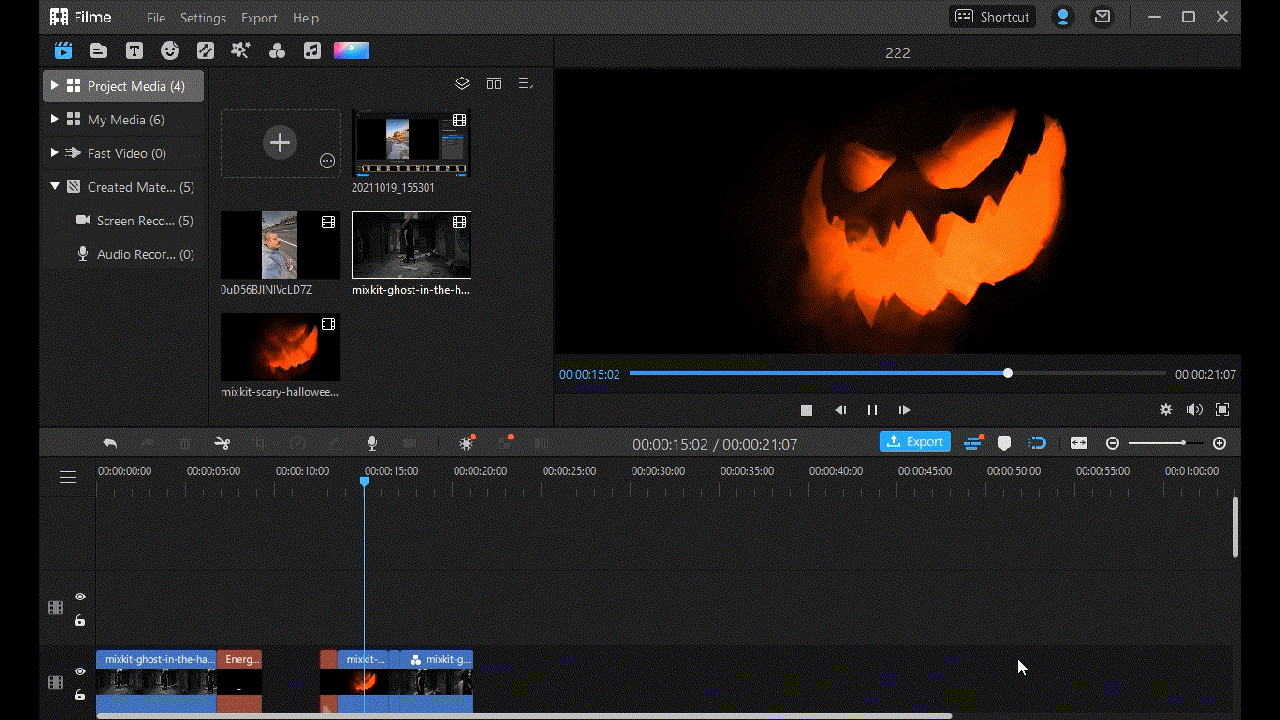 Step 1: Download iMyFone Filme and install it on your PC. Open the app, and you will see different options. Go to "Editing Mode".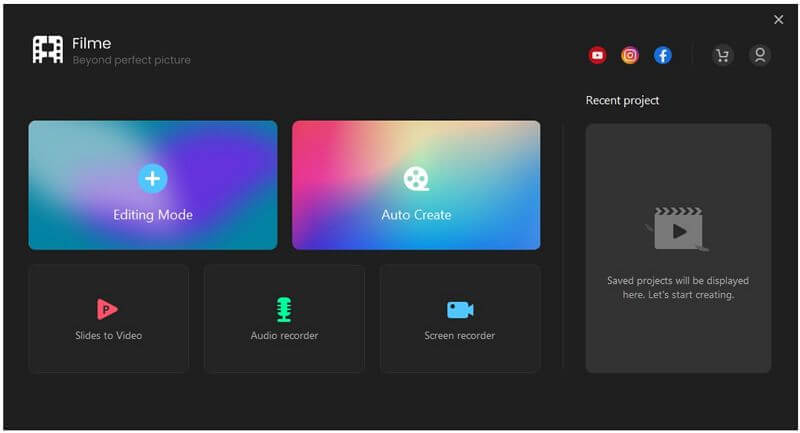 Step 2: Select the appropriate aspect ratio for the video. Go to the File menu and create a new project.

Step 3: Now go to the import window and browse the background video you have downloaded and other videos that you want to edit.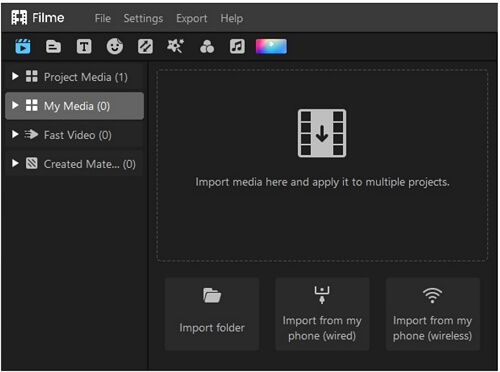 Step 4: Drag the videos to the timeline along with the music. Filme has default sound effects. You can also use multiple scary voice changers in Filme which enables you to make your Halloween videos spookier.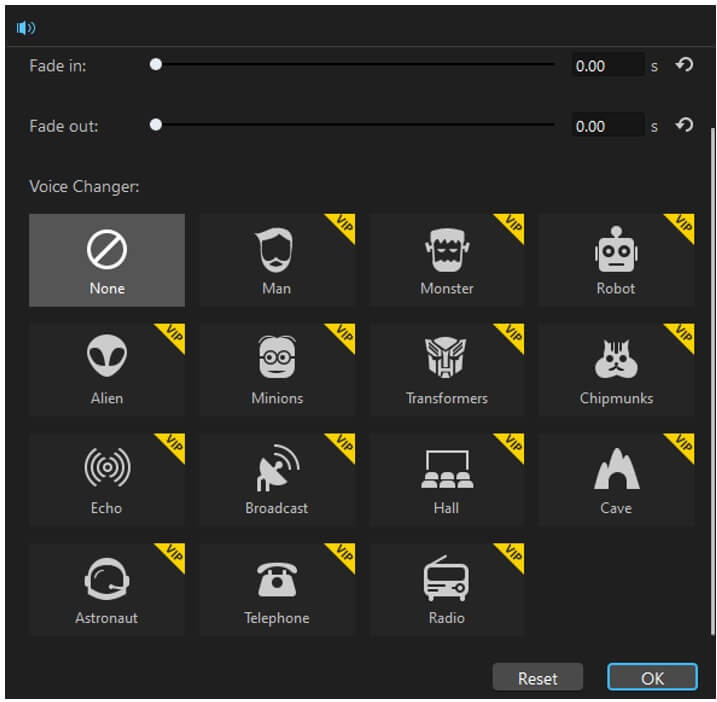 Filme also has a background fill option that you can use if you want to add a Halloween background video to it. It is not difficult, and anyone can do it. You can use all these features that Filme provides to create the best video for Halloween.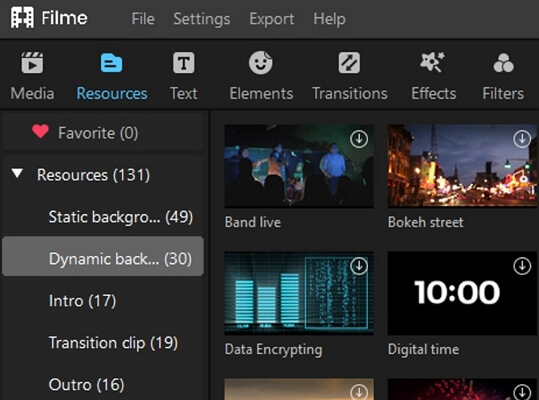 Step 5: If you have edited the video, then you can export it easily by simply clicking on the "Export" button. Choose the settings of the video in which you want to download it.
People Who Liked this Content Also Liked:
20 Best Ideas to Make a Fun Halloween Prank Video >>
Part 3. Make a Halloween Video in 5 Minutes with Filme
In this part of the article, we will talk about other features of Filme besides "Editing Mode". When you open Filme, you see different options like "Text to video", "Slides To video", and "Auto-Create". These options help the user to create the video much easier and quicker than editing mode. Let us see what these options can do to help us create a Halloween video.
Auto Create
Auto-create is a feature of Filme that allows the user to make the video in a short period. If the user is in a hurry, then he can use this feature to get free easily.
Step 1: Go to "Auto-Create" in Filme. Here, Filme will ask you to drop in media files. Select the images and videos with which you want to create a Halloween video. Click on Next.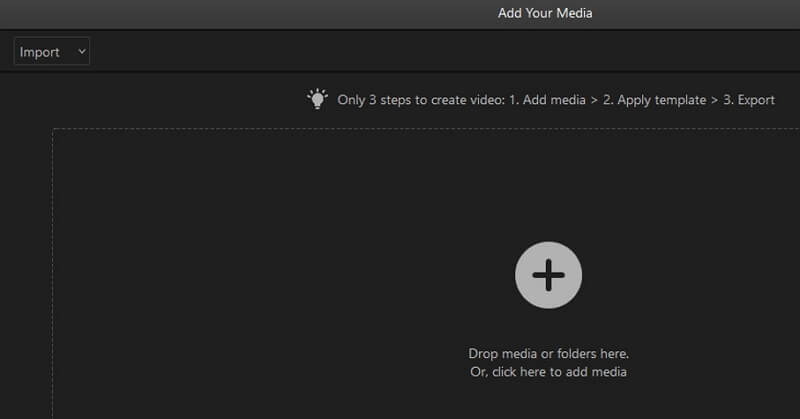 Step 2: Filme will take a moment to analyze and will suggest suitable templates. However, if you don't like the transition, you can choose transitions according to your choice. Filme gives the user a wide range of transitions to choose from.
Step 3: Last, the template you selected will be downloaded and added to the video. Now you can click on "Export" to export the video. After that, the video will be inside the video editor. Now, you can make the changes as we made in the previous part.
Slides to Video
This feature of Filme allows the user to turn a PowerPoint presentation or slides into a video.
Step 1: Click on "Slides to Video". It will ask you to browse the PPT file. It will take a moment to upload it.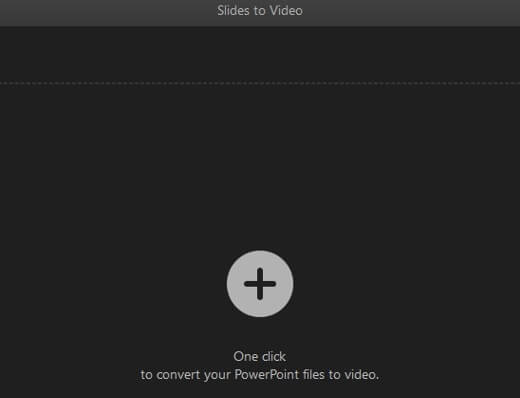 Step 2: You can add appropriate subtitles to each of your slides. It will be displayed at the bottom.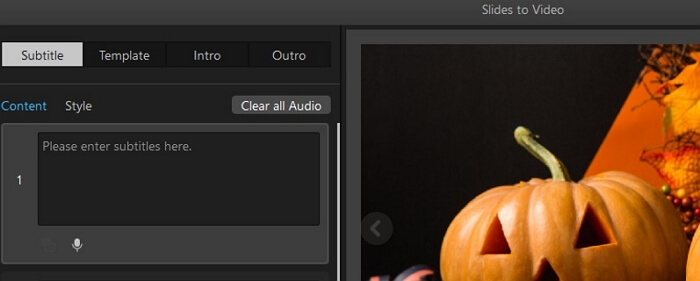 Step 3: If you don't like the template, then you can choose other available templates, or you can click on None. Choose the intro and outro of the video to finish this step.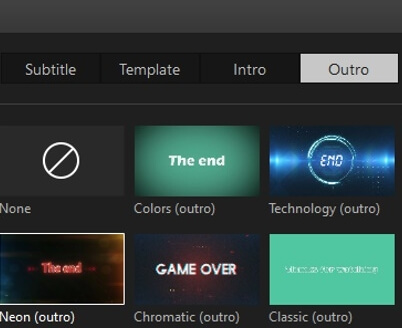 Step 4: Click on "Done," and it will take a moment to compile all of the things, and then the video will be available on the timeline of editing mode. Here, you can make any changes to the video if you like.
Text to Video
This feature of Filme allows the user to transform text and images into a video. Let us see how we can do it.
Step 1: Type the text in the box and select a voice if you want.

Step 2: Import or browse images so that they can be made part of the video. Click on "Next".

Step 3: Choose a specific template, or you can even customize the template if you want.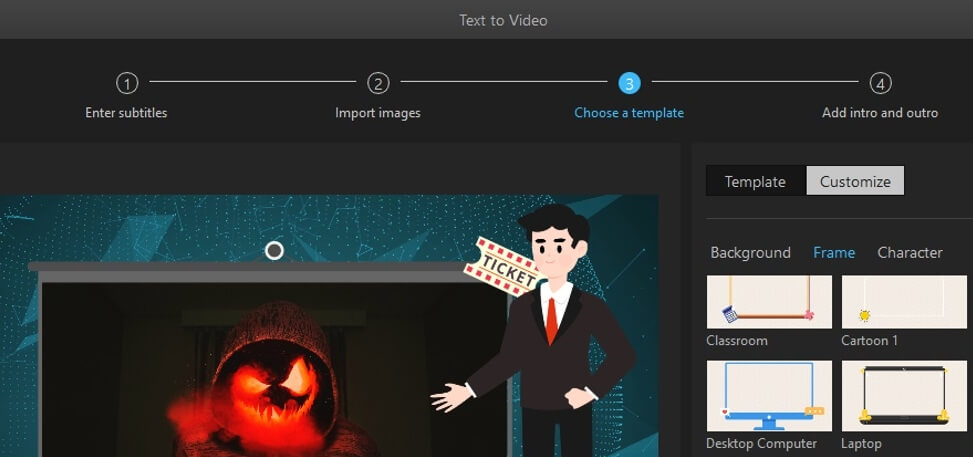 Step 4: Lastly, select the intro and outro for the video so that it can be finished. The video will take a moment to compile, and it will be available on the timeline of editing mode. Add any finishing touches you want.

Conclusion
iMyFone Filme is a complete solution for video creators. It has different modes that allow the user to edit the video with more detail and precision. If you want to edit in a hurry, then you use other editing features besides editing mode. However, you can always add more videos and Halloween sounds to create a more realistic and Halloween theme video. You can make the video as you like.