Halloween is one of the most awaited festivals of the year. It is very much loved by children and teenagers because they get to wear unique and eye-catching costumes. People dress up like ghosts, corpses, zombies, and anything that looks scary.
One of the most common slogans of Halloween is trick or treat, from which children get candies from their neighbors. Along with all this, people make different kinds of Halloween videos to enjoy this event. There are also Halloween songs for every age: kids, teenagers, and even adults. Let us see the best songs that you can listen to in the Halloween season.
Part 1. 5 Best Scary/Spooky Halloween Songs for Preschool Kids/Children
In this part of the article, we will discuss Halloween songs that are for children. Some of the best Halloween songs for kids are:
1) Five Little Ghosts (Super Simple Songs)
This song is an edited version of Five Little Ducks which was quite popular. You can easily find this song on YouTube under the channel "Super Simple Songs". You can use this song to add to any kid's Halloween video.
2) Creepy Zombies (PINKFONG)
Everybody has heard of PinkFong due to their all-time most-watched video, Baby Shark. PinkFong has created a spooky song, especially for kids for the time of Halloween. People use this song to educate children about Halloween. It can also be included in kids' videos related to Halloween.
3) Go Away (Super Simple Songs)
Super Simple Songs has another Halloween song for kids, which is Go Away. This song is very sweet, and children love to listen to it. You can see monsters and vampires in this song to which children say to go away. If you are making a Halloween video for kids, then you can use this song to enhance your video.
4) Halloween Songs for Kids (Blippi)
Blippi is a famous artist that makes songs about Halloween. Children, as well as adults, love to listen to his songs. His most famous Halloween song is Halloween Songs for Kids, which is based around the theme of trick or treat.
5) Monster Mash (Bobby Pickett)
This one song, "Monster Mash", is a classic Halloween song that hit the charts in 1962. Despite being old, it is one song that children love to listen to. It suits best in Halloween videos, and it has sound effects that perfectly match the Halloween theme.
Part 2. 3 Best Scary Halloween Party Songs for Adults
Here are some party Halloween songs for adults that you can use to play during the Halloween festival.
1) Thriller by Michael Jackson
One of the scariest Halloween party songs is none other than Thriller by Michael Jackson. This song is not only scary according to its time, but the music and tune are still loved by people. Michael Jackson started a legacy with this song which is alive to date.
2) Dragula by Rob Zombie
Rob Zombie is a famous artist of the old time. His song Dragula is still a trend during the days of Halloween. People play this song at their Halloween party and even use this song in Halloween videos because it represents Halloween in every aspect.
3) They Are Coming to Take Me Away by Neuroticfish
You won't find this song according to Halloween by its name. But it is a perfect party song for Halloween. It portrays that zombies and ghosts are coming to take us away. The tune of this song also lights up the people's mood at a party.
Part 3. 7 Best Classic/Rock/Hip-Hop/Pop Halloween Songs for Adults
1) Devil's Trill by Giuseppe Tartini
No Halloween will be complete without mentioning this song which is Devil's trill. This is not a song because it has no lyrics.
It is played by Tartini on violin backed by piano. The theme of this song is Halloween, and you feel it by listening to it.
2) Witches Sabbath by Symphonie Fantastique (Berlioz)
This song was played in the orchestra with the theme of Halloween. When you listen to this song, it sounds spooky, just like the Halloween event. Despite only having music and tune, it is loved by the people and will always be played like a classic Halloween song.
3) Monsters by All Time Low ft. Demi Lovato and Blackbear
Coming to recent years, Demi Lovato launched a song for Halloween, which is Monsters. It is sung by All Time Low, and Demi is featured in this. It is a hip-hop song and a party song that can brighten up a party. Music is modern but with a touch of Halloween.
4) Dracula's Wedding by OutKast feat. Kelis
We can sense and smell Halloween from the name of this song. Halloween is all about zombies, Dracula, vampires, ghosts, and corpses. OutKast is among the few artists that gave us all a song for Halloween, so we don't get bored. It is a classic and unforgettable song.
5) The Monster Eminem feat. Rihanna
In this modern era, almost everyone knows Eminem and Rihanna. These two singers coming together for a song was exceptional because people love both. This song is about Monsters that usually arise on Halloween that makes it a rap song for this specific event.
6) Black Widow by Iggy Azalea ft. Rita Ora
Black Widow is a song that features multiple mashups because of its music. It is recorded by concentrating on Halloween.
7) Bury A Friend by Billie Eilish
Billie Eilish is getting fame overnight these days. People all around the world know her because of her unique way of music and songs. This song works well for Halloween parties as it turns on the crowd.
Part 4. Best Video Editor to Make Halloween Video - iMyFone Filme
If you are looking to make a video for Halloween, then you can use iMyFone Filme as your video editor. Although there are different video editors available, you won't find anything like iMyFone Filme. It is easy to use and has a simple user interface that makes the user edit videos easily. You can use Filme to add scary/spooky voice in your video.
The features of Filme sets it apart from other tools. Let us show you some steps that will explain why it is the best video editor to make Halloween videos.
Step 1: iMyFone Filme is compatible with both macOS and Windows, and you can easily download it. Install this tool and open it. If you want to make slideshow videos, you can go with the "Auto-Create" feature. Other than that, you can go to "Editing Mode".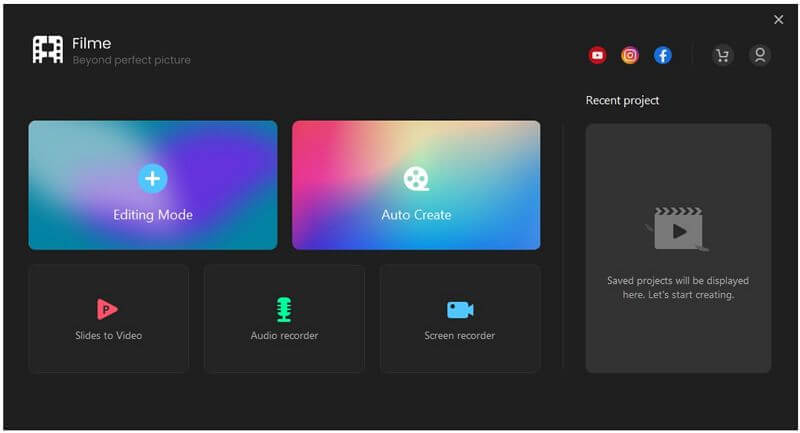 Step 2: When you are in the editing mode, go to the File menu, create a new project, and select the aspect ratio for the video. Mostly a widescreen aspect ratio is used for Halloween because it suits every platform.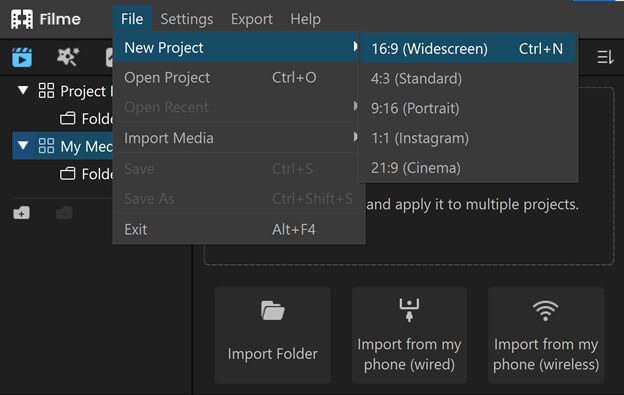 Step 3: Now, you need to import videos to edit them. Go to the import menu and click to import media. iMyFone Filme allows you to add different Halloween music. You can import multiple videos and audio clips to the project.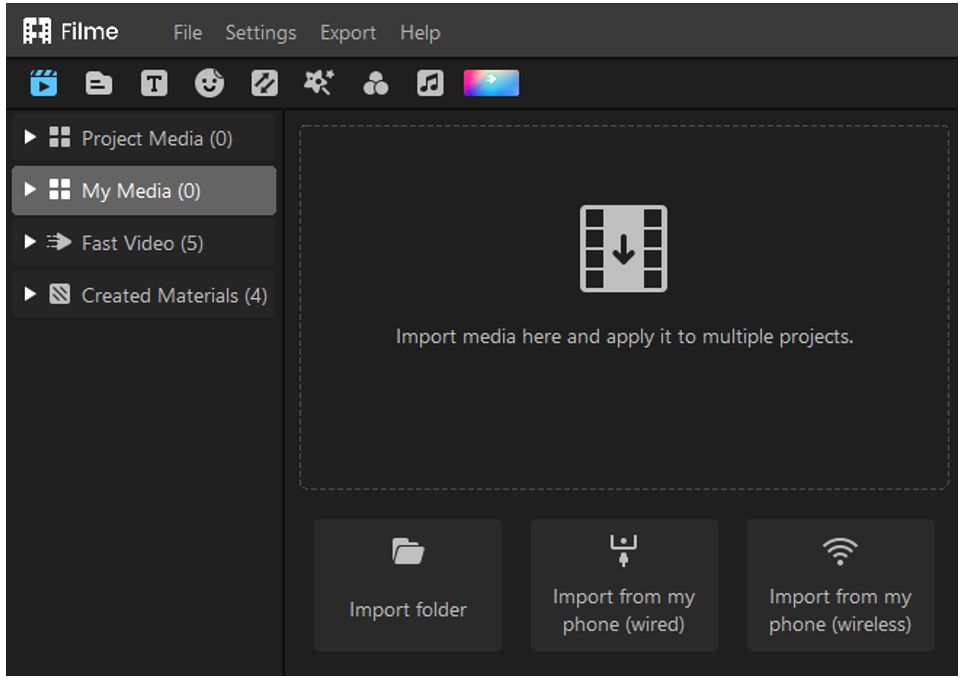 Step 4: Drag the video and audio to the timeline. iMyFone Filme is an amazing video editor because it has plenty of transitions, effects, filters, templates, and text that make the video interesting. You just need to drag these effects to the video on the timeline, and it will be added. Moreover, it also has speed variation, freeze-frame, Ken Burns effect, crop, and a lot more to create an eye-catching video.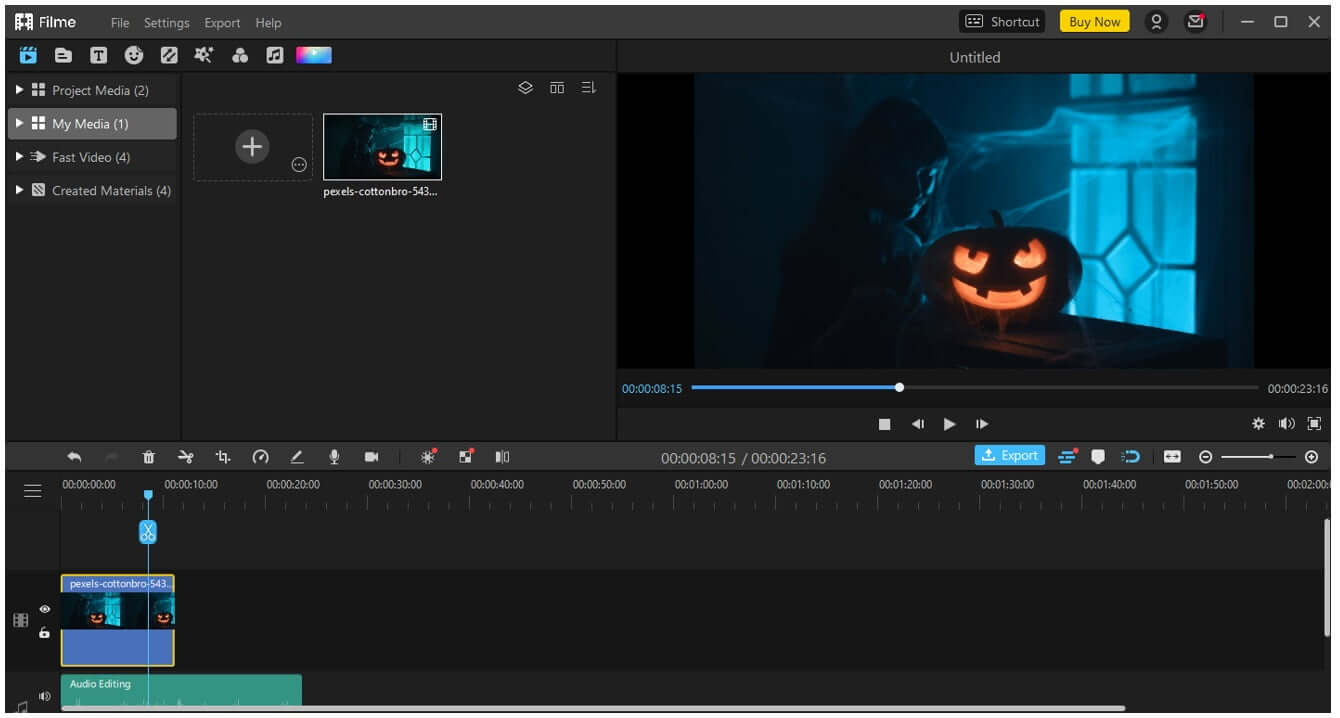 Step 5: Filme's voice-changing features are splendid. You can use its scary voice changers to make your voice sound scarier. There are different voice effects, such as robot, alien, and ghost. You can record your own voice and add voice effects to it.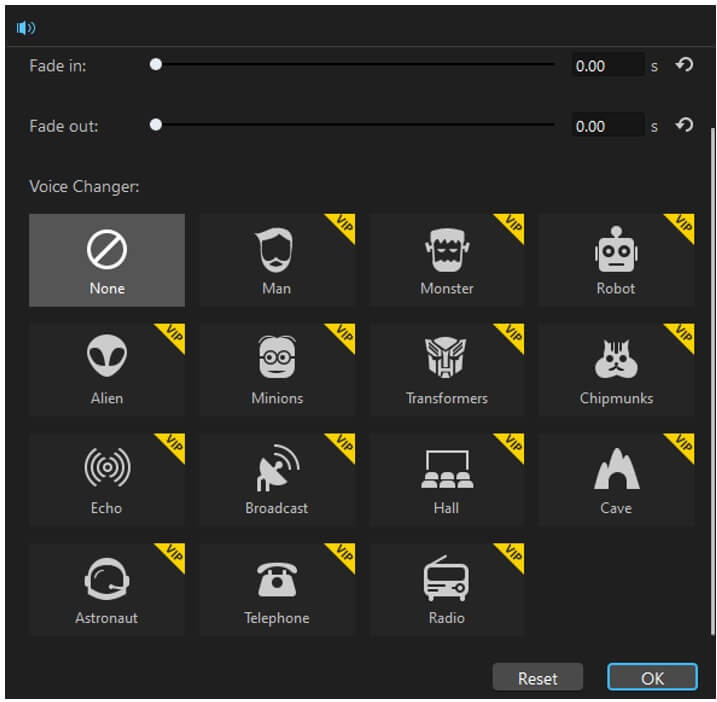 Step 6: With all these features, you can easily edit any video for Halloween. When you are done, you can export the video by clicking on "Export". Choose the format and quality of the video in which you want to export.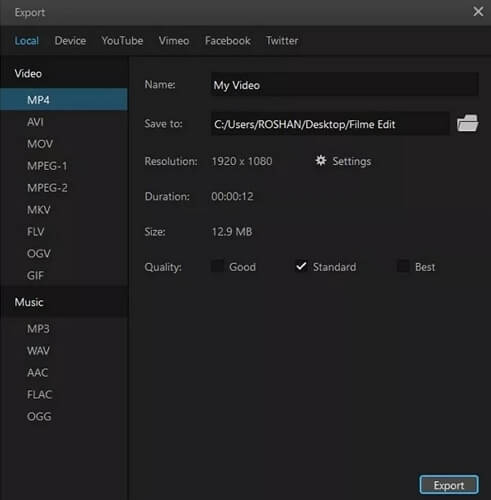 Part 5. Tips for Using Best Halloween Songs
Tip 1: Choose Song Based on Video
If you are making videos for Halloween, then you need to add music that resembles Halloween. We have mentioned a lot of Halloween songs from which you can use. However, choose the song based on the theme and speed of the video. Make sure that the music compliments the video. If you are making a party video, then include party Halloween songs.
Tip 2: Define Music for Different Events
There are different types of Halloween parties. It may include some rocking parties, hip-hop parties, or children's Halloween parties. There are plenty of songs defined based on their type. It could be a costume competition or a pumpkin carving competition; therefore, you need to pick the song according to the event.
Conclusion
Halloween is the scariest event of the year, and people all over the world enjoy this festival by dressing up and scaring other people. People prank others and record their reactions. Singers also release songs specifically on this event so that people can enjoy Halloween even more. We have shared some amazing songs that you can use this Halloween. We have made your job easier.
iMyFone Filme is a tool that allows you to make videos for Halloween. You can import videos and audio clips of your choice and edit the video with its different features. iMyFone Filme has default transitions, filters, and effects that allow you to add to your video and make it more appealing. You can make Halloween videos easily with Filme. You can add a Halloween background, music, voice effect, images, GIFs, and everything to make your video more than amazing. The best part is that it is a simple tool that anyone can use.