Halloween is considered the best and the most fun-filled night of the year for everyone. This is because it gives people the opportunity to bring out the devil from within and display it funnily without being called sadistic or psycho. On this night, people decorate their houses the scariest they can, wear scary and funny costumes, and get/ give trick-or-treating and parties for the adults. For those nights, you need makeup ideas, and in this article, there are many Halloween face paint and makeup ideas given.
20 Best Scary and Easy Halloween Face Paint or Makeup Ideas for Men to Copy
Find and decide your make up for Halloween party, if you want to give your crush, your best friends some surprise or make your friends and fans know your update life, merely taking photos is terribly not enough. To make your videos attractive easily, without any technical issues, you can download iMyFone Filme on PC to edit your Halloween make up video now to impress your friends and fans, after that, you can upload it to TikTok, Youtube, Instagram, Vimeo and so on. Download iMyFone Filme now below.
For all the guys who are looking for fun and easy Halloween face paint and makeup ideas scary enough to creep everyone, I got it all covered for you. In this article, there are about 20 different scary, fun, and quick Halloween looks that you can copy.
1. Dark Circles Halloween Makeup Idea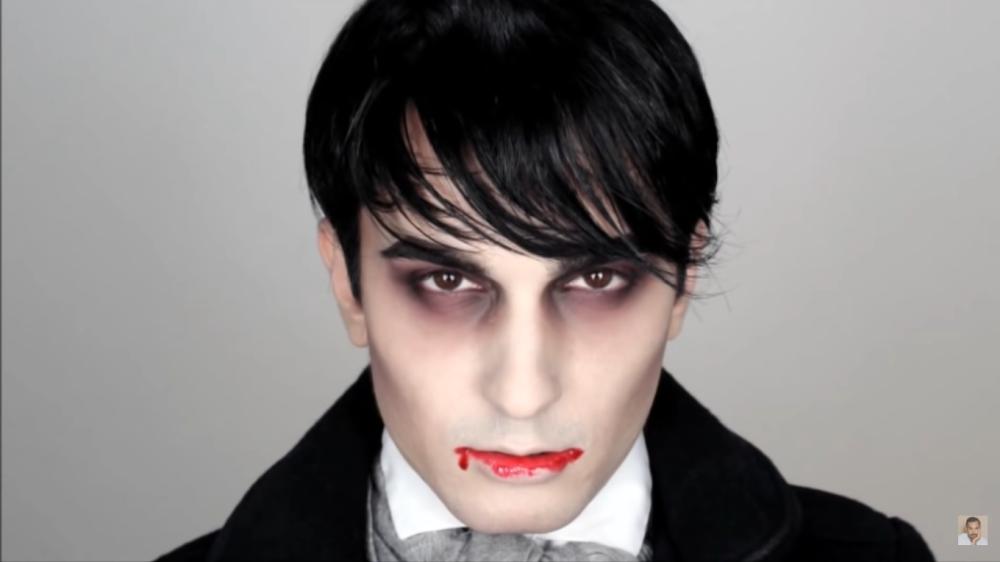 If you don't know, dark shadows are Johnny Depp's fantasy-comedy movie with the killer vampire's look. In this look, all you need to do is apply dark eyeshadows all around the eyes, making it look like you have heavy bags under your eyes. With this look comes the fake vampiric teeth. If you want, you can add red paint on one corner of your lips that flows till your chin to make it look like you just drank blood. It is an easy look which anyone can rock and come to attention at any of the Halloween parties.
2. Easy Halloween Skeleton Boy Makeup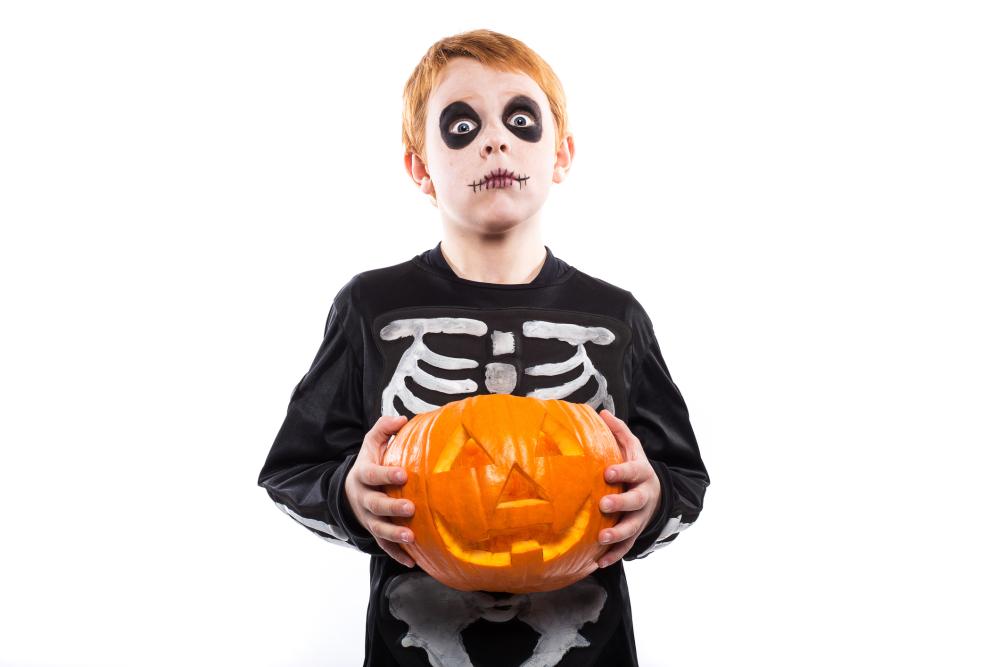 The easiest and the most common, yet one of the most loved costumes of Halloween, is this skeleton boy makeup. As the name states, you need to have a skeleton make-over with a skeleton costume to match the look. For makeup, you need big round dark circles with dark eyeshadows all over your eyes and the same color on your lips in line-parallel lines to make it look like you have your mouth sewn in. These are mostly Halloween face paint and makeup ideas for men.
3. Killer Face Scary Halloween Makeup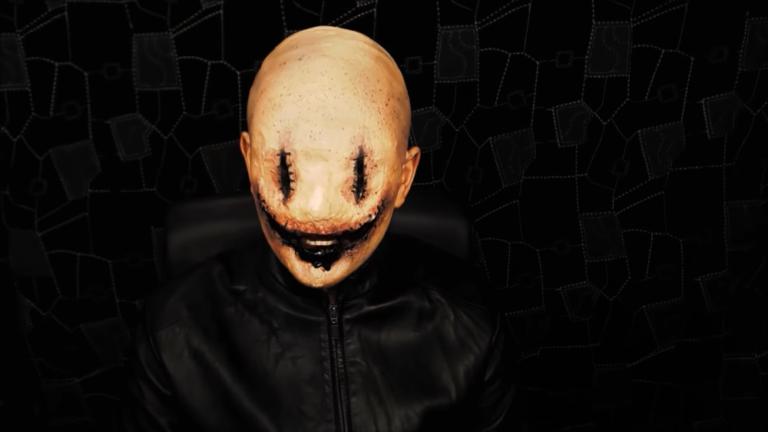 Well, this one's scary. In this makeup, you need to put in a little extra effort, but I swear the results are worth it. Here, you need skin adhesives, wet tissues, or normal tissues that you can dip in the water. Along with them, you need liquid latex, fake blood, masking tape, black cream, and hairspray. Now put the adhesive on your skin, and then apply the masking tape over it. Then you need to put tissues over it and use liquid latex. Cover all your hair with hairspray so they stay hidden; put fake blood on the lips after you have applied eyeliner to make your eyes look hollow. Black cream can be used to cover your lips with them and your eye slits.
4. Easy ClownHalloween Surgical Mask Makeup
This look cannot get any easier than this, but that doesn't mean that it is any less creepy. In this look, all you need is a face mask and a marker in red. Use the red marker to make a big clown smile, along with a red button nose. That's it, not much effort, but still, it gets creepier if you are smiling under the mask.
5. Evil Clown Face Halloween Makeup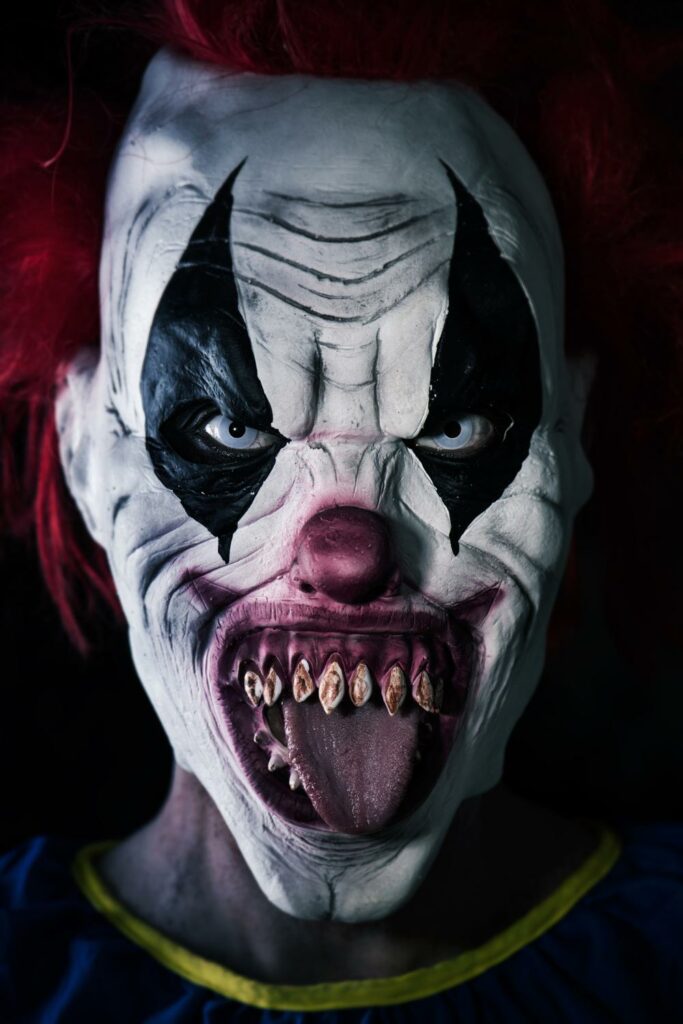 This one is scary and hard to make. In this look, you need to put white contacts on, have your whale face covered in chalk white paint, with a dark eyeshadow all around the eyes. Your contouring needs to be dark and on the spot to sharpen your features, with red lips and nose. You also need fake teeth full of blood, and a short red hair wig, to complete your look. At last, you need a red and white clown costume.
6. More Evil Clown Halloween face paint and makeup ideas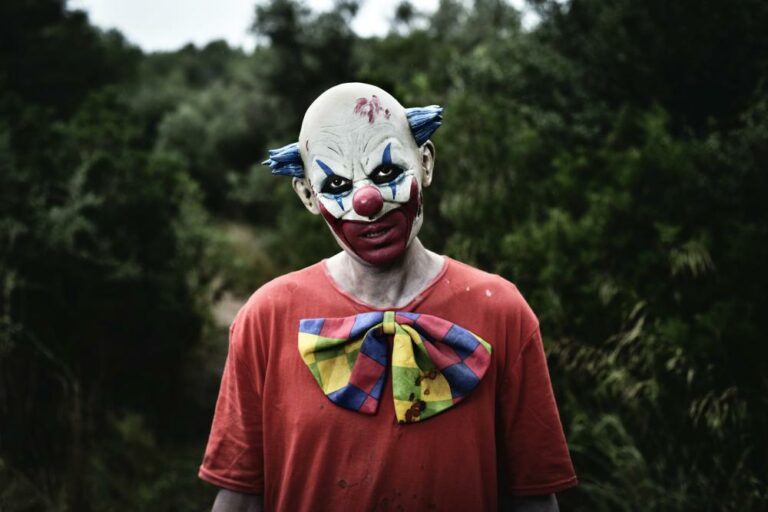 This is also a scary clown makeup, but way different than the others. This is based on the color blue for both hair and eyes. You need to apply blue eyeshadow all over your eyes, have a blue wig, a fake button red nose, red lipstick smile that reaches ear-to-ear. To top it off, you need a ragged, old, and bloody torn shirt. Better if you have a big clown ribbon on top of it.
7. EvilJoker Face Halloween Makeup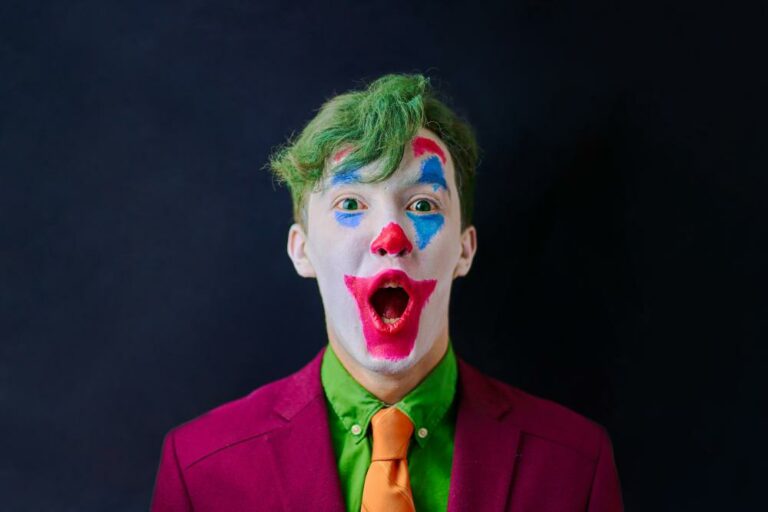 The easiest clown for Halloween faces paint and makeup ideas if you are too lazy to do much. For this, you need a chalk-white foundation applied on your face, with diamonds drawn on top of your eyes in blue and the signature big red ear-to-ear clown smile. You can use any colored wig, better if it's green, and an equally colorful outfit; you can also look at the batman's clown.
8. Vampiric GothHalloween face paint and makeup ideas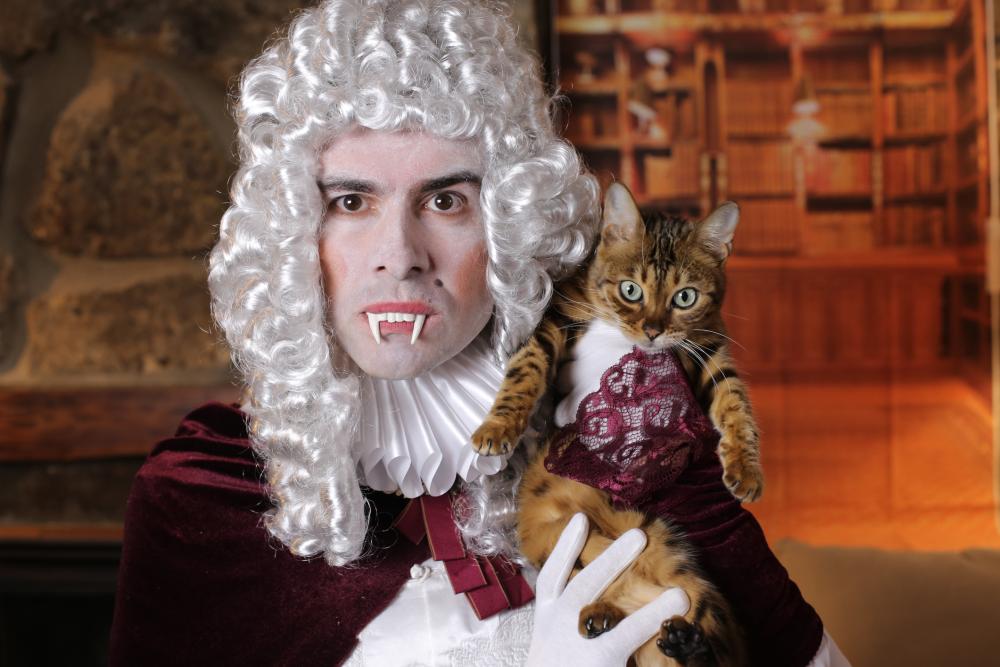 All you need for this look is a white foundation and red lipstick. Apply the foundation all over your face, then use the reddish-pink eyeshadow on the eyelids, apply the same colored lipstick, and blush. Make sure you overdo the blush. The main thing in this look is the white curly wig, fake vampiric teeth, and the vampiric goth costume that can easily be seen in the vampire movie. If you use a fake insect or animal to make a creepy look.
9. Vampire Boy Halloween face paint and makeup ideas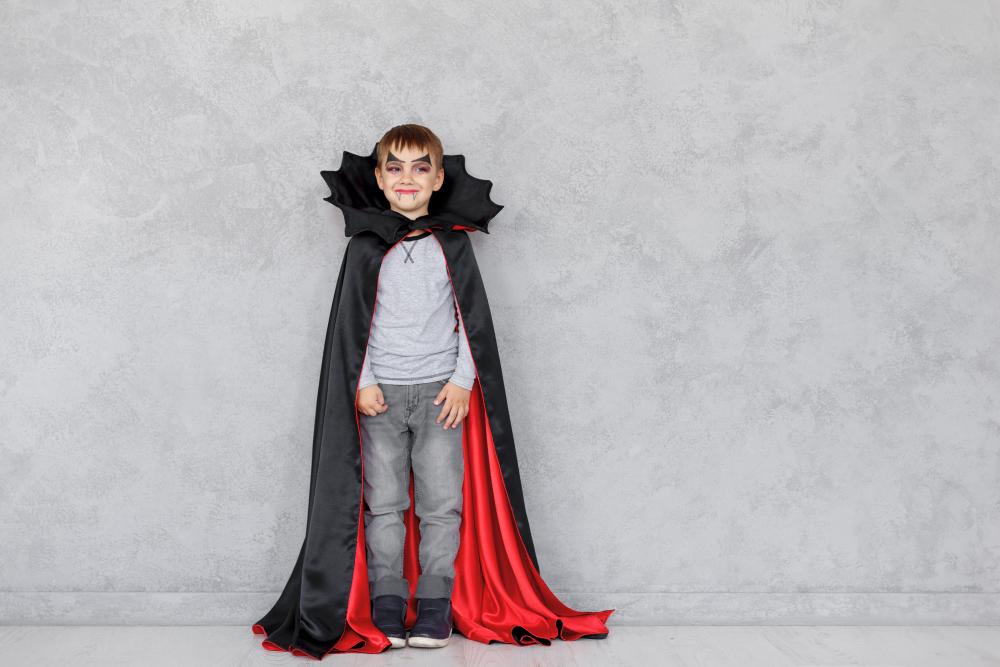 The only things you need in this look are a long black-red cloak, fake vampiric teeth, and red paint. You need to put a chalk-white foundation on, then apply the black eye shadows on the eyebrows and make angry and sharply-arched browns with it, and then apply red paint on your lips that drip on your chin. Lastly, put the teeth on and the cloak, and you are done.
10. Michael Myers Halloween face paint and makeup ideas
The shape is one of the best Halloween looks due to its stalking nature. You need white paint for it and a fake stagger/butcher knife. Apply the white paint all over your face, make sure that the paint is skin paint and not oil paints. Now all you need is a jacket and a butcher knife. Simple, but famous.
11. Scary Voodoo Doll Halloween Makeup Idea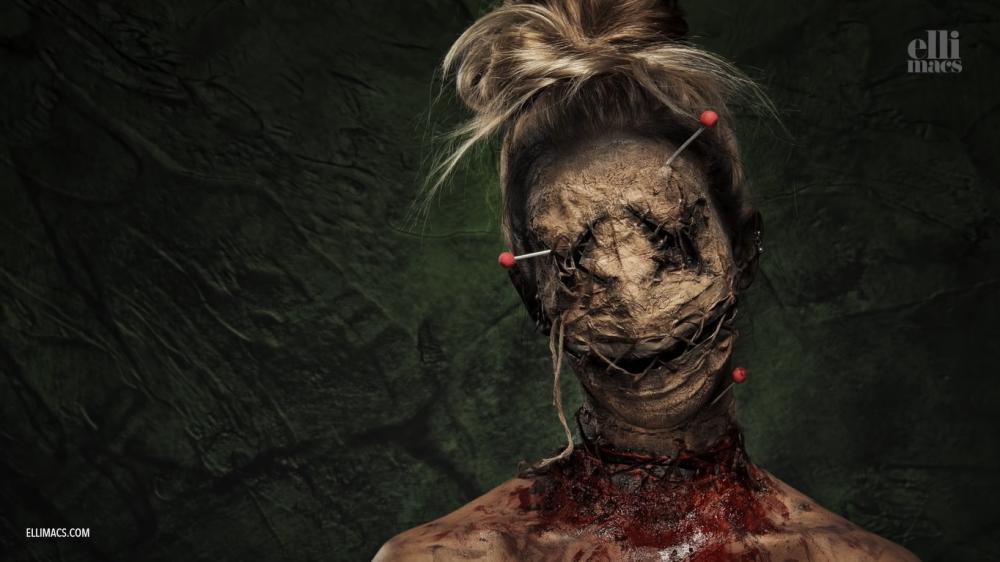 This is far-most one of the scariest Halloween face paint and makeup ideas, but it can be hard to pull off. You need to have tape, tissues, latex, q-tips made of dough so that you can make pins, and lastly, a yarn so that you can sew the voodoo doll's mouth. This look will surely scare even those people who say they don't get scared easily.
12. Freddy Krueger Halloween Makeup Idea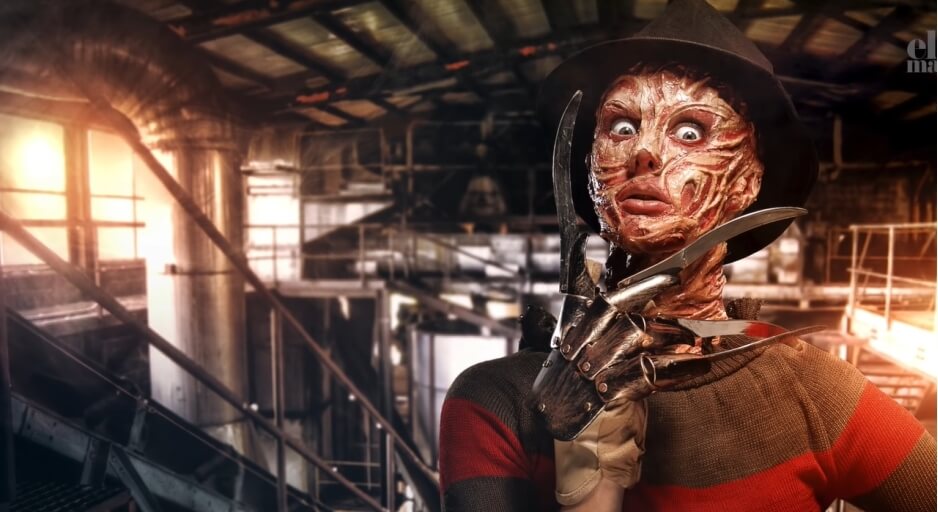 All you need to have in this look is a lot of time, patience, and a few items. They are wig cap, aluminum foil, and latex paste with normal makeup and face paints.
You can use these items to look like one of the scariest characters of horror movies, and if you want, you can use yellow nail paint on your teeth too. To complete the look, make sure you have Freddy's scissor hands glove, hat, and his famous black-red stripe torn shirt. Well, the best way to come to others' nightmares, right?
13. Pennywise, the Creepiest Clown Halloween Makeup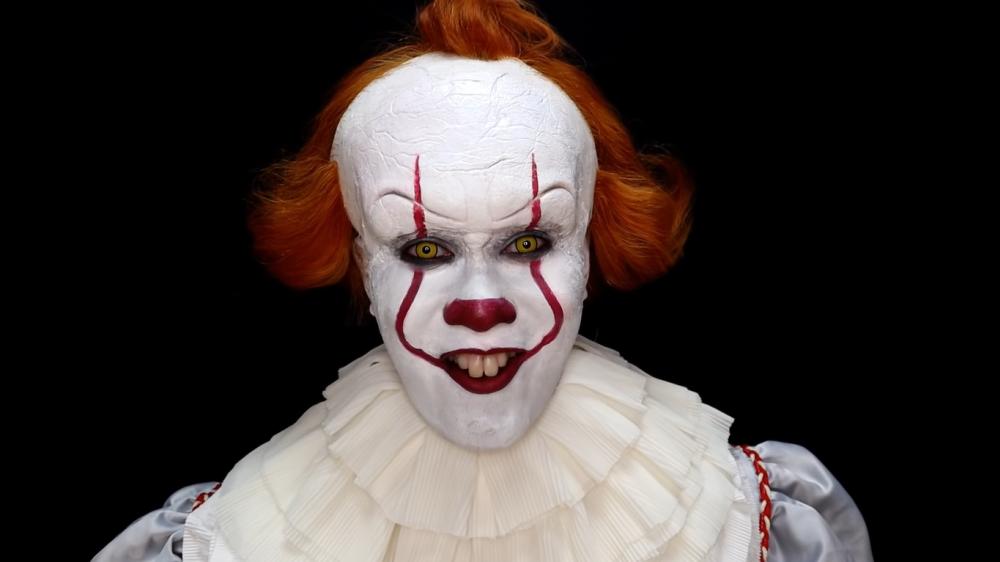 The famous and the creepiest clown in the history of Halloween face paint and makeup ideas. This is sure to blow up others' minds. All you need is to have a full chalk-white foundation on your face, hazel-yellow lens, and red lipstick. The lipstick can be used to make the lines from the corner of your lips to a little up from your eyebrows. Lastly, make sure you apply lipstick to your nose. And have a black eyeshadow on your eyelids. The costume is the last thing needed. But don't forge penny's burnt red wig.
14. Literal Iron Burnt Mark Face Halloween Makeup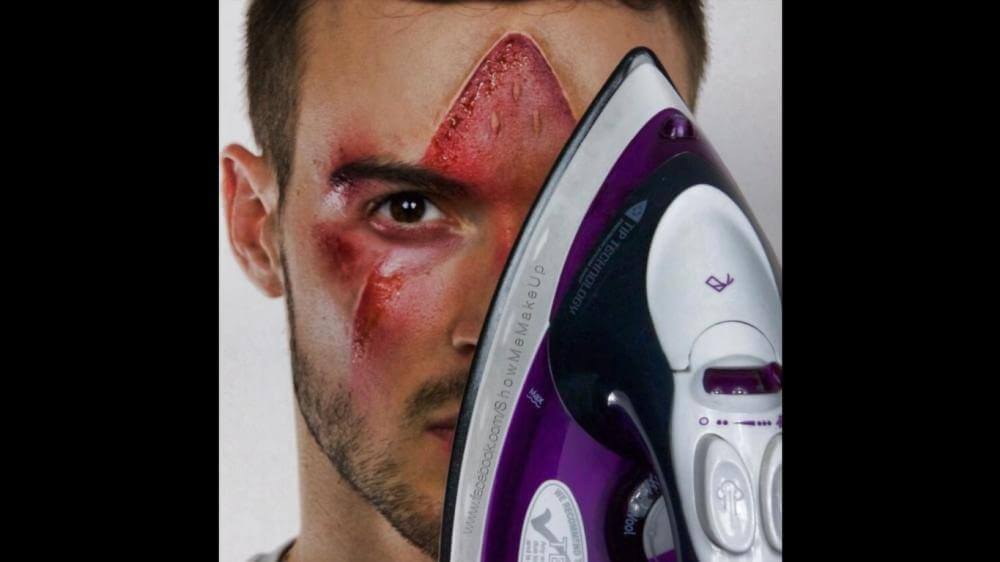 Well, a twist in the iron man's character, isn't it. Instead of having Downey's getup, try using this trick. You can make your face look like it was, in reality, burnt with iron with an iron print.
Just make an iron shape with cardboard, put it over your face, and contour the corners. Apply red makeup to make it look burnt with bruises and saggy skin here and there.
15. Silver Fox, Cute but Creepy Halloween Makeup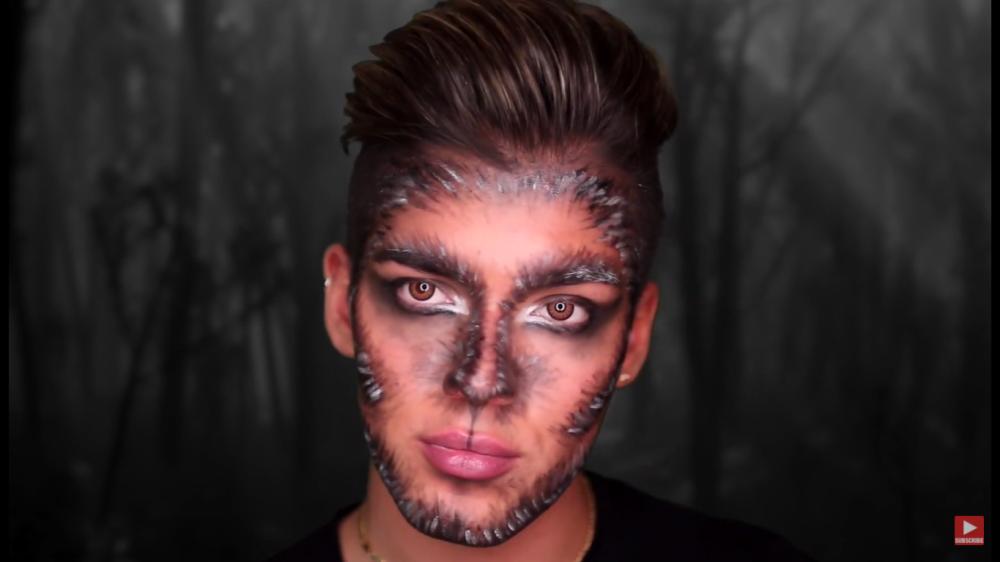 It is cute and creepy at the same time. It looks like you are shapeshifting into a fox right then and there. All you need to do is contour your face, then apply black, white, and brown lines from there to make it look like fur. Honey-brown eyes and have foxy eye makeup, but your nose should have the most fur on it.
16. Demon Faced Halloween Makeup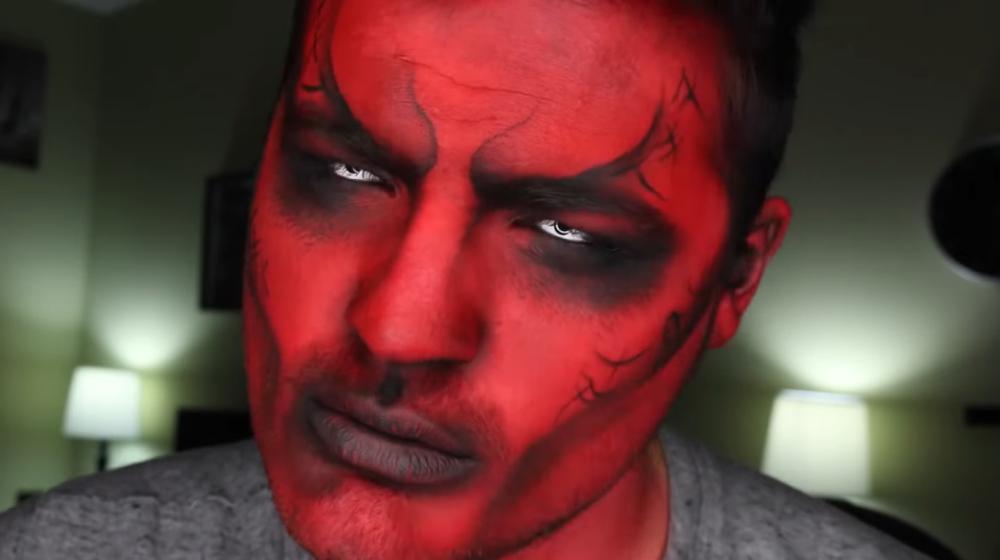 Well, a unique idea for Halloween. You need to put red skin paint all over your face and neck. And then you need blackish-brown eyeshadow on the corners of your eyes, check lines, lips, and lip-liners, nose contouring with it, and draw weird lines on your face. Lastly, you need white demonic eye contact and a pearly white set of teeth.
17. More Vampire Halloween face paint and makeup ideas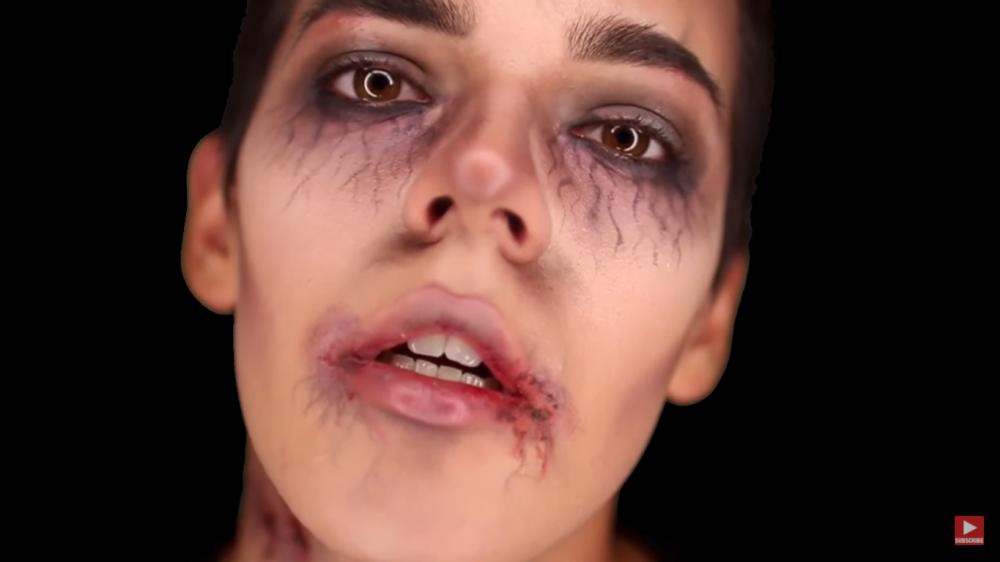 Another vampire looks, but in this makeup, you look like a drained-out vampire that hasn't drunk blood for ages. You need to put a chalk-white foundation on your face and neck, have blackish-purple eyeshadows and with the same color, make veiny lines from the eyes to the cheekbones, and on the corners of the lips. If you want, you can also make veins on your neck.
18. Creepy Multi-Color Clown Halloween Makeup Idea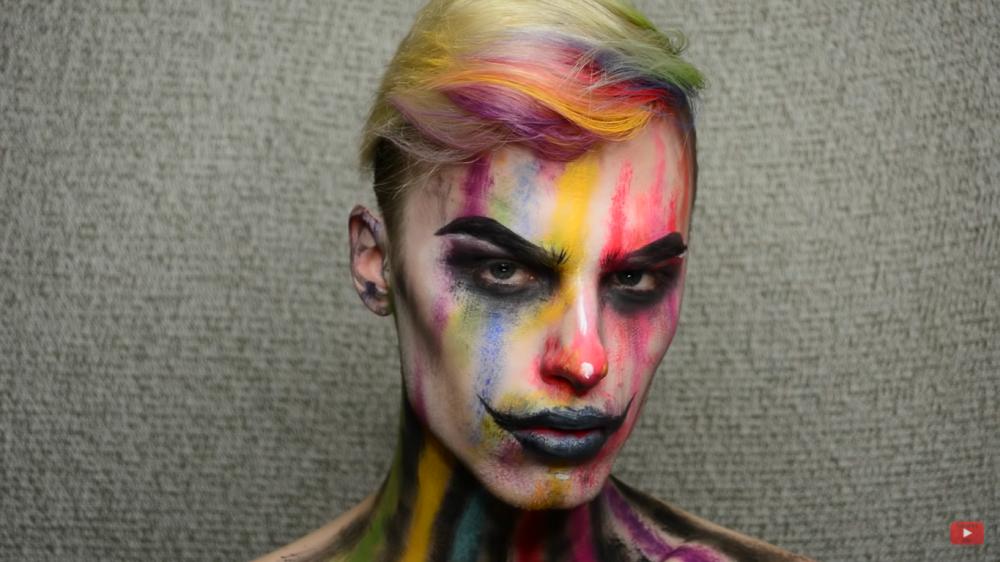 This clown's makeup is not like others. In this makeup, you apply a variety of colors inline forms, from the top of the head to your collarbones. The colors can be red-purple blue, yellow, pink, green, etc., you can apply them to your hair too. Just keep your eyes black all around them, and you should have the signature clown smile made with the color of your choice. Make sure you use fake eyelashes.
19. Card Cutting Scary Halloween Makeup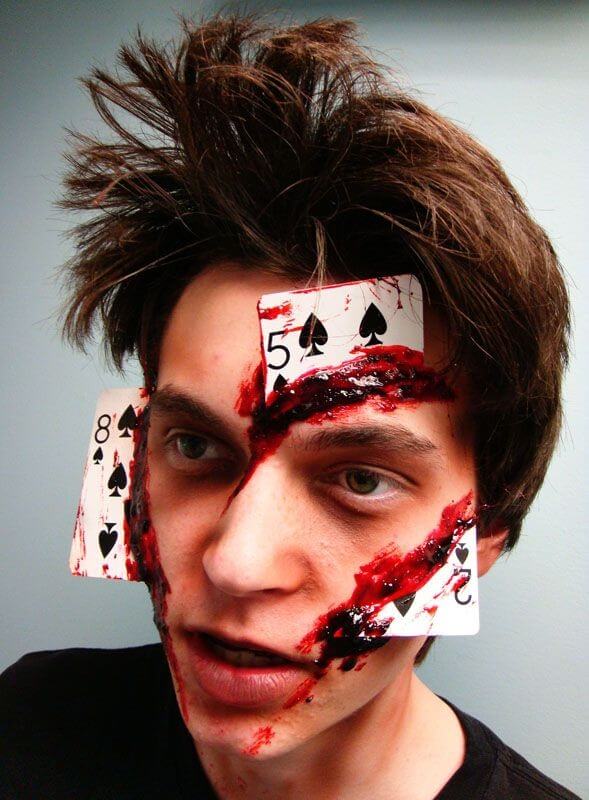 In this look, all you need to have is a few cards. Cut them up randomly, and after applying a chalk-white foundation, put them on one part of the face and the other on the opposite to make it look like it is passing through your face. Apply fake blood and bruises on the place that the cards stick to your face and have pale lips.
20. Neon Color Skull Halloween face paint and makeup ideas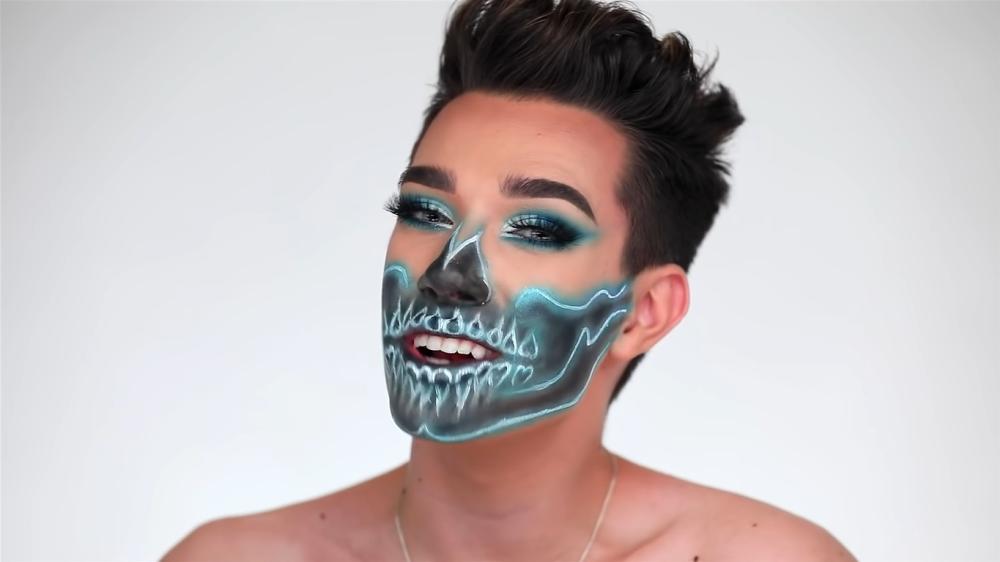 This is a new look. In this look, all you need to do is use blue and simple black eyeshadows, glitters, lip balm, white liner, and falsies. The last thing is white contacts. Make a mask with the eyeshadow colors mentioned, then allow glitters on them and white lines with the liner. Put falsies on, and the contact and you are done. Make sure that your eyes are made the same way as the mask.
People Who Liked this Content Also Liked
Knock the Socks off by Creating Scary Halloween Videos >>
20 Spooky and Educational Halloween Videos for Students to Share with Your Class! >>
BEST Halloween Decorated House EVER >>
How to Create a Simple yet Scary Halloween Makeup Vlog to Surprise Your Crush or Your BBF
You should record yourself, or do vlogs when you're making up for yourself, for the thumbnail, you can use the comparison of before and after effect to impress your friends. If you are following these Halloween face paint and makeup ideas for guys, record yourself. For your vlogging video editing, I got the best tool, it is known as iMyFone Filme.