With AI tools flooding into our lives, text to speech is no longer a trouble, text to speech chrome extension enables you to overcome reading difficulties and get info you want while doing other tasks and chores.
Therefore, we have chosen 6 of these best text to speech chrome extensions, so you don't have to read and enhance your TTS experience.
Tips
No voice artists are needed, and no recording equipment is needed. You can easily convert your text to speech and voice using
iMyFone VoxBox
! Download it and try it out for free now!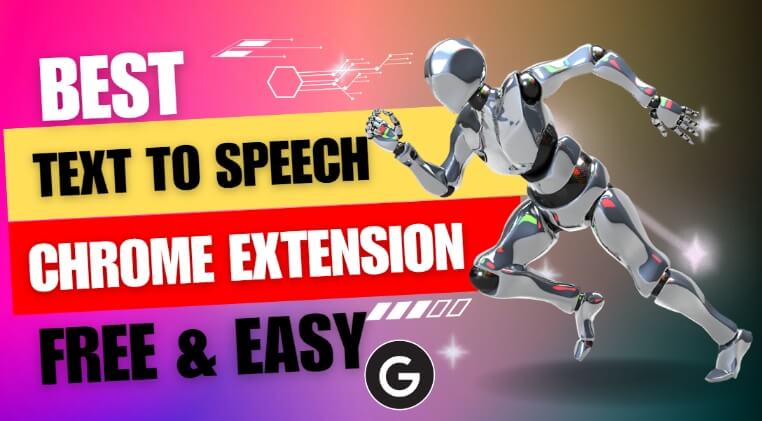 Part 1: 6 Best AI Text to Speech Chrome Extensions For You to Choose
In this section, we will go over 6 of the best text to speech chrome extension that is available on the market for you to enjoy.
When it comes to the best AI text to speech chrome extension, nothing comes close to the Speechify online tool, as it has a great assortment of natural voices. This tool uses AI to convert TTS with fantastic clarity.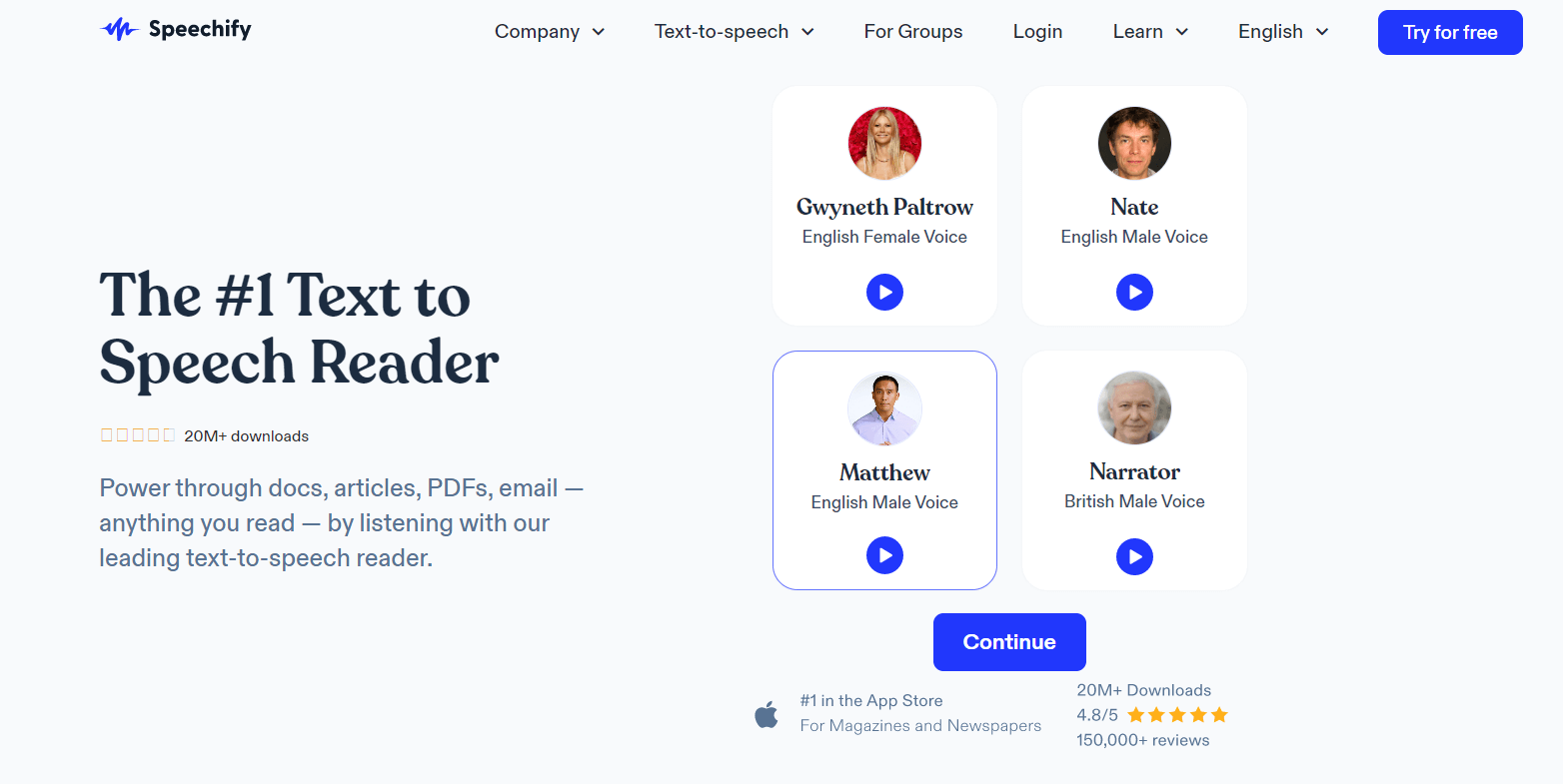 Key Features:
The Speechify tool offers 30 different voices for unique content to share.

All of the read-aloud voices are crystal clear, which you can further enhance with pitch, speed, and tone.

Great for learning a new language as speechify supports 15+ languages right out of the box.

Speechify has a speech to text chrome extension, so you don't need to load their TTS page to use TTS.

Now with the OCR functionality right there on your web browser to extract texts from images, pdfs, and your favorite eBooks.
Pros:

The clarity of the generated voices makes it super clear to understand what is being said.

Enhanced features are available for visually impaired individuals.

Web-based API allows for easy access from all major devices.

Chrome extension is a sweet and simple tool for all TTS purposes.
Cons:

The free version has limited features.

The free trial is only three days.
User Appraisal:
User review is overall good for 4.5/5
Parent's review for kids using it is 3/5
Price:
$139/y.
NaturalReader is a fantastic free text to speech chrome extension that has many features and functions if you don't want to use the paid version.
A range of languages is supported, and the chrome extension makes this a valuable tool for those who don't want to use apps and software.
Key Features:
The OCR function can read text from images and pdf files.

Add background music to your TTS.

Most intuitive and simple chrome extension text to speech.

Assistive features for dyslexic users.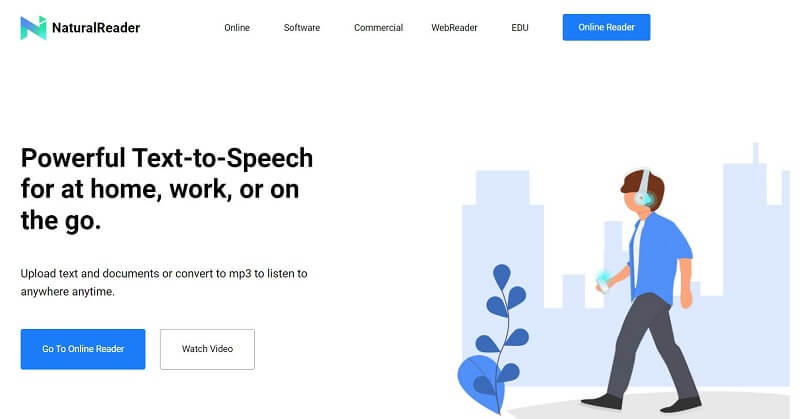 Pros:

User-friendly functions and UI.

It has one of the most updated AI voices for speech to text chrome extension.

A few new naturally sounding voices have recently been added.

Most intuitive one-click tech added.
Cons:

It doesn't support skipping text portions or quickly jump around.

The free app doesn't work without the internet.

The paid app is pricey.

Not user-friendly for prolonged usage.
User Appraisal:
4.5/5
Price:
The free version has a few free voices
Personal one-time payment of $99.50
Professional and ultimate costs are $129.50 and $199.50.
Capti Voice is a fantastic text to speech extension chrome that works hard to translate next-generation research on TTS to provide users with the latest and most outstanding features.
The primary goal of Capti Voice is to provide students with the best reading and writing tools for their study.

Core Features:
Voiceovers are generated using technology from Amazon Ivona, Acapella and Neospeech.

Capti Speak can read and recognize text in 26 languages.

Audio speed automatically adjusted to match the language.

Fantastic support for TTS of pre-selected text in any document.

All languages support definitions and phrase explanations.

The translation is available in multiple languages.

Many note-taking features enhance the writing skills of students that you can translate on command.

Shortcuts help you navigate quickly and enhance your productivity.
Pros:

Free of cost for personal usage.

100 languages are supported in this text to speech chrome extension.

Pricing is manageable for most users.

Has great regional accents for major languages.
Cons:

The default voice is one of the worst.

It doesn't have support for exporting audio files.
User Appraisal:
4/5
Price:
Premium - $1.99 per mo.
$9.99 for six mo.
$19.99 per year.
A worthy contender to best text to speech chrome extension in the chrome store when you are on any website and want to read aloud that page with a single click by Read Aloud.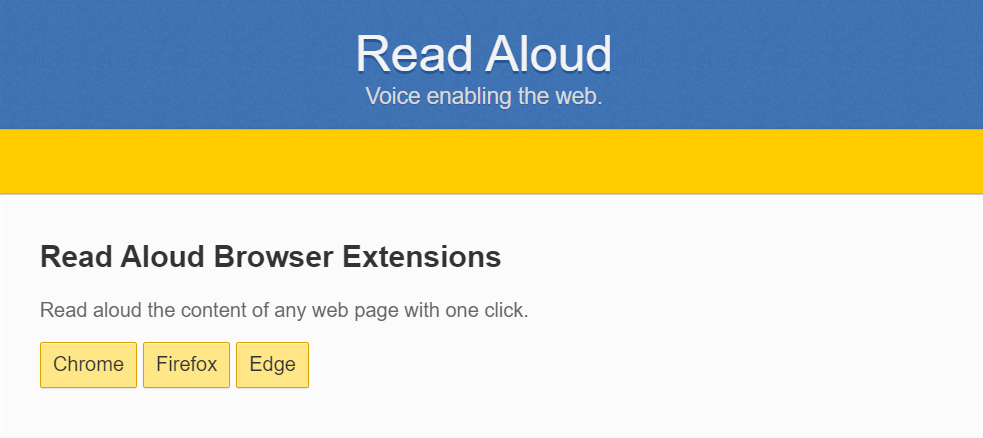 Core Features:
Supports up to 40 languages on your web browser.

Supports most websites like blogs, news, text, and eBooks, and most university course material.

Now you can use voices from other services like Amazon Polly, Google Wavenet, and even IBM Watson.

Intended for users who are concerned with reading texts.

The app has exceptional support for those individuals who have a difficult time reading, like those visually impaired, learning disabilities, and dyslexic children.
Pros:

Skip and jump functions supported.

Open-source project.

Easy to use different functions such as clicking and selecting to read aloud.

Excellent shortcuts and playback controls.

A lot more free voices are added regularly.

Fantastic tool for those who are learning new languages.

Pretty quick and accurate for a free, open-source tool.
Cons:

Cloud voiceovers are not all free.

Users experiencing voice cutting after some time.
User Appraisal:
4.1/5
Price:
Free
Readme TTS is a chrome extension text to speech that utilizes advanced deep learning techniques to read aloud text on your browser with a click of a button. You don't have to leave the webpage you are on to utilize a TTS function.
Key Features:
Easily listen to web pages and docs on the go.

Seamlessly upload docs, eBooks, and other document files, and the extension will read them aloud.

This speech to text chrome extension has a wide variety of options and settings that are simple and clean to use.

Advanced deep learning AI and techniques supporting over 40 languages.

Tons of voice supported by the browser plus other supported like Google Wavenet to enhance your productivity.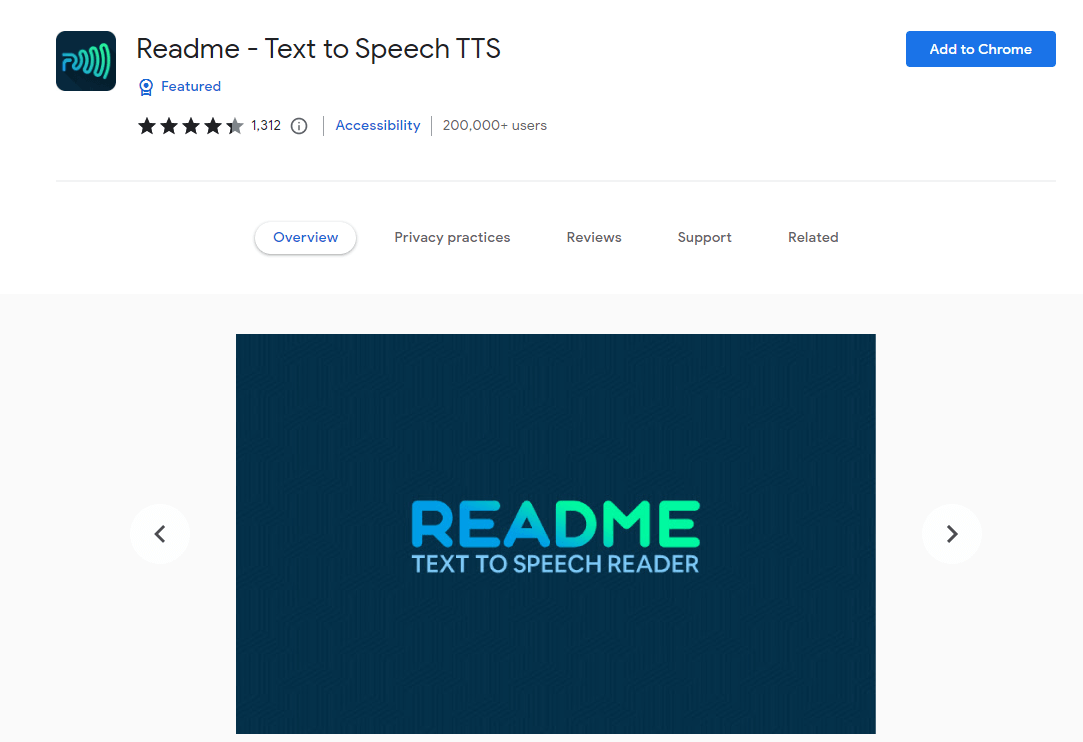 Pros:

Natural sounding voices.

It has been excellent on TTS web pages.

Deep learning technique has served it well.
Cons:

Users have experienced issues where reading skips TTS.

Recent updates have some issues.
User Appraisal:
4.5/5
Price:
Free
Snap & Read is one of the best free text to speech chrome extension catering to students in schools and universities that you can use on the browser. You don't have to leave your favorite browser, which supports all the top ones.
Key Features:
Great TTS function for you to read and listen better.

Supports OCR Screen Shot reading support that also translates into your native language.

Simply tool changes a difficult word into a simple one.

The translator tool in this text to speech extension chrome allows you to translate any language when you need.

Start Capturing all the essential text together in a single outline that you want to read together.

Upload PDF files to read aloud.

Expanding on Dynamic Text Leveling enhances your readability like a lifelike native speaker.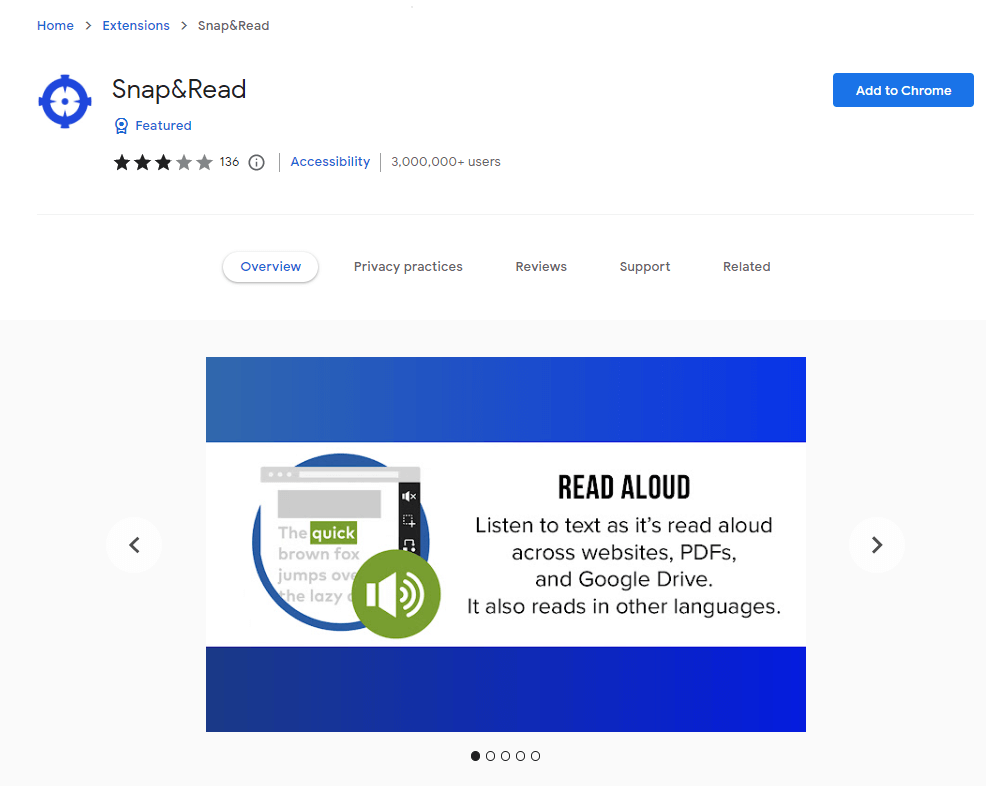 Pros:

Supports OCR function.

Great snapshot TTS.

Translates in realtime.

Combines texts like read it later.

Supports translation in 100+ languages with fair accuracy.
Cons:

Users have experienced bugginess and unresponsive UI.

Random pop-ups lower voiceover volume reducing the immersion experience.
User Appraisal:
3/5
Price:
Personal – $3.99/mo.
Parent – $3.99/mo.
Educator – $3.99/student/month
Part 2: The Benefits Of Using Text-to-Speech Extensions
Text-to-speech (TTS) extensions offer numerous benefits that enhance the accessibility and usability of digital content. Here are some key advantages of using TTS extensions:
Accessibility: TTS extensions make content accessible to individuals with visual impairments or reading difficulties. By converting text into spoken words, TTS enables people with visual disabilities to consume digital content independently. It also assists individuals with dyslexia, learning disabilities, or attention deficits in comprehending and processing written information.
Cognitive Assistance: TTS extensions can provide cognitive assistance for individuals with cognitive impairments, attention difficulties, or memory challenges. Hearing the information instead of reading it can improve focus, comprehension, and retention. TTS can also serve as a helpful tool for individuals with conditions like ADHD or dyslexia.
Customization and Personalization: Many TTS extensions offer customization options, allowing users to adjust the speed, pitch, and voice of the synthesized speech. Users can select a voice that suits their preferences and optimize the settings to enhance their listening experience, making it more comfortable and enjoyable.
Overall, TTS extensions promote inclusivity, efficiency, and convenience by converting written content into spoken words. They offer a range of benefits for individuals with visual impairments, learning difficulties, language learners, multitaskers, and anyone seeking an alternative way to consume digital content.
Part 3: Bonus Tips: Best Text to Speech Software on PC
Now that we have discussed the best text to speech chrome extension you read in the previous section let's discuss one of the tts best apps that may not be the best text to speech chrome extension but a full-fledged software to enhance your TTS needs.
VoxBox is an excellent TTS software from iMyFone that not only does TTS but can easily record voices and generate texts from these voices. Let's see what features a VoxBox has that you may not need speech to text chrome extension anymore.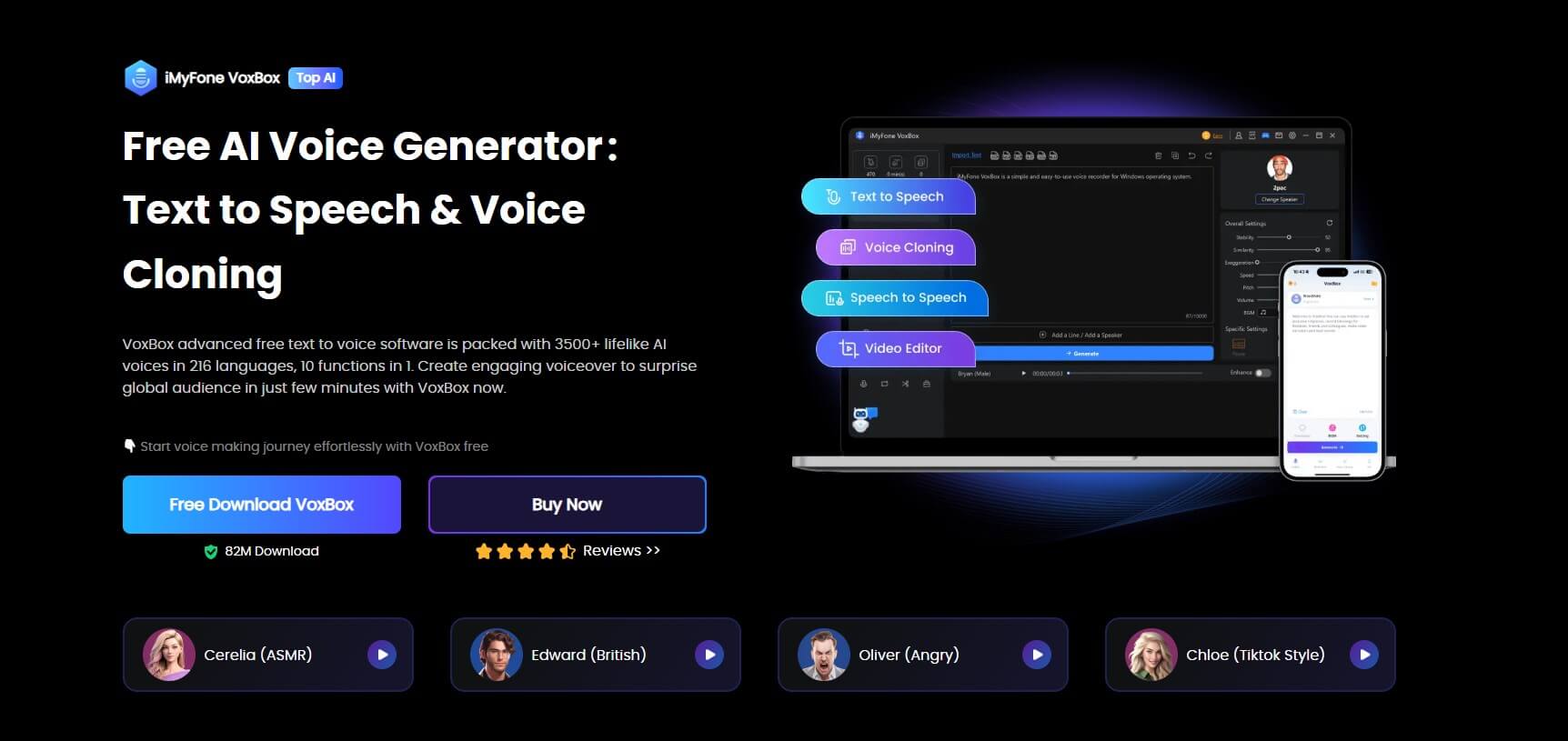 Key Features:
You can easily save all the generated voices in WAV or other popular formats that you can share.

VoxBox has voiceovers in 77+ languages that are all-natural sounding and with great clarity.

Over 3,200 voiceovers that include celebrities and cartoon characters.

All the voices are lifelike with fantastic clarity.

Translate text in any language into speech in the same language.

You can use it in many real-world scenarios like classrooms, business meetings, enhanced voice studios, and even customer care for different languages.
Pros:

TTS is on par with helping you communicate with others from different nationalities.

Streamers can use supported voices to enhance their content.

The free version has excellent functions.

Realtime voice changing and text reading.

The app gives a lot of editing options to smooth out your generated voices.
Cons:

No android or iOS app while the Android app is under development.
User Appraisal:
4.9/5
Price:
Monthly $14.95
Yearly $44.95
Lifetime $89.95
Watch this video to learn more about the Best TTS Tool iMyFone VoxBox:
Part 4: Best Speech to Text Chrome Extension
Speech to text technology enables voice commands for web navigation, used by platforms like Google Search and Docs. Google's mic icon lets you voice type queries, while Chrome extensions offer voice dictation. You can interact with web content, videos, tabs, forms, and create custom voice commands. Supports multiple languages and some work offline.
Now, let's explore the best speech to text chrome extension that you can use.
Speech to Text converts voice to text. All you need to do is to install from Chrome Web Store, click mic icon, grant microphone access, and start voice typing, with which you can copy text for online use. It recognizes a variety of languages, works offline, and no internet needed.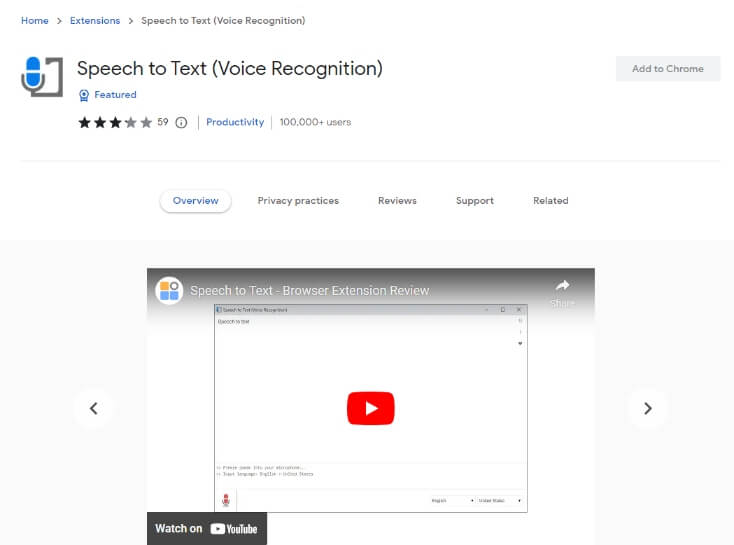 Part 5: FAQs about Text to Speech Chrome Extension
1. Is there a text-to-speech Chrome extension for free?
Yes, many chrome extension text to speech is free and can be added to your browser, some of which are on our list though all of them have limited features.
2. What are the best text-to-speech apps for Chromebook?
The best TTS app for a Chromebook is VoxBox which is stuffed with outstanding features that will help you learn new languages, enhance your vocabulary, and communicate with others in a much better way.
3. How do I turn on text-to-speech on Google Chrome?
1. Click the time in the bottom right corner or press Alt + Shift + s.
2. Choose "Settings" and go to "Accessibility."
3. Enable ChromeVox under "Text-to-Speech."
4. What Chrome extension is PDF text-to-speech?
NaturalReader is a Chrome extension that transforms online text into lifelike audio. Just click play to have your Emails, Websites, PDFs, Google Docs, and Kindle Books read aloud.
5. What is a Text-to-Speech Chrome Extension?
A Text-to-Speech Chrome Extension is a tool that converts written text on web pages into spoken audio. It allows you to listen to content such as articles, emails, or documents instead of reading them.
6. How do I install a Text-to-Speech Chrome Extension?
To install a Text-to-Speech Chrome Extension, visit the Chrome Web Store, search for the desired extension (e.g., NaturalReader), click on the extension's page, and click the "Add to Chrome" button. Follow the on-screen prompts to complete the installation.
7. What types of content can I use an AI Text-to-Speech Chrome Extension for?
AI Text-to-Speech extensions can be used for a wide range of content, including articles, blog posts, emails, e-books, research papers, and more.
Conclusion
It is always tricky to sift through online text to speech or in stores to find the best ones. The same is the case with text to speech extension chrome. This article has 6 top chrome extensions for you to choose from to make matters easier.

While they are perfect but being an extension, these are not full software or tools, and that is why you should consider VoxBox. iMyFone VoxBox does what these extensions can and so much more.