Communication is key to success in today's digital world, where individuals from different regions worldwide can hop on a video call instead of physically being there. There are many instances where you come across locals from a country that speak more freely in their language or need to be better versed in English. Text-to-speech is a powerful and helpful tool then.
If you need to communicate with an Israeli friend's family, some business partner, or during traveling there, or you want to make Hebrew voiceovers due to business, learning, or other reasons, Hebrew text to speech tool is a lifesaver for you to get natural Hebrew Accent. Let's discuss what fantastic options you have in this article.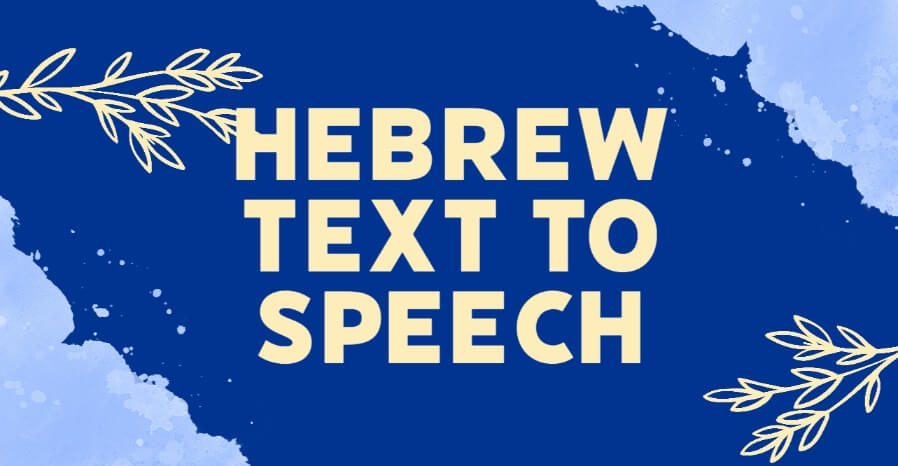 Part 1: Best Hebrew (Israel) Text to Speech Converter Replicating Hebrew Accent
There are many scenarios where iMyFone VoxBox is your best choice for Hebrew text to speech requirements, such as if you are teaching the English language to your students and use the tool to explain to them in their language, or making marketing materials for your business, making voiceovers for any purposes.
Moreover, it has 46+ language and 3200+ voices for you to use, satisfying all your dubbing needs, including Chinese, Spanish, French and more.
You can also employ VoxBox's best features to record a lecture for them using TTS. Furthermore, there are many notable features by VoxBox, some of which are as follows.
Tips
No voice artists are needed, and no recording equipment is needed. You can easily convert your text to speech and voice using the
best Hebrew Text to Speech tool
iMyFone VoxBox
! Download it and try it out for free now!
Key Features:
You can download converted Hebrew text to speech in multiple formats like mp3 and more, plus the functionality of real-time language conversion.

Over 3,200 voiceovers to speak Hebrew text to speech in.

Converts recorded voice in up to 46+major languages.

Enhance output voiceover with many professional tweaks.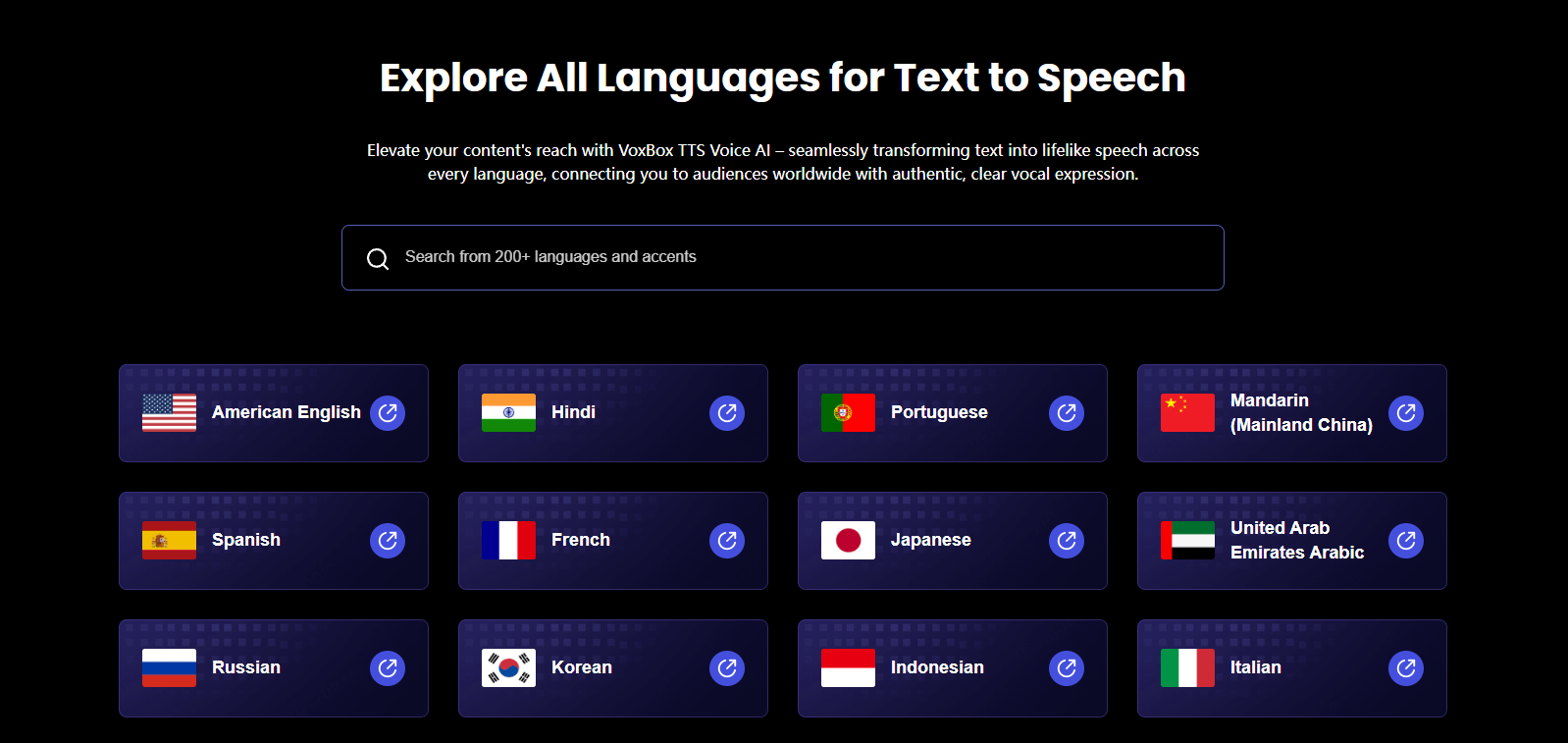 How To Use Hebrew Text To Speech Voice Generator?
Step #1: Download and install iMyFone VoxBox on your Windows OS from here.
Step #2: Go to the Text To Speech tab, enter your text, and click "Change voice" to get Hebrew AI voice for text to speech.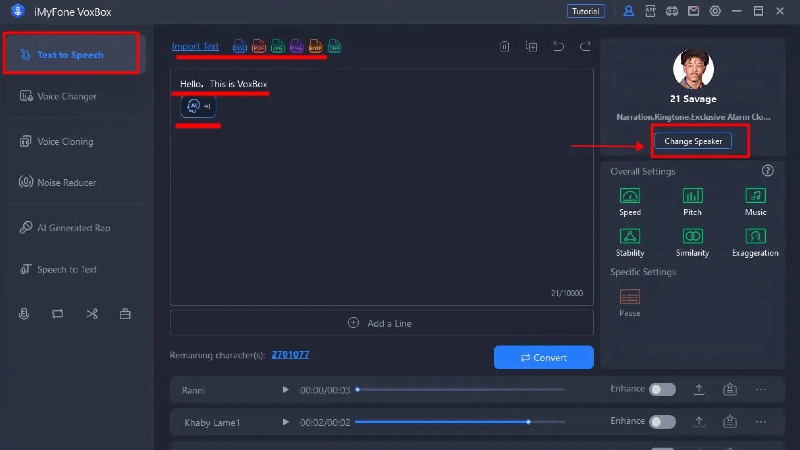 Step #3: Choose Hebrew option under language, and select one voice from many choices it offers, including males and females, and more.
Step #4: Click "Convert" to get the voiceover.
Pros:

Easy download and usage on your PC.

Simple UI but professional tools.
Cons:

Not available for Mac users.
Part 2: Online Solutions for Hebrew TTS
Narakeet makes it a lot easier for you to use Hebrew text to speech functionality as it has dedicated two voices for Hebrew that you can use. You only need text files like Word or text documents, or you can type in their text box. Try today for the best Hebrew text to speech online; no signup or registration is required.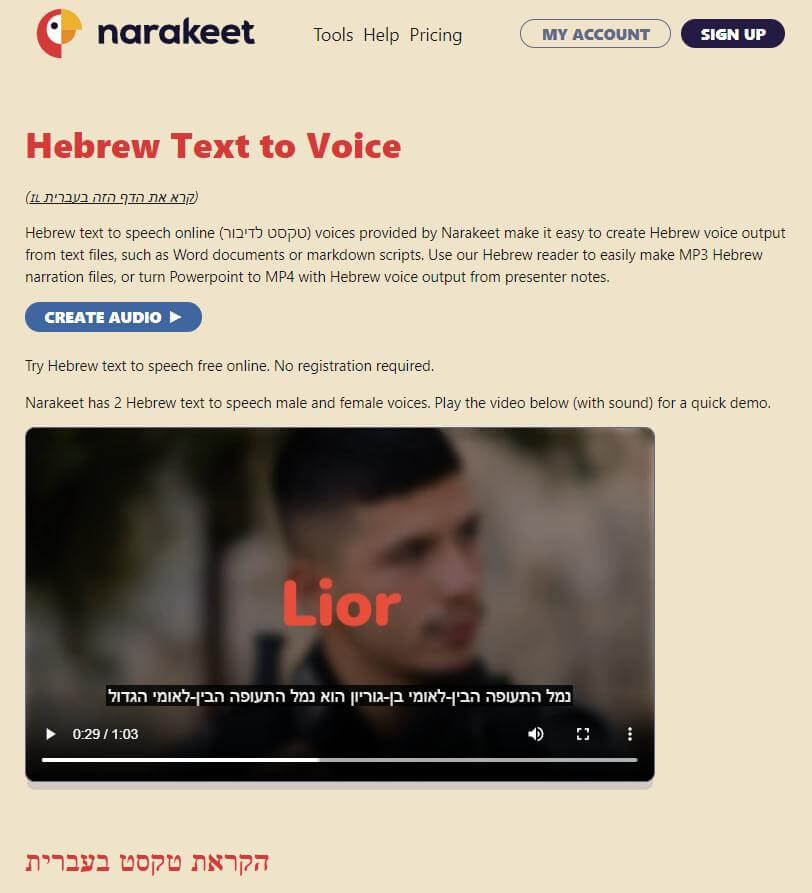 Key Features:
Supports 80 languages other than Hebrew text to speech functionality.

Hebrew text to speech in 500+ excellent, fun, and some silly voices.

Download converted Hebrew voices to your desired formats.
Pros:

Record clips generated from text up to 1kb in text file size or up to 10 MB of an audio file if you haven't registered.

Fupports many regional accents that don't sound unnatural or robotic.

All voices from Hebrew text to speech tool have a good Israeli accent.
Cons:

Need to register to use full potential.

Requires a good internet connection.
Popularly known as one of the best Hebrew text to speechtools of 2022 and choose from their realistic voiceover options. Use Listen2itfor unique Hebrew text to speech voiceovers, impressive presentations, great adverts, and much more.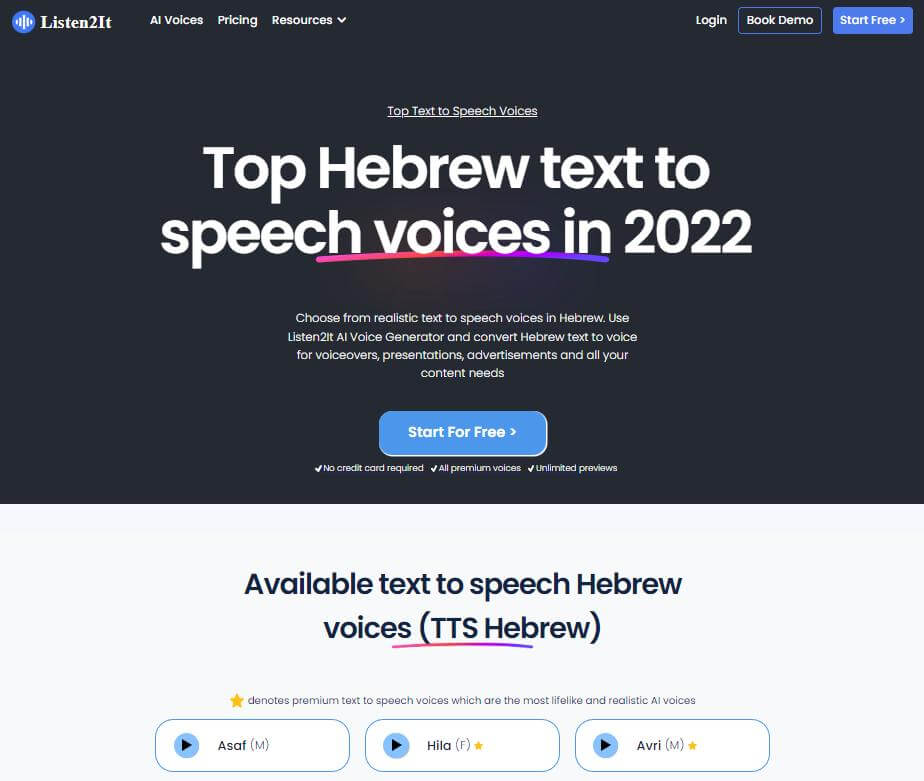 Key Features:
Add great effects and background sounds to all your voiceovers.

Choose from over 900 AI voices.

Great edition features that allow you to set the timing and add transition into the generated voiceovers.

Professional grade ai generated voice quality and supports sharing of excellent Hebrew text to speech API.

Saves you costs, grows your audiences, increases your work efficiency, and allows you to create much more content.

The best option for trainers that are teaching Israeli students a foreign language.
Pros:

No credit card needed.

All Hebrew text to speech voiceover options is a premium quality.

You can use as many times their preview feature as you like until you are satisfied with the results.
Cons:

Complicated installation process for newer users.
How good would the Hebrew text to speech results be for a tool the UN team used in the United Nations summit for translation and transcription needs? With MicMonster, you can now use one of the best Hebrew text to speech like UN members right there on your devices.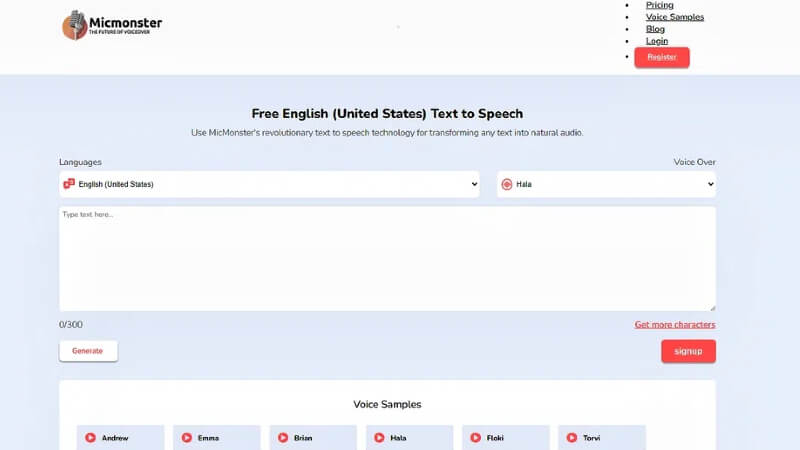 Key Features:
2 Hebrew voices, Hila and Avri, supported.

Up to 300 characters can be generated into voiceover without registration and signing up.

Realistic voiceovers and natural tone speed and pitch.

Supports over 150 languages worldwide with multiple accents.

Great inflection tool to make your Hebrew text to speech as natural as possible.
Pros:

With their pro features, you can convert texts and audio and integrate them with your YouTube videos and other content.

Excellent affordable pricing for aspiring entrepreneurs.

Fantastic support and a great money-back guarantee.

Support for different platforms and cross-support.
Cons:

Though 500 languages but limited accents or voiceover options for some.
Synthesia.io is one of the latest deep fake technologies that allows you to use an avatar from many choices to use as Hebrew text to speech reasons. You can create lectures, presentations, podcasts, or even your Israeli channel for local news in the Hebrew language.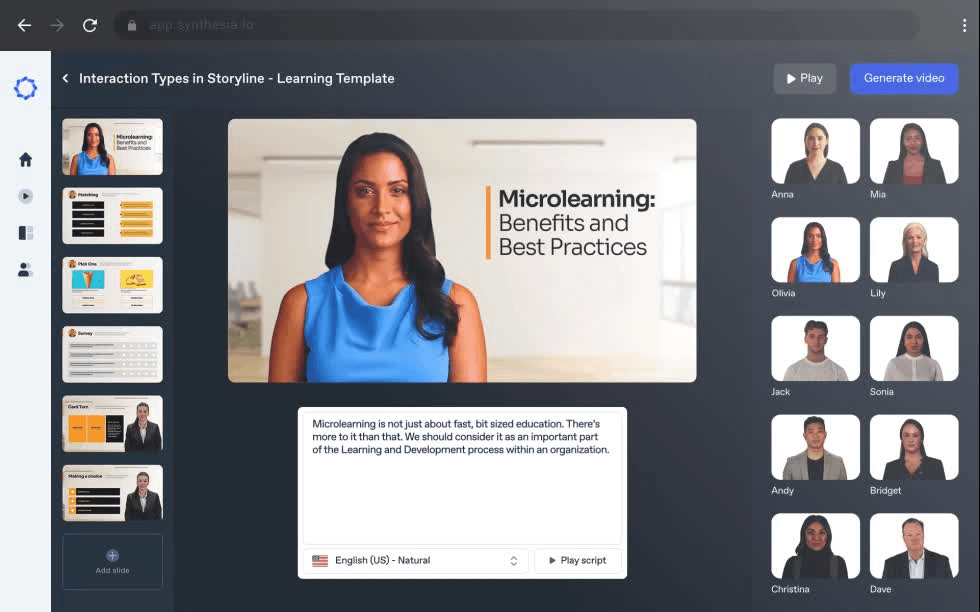 Key Features:
You can see the results when a Live AI performs your Hebrew text to speech.

Realistic videos generated from simple texts.

Multiple avatars in various languages, endless possibilities.

Up to 60 avatars to choose from.
Pros:

Choose from over 60 presenters and choose the best for Hebrew text to speech output.

Interactive UI for editing and export.

Mind-boggling how much technology has advanced.

The concept can change how you can teach Hebrew text to speech in language to new students and communicate in business settings.
Cons:

Professional so expensive for individuals and especially for those that use Hebrew text to speech for simple fun or communications.
Speakatoo can help you convert simple text into speech in over 120 languages learning in male and female AI-generated voices, not just in Hebrew text to speech. All the natural speaking generated voiceovers with fantastic prices that beat the competition.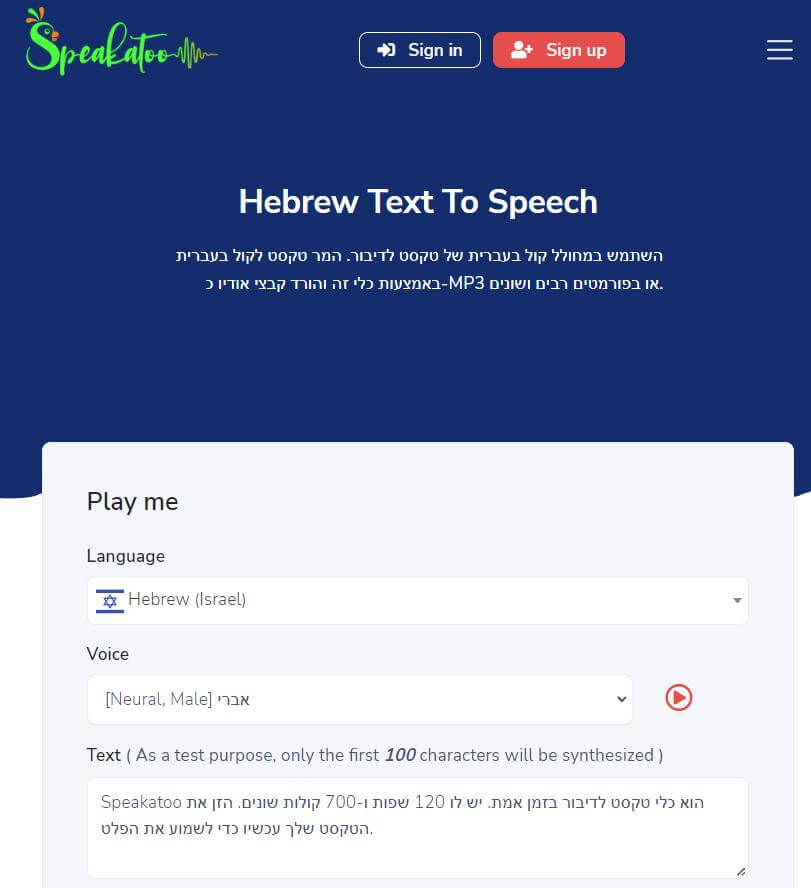 Key Features:
Dedicated interfaces for multiple languages.

Enhance voiceover output, change the speed of the speaking rate, and many more editing options.

Easily add inflections and breathing with natural pauses in your Hebrew text to speech generated voiceovers.

Create content, teach others, IVR greetings in call centers, promote your products, make podcasts and youtube, the choices are endless.
Pros:

Has male and female Hebrew text to speech voice options.

Allows only 100 characters if you want to test out their quality and voice generation capabilities.
Cons:

It doesn't seem to support other fun types of Hebrew text to speech for fun purposes.
Part 3: Get Speech to Text Hebrew Service
Voxbox's Hebrew speech-to-text feature is a cutting-edge solution that effortlessly converts spoken Hebrew audio into accurate written text.
With its advanced AI technology, Voxbox offers a wide range of application scenarios, including transcription services for creating subtitles and searchable text, enabling accessibility services for the hearing-impaired, powering voice-activated virtual assistants in Hebrew, improving customer support in call centers, facilitating language learning, indexing and analyzing audio content, enhancing broadcasting with real-time translations, streamlining legal and medical transcription, and aiding businesses in language localization for the Hebrew-speaking market. This versatile feature empowers users across industries with efficient, reliable, and multilingual speech-to-text capabilities.
With Voxbox, converting Hebrew speech to text is effortless. Just upload the audio file, select the export language, and click "Convert" to obtain the desired text in any language from the Hebrew speech.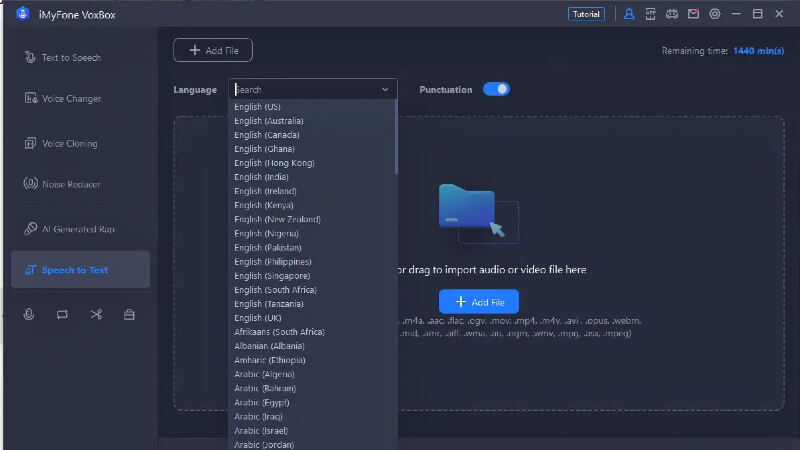 Part 4: FAQs About Hebrew Text to Speech and Hebrew Accent
Following are some quick FAQs that might also come to your mind when searching for the best Hebrew text to speech tools.
1. How to Use Hebrew Text to Speech?
Most of the Hebrew text to speech tools mentioned in this article only requires you to start writing text in the text box and press convert, and the speech is generated.
You can try different sentences and see what the result is. Another button allows you to download. Most of these tools don't require registering to use their TTS feature.
2. Which is the Best Hebrew Text to Speech Generator?
If your requirement is using Hebrew text to speech generators on the go, then use one of the web-based tools like Speakatoo, Listen2it, etc., that only need internet connected device. If you want to use and pay for a tool with a dedicated PC and android app, then VoxBox is your choice because of its many outstanding features.
3. How can I Turn My Text to Speech in Hebrew on PC?
From the best Hebrew text to speech tools we have listed in this article, some you can use with an internet browser, while others, like VoxBox, can use by downloading their app and utilizing the power of your PC.
4. What is the app for Hebrew speech to text?
Voxbox is a fast, accurate, and affordable automatic transcription software, converting Hebrew audio and video files to text. Trusted by millions of users worldwide.
5. What is the best TTS for Hebrew?
Voxbox is considered one of the best Text-to-Speech (TTS) solutions for Hebrew due to its fast, accurate, and natural-sounding voice generation capabilities. Its advanced AI technology ensures high-quality speech output with accurate pronunciation and intonation.
What is the free Hebrew translator with voice?
Lingvanex offers a free service that provides instant translations of words, phrases, audio files, podcasts, documents, and web pages between Hebrew and English. It includes voice output capabilities, allowing users to hear the translated content in both languages.
Conclusion
You now have many options to choose from if you need Hebrew text to speech tools, which are a few of the best in the market. When it comes to the utility of translating Hebrew TTS on the go and doing more powerful and processing-intensive tasks, VoxBox is your choice. It is the only Hebrew text to speech tool that gives you this fantastic utility and many more features like Hebrew speech to text, voice cloning and recording. etc.