Due to multiple benefits and applications, text-to-speech tools are gaining hype day by day. The internet is flooded with myriad TTS apps that read the text aloud exactly in a human's AI voice.
Descript text-to-speech is the most highlighted tool that is agile, has diverse audiences, has broader access, and satisfy customer service automation. However, it may not be the best TTS tools in the market for dubbing and more.
In the article, we will guide you through the review of Descript text to speech and look forward to a better Descript alternative.
Tips
Hunting for the best Descript overdub alternative? iMyFone
Voxbox
offers 3200+ voices and 77+ languages for perfect voiceovers and more.
Just try it out free below!
Part 1: Descript Overdub Review - Descript Text to Speech
Descript text-to-speech is an amazing app that inspires worldwide users through its numerous features, with Descript, you gain access to a comprehensive set of tools for writing, recording, transcribing, and collaborating on your creative projects. Whether it's crafting a podcast, a video, a screen recording, or a simple clip, Descript provides everything you need to bring your content to life and easily share it.
Additionally, Descript offers AI voices capable of producing lifelike speech from text, adding a whole new dimension to your creations. An intriguing feature allows you to clone your own voice, enabling you to use it as the narrator for your videos or podcasts.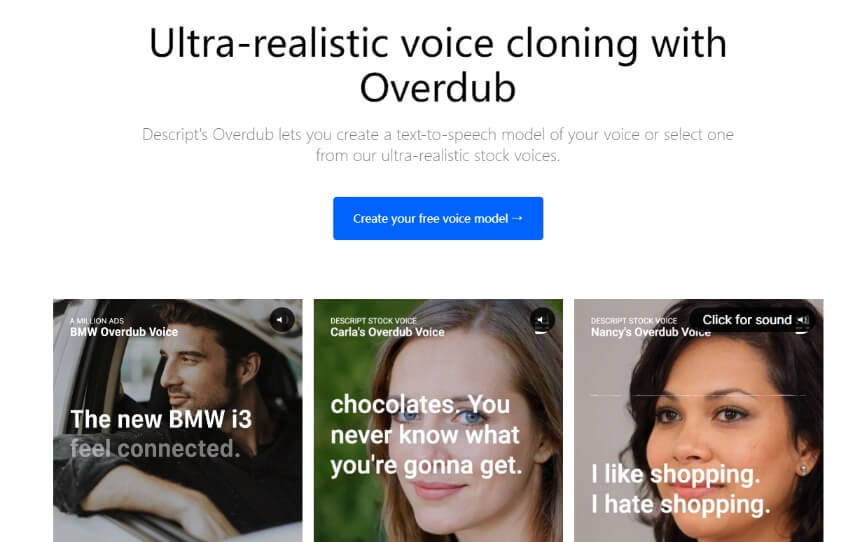 How to Use Descript for Text to Speech Conversion
Step 1: Head to its overdub website and download the software.
Step 2: Open it and click on voices to choose an AI voice for tts or use your own voice by selecting "create new voice".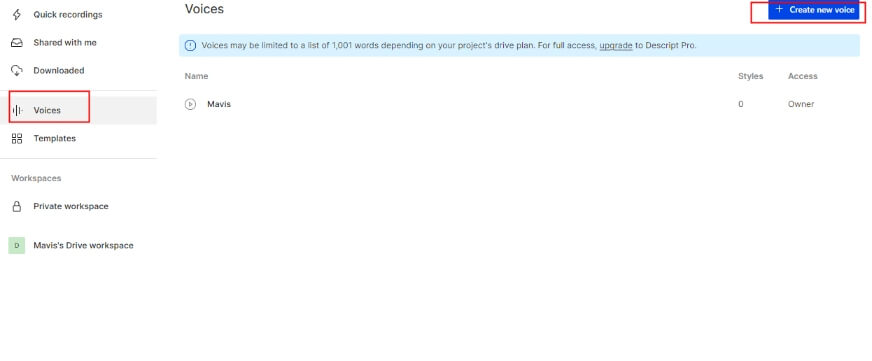 Step 3: Enter the your text and click "play" button to listen to the voiceovers.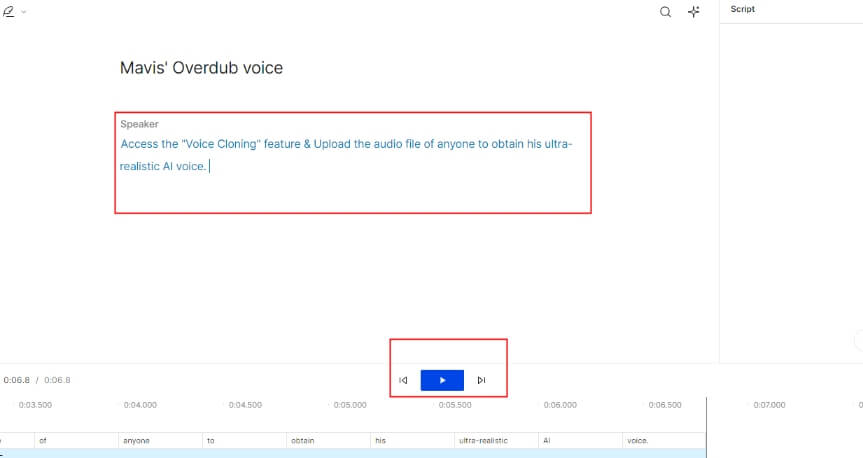 Step 4:You can further adjust the results if you are not satisfied with it.
Features:
Text-to-Speech (TTS) with AI Voices: Descript Overdub utilizes advanced AI technology to generate natural-sounding speech from text, enabling users to create voiceovers effortlessly.

Personalized Voice Cloning: Overdub allows users to clone their own voices, giving them the flexibility to narrate their content without the need for additional voice actors.

Custom Voice Styles: Users can adjust and fine-tune the tone, pitch, and pacing of AI-generated voices to suit their specific requirements, achieving the desired audio expression.

Seamless Integration: Descript Overdub seamlessly integrates within the Descript platform, streamlining the voiceover creation process alongside other editing and collaboration features.

Precise Editing: The tool offers precise control over audio editing, enabling users to edit and modify the generated speech with ease, ensuring a polished final product.

Multi-Lingual Support: Descript Overdub supports multiple languages, providing users with a diverse range of voice options for global content creation.

Natural Breath and Pause Insertion: The AI-generated voices come with realistic breaths and pauses, creating a more lifelike and engaging listening experience.
Pros:

Unmatchable 44.1KHz broadcast quality.

Descript offers a free plan for basic function exploration, while the paid plan starts at $12 per month.

A comprehensive video and podcast editing tool, offering transcription, screen recording, clip creation, and AI voices in a single platform.

Its user-friendly interface, resembling a doc or a slide, ensures ease of use and straightforward navigation.
Cons:

Available only in the English language.

Not work on mobile devices.
Descript Pricing:
| Plan | Price |
| --- | --- |
| 1 hour video /month | Free |
| 10 hours/month | $12 |
| 30 hours/month | $24 |
Part 2: 3 Best Descript Alternatives Available
VoxBox is a software that offers an extensive selection of over 3,200 AI voices as well as 77 languages, which has further more types of voices and languages than Descript text to speech.
Moreover, iMyFone Voxbox can generate voices designed to sound natural and human-like with its powerful voice clone feature, and it also offers you features like audio editing, recording, speech to text and more, allowing people to use them for a variety of purposes such as speech synthesis, accessibility, content creation, audio books, and more.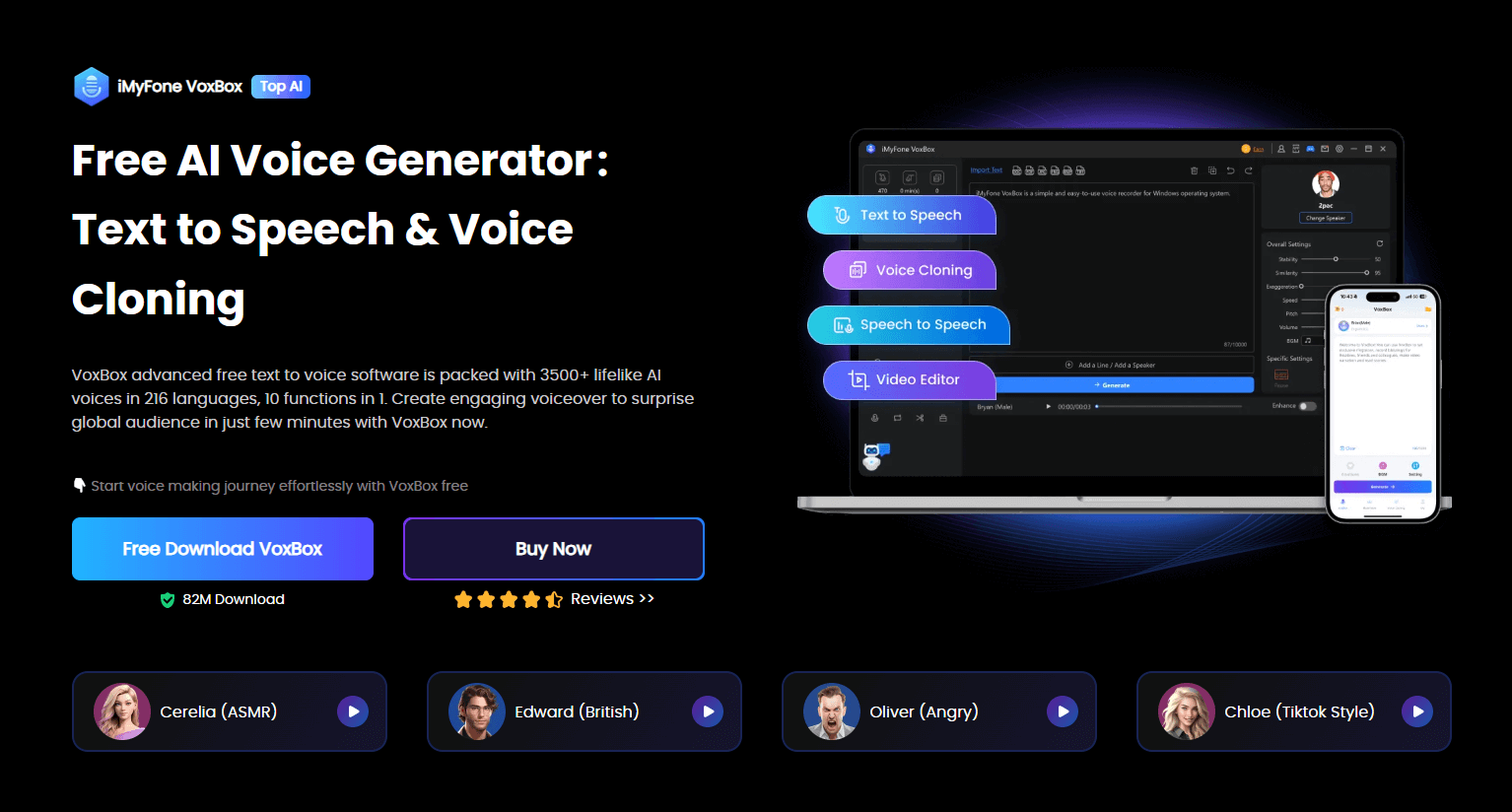 Free Get AI Voice for TTS
Step 1: Download & Installation
Step 2: Access the "Voice Cloning" feature & Upload the audio file of anyone to obtain his ultra-realistic AI voice.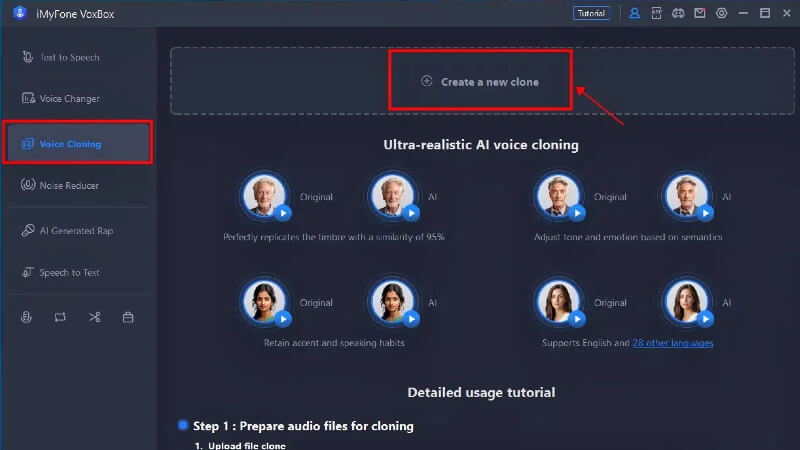 Step 3: If you don't have a designated voice you want to use, you can just choose ome from 3200+ voices it offers.
Step 4: After that, you can directly go to "Text to Speech" to make voiceovers.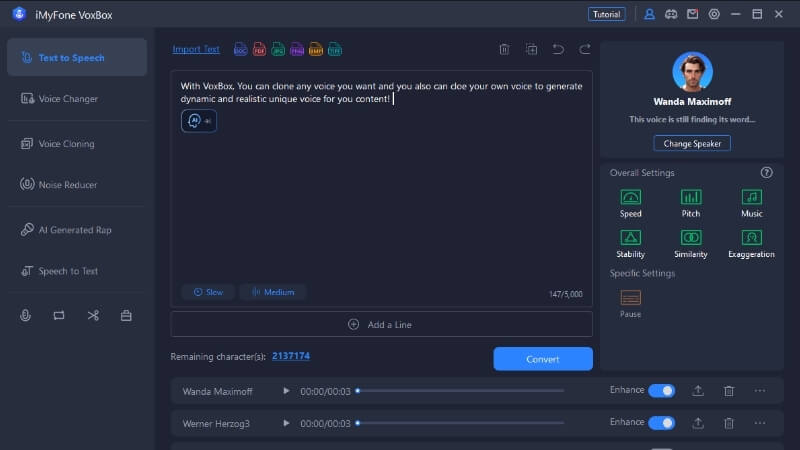 Features:
More than 3200 kinds of voices including cartoon characters, singers, presidents to make natural voiceovers .

Support to choose 46+ languages, such as Spanish, Indian, and so on.

Over 100 country accents like British, Russian accent are provided for your audio.

Multiple functions of Text-to-Speech, Speech-to-Text, Voice Record, Video Converter, Audio Edit.

You can pause, pitch emphasisc volume, adjust the speed during the editing proccess.

Output & input different formats like MP3, WAV, etc.

It's a private and secure software.
Pros:

Easy and reliable to use.

Very friendly to beginners.
Cons:

More premium features and voices need purchase.
VoxBox Pricing:
| Plan | Price |
| --- | --- |
| 1-month Plan | $14.95 |
| 1-year Plan | $44.95 |
| Lifetime Plan | $89.95 |
2) Acapela Group - Acapela Text to Speech
Acapela Group represents a collaborative effort among three prominent European companies specializing in vocal technologies. It is a merger of Babel Technologies (Belgium), Elan Speech (France), and Infovox (Sweden).
The company's core mission revolves around crafting individualized and distinctive experiences for each user. Their application is equipped with an extensive range of languages, voices, and comprehensive customization options.
This results in users enjoying a truly unique and unparalleled vocal experience. With a long-standing history in the industry, the team members boast decades of expertise in voice and audio file development.
Due to its innovative and exceptional approach, Acapela Group has become one of the most sought-after APIs for text-to-speech applications, boasting several noteworthy features.
Furthermore, the company is continuously expanding and advancing, and it undoubtedly promises numerous exciting projects in the future.

Features:
Text-to-Speech App: Acapela Group offers a versatile text-to-speech app that allows users to convert written text into spoken words.

Multilingual Support: The app supports multiple languages, including not only popular ones like English, Spanish, French, and German but also lesser-known languages like Greek, Turkish, Czech, and Portuguese.

Diverse AI Voices: The app provides an impressive range of AI voices with various accents, ages, and personalities, allowing users to choose the most suitable voice for their needs.

Cross-Platform Compatibility: Acapela Group's app is available for multiple platforms, including PC, iPhone, iPad (via the App Store), and likely many other devices, making it accessible to a broad user base.

"My Own Voice" Function: This feature enables users to create custom voices for the text-to-speech app, adding a personalized touch to the audio output.
Pros:

Extensive Language Support: Acapela Group's app goes beyond mainstream languages, accommodating users who require less common languages for text-to-speech conversion.

Versatile Voice Selection: The diverse collection of AI voices, accents, and ages caters to a wide range of preferences and needs, providing a more engaging and immersive experience for users.

Multi-Platform Availability: The app's compatibility with various devices ensures users can access the text-to-speech functionality conveniently, irrespective of their preferred device.

Personalized Voice Creation: The "my own voice" feature offers a unique and engaging experience by allowing users to create customized voices, adding a distinct touch to their audio content.
Cons:

Additional Voice Costs: Some voices may not be available for free, necessitating additional payments if users wish to access certain premium voices.

Limited Language Support for Custom Voices: The "my own voice" function may not support all languages, restricting the availability of personalized voices in some languages.
Acapela Pricing:
It starts from $12/month.
3) Murf.AI
Murf.AI is an innovative online tool that offers versatile features for script customization and transforming casual voice recordings into professional-grade AI voice-overs.
With its user-friendly interface, it allows users to effortlessly match their voice recordings with videos or presentations, and even edit voices using text input. This DIY platform caters to a wide range of use cases, including eLearning (Authoring, LMS, etc.), content creation for YouTubers and Podcasters, software and app demos, marketing and advertising projects, IVR phone systems, audiobooks, game development, product and explainer videos, and corporate learning materials.
Whether you need high-quality text-to-speech solutions or enhanced voice-over capabilities, Murf.ai has got you covered.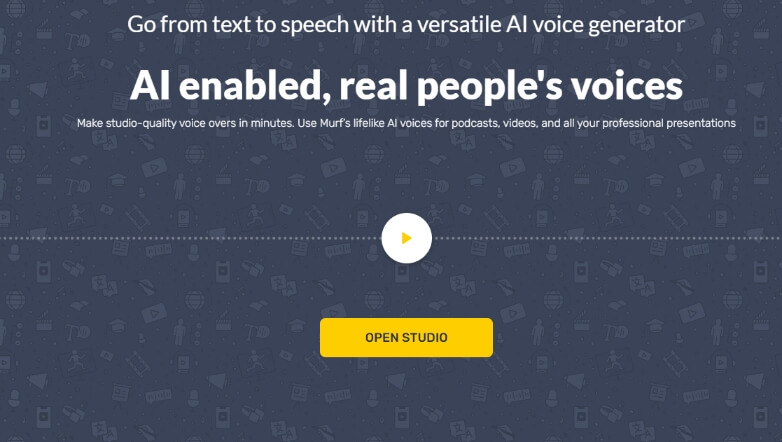 Features:
Script Customization: Murf.ai allows users to customize scripts for voice recordings, enabling personalized and tailored content for various applications.

AI Voice-over Generation: The platform can convert home-style voice recordings into studio-quality AI voice-overs, making it easy to add professional narration to videos, presentations, or any text-to-speech requirements.

Voice Timing Matching: Users can effortlessly synchronize their voice recordings with videos or presentations, ensuring a seamless and well-timed audiovisual experience.

Voice Editing Using Text: Murf.ai allows voice editing using text input, providing users with flexibility and control over the voice-over content.
Murf.AI Pricing:
| Plan | Price |
| --- | --- |
| Basic | $19 |
| Pro | $26 |
| Enterprise | $99 |
Part 3: FAQs about Descript Text to Speech and Descript Alternative
1. Is text to speech free in Descript?
Overdub is not entirely free. Descript offers a free trial of Overdub, which allows users to test out the AI voice capabilities for a limited duration. During the trial period, users can experiment with the feature and generate AI voices for their content. However, after the trial period ends, access to the full functionality of Overdub, including the ability to generate AI voices, is typically available as part of a paid subscription plan.
2. Is Descript Overdub free?
Not entirely free, since some of its features like voice cloning needs purchase.
3. What is the best Descript overdub alternative?
Voxbox is the best Descript overdub alternative, since it offers you a wide range of realistic AI-generated voices and premium features like audio editing, voice cloning, text to speech and speech to text.
4. Is Acapela box free?
Acapela-Box is a service utilizing Acapela's Text-to-Speech technology to convert your text into speech. You can freely listen to the generated speech without restrictions. To obtain the corresponding sound file, simply create a personal account and make a purchase.
5. How do you use Acapela TTS?
1. Access Acapela TTS: Visit the Acapela website or platform where the TTS service is available.
2. Select Language and Voice: Choose the desired language and voice from the available options.
3. Enter Text: Input the text you want to convert into speech. This can be done by typing directly into the provided text box or pasting text from another source.
4. Generate Speech: Click on the "Generate" or "Play" button to initiate the conversion process.
6. What is the alternative to Descript podcasts?
The best alternative to Descript podcasts are iMyFone Voxbox, with which you can transcribe speech into text, convert text to speech, do audio recording and editing, perfect for podcast, audio books, content creation and more.
Conclusion
The perks of text-to-speech technology are boundless, and the way this feature eases the multiple fields is literally appreciated.
Descript Overdub is the amazing text to speech voice generators that work great, but Voxbox, an emerging avant-garde tool, is overtaking it due to its user-friendly interface and practical features. So, if you want to benefit from the TTS or other features, download and install VoxBox now.