Featuring his husky voice, Bob Dylan has performed numerous world-famous songs. His remarkable musical talent and distinctive sound have earned him acclaim. If you aspire to have a voice as unique as Bob Dylan's, the Bob Dylan AI voice generator can assist you in achieving that goal. This tool enables you to utilize his voice for various purposes, including video dubbing, podcasts, and even AI covers. Let's explore further below!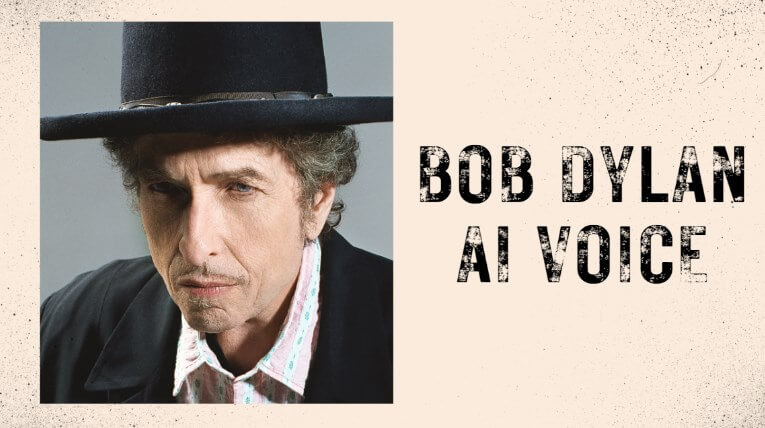 Part 1: Bob Dylan: The Voice of a Generation and Cultural Icon
Bob Dylan, born Robert Allen Zimmerman in Duluth, Minnesota, on May 24, 1941, is an American music legend whose impact on the world of music and culture is immeasurable. Rising to fame during the folk music revival of the early 1960s, Dylan quickly established himself as a poetic and socially conscious songwriter.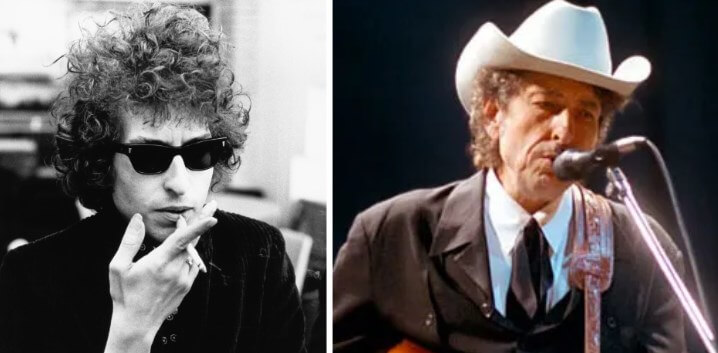 His songs, including "Blowin' in the Wind" and "The Times They Are a-Changin'," became anthems of the civil rights and anti-war movements. Dylan's ability to evolve and experiment with genres led to iconic albums like "Highway 61 Revisited" and "Blonde on Blonde," which influenced the course of rock music. In 2016, he was honored with the Nobel Prize in Literature for his contributions to the American song tradition.
Beyond music, Dylan is a visual artist, and his work continues to inspire artists across disciplines. With a never-ending touring career and a catalog of timeless songs, Bob Dylan remains an enduring and iconic figure in the world of music and art.
Part 2: What About Bob Dylan Voice Style?
Bob Dylan's voice is one of the most distinctive and iconic in the history of music. His voice style is often described as raspy, gravelly, and with a unique, nasal quality. It's a voice that immediately stands out and is instantly recognizable. While some may describe it as an acquired taste, it has been a key part of his appeal and charm as a musician and songwriter.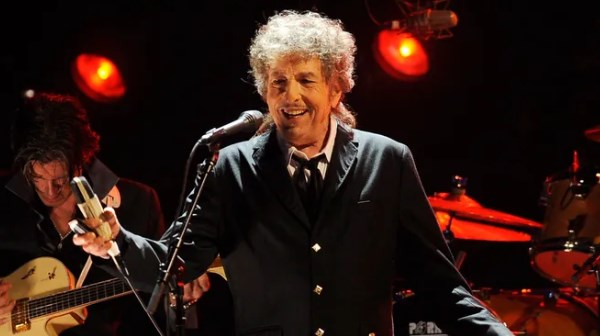 Dylan's voice has evolved over the years. In his early folk music days, his voice was clearer and more melodic, as heard in songs like "Blowin' in the Wind" and "The Times They Are a-Changin'." However, as he ventured into rock music and embraced electric instruments in the mid-1960s, his voice took on a rougher and more raw quality, which can be heard in songs like "Like a Rolling Stone" and "Highway 61 Revisited."
Part 3: How To Get Bob Dylan AI Voice With Text to Speech?
VoxBox is an excellent voice generator for creating a lifelike Bob Dylan AI voice. It offers a wide range of voice functions to cater to various needs, including text-to-speech, speech-to-text, sound cloning, audio editing, and more, making sound customization a breeze.
This remarkable software boasts a rich collection of voices from various prominent figures. Beyond renowned singers like Bob Dylan, you'll find voices of politicians, broadcasters, actors, YouTubers, and more. It's a treasure trove for those seeking their favorite idols' voices. If you can't locate a specific voice, VoxBox even allows you to utilize sound cloning to replicate the desired sound, providing exceptional convenience.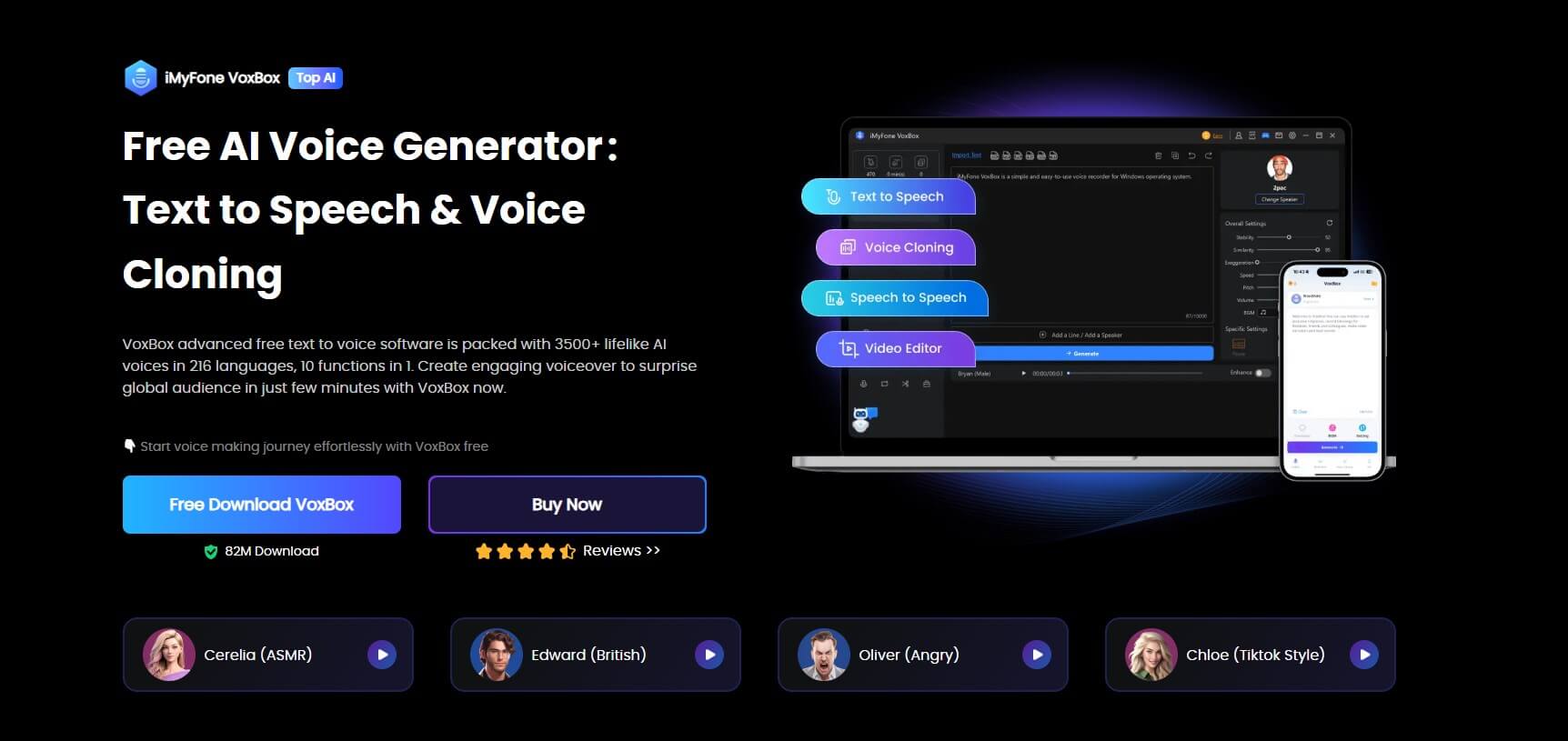 Steps To Make Bob Dylan AI Voice:
#Step 1: Begin by downloading and installing the VoxBox software.
#Step 2: Once installed, navigate to the "Text to Speech" section. Click on "Change Voice" and in the right pane, looking for "Bob Dylan" and use his voice.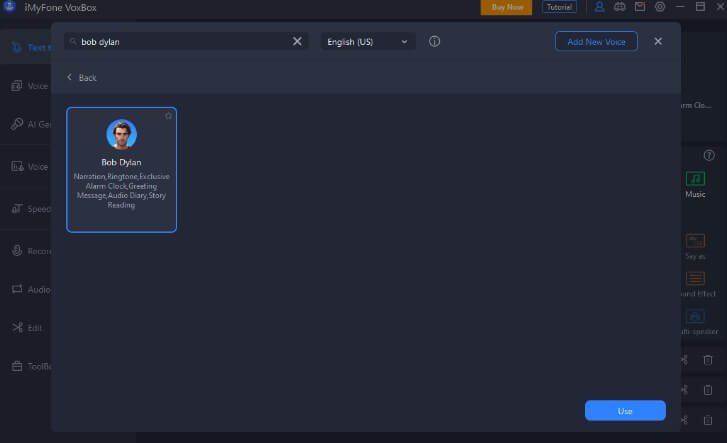 #Step 3: Enter your desired text, and click "Convert" to generate the dubbing. You can now save the output to your device.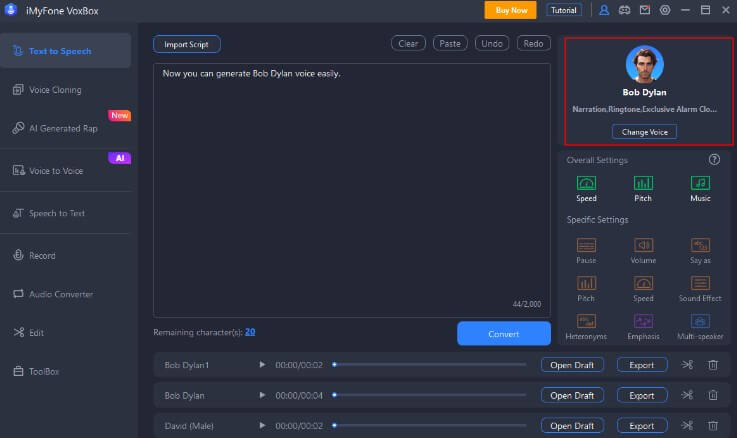 Free listen to Bob Dylan AI voice generated by VoxBox below.

Key Features:
Extremely extensive voice library encompassing diverse genres of singers.

Supports adding configured background music without any cost.

Empowers users to generate rap content effortlessly.

Facilitates singing text-to-speech capabilities.

3200+ voices and 77+ languages covered.

Multiple output options are available to suit your preferences.

Access to 2000 free characters streamlines efficient text-to-speech conversions.
Part 4: Make AI Songs with Bob Dylan Voice
MusicAI is a robust and all-encompassing music generator that grants you the ability to craft AI covers infused with the distinctive Bob Dylan-like sound you desire. In its beta version, MusicAI offers a multitude of music generation features, including music covers, composition, track separation, and more, providing you with a fresh perspective on music creation.
Furthermore, it excels in generating various music genres such as country, lofi, jazz, and other emotionally resonant styles, enabling you to immerse yourself in their enchanting melodies throughout the production journey.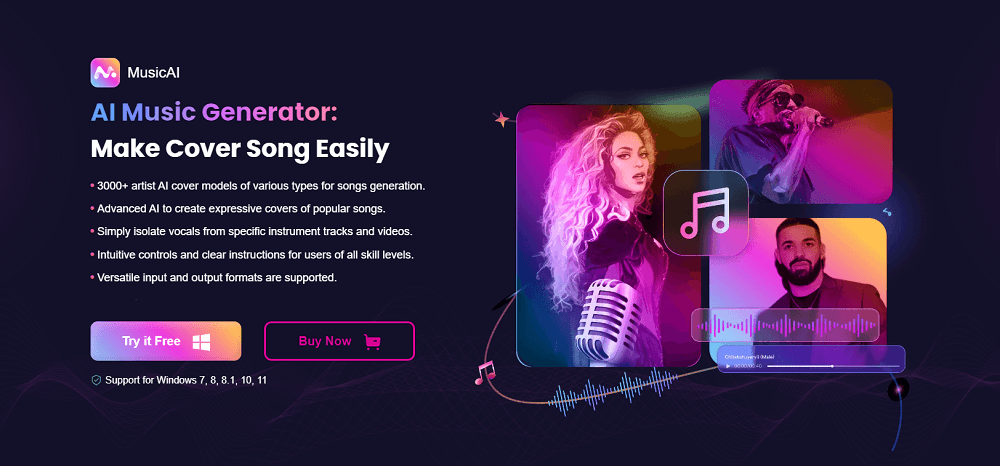 Key Features:
Expanding AI voices that includes virtual characters.

Free trial of each function and reasonable pricing plans.

All-in-one AI song tool.
Part 5: Hot FAQs about Bob Dylan AI Voice 2023
1. How can I create a Bob Dylan AI voice?
To create a Bob Dylan AI voice, you can use AI voice generation tools and software like VoxBox. These tools often provide a range of voice styles, including a Bob Dylan-like voice, that you can apply to your text or audio.
2. Is the Bob Dylan AI voice realistic?
While AI-generated voices have come a long way, the realism of the Bob Dylan AI voice can vary depending on the quality of the AI model and the software used. Some AI-generated voices can closely resemble Bob Dylan's voice, while others may have limitations.
3. Where can I find Bob Dylan voice generation tools?
You can find Bob Dylan AI voice generation tools and software online, often offered by AI voice generation companies. VoxBox is one such tool that provides a range of AI voices, including a Bob Dylan-like voice.
Conclusion
In conclusion, Bob Dylan's voice is a precious musical heritage to many people, with its unique appeal and expressiveness. By using VoxBox, users can easily generate AI sounds that resemble Bob Dylan's, offering more possibilities for music creation, film and television dubbing, or other creative projects. This powerful tool not only provides access to Bob Dylan's voice but also offers a wide range of other sounds to suit various needs.
So, whether you aspire to sound like Bob Dylan or wish to incorporate his distinctive voice into your own projects, VoxBox is an excellent choice. Why not give it a try and infuse your creations with the distinctive charm of Bob Dylan's voice?