Are you fascinated by the idea of utilizing AI voice technology to replicate the iconic tones of Jeffy from "SuperMarioLogan"? Look no further! In this article, we embark on an exhilarating journey into the world of Jeffy AI voice, cutting-edge Jeffy voice changer solutions, and the revolutionary Jeffy Soundboard.
Whether you're a die-hard fan of Jeffy's antics, a content creator seeking to add a touch of Jeffy's charm to your projects, or simply intrigued by the possibilities of voice technology, these innovative tools are poised to revolutionize your audio endeavors and captivate your audience in entirely new ways. Join us as we delve into the future of voice technology and its extraordinary potential to replicate the distinctive vocal allure of Jeffy.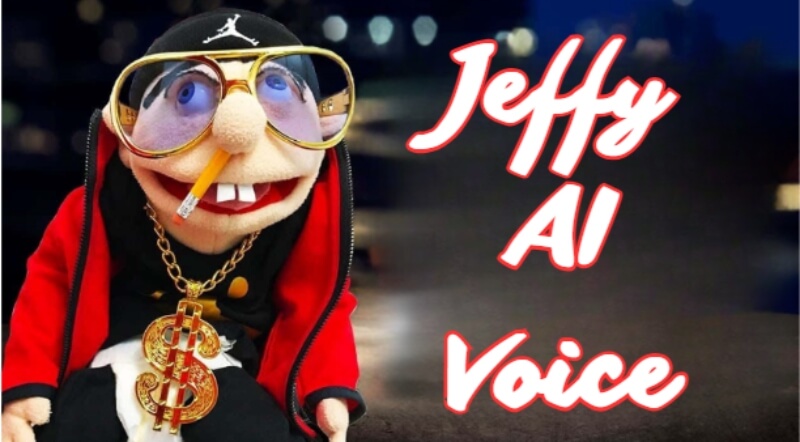 Part 1: Info about Jeffy
Jeffy, a beloved character from the "SuperMarioLogan" series, is known for his quirky and mischievous personality. He was originally introduced as the eldest child of Nancy and Jacques Pierre François, with a younger sister named Feebee. However, after a series of events, including Jacques faking his death and injuring Nancy, Jeffy becomes the adoptive son of Marvin and Rose.
Jeffy's daily activities involve causing trouble, annoying Marvin, hanging out with Junior and his friends, and displaying a strong aversion to school. He's notorious for making messes, throwing plates of green beans, and indulging in his favorite treat, chocolate cake. Jeffy's character adds a humorous and unpredictable element to the series, and his distinct voice has gained a substantial fan following.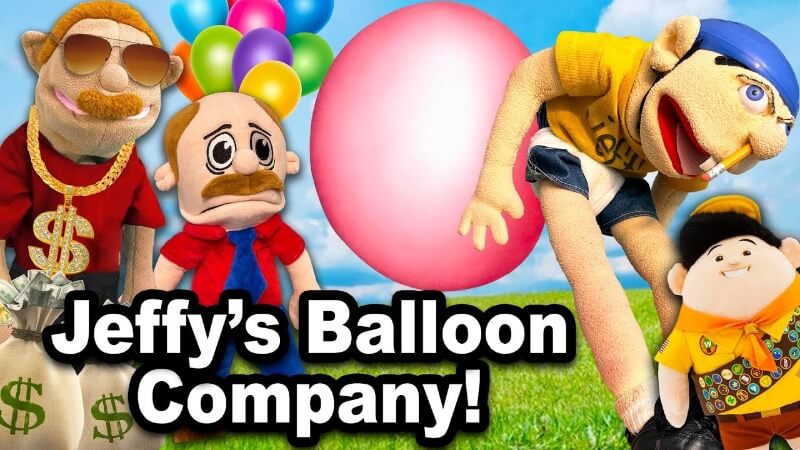 Part 2: How to Generate & Sound Like Jeffy AI Voice?
1) MagicMic Jeffy Voice Changer
MagicMic is a real-time AI voice changer, specifically tailored with the Jeffy AI voice. With over 250 AI voice filters, 600+ voice effects, and a vast library of 200 voice memes, it's the go-to tool for gamers and chat platform users. This cutting-edge technology allows you to seamlessly transform your voice in real-time, bringing the charismatic AI voice of Jeffy to your gaming and chat experiences. With an intuitive interface, MagicMic empowers you to craft unique voices effortlessly, adding a creative edge to your content and conversations.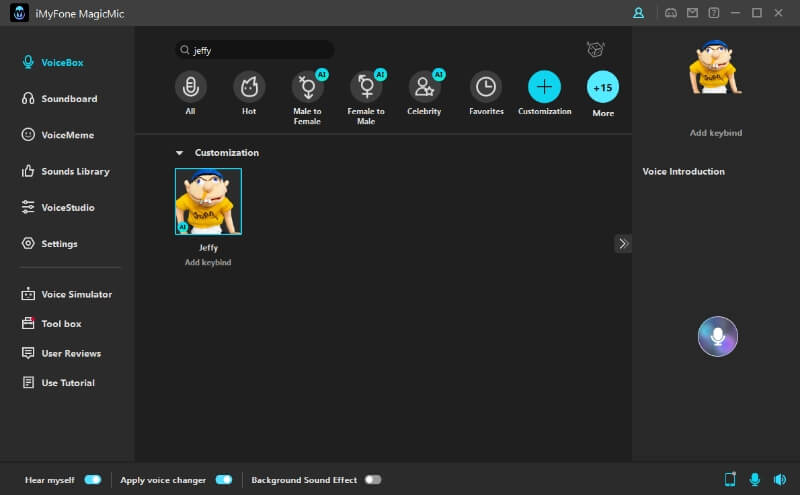 How to use voice changer to get Jeffy AI voice?
Step 1: Install and Set Up MagicMic
Get MagicMic software from the official site or download button. Select your microphone and headphone. Activate "Apply Voice Changer" and "Hear myself".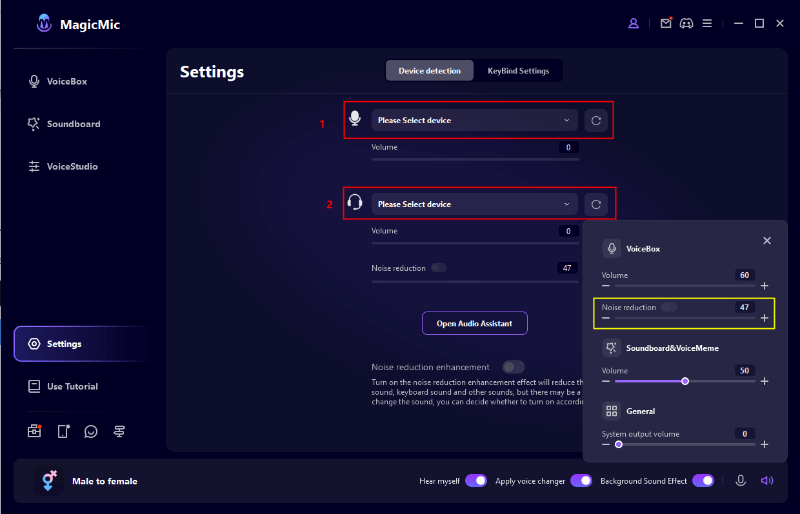 Step 2: Select MagicMic Virtual Audio
In your voice modification app, select "Microphone (Voice Changer Virtual Audio Device)" as input.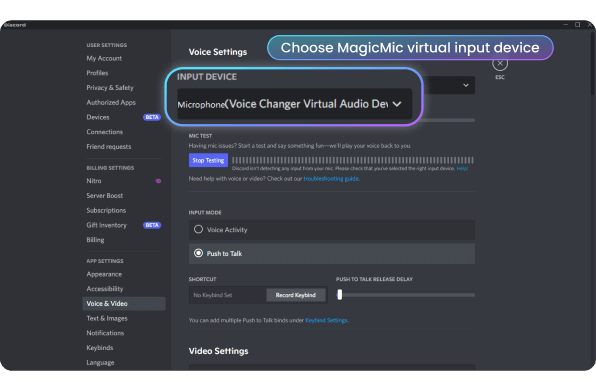 Step 3: Select from "VoiceBox" or Customize Jeffy AI Voice
Discover presets in "VoiceBox" and set keybinds. For custom voices, utilize "Customization" with Jeffy audio clips.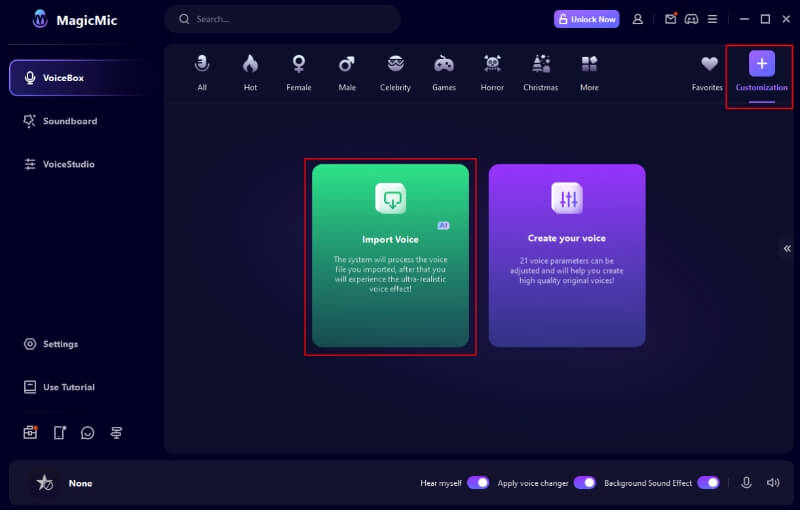 Key features of MagicMic Jeffy voice changer
Access over 250 voice filters, 600 soundboards, and 200 voice memes.

Easily customize in-game audio with keybinds.

Clear communication with effective noise reduction in noisy environments.

Compatibility on Windows, Mac, Android, and iOS.

Real-time, low-latency voice modification on platforms like Discord, Skype, Zoom, Twitch, Fortnite and Roblox.

Craft your AI Voice to replicate your favorite singer, anime or celebrity's voice effortlessly.
VoxBox is your gateway to a free AI voice generator and voice cloning experience like never before that provides AI Jeffy voice. With over 3200+ realistic text-to-speech voices spanning 46+ languages, VoxBox delivers instant 99% accurate real human voices through cutting-edge AI voice cloning technology. Tailor-made lifelike AI voices cater to content creators, while supporting a variety of studio-quality audio formats, including MP3 and WAV. VoxBox is affordable, user-friendly, lightning-fast, and offers top-notch security.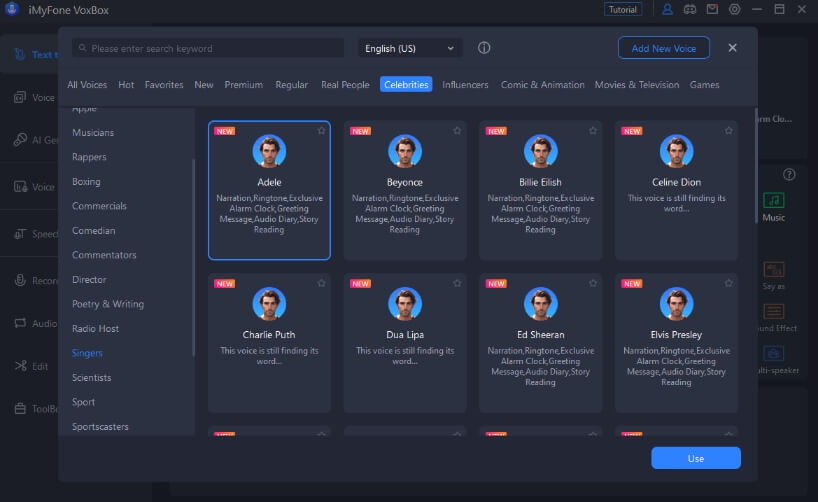 How to generate Jeffy AI voice:
Step 1: Begin by downloading and installing VoxBox.
Step 2: Open VoxBox and navigate to "Voice Cloning." Enter the cloning page and upload your audio file.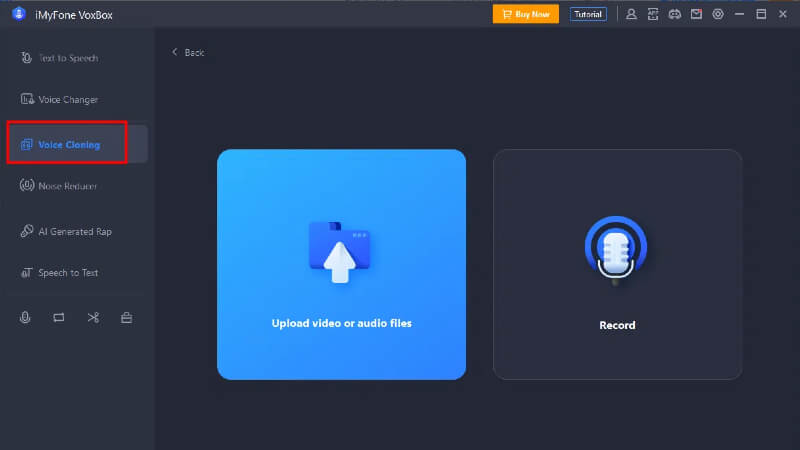 Step 3: After a short wait, locate your cloned voice under "My cloned voice" and select "Use." This will take you to the "Text to Speech" section.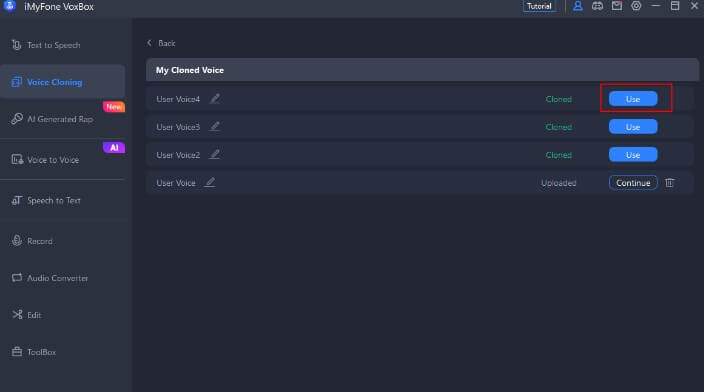 Step 4: Enter or import your text and convert it to speech. For improved audio clarity, consider using the "Enhance" option.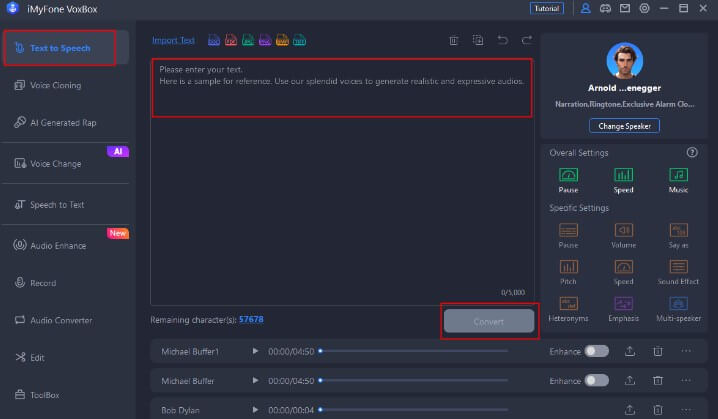 Key features of VoxBox
VoxBox boasts a vast array of over 3200 natural-sounding text-to-speech voices across 46+ languages.

Benefit from VoxBox's cost-effective, user-friendly, lightning-fast, and highly secure features.

Harness advanced AI voice cloning for instant access to remarkably precise and lifelike voices.

VoxBox supports top-notch audio formats like MP3 and WAV.

Content creators can infuse their projects with personalized AI voices for a unique touch.
Part 3: Have Fun with the Real-time Jeffy Soundboard!
Are you eager to spice up your voice chats, gaming sessions, or live broadcasts with the lively Jeffy Soundboard? It's easier than you think! Just follow these simple steps:
Step 1: As a first move, download and set up MagicMic using the instructions provided earlier.
Step 2: Now, go to 'Soundboard' in the left sidebar. Choose your favorite sound effects or, for a personal touch, click on 'Import' at the top to upload your very own Jeffy sound effects.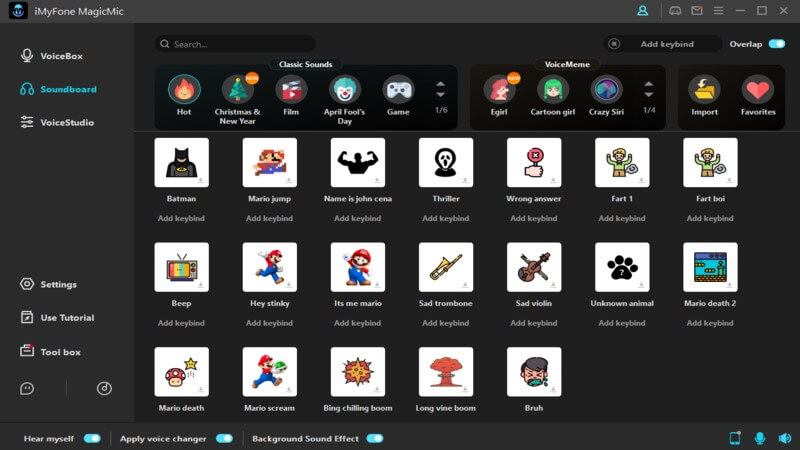 Part 4: FAQs about Jeffy AI Voice
1. What is Jeffy AI Voice?
Jeffy AI Voice is an advanced artificial intelligence technology that can replicate the unique voice of Jeffy, a popular character from the "SuperMarioLogan" series. It allows users to generate speech in Jeffy's distinctive style.
2. How can I use Jeffy AI Voice for my projects?
You can use Jeffy AI Voice by accessing compatible voice generation software or platforms that offer this specific voice as an option. You may need to follow certain steps or integrate it into your audio or video editing software.
3. Is Jeffy AI Voice suitable for professional audio projects?
Jeffy AI Voice can be used for a wide range of audio projects, including entertainment, content creation, and more. However, its suitability for professional projects may depend on the quality and customization options offered by the specific AI voice generation tool.
Final words
In conclusion, Jeffy AI voice technology has opened up exciting possibilities for content creators and enthusiasts alike. With tools like MagicMic, replicating the iconic Jeffy voice has never been easier. Whether you're looking to add humor to your projects or enhance your real-time interactions, Jeffy AI Voice is the key. Don't miss out on the fun; download MagicMic today and embark on a journey to infuse your content with the charismatic charm of Jeffy!