When playing an online game, you'd have considered using a sound effect that can trap your competitors in the game. Similarly, you can also think of making more fun in the live call by using different sound effects in real-time.
Luckily, you can now find many sound effects used in real-time on different gaming and chatting platforms. Dun Dun Dun sound effect is surely one of those sound effects that are available for you. It is indeed a splendid sound effect you should explore.
This guide will tell you where to find prolific "dun dun dun sound effects".
Part 1: What Does Dun Dun Dun Sound Actually Mean?
Dun Dun sound effect is a pretty famous sound effect that has been played in many movies to accent hilarious moments.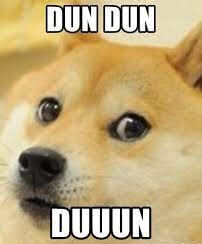 Although this sound was supposed to be used in movies' intense and serious moments, now you'll see people using this sound in only funny moments. Moreover, many people use the dun dun dun sound effect in real-time while playing a game or chatting with a friend.
Part 2: Best 6 Websites to Get Dun Dun Dun Sound Effect
Mobcup is a spectacular website with various sound categories to make your experience perfect and mesmerizing.Importantly, Mobcup doesn't charge any subscription fee for allowing you to play and download thousands of sounds.After downloading the sound effects, you can play the sound effects during online games and chats conversations.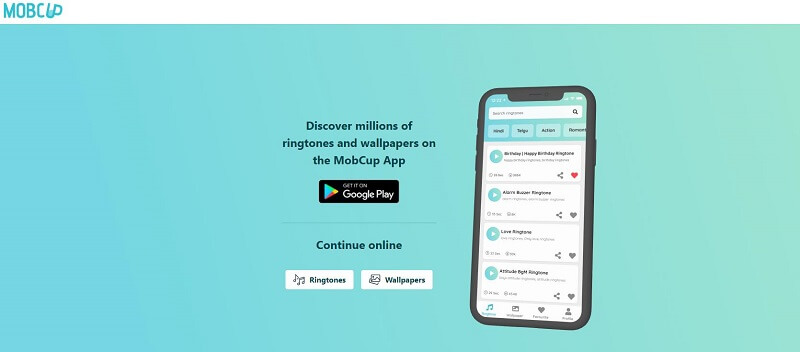 Features:
Mobcup comes with a pretty intuitive user interface, meaning you'll only need to visit the website, sign up with your account and then explore all the sound effects there.

It allows you to play dun sound effect piano in your pre-recorded video or real-time.

The sound effects you'll download from there come in WAV and MP3 audio output format.

The microphone that has been used to create Mobcup sound effects is unbelievable.
If you're looking for a tool that provides you with soothing "dun dun dun sound effect," don't look beyond Orangefreesounds.It is a freestyle website that offers sounds in various terrific categories, meaning playing the extraordinary sounds won't be difficult by visiting this website.Apart from offering splendid sound effects, Orangefreesounds bless you with a mind-blowing user interface.

Features:
It allows you to download the sound of the complete music track.

After creating the account in Orangefreesounds, you can see the sound effects uploaded by other people.

It allows you to explore the sounds directly on multiple social media platforms.

Orangefreesounds enables you to upload your sound effects after recording them.
Not many soundboard websites have succeeded in gaining as much popularity as Voicy managed to get.Apart from offering you excellent sound effect options, Voicy is pretty good at allowing you to upload to your soundboard.For this, you'll only need to tap ''Upload'' and you can any recorded sound there. Moreover, you can also explore fascinating sound GIFs with huge quality.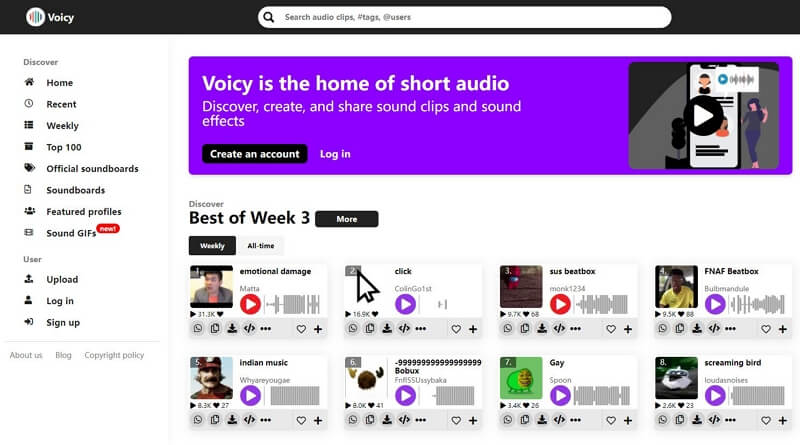 Features:
Voicy allows you to download and upload sound effects in MP3 and WAV format.

You can play Voicy sound effects in real-time while playing games.

Voicy allows you to play and download dun sound effects with minimal effort.
Fesliyanstudios is another unique soundboard website that has been doing wonders for people looking to download sound effects. Luckily, Fesliyanstudios provides you with the sound effect options you must have been searching for.It comes with a pretty easy user interface that makes your job a lot easier than you'd have anticipated.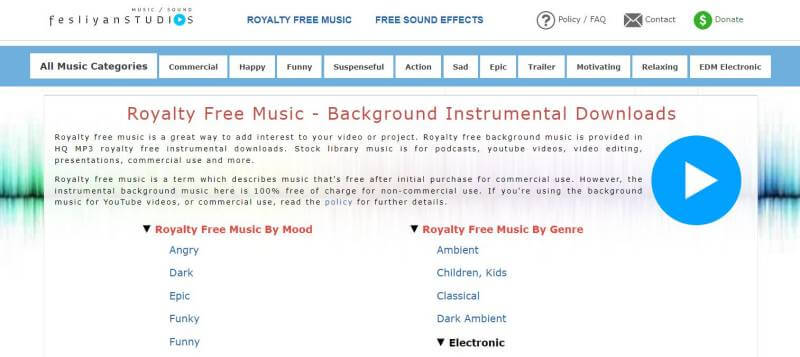 Features:
Fesliyanstudios offers you hundreds of sensational sounds, including dun dun dun sound effects.

It comes with various soundboard categories, including Motivating, Trailer, Action, Sad, Funny, Happy, Commercial, and Motivating.

Fesliyanstudios provides you with a splendid variety of sound effects, meaning you can explore funny and sad sound effects.
5. 101 Soundboard
101 Soundboard allows you to play splendid sound effects in real-time. It is a pretty dynamic website that doesn't work in a hectic manner.Instead, you can play all the sounds of this website without logging in with your account. 101 Soundboard provides you with the "Funny and Popular" sound categories that will help you know about the trendy sounds at present. 101Soundboard offers you over 1 Million sound effects with prolific sound quality.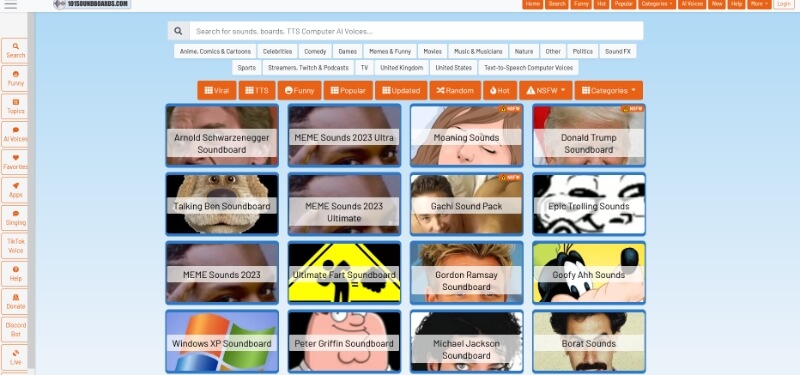 Features:
Apart from offering the da dun sound effect category, 101 Soundboard offers you many more outrageous sound categories.

It supports the audio output formats, including MP3 and WAV.

101Soundboard enables you to play its sounds on various streaming and gaming platforms.
SoundBible is a pretty simple website that doesn't offer any hectic procedure to access the sound effects. Instead, you can play and download all the sounds without creating an account there.However, filtering the sound effects isn't practical with this website. Importantly, this website also tells you about the licensing agreement of every sound, meaning you can find the sound effects available for personal use and commercial.

Features:
Using the SoundBible website, you can download sound effects in MP3 or WAV format.

It allows you to check for the license of a particular sound effect.

SoundBible provides you with an opportunity to find your favorite sound effects in different tabs to avoid any confusion.
Part 3: Top 1 Voice Software with Huge Sound Effects
You can't find any better voice changer than iMyFone MagicMic. Moreover, the ability to play sound effecs in real-time makes MagicMic top-notch.Importantly, MagicMic updates every week to make the user's absolute exemplary. This tool is making progress; it will soon overtake the most powerful voice changers.After your free version finishes, you can then apply for its subscription, which is quite affordable, and you'd not feel any hesitation going for it.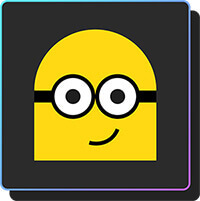 Features:
MagicMic allows you to play over 300+ sound effects on any chatting and gaming platforms you want.

MagicMic supports both Mac and Windows operating systems.

It offers you Voice Studio, and Voice Meme features to make your experience splendid.

MagicMic covers only 3 MBs space from your storage, and you can install it within one second and use it without any lag.
Unique Functions:
MagicMic has introduced the Voice Studio feature recently that has made everyone crazy. The feature allows you to customize your sound and save it to the MagicMic's sound effects library.Whenever you speak in the microphone after selecting a sound effect, you'll hear the voice of that sound effect.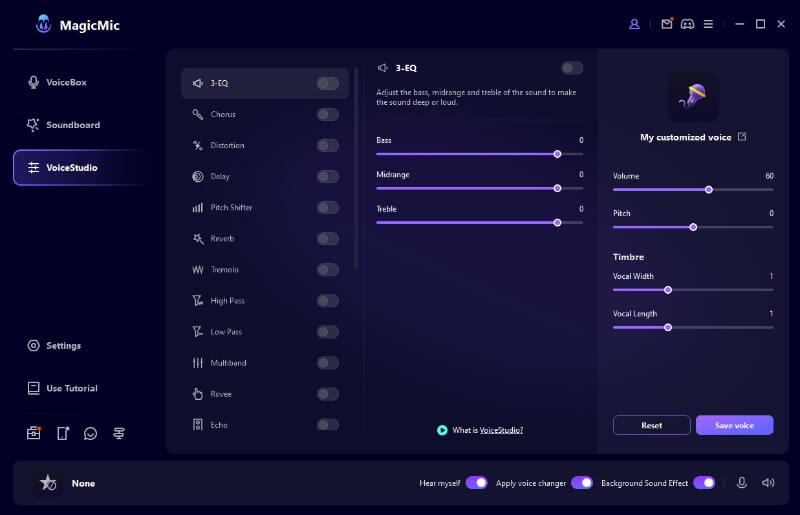 If you're not happy with MagicMic's sound effect collection, you can import a new sound effect by using the '' Voice Meme'' feature of MagicMic. All you need to do is hit the Voice Meme and upload any sound effects from your computer gallery.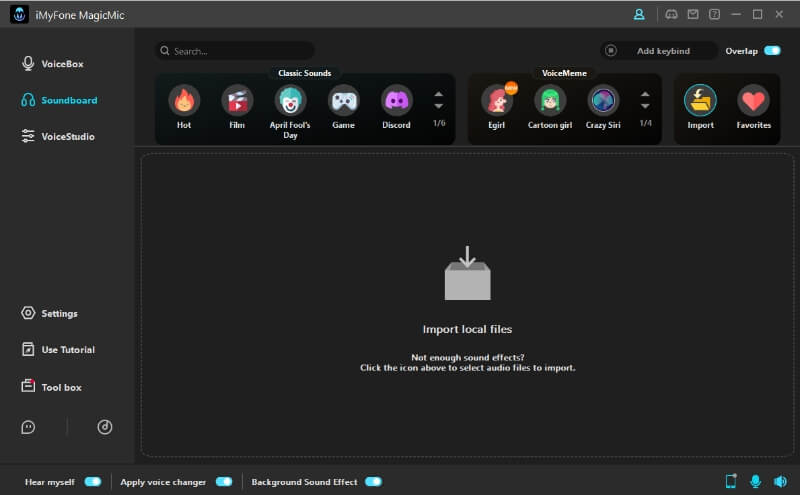 Conclusion
If you're to play da da dun sound effect in real-time on different platforms, you can download the sound from the websites discussed above. Whether it is Mobcup, Voicy, Orangefreesounds, Fesliyanstudios, SoundBible, or 101 Soundboard, you'll get to download various quality sound effects by using these websites.
Of all the tools you'll get to read in this guide, iMyFone MagicMic is highly recommended. It comes with various splendid and trendy sound effects to help you get what you've been looking for.