Video is a significant medium which clarifies things and engages its audience. It carries sentiments and draws the audience closer to the composer. Video is an efficacious way of communication as it is the mirror image of our lives. Priorly, video was considered only the medium for entertainment but now with advancement in technology and science, it is being used for different purposes. It provides us with a guide, sometimes it has a tutorial of something and sometimes it is knowledgeable and helps the audience to be well- informed.
Many people were of the view that it is impossible to make a good worthy video on their own but now clipchamp has solved their problem. In this article, we will have a detailed overview of clipchamp review and will find out whether it is vulnerable or safe.
Part 1. Clipchamp Review and Is Clipchamp Safe?
Clipchamp is an excellent online video editor, online video editor dont have powerful features than desktop software, but i would recommend iMyFone Filme, Filme is more cheaper than Clipchamp. Filme is a much more comprehensive video editing tool. you can upload edited video to facebook,vimeo,youtube with single click. Filme has the best 4k HD support. Download iMyFone Filme below.
Clipchamp is an online video-editor which certifies its users to create prepossessing videos on their own without having any degree or prior knowledge of it. Clipchamp gives its user access to essential video editing features such as drag and drop, trimming, cutting, speed control, filters, overlays, transitions, Zoom meeting editing, picture-in-picture, green screen, custom branding, color, captions, and more.
About 95% of people watch videos to get their business done and those videos are professionally created and edited which attracts the viewers towards themselves. Clipchamp is one of the highly used video-editors which is used by more than 17 million people for creating and editing video. It allows its users to amalgamate videos, images, audio notes, text and effects and secure the video to your device.
1. Clipchamp

Reviews

Clipchamp is used by millions of people and they express their views about the software in the review box. Review means to express your views and tell about your experience of using anything. It benefits others to check reviews of a certain thing first and then if they find it good they will use it and if not they do not find the good reviews they will prevent using that thing. Clipchamp has almost 96% 5 stars reviews which make it ranks higher in the list of other editors. If you want to review the software you need to follow the steps to do that:

Step 1: First you need to open the website of clipchamp.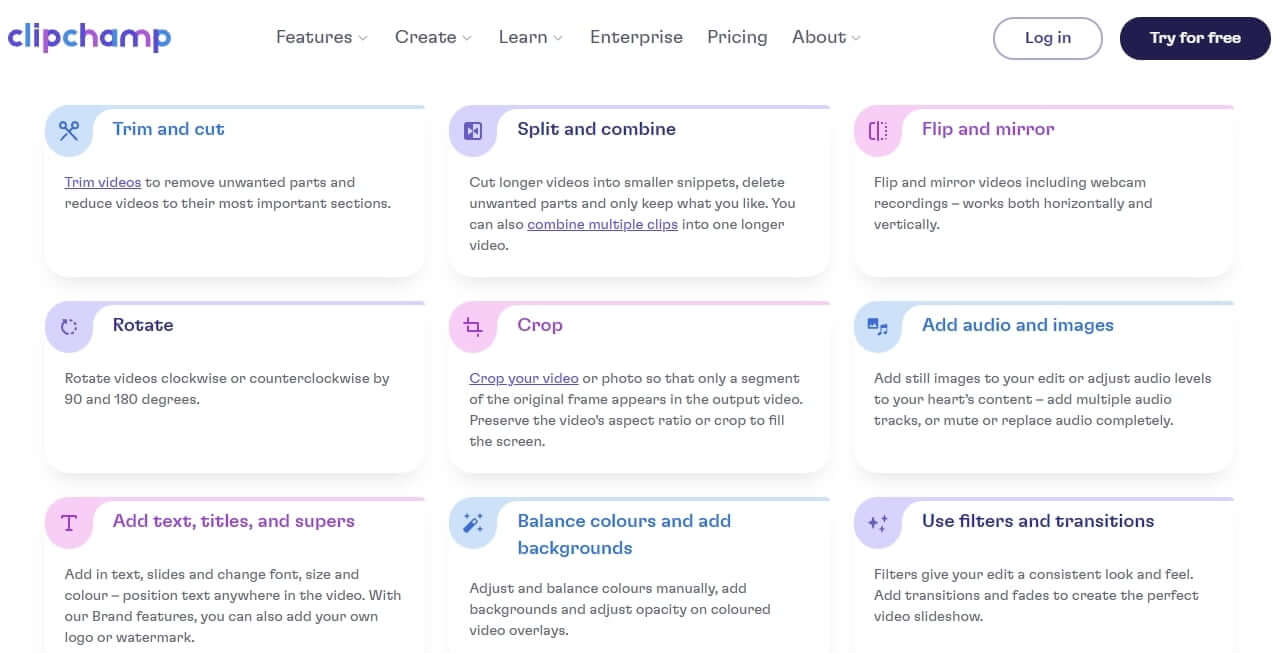 Step 2: Go on top of the right corner of the page and click the review button.

Step 3: When the new web page opens up you can see the people's reviews over there. You can read those review if you want to use clipchamp.
If you want to post your review on the page you just need to scroll down the page and find out tell us what you think box and there you can post your review about the software after entering your name and email address.
And after writing your review you need to enter a given code and press the submit button and then there you go. Your review is publicly published and available for everyone to see.
2. Is Clipchamp Safe?
We often hear people worrying about using a new technology that either it is safe or not. No doubt that with increased enhancement in technology a large number of scams and malwares and viruses also came into being which are introduced to one's device through new websites and softwares and it ends up with leaking of your data and personal information which may often result in blackmailing. To avoid these scams people get conscious about using novel things and do more precautionary measures for those softwares about which they have no prior knowledge. Same is the case with clipchamp, people often ask for is clipchamp safe? Is clipchamp good? To answer these questions let's have a deep look at clipchamp's privacy policy. Clipchamp allows you to modify, improve, edit and compress your videos online without requiring installing any extensions or softwares. Clipchamp processes all videos online in the browser and never leaves your computer. That's how it makes your files and data safe. Clipchamp also introduced its privacy policy to ensure the safety of their users' data and personal information. Their privacy policy sets out how they handle,secure,store and share your data. You can go through the privacy policy yourself by following the steps:
Step 1: First you need to open the website.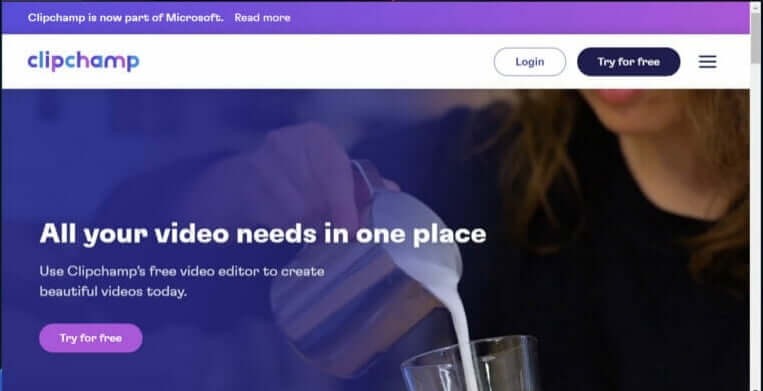 Step 2: When the website opens up, scroll down the screen to the bottom of the page.
There in the first column and in the last row you can find the word privacy policy.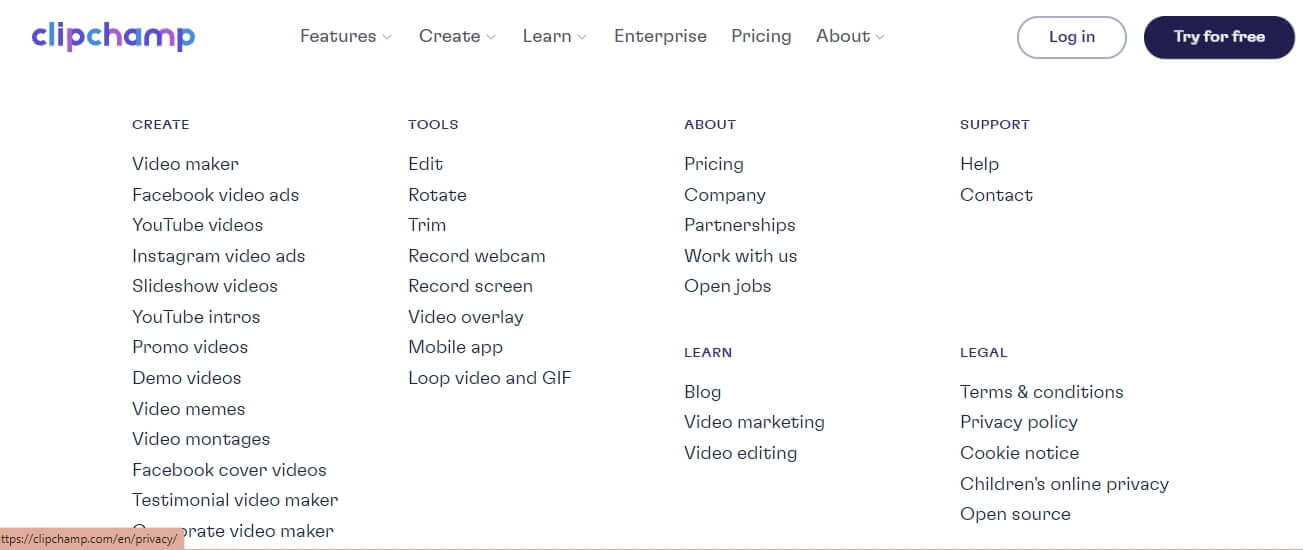 Step 3: Click on that and you are ready to read the privacy policy of clipchamp to ensure your safety and security.
Part 2. Clipchamp Promo Code or Coupon Code
Promo code or coupon code is a mixture of numeric and alphabetic characters which makes a particular code. These types of codes are offered by ecommerce websites to give discounts on certain products. Clipchamp also offers these types of promo and coupon codes to its customers to enhance its usage and increase the number of its customers. From time to time, clipchamp sends promotional messages and emails of discounts and sales to its users. If you want a have a promo code on clipchamp follow the following steps given below:
Step 1: First you need to create a clipchamp account.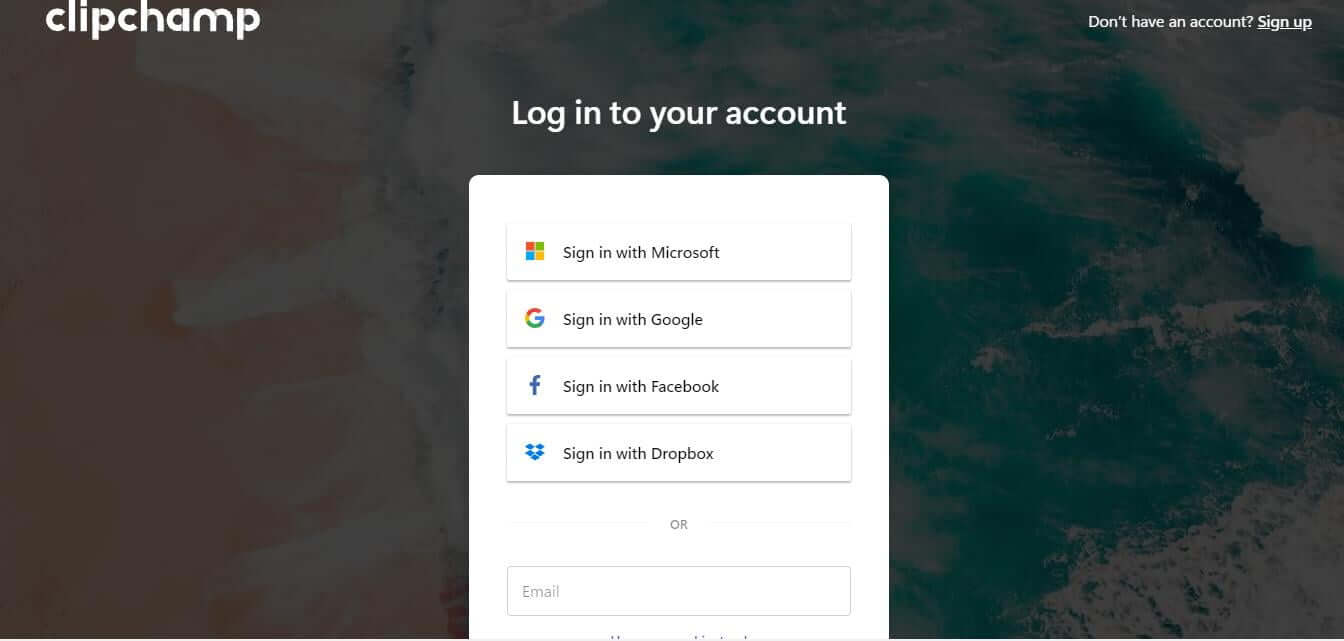 Step 2: After logging in to the website, click on the upgrade button.
Select your plan of action you want to try for free.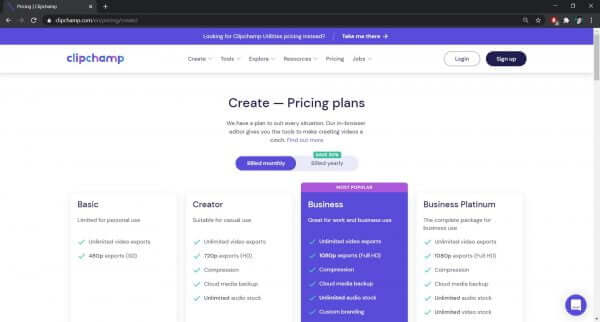 Step 3: In the end you need to apply the promotion code TRIAL14 in the given box.
After entering the code it will reduce the costs to 0$ and select a legitimate payment method which is easily accessible for you.
Part 3. Better Clipchamp Alternative - iMyFone Filme
Clipchamp is one of the most used video editor softwares and it allows its users to perform a number of tasks. It includes video editing, zoom meeting editing, picture-in-picture, green screen, custom branding, colours, captions, overlays, transitions, motion titles, filters, drag and drop, trimming, cutting and more. With all these services clipchamp also introduces a new feature for its users which is a text-to-speech converter. But if any person doesn't want to do work on clipchamp due to certain reasons then he/she can switch to iMyFone Filme. iMyFone Filme is also a video-editing software which offers all types of services which clipchamp offers. iMyFone Filme is a professionally tested software free from all kinds of trojans, malwares, viruses and adwares and this will make it rank higher than clipchamp or any other video-editing softwares. Both clipchamp and iMyFone Filme provide the same services but iMyFone Filme is safer than the clipchamp and it could prove to be a better alternative to clipchamp.
iMyFone, Filme, is a new video-editing software. It offers a variety of services from basic to high level. Filme allows people to create and edit videos for all purposes like for entertainment, teaching and learning, or for guiding someone. I introduced filme in my article because of several reasons which makes it the latest and up-to-date video-editing software.
It will help in editing videos to a proficient level without having any basic knowledge. It provides a variety of fonts and colors. In filme we can change and adjust the speed of video at our desire and need.
Here are some tips one needs to follow while using video-editing software.
Have a fast computer.

Follow the 321 rule which states that to make 3 copies of your video which you are going to edit.

Use keyboard shortcuts because it will help you get your work done really fast.
Tips for Using iMyFone Filme
People often ask for the things they don't know or understand. On the website of iMyFone Filme there is a FAQ section given from where you can search for your desired questions. Let's have a look on some basic questions which people often asks about:
1. What is iMyFone Filme?
iMyFone Filme is standard video-editing software to enhance the quality of your videos and edit it according to the user's need.
2. Is the iMyFone Filme Free?
Answer to this question is NO. iMyFone Filme is not completely free, you need to pay to unlock some of its high quality services.
3. Is the iMyFone Filme Safe?
It is a frequently asked question and the answer to this question is yes. Yes, it is safe and it is professionally tested software free from all kinds of viruses.
Part 4. FAQ about
Clipchamp
Q.
Do You Have to Pay for Clipchamp?
Clipchamp video editor (app.clipchamp.com) is free to use with your own media files and when you export finished videos at 480p or higher resolution exports, branding and collaboration options, you need pay the membership.
Q.
Does Clipchamp Have a Watermark?
If you've added premium stock music or audio to your Create project from our stock library, there will be a watermark when you export video.
Conclusion:
Filme of iMyFone is up-to-date video editing software that helps to edit and create videos. It possesses some main features which make it rank higher than the clipchamp. Clip champ and Filme are used for the same purpose but Filme ensures the security and safety of its users from all types of viruses. People look for software that doesn't hurt their personal computers and information and Filme is the only video-editing software that transparently protects its user data so Filme is the only legitimate software. You need to prefer Filme or iMyFone to create and edit videos with complete protection of your data. Filme software is free to download and install and takes very little space on your device. Go check Filme software, download it and enjoy creating worthy videos.