Screen recording is an important function that allows us to explore a whole new dimension of video making. Screen recording is mostly used by gamers to record their gameplay and then upload it to YouTube for others to watch and enjoy. It can also be used for various tutorials related to PCs.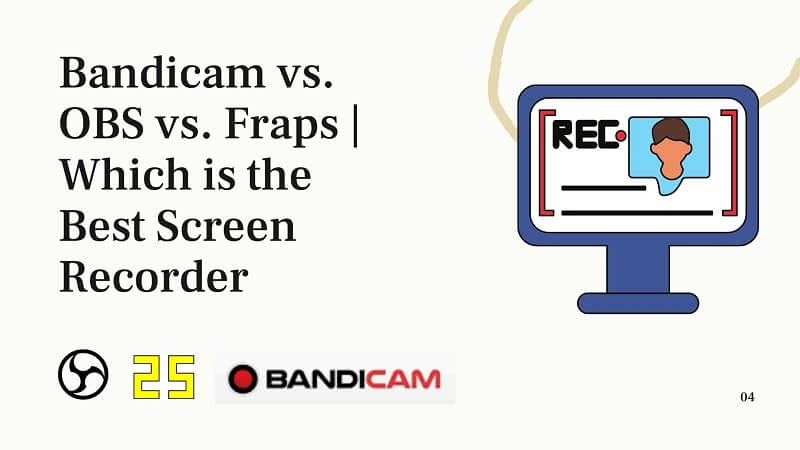 Here we will discuss Bandicam vs. OBS vs. Fraps, which is the best screen recorders with head-to-head comparison in terms of price, features, performance and using methods. And we also recommend a better alternative to Bandicam, which is called iMyFone Filme. It can record your screen and videos and then you can easily edit them to make it more interesting. Just download it for free below and try it out first.
Bandicam
Bandicam is one of the best, if not the best, applications that you can use to record your screen. The basic thing that matters the most in recording the screen is the video quality. Bandicam helps you in recording top-quality screen videos without any glitching and compromise on quality. Similar to the video quality, the audio recorded by Bandicam is also crystal clear. These features have made Bandicam a very popular application for home as well as office use. While choosing a screen recorder, Bandicam must be one of the top options in your mind.
Price:
There are a number of packages that you can avail yourself of to buy Bandicam and enjoy its subscription. There are two PC licenses with the price tag of $39.95 and $59.96, respectively. The second package is designed especially for usage of Bandicam on PC, Desktop and Laptops, etc. If you buy Bandicam and Bandicut together, then you can get discount rates of only $60.95. In case you need to upgrade your license, it will cost you only $27.79.
Features:
High-Quality Videos

Bandicam saves the videos in their actual quality, so you don't have to worry about receiving a lower quality video than you originally recorded.

User-Friendly Interface

The interface of Bandicam is quite easy to use, and most users can figure their way around it in no time. If you have any difficulty, tutorials for its use are available for free!
Performance
In terms of Frames per Second (FPS), there is no rival of Bandicam. It provides you the best performance and excellent FPS unparalleled by any other application.
Pros:

It is very simple and easy to use.

You only have to purchase Bandicam once for your entire life to enjoy its features.

It does not compromise on quality, whether audio or video.

It provides the latest functions and features currently available.
Cons:

It cannot be used on slow computers. While handling large files, the computer might become laggy.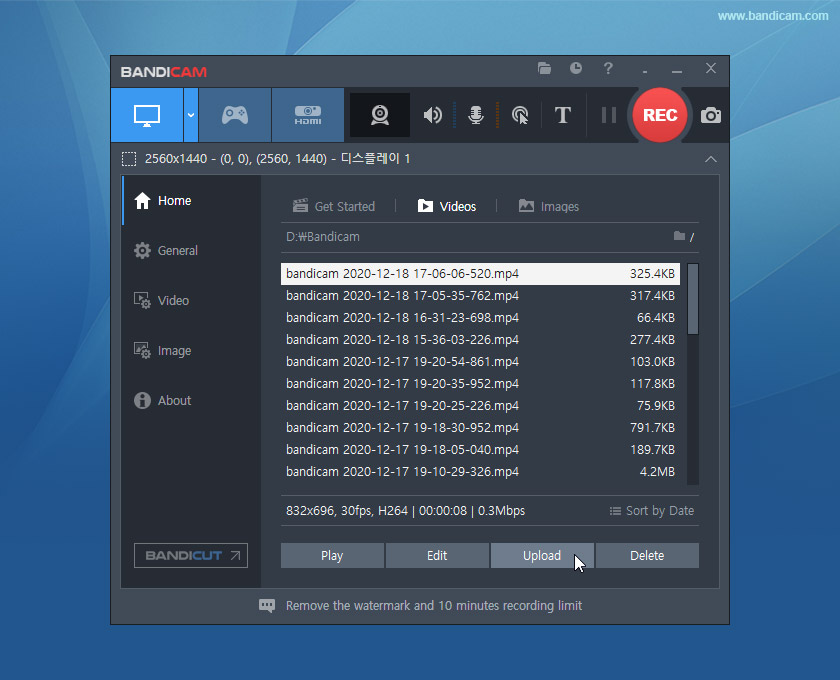 How to Use it
Step 1 – Using Bandicam is relatively easy as compared to other software, thanks to its user-friendly interface and easy-to-understand functions. The first step is to install Bandicam on your device after purchasing Bandicam and then starting the application.
Step 2 – After opening the application, you will need to locate the start recording icon and press it to start making the video. You can select to record the entire screen or a specific tab on your screen. Bandicam also allows you to record your webcam along with your screen.
Step 3 – After making the video of your gameplay or any reaction video, you can stop the recording from the same icon, and the video will be saved on your device, ready to be edited and uploaded.
OBS
OBS is a fun alternative to Bandicam that is available in the market. OBS is free software that is very popular thanks to its easy-to-use interface and fun functionality. This software is designed to put a minimum load on the device and give the best performance possible. You can stream, record, and enjoy all kinds of different functions using this software.
Price
OBS is a free-source application meaning that you can download it from anywhere on the internet free of cost and enjoy it on as many devices as you like. Other versions of OBS like the OBS studio can, however, cost you some money.
Performance
In comparison with other free source applications available on the internet, OBS is way ahead in its game. You can expect top-quality videos with excellent audio once you start recording. FPS as high as 480 are offered on OBS, but you will need to reduce the screen resolution to increase the FPS recording for this software.
Features
Flexible Editing Options

OBS provides a number of options for its users, such as trimming, cropping, etc., after the video has been recorded.

User-Friendly Interface

This software offers a user-friendly and easy-to-understand interface; however, the user rating for the Bandicam interface is a bit higher in this regard.

Quick recording

This software is designed for quick and efficient work, whether it be the recording or editing of the videos. It will just take a few minutes.

2D & 3D Videos

With OBS, you can also record 3D and 2D videos and games in HD quality.
Pros and Cons
OBS offers the following pros and cons to its users.
Pros:

It is very easy and fast to use.

It saves a lot of time and can be used on lighter PCs and laptops.

It offers a ton of options for video editing.

In comparison with Bandicam, OBS is a bit more flexible.
Cons:

Many functions such as direct sharing to YouTube that are available in Bandicam are not yet present in OBS.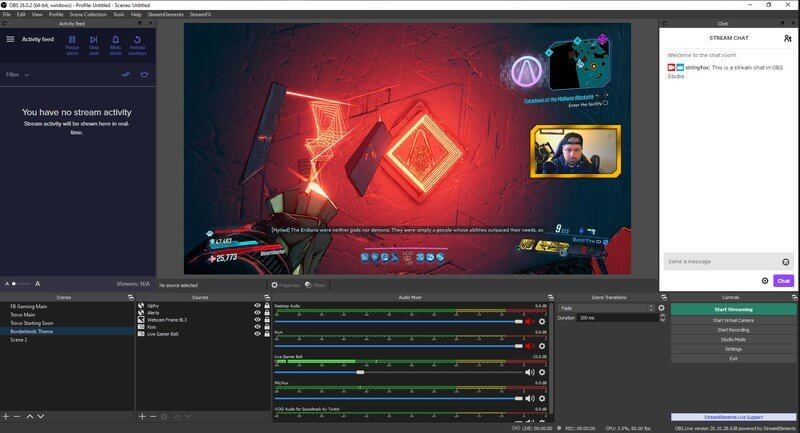 How to Use it
Follow the following steps to effectively use OBS for screen recording.
Step 1 – Download OBS from any website. Try to use the official site if possible since OBS is free software; you will not have to pay a single penny to use this software.
Step 2 – After download the software, double-click its icon to open it and use the interface to start or stop recording.
Step 3 – Edit the videos after recording and upload anywhere you like.
Fraps
The third application that is used popularly in offices and YouTube is Fraps. Fraps is immensely popular in the gaming community due to the fact that Fraps is specifically designed to capture gameplays. Many famous YouTubers use Fraps to record their gameplay and share it with their viewers. There are basic features instilled in this application, along with HD video and audio quality.
Price
Fraps can be bought at a very low price of $37! After buying all the updates of this software are entirely free, and you just have to pay a one-time fee at the time of buying it. Payment can be made through PayPal as well.
Performance
Fraps is very popular in the gaming community due to its less load on the CPU and high video and audio capturing quality, but it offers very few editing functions and features in contrast to Bandicam and OBS. Overall the performance of Fraps is satisfactory and is okay for normal daily use; however, to get something extra, you might have to consider Bandicam.
Features
Easy to Use

Fraps is considerably easy to use and is included in the top applications for gameplay recording that are available on the internet.

Cheap

The price of Fraps is much less than some other top-quality video recorders.

HD Video and Audio Recording

Fraps allow HD video and audio recording and cause minimum lag on the device while doing so. This makes it one of the best gameplay recorders.
Pros:

It is very quick and easy to use.

With minimalistic features, this software makes its use easy for its users.

It can be used with old PCs and laptops.
Cons:

It offers fewer features as compared to top screen recorders.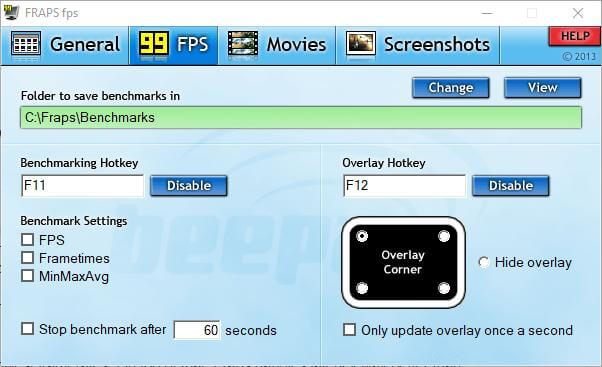 How to Use
Step 1 – Download and Install Fraps on your device after buying it.
Step 2 – Double click its icon to start it and then make adjustments in its interface according to your needs before starting recording.
Step 3 – Start recording and play the gameplay that you want to record. After the game, stop recording and save the video to edit it and upload it.
FAQs of Bandicam vs. OBS. vs. Fraps
Is Bandicam better than Fraps?
Fraps, although it is a bit cheaper, does not offer a ton of options that Bandicam has. The video & audio quality of both this software can be adjusted to match up to some extent, but the features and flexibility that Bandicam offers are not available in Fraps.
Is OBS better than Bandicam?
OBS is the second choice after Bandicam. This software cannot be compared since Bandicam is a licensed software while OBS is free source software. OBS is a bit more flexible, but Bandicam takes advantage of video & audio quality as well as multiple latest features.
Is Fraps 2020 still good?
Depending on your using any product can be good or bad. There is no need to keep the 2021 Fraps updates keep waiting. If you are not satisfied with the current version of Fraps, it is time for an upgrade.
Is Fraps good for recording games?
Fraps are very popular in the gaming community to record gameplays. It has minimum lag and can run unnoticed, unlike much other software.
Is Bandicam really free?
No. Bandicam is not free at all. You have to pay a certain amount of subscription charges to unlock the full usage of Bandicam. Using pirated versions of software can land you in a lot of trouble, so always use original software.
Is OBS better than Bandicam?
Bandicam and OBS are two different kinds of software. OBS is a free source while you require a license to use Bandicam. Bandicam offers much more features and a bit higher quality as compared to OBS. In terms of flexibility and usage, OBS takes the lead while Bandicam surpasses OBS in all other categories of performance.
What is Bandicam used for?
Bandicam is a screen recording software that lets you record and share your screen on different platforms. You can share live videos or record gameplays or tutorials using Bandicam.
Is Bandicam free and safe?
Bandicam is not free software, and you have to buy a subscription to use it legally. If you come across any free version of Bandicam across the internet, it is most likely pirated and is definitely unsafe for your device and privacy. You can safely use Bandicam after purchasing and downloading it from their official site.
Alternative to Bandicam [Better Performance in Video Editing] Screen Recorder and Video Editor
iMyFone Filme is multipurpose software that lets you easily and effectively record your screen and videos and then helps you in editing them with hundreds of different options. It records the best quality screen capturing videos with high-quality audio. iMyFone Filme is a fun and very easy-to-use software.
Key Features:
High-Quality Videos and Audio

IMyFone Filme allows its users to reduce the highest quality screen recording videos without any difficulty. You can also use an external audio source and webcam recording while capturing the screen.

Easy to Use

The interface of this application is very easy to use and can be understood in minutes. Toggling between different functions is quite fun.

Direct Editing

You can start editing your videos directly after recording and then save them later on after editing with this software.

Gen Z Cup of Tea.

For kids of new-age, using this software is not something you need to worry about. The user-friendly interface provides all the information that one needs to use this software.
How to record your screen using iMyFone Filme
Follow the below-mentioned steps to easily capture and edit your screen recordings.
Step 1: Record your video with three clicks.
Download the iMyFone Filme app from their official website and then open the application on your desktop or laptop. Click on the record screen button to start recording and then adjust the windows bar to adjust the screen ratio that you want to record. Click on the start button on the lower right of the screen to start recording. After recording, stop the recording from the same bar.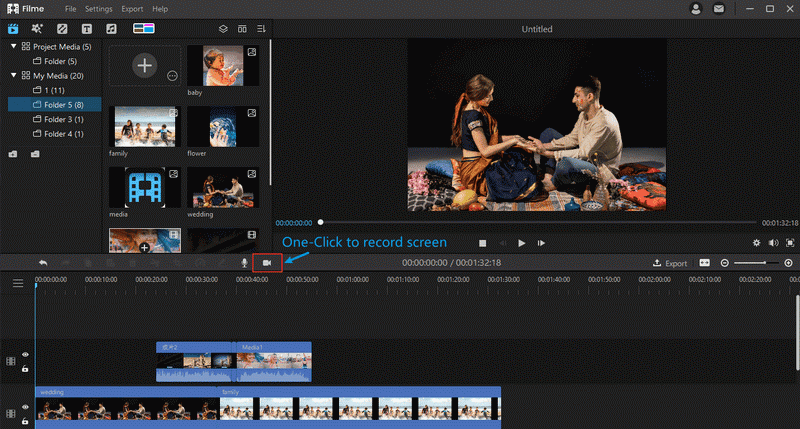 Step 2: Get the video in your media library at once.
After recording the video, drag the video to your media library to start editing the video according to your needs.
Step 3: Cut the Video, add filters and add music and text.
After importing the video, continue editing and change the video length and add music and images and filters from the iMyFone Filme gallery.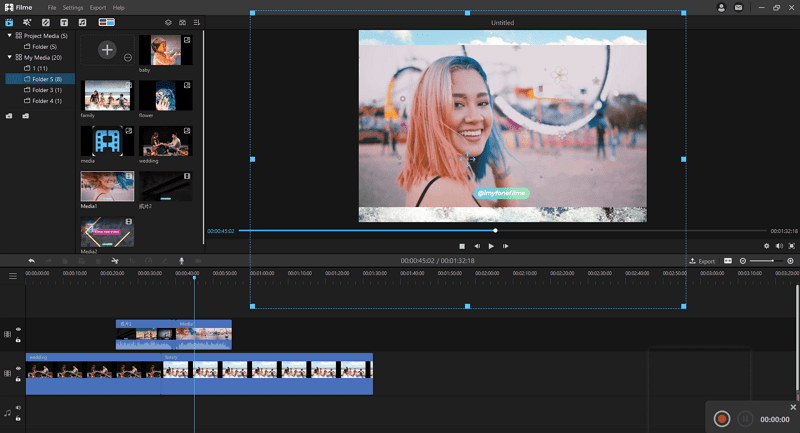 Step 4: Export and Share.
After finishing editing, upload your masterpiece and share it with your friends and family.
Final Verdict
Bandicam, OBS, and Fraps are the top three screen recorders that are used by people all across the internet. Each one of these software has its own pros and cons. Bandicam is one of the best software that you will be able to find as an all-rounder. You can make tutorial videos and record gameplays of high quality with the help of Bandicam. On the other hand, Bandicam is a paid software, but OBS is a free source software that provides you nearly the same features. The problem with using free source software is the safety of the user. In terms of safety, Bandicam is much more secure and user-friendly.
Fraps are mostly used in the gamer community and can be used in place of Bandicam if the PC cannot take too much load along with the gameplay. Bandicam is compatible with all sorts of devices, but in case of any incompatibility, the other two options can be considered.