Are you looking for a YouTube converter to download 4K Resolution videos?
Many people ask how they can find a worthy downloader that can provide them with reliable services. Looking onto the demand of this question, we have decided to explore the top 12 YouTube to MP4 Converters for you.
Top 5 4K video downloaders for Facebook/Vimeo/YouTube Online
InsTube is a well-known 4K video downloader app that can download videos from over 100 websites. This App possesses an Advanced Downloader Engine that makes the downloading process quicker than you think.
The App offers its users customizable settings options to make their experience better than they would have expected.
Features
Supports HD and 4K downloads

Free Video and Music Downloads

Inbuilt Music and Video Player

It offers its fantastic user speed with enhanced technology

You can use it as a browser for web surfing

It is pretty lite in weight

Consumes low battery, data, and Ram

It has an inbuilt Video locker.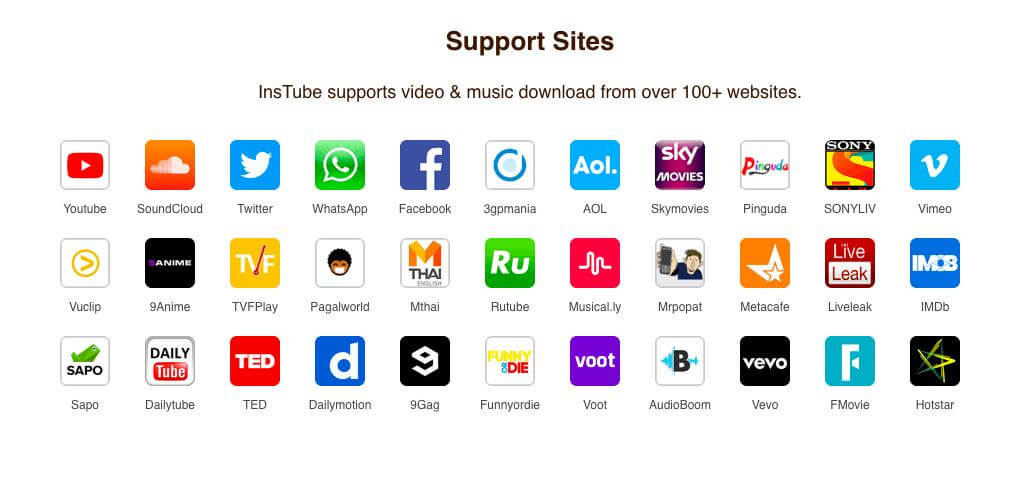 4KDownload is a pretty simple but effective 4K videos downloader that can grab videos from DailyMotion, Youtube, Vimeo, and Facebook.
This video downloader tool allows you to download playlists, channels, and videos from Facebook, YouTube, Vimeo, and other websites in high quality.
Features
Using this tool, you can save entire Youtube playlists and channels in MKV, MP4, MP3, FLV, MP4, and 3GP format.

4KDownload has served its user with a pretty user-friendly and professional interface for quite a few years.
Vidpaw is one of the most effective 4K videos downloaders for multiple websites. In this tool, you don't need to copy-paste the URL link of the video.
Instead, it will allow a user to search a YouTube video directly and then download it to his device. This tool supports high-quality resolution videos like 2K, 4K, and 8K.

Features
It can download videos in multiple formats.

Vidpaw possesses a user-friendly interface.

You'll get a built-in search that will help you to find the Youtube tube videos directly from the website instead of copy-pasting them.
Clip Converter is one 4K videos downloader that allows you to download, record, and convert any songs, movies, and TV serials in any format to want.
ClipConverter is an online site that is compatible with Windows, Mac, iPhone, and Android. Due to its unique Atton feature, you can download a 4K video directly from a website.

Features
It helps you to download songs, movies, and videos from any website.

ClipConverter supports downloading 4K, SD, HD, and 4K videos from YouTube.

It also allows a user to download video files without switching pages.
EaseUSMobiMover is arguably the best 4K video downloader that offers its user the facility to download videos from YouTube, Facebook, Vimeo, DailyMotion, and many other websites. It possesses 4K default quality and can download your videos in no time.
Features
It's free and secure.

It allows users to download videos from BBC, Facebook, Instagram, Vimeo, etc.

Due to its intuitive user interface, even beginners can download videos in the first turn

It also supports file management and IOS data transfer.
Let's follow the steps by steps guide to download or convert a Youtube video using EaseUSMobiMover.
Step 1: Luanch Run EaseUS
In the first gig, you'll need to install the tool on your device. After installing it, launch it. Now, you need to select a device you want to save the YouTube videos into.
If a user wants to save YouTube videos to his mobile device, he will need to connect that device to a PC in the first place.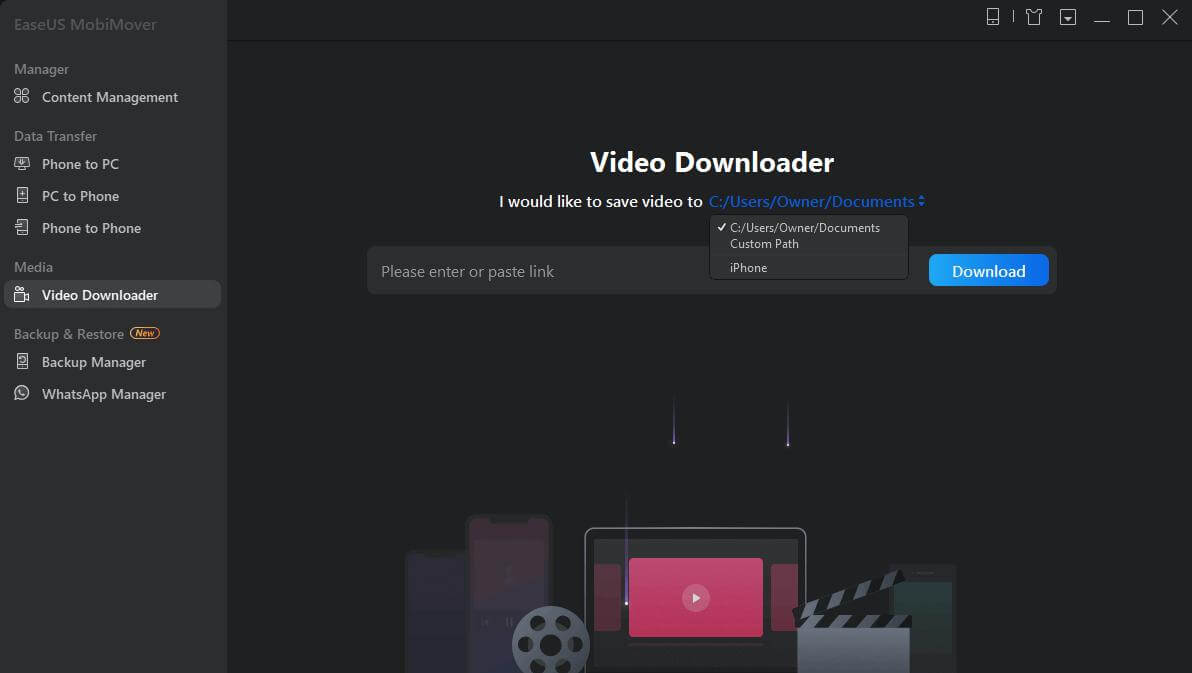 Step 2: Paste the YouTube URL
In this phase, you'll need to copy the URL of the video you want to save; after copying it, paste it into MobiMover's bar, and click the '' Download'' button.
Step 3: Download the file
Now, the software will analyze the YouTube link; after analyzing, it will download your YouTube video to 4K format.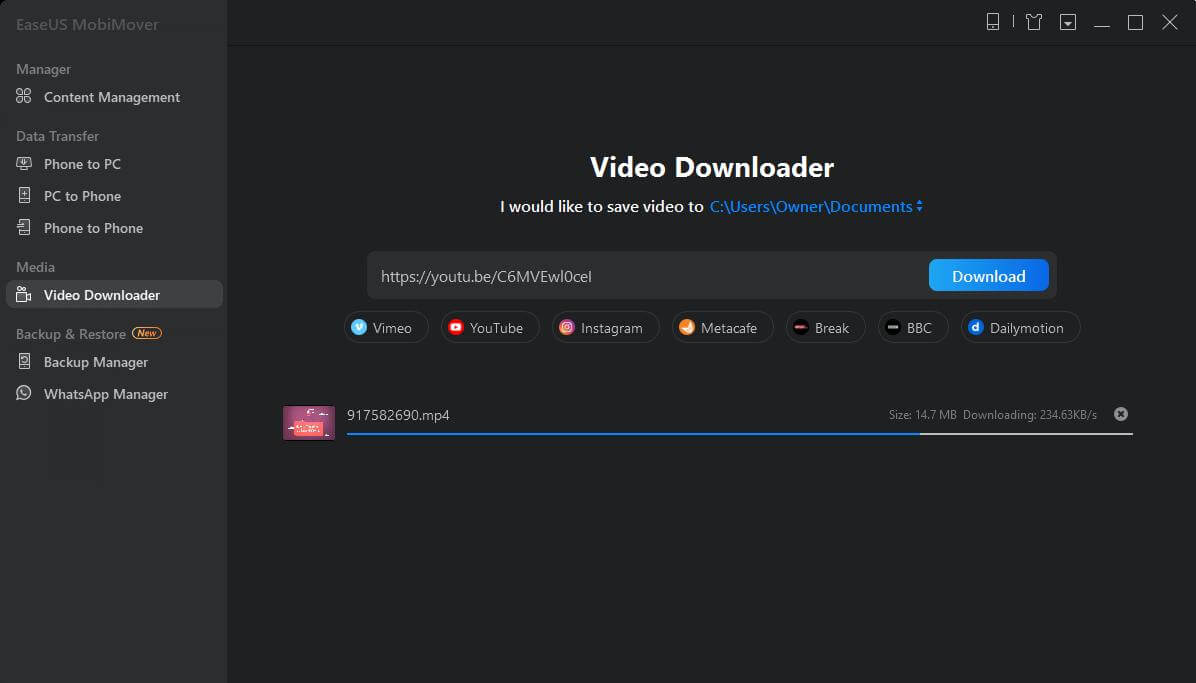 Top 2 4K video downloaders for Facebook/Vimeo/YouTube for Android
SnapTube is one of the best video downloaders for Android. Using this brilliant tool, you can save the videos in 1080p, UHD, and 4K format.
It also allows you to download embedded videos from different web pages. SnapTube possesses a pretty easy App interface and allows you to find videos with the assistance of keywords in the URL box. SnapTube is pretty good at downloading prolific videos in multiple resolutions.
You can download songs and videos from online websites like YouTube, DailyMotion, Vimeo, Instagram, and many other websites with the help of SnapTube.
Another unique thing you'd get with this tool is that it allows you to download video links without opening the application.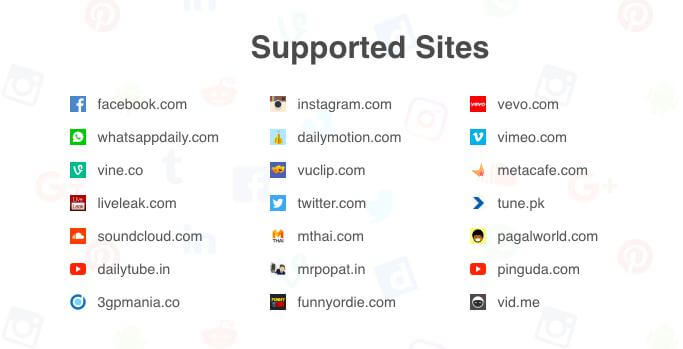 Features
SnapTube provides you with the facility of downloading videos in multiple resolutions.

It also enables you to search videos with keywords.

It enhanced downloading technology.

Manage video downloads

Clean & Safe.
If you want to download 4K videos pretty quickly, there is no video downloader other than VidMate who can serve your purpose as effectively as it can. VidMate possesses a built-in browser and offers a lot of amazing features for its users.
Its UI is more than intuitive and does not ask many questions. In addition, you also have the luxury of downloading YouTube videos in various resolutions. Downloading 4K YouTube to MP4 videos is all too easy with VidMate.
A user can download videos from websites including DailyMotion, Facebook, Instagram, YouTube, Vine, Tumblr, Metacafe, SoundCloud, and many other websites using VidMate. Due to its unique features and undeniable speed, many users prefer VidMate over any other tool.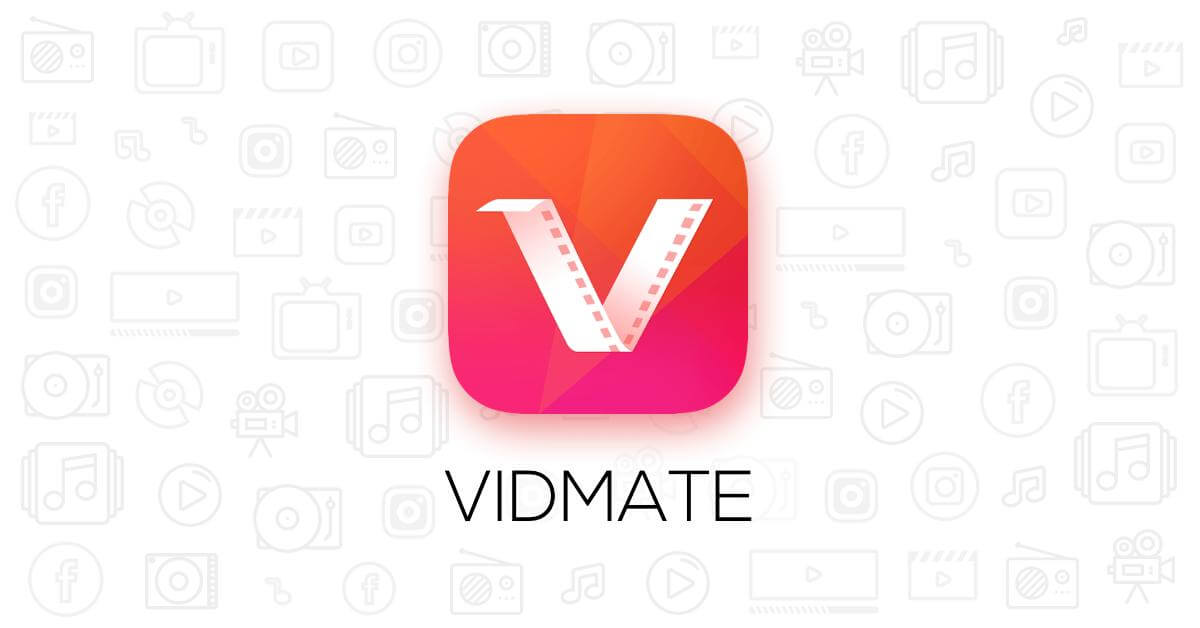 Features
VidMate's built-in browser will allow you to download multiple videos simultaneously.

It possesses only a few ads.

Its interface is a piece of cake.

VidMate can download videos in multiple resolutions like 4K, 480p, and 720, etc.
Top 2 4K video downloaders for Facebook/Vimeo/YouTube for iPhone
iDownloader is nothing but a pretty fast 4K video downloader tool for iOS devices. It doesn't contain a difficult user interface but a pretty initiative interface.
It allows iPad and iPhone users to save videos from multiple online websites like Instagram, Facebook, Vimeo, YouTube, and many others sites. One of the best things about iDownloader is that it divides the download process into segments, and then you can download all segments simultaneously. In this way, it makes sure that your video quality doesn't fall at all.
Features
iDownloader allows you to download more than 40 videos simultaneously.

Due to its inbuilt file manager and viewer, a user doesn't have difficulty downloading a video.

iDownloader allows you to save videos in multiple resolutions.
Although it's not easy to download videos from iPhone due to its security and protocols, you can make a way to download videos using Video Download Pro.
It is a pretty simple 4K video downloader that can help you download videos in multiple resolutions you want. Besides downloading videos from several websites, it also can edit the video in no time.
Features
It offers its user with simple user interface and an opportunity to download videos quickly.

Video download pro allows you to export the video to your media gallery and share it with your social media friends.

It has an inbuilt media player and file manager up in the sleeves.
Top 3 4K video downloaders for Facebook/Vimeo/YouTube for Win & Mac
JDownloader is a free and open-sources 4K video downloader that provides excellent services to its users. This application possesses a fair amount of developers that ensure the user enjoys a brilliant experience.
Using this tool, you can stop, pause, or start downloading process whenever you want. JDownloader is considered one of the best tools for Windows and Mac users. Due to its fast speed and terrific features, the tool's demand has been increasing unbelievably.
Features
You can set its bandwidth limitations and can auto-extract archives at the point of download multiple videos simultaneously.

JDownloader is a pretty simple yet outstandingly fast 4K video downloader.
If you're looking for a unique video downloader for Mac and Windows, you must go for Flash Got. You'll not see a fascinating and dynamic 4K video downloader than this tool.
FlashGot is an extension of Mozilla Firefox that supports multiple streaming websites. Besides offering fantastic quality, FlashGot also covers pretty little space, making itself the best video downloader.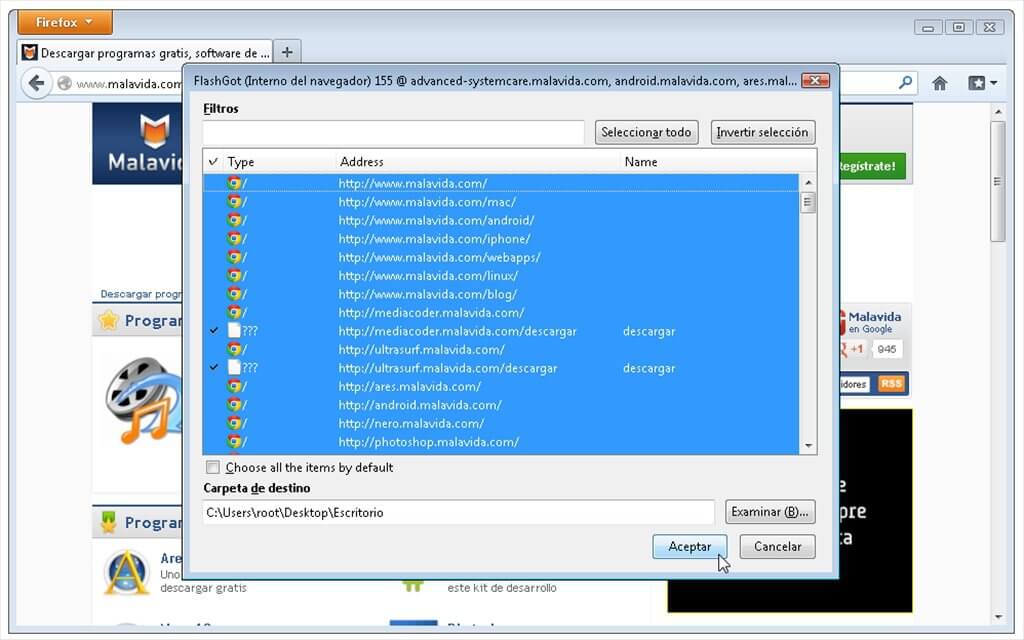 Features
Since FlashGot is pretty quick, it can save your precious time.

You can download many YouTube, Facebook, Vimeo, and Instagram videos simultaneously.

It allows you to download videos in multiple resolutions.
ClibGrab is another professional and fantastic application that allows you to download videos with minimal effort. You can download videos from various streaming websites like Facebook, Instagram, Vimeo, and many more, using this tool.
In addition, this tool also offers you an opportunity to convert e videos to MP3, FLV WMV, MP4, and OGG format. It is a pretty portable tool that can convert your videos into 4K format without any trouble. Due to its powerful features and undeniable simple interface, ClibGrab is winning the hearts of users.
Features
It allows you to download videos from multiple streaming websites.

Its built-in player ensures the downloading of multiple video files simultaneously.

ClipGrab offers its user a pretty intuitive user interface that's pretty easy to understand.
Best All-in-one Video Editor to Customize Your Own Youtube Video- iMyFone Filme
iMyFone is Filme a great software that ensures your video looks elegant and stylish. Using Filme, you can make Slideshows and can add every effect to make your video professional.
Due to its intuitive user interface, you'll not face any difficulty editing a video. That's why most of the pro celebrities opt to prefer iMyFone Filme for editing their videos.
Selecting a perfect video demands a lot of your effort. You don't know about the editors' abilities and how good they are. But with iMyFone Filme, you'll get some prolific features that will make you satisfy.
Features
Simplicity. iMyFone Filme offers a pretty simple interface, which means you won't have to read guidelines before using it.
Basic Toolset. You can enjoy features including crop, cut/trim, adjust speed, rotate, pictures in pictures, and multiple elegant transitions.
Royalty-free Resources. With 20+ fast video modes, iMyFone ensures your video looks nothing less than mesmerizing. In addition, you can also use its 50+ Audio voices to add a bit of flavor to your videos.
Slideshow creation. In case you want to make slide show videos using pictures, iMyFone is pretty much keen to help you in this regard. Without doing much, you can create compelling and creative slide show videos.

iMyFone Filme
Make Digital Storytelling Easy with iMyFone Filme!
Download Now
Conclusion
Finally, we have reviewed some of the best 4K resolution video downloaders for you. All the tools mentioned above are terrific in their styles and have the capabilities to impress you.
However, we recommended EaseusMobiMover due to its flexibility and powerful features. On the other side, if you want to acquire a reliable video editor, you must opt to go for iMyFone Filme.