Have you ever received a fascinating video in Twitter DM and wondered is there any way you can download it? Unlike other social media platforms like Facebook and Instagram, Twitter doesn't provide a direct option to save DM videos.
But you need not worry as we will walk you through various proven methods to help you save video from Twitter DM.
Without wasting any more words, let's cut to the chase.
Method 1. Download Twitter DM Video using Chrome Extension
The first method on our list of how to download Twitter DM videos is using Chrome Extension. It's probably the quickest and simplest method to download Twitter direct message videos.
There're many remarkable third-party browser extensions on the Chrome web store that you can use to save Twitter DM videos to your computer. We'll guide you to use Video Downloader PLUS Chrome Web Store extension to download Twitter video but you can choose any extension of your liking.
After you downloaded those twitter DM video, if you want to change the video format to AVI,MOV,MPEG,MKV, or if you want to upload those downloaded video to other website like facebook,vimeo,youtube with single click. You can download iMyFone Filme on PC to resize your twitter video now, after you resize video,you can upload to tiktok,youtube at different size. Download iMyFone Filme now below.
Watch how to resize video and upload to different social media

Follow the below steps to learn how to download Twitter video from DM using Chrome extension.
Step 1. First of all, head to Google Chrome Extension and add the Video Downloader PLUS extension to your Chrome.
Step 2. Now, login to your Twitter account and play the video in your DM that you want to download, and click on the Video Downloader PLUS extension at the top-right corner.
Step 3. It will offer a list of different resolutions of that video you can download. Tap on the file you want and the extension will automatically download video without watermark to your computer.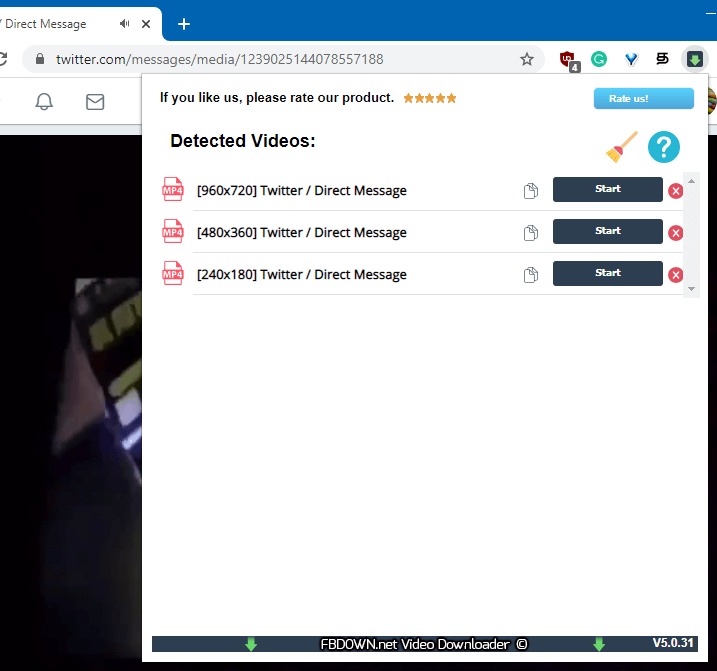 That's how easy it is to use the Chrome extension. Just repeat Step 3 to download any more videos in your DM.
Also Read:
Convert Twitter Video To Mp4 >>
Best Free Ways to Download Video Twitter Online >>
Method 2. Download Twitter DM Video via FFmpeg
FFmpeg is free, open-source software that allows users to download videos from various platforms rather easily.
Here's how you use this tool to download Twitter DM videos:
Step 1. Firstly, you need to install the FFmpeg codec. For that, visit the official FFmpeg website to download it.
Step 2. Now, you need to get the .m3u8 link of the Twitter file you intend to save (discussed in the FAQs sections).
Step 3. After that, press Windows + R to bring the command prompt. Type cmd in the search box and hit Enter.
Step 4. Finally, run the following command to download your video in ffmpeg
Please note that you need to enter the .m3u8 link of the Twitter video and also give a name to the video. (After .m3u8, we just named it as video)
Now, FFmpeg will automatically download the video in your current user's folder.
Also Read
Remove Mosaic Censored Part from Video or Photo>>

Remove Filmora Watermark without Paying>>
Download TikTok/ Ins Video without watermark
Method 3. Save Twitter DM Video with VLC Player
Why follow the difficult method when you can have the Twitter DM video easily? Another simple way of Twitter direct message video download is by using a VLC player. Apart from being a remarkable video player, VLC is also capable of downloading videos from many popular websites including Twitter.
Using this feature-packed tool, users can open network streams and convert them into MP4 files easily. Check out yourself how to save videos on Twitter DM using VLC player:
Step 1. Download and install the latest VLC player on your computer, if you haven't already.
Step 2. Now, open your Twitter account and copy the link of the DM video you want to save for posterity.
Step 3. After that, launch the VLC player and click on Media > "Convert/save as... as shown in the figure.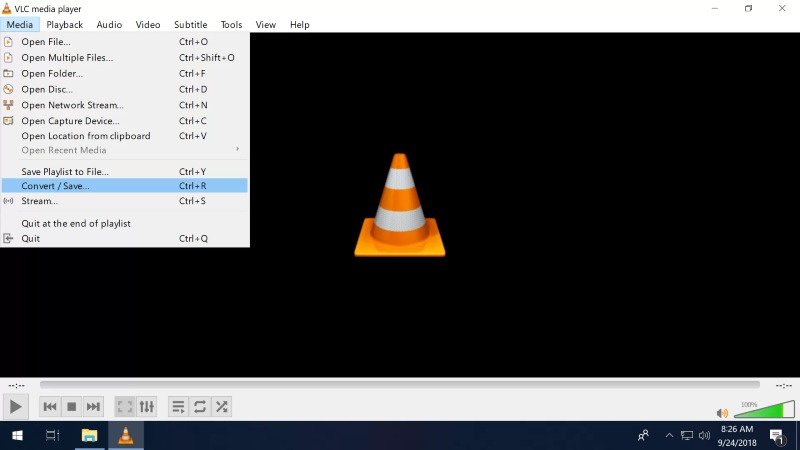 Step 4. A new media window will pop up. Click on the Network tab and paste the URL of the Twitter DM video. Hit on Convert/Save to continue.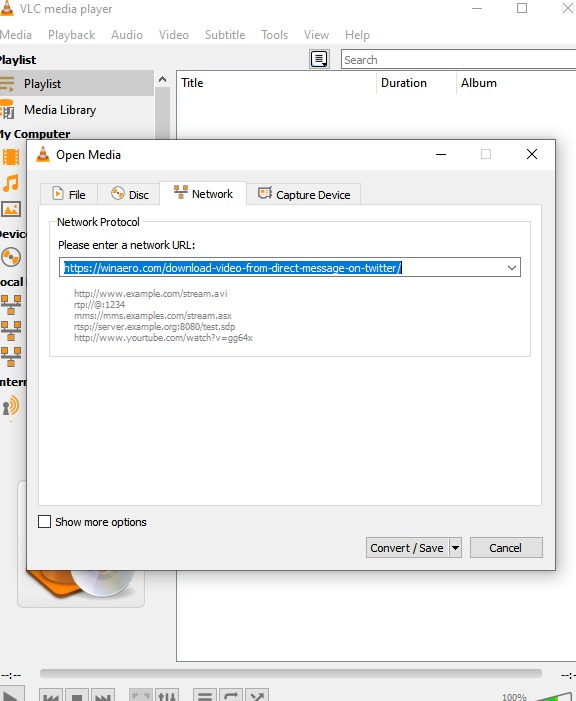 Step 5. Now, confirm the "MP4" format is selected in the Profile. If not, use the drop-down arrow to select it. Then, browse a location on your computer where you want to save it and hit on Start.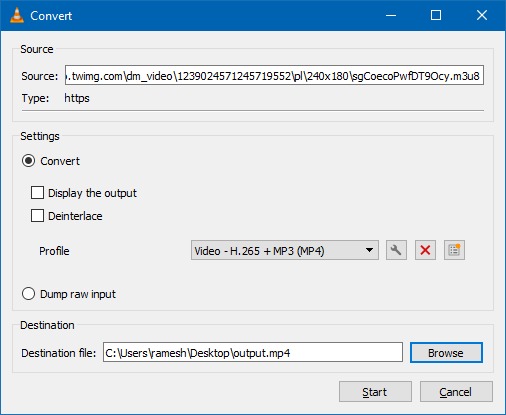 The program will take a few seconds to download the video in your designated location. Access and play it with any video player.
Also Read:
How to Edit Videos with VLC Video Editor >>
Video Tutorial:Download Twitter DM Videos on Android
Watch this Video to Learn How to Download Twitter DM(Direct Message) Videos on Android
Recommended: Edit Downloaded Twitter DM Video with iMyFone Filme
Now that you know how to save Twitter video from DM, wouldn't it be amazing to learn about a wonderful tool to edit them? Ranked as the best smart video editor, Filme provides you with a wide range of editing tools to customize Twitter DM videos.
It includes unlimited filters, stickers, themes, graphics, or templates that can make your Twitter videos look super cool, impressive, and fun to share. No wonder, iMyFone is a perfect choice for both beginners and professionals to create amazing videos.
Key features of iMyFone Filme

Here are the most exciting built-in features of this powerful product:

Split, trim, crop, and rotate videos
Picture in picture mode
Adjust speed, both increase or decrease speed
Fast video mode
Quick slideshow option
Multitrack audio feature
Add multilayer of audio, videos, and animations
Pros of iMyFone Filme

Intuitive and friendly interface.

Easy to navigate and explore thousands of features.

Multiple editing mode

Add a variety of text to videos easily

A range of transition effects
Watch this video to learn how to use various features of this remarkable video editing software:
Follow the below steps to edit Twitter videos using iMyFone Filme:
Step 1. Once downloaded, install iMyFone Filme on your computer and launch it. On the Home interface, click on Import Media and apply it to multiple projects.
Step 2. Now browse the Twitter DM video that you have downloaded earlier and double-click it to import it into the program.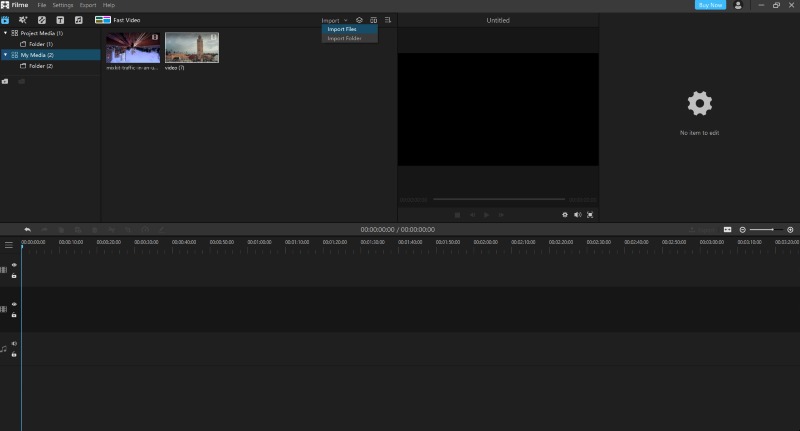 Step 3. After that, hover your cursor over to the video and click on the "+" sign to load it to Filme's timeline. Just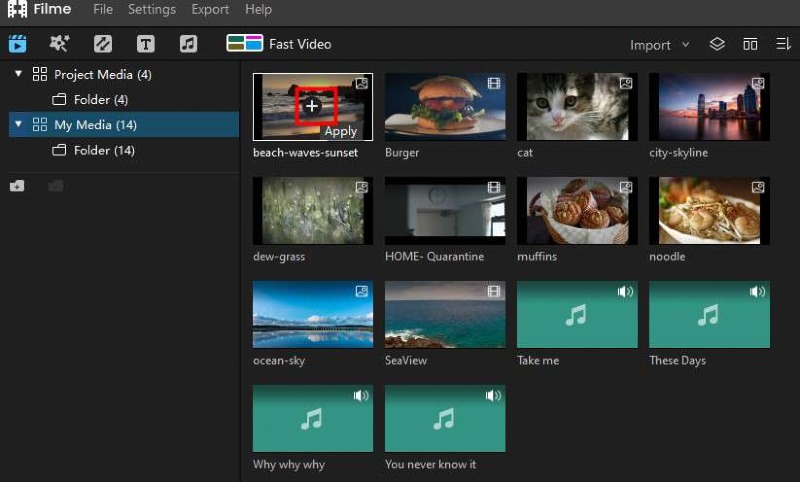 Step 4. Once the video is loaded, you can use unlimited filters, stickers, themes, and thousands of editing tools to edit the video as you want.
With just a few minutes, you can make a super cool video without compromising its quality.
Step 5. After editing a video, hit on Export > Export Video at the top tab to download the final product to your computer.

The user interface is remarkably convenient and you won't have any trouble while applying your favorite editing effects. That's why iMyFone Filme is considered an ideal choice for beginners.
FAQs About Download Twitter DM Video
In the last section, we will discuss various commonly asked questions of the users related to downloading Twitter DM videos. Let's read them up.
1. How to Get M3U8 URL from Twitter DM Video?
Here the steps to get .m3u8 URL of a Twitter DM video:
Step 1. From your web browser, sign in to your Twitter account and open the direct message window.
Step 2. Now, press Ctrl + Shift + I to bring the Developer Tools window.
Step 3. On its main interface, hit on the Network tab.
Step 4. Now, play the DM video of your Twitter account.
Step 5. In the text box under the Network tab, type .m3u8. It will show several versions of the videos in different resolutions.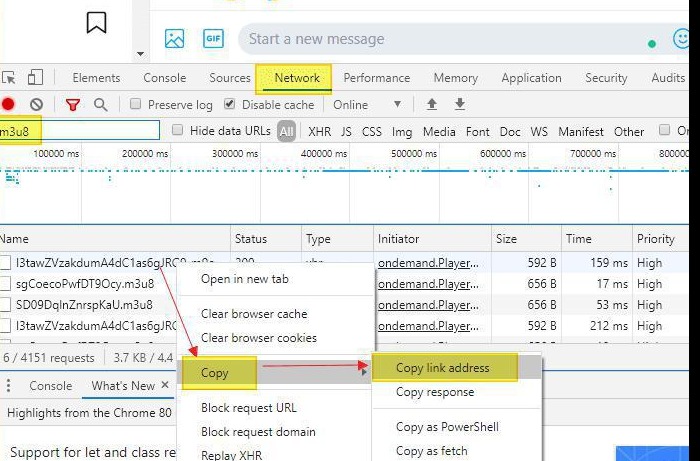 Step 6. Copy the URL of the file you desire. This is the .m3u8 URL of your Twitter DM video
You can use FFmpeg to download the video.
2. How to Download a Video from Twitter Inbox?
Users can rely on several methods to download a video from the Twitter inbox. Here are some of the easiest ways to do that.
1. Use a reliable Twitter DM video downloader
2. Use Chrome Extension such as Video Downloader PLUS
3. Use VLC media player
4. Use FFmpeg
What method or tool you choose depends on your requirements. Please remember that sometimes one or more methods may give an unexpected error. Rest assured, one of them will definitely work for you.
Conclusion
To wrap it up, this blog post has provided a step-by-step guideline of various methods to download a Twitter DM video. After reading this article, hopefully, you won't have any trouble learning how to save a video from Twitter DM.
We recommend users install iMyFone Filme to do all kinds of basic and pro editing to the downloaded Twitter videos.