Do you feel audio sync is way off in YouTube TV? Or if YouTube TV audio out of sync is driving you nuts as well, then stay connected with us to know the solution to this issue.
YouTube TV works with a variety of streaming media players like Apple TV, Google Chrome cast, Roku players & TVs and Fire TV. YouTube TV app is also available for smart TVs and Game consoles.
Many people often complain about Audio out of sync video while watching YouTube TV. And this leads them to believe that they are not getting what they are actually paying for.
Well, not actually, audio out of sync in YouTube videos or TV can possibly be an outcome of variety of factors.
So breath calm airs, as I break it to you that it's a general fixable problem that has a couple of solutions. And for your ease we have aligned all. Just check these out and see which one works for you.
4 Easiest Possible Ways to fix Audio Out of Sync:
YouTube TV is all fun and good until the video begins to lose the same pace along audio. It feels so uncomfortable when audio out of sync on YouTube.
Right?
Here we are listing 4 major solutions for fixing YouTube audio video out of sync to make your Watch-time more relaxing.
Solution 1: Connection Problem
If your YouTube audio is out of sync with video then this can be the major factor involved.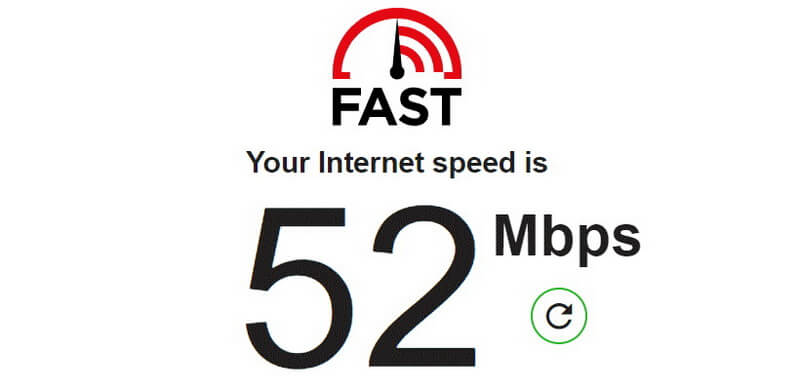 Maybe its just a matter of connection with your internet server. So, Before moving ahead just give this a try and check out the speed of your internet connection if it is similar to usual or not.
And if that's not the issue then may be the next solution is for your problem, keep reading.
Solution 2: Restart the device
If you like to watch your YouTube TV on your smart devices like smart phone or LED. You can try this simple hack for sure. Just restart the device. This will help in eliminating any temporary bugs, cookies or glitches. And it will fix the audio video out of sync problem within seconds.
The reason is that our smart devices keep collecting and accepting cookies and bugs from chrome. This results in audio not synchronizing with video while watch-time.
Not facing this issue? May be the third one is what you are looking for. Check out!
Solution 3: Look for an update in YouTube
Audio out of sync can also be a result of a previous version of YouTube that you might forgot to upgrade to latest version.
If this is your problem and you are using a desktop then simply search the app store on your device and see if it has any updates available. Or else you can also reinstall YouTube to make it work better for your device.
Audio and video still out of sync? Wait, this fourth solution might be the one for you. Stay tuned!
Solution 4: Try checking other video or shows on YouTube for a while.
Sometimes we are going so hard in finding solutions that we forget to analyse the problem. Aiming at that, do shift to any other video or show or movie for a while.
This will help ensure that the content you were looking prior was not faulty or responsible for audio out of sync. It often happens that the content we watch is faulty as the length of the video is sometimes longer then the pace of audio. Which quite disturbs the balance maintenance in between the audio and video.
Well, if that's the case, you can submit a complain regarding faulty content by simply clicking on your profile picture > send feedback. That's it!
Here is another the easiest of all ways to sync and edit audio in downloaded YouTube videos by using iMyFone Filme.
Also Read:
Want to know the secret Recipe- iMyFone Filme!
iMyFone Filme is an exceptional, multifunctional, user-friendly Mac and Windows application for audio editing and downloading YouTube videos. Not only mac and windows but almost all android or iOS devices can easily access the app. It's an exemplary application that provides free trial for new users. It has a range of packages but first you can run it for a month on trial basis for free. It aims at making audio/video editing and downloading from social media a lot more easier for its users.
Yeah, I know, there are many other softwares offering it, but did you just read the term 'easiest!' here.
Its probably the most preferable app for beginners. As you can choose easily from variety of options displayed right in-front of you after downloading and installing the application. This is what makes it different from other applications. It doesn't stick its user with difficult procedures.
Key Features:
It offers 100+ templates to make slideshows with variety of themes.

A pool of abundant resources and in-built effects for making your videos more impressive.

High class tools for editing, trimming and croppingor generating a great video with simple clicks.

Feasible access to social media sites so you can spread your story across.

It works for you with its auto-create option and turns text and slides into video.
Pro in Audio editing:
You can trim, slit, adjust volume, set speed, change the voice, edit the audio and apply effects from library as you like. You can remove audio from downloaded videos that too from youTube and other social media websites. Besides removing, you can also delete the audio completely from a video. Using Filme.
A quick trip to how you can detach and sync YouTube video & audio manually.
Here is how you can detach YouTube video and audio manually. First things first you have two options to choose from either you want to download it for windows or Mac. Choose from it and install.
Once installed, you will see something like this.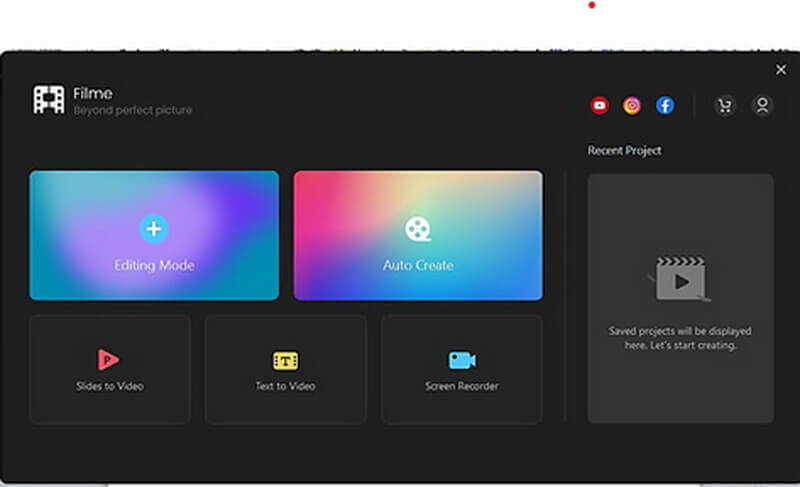 Simply just click on editing mode and a new screen will open.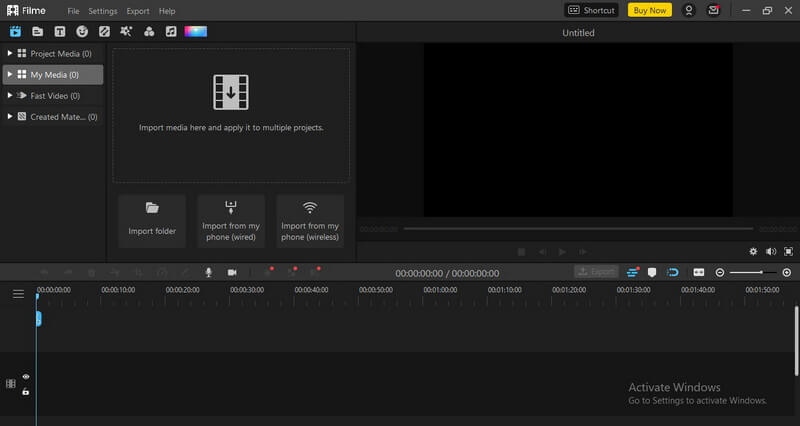 Now you have here variety of options to include or exclude audios or background music of videos that you imported in the import media box.

You can add favorite musics from given library selection.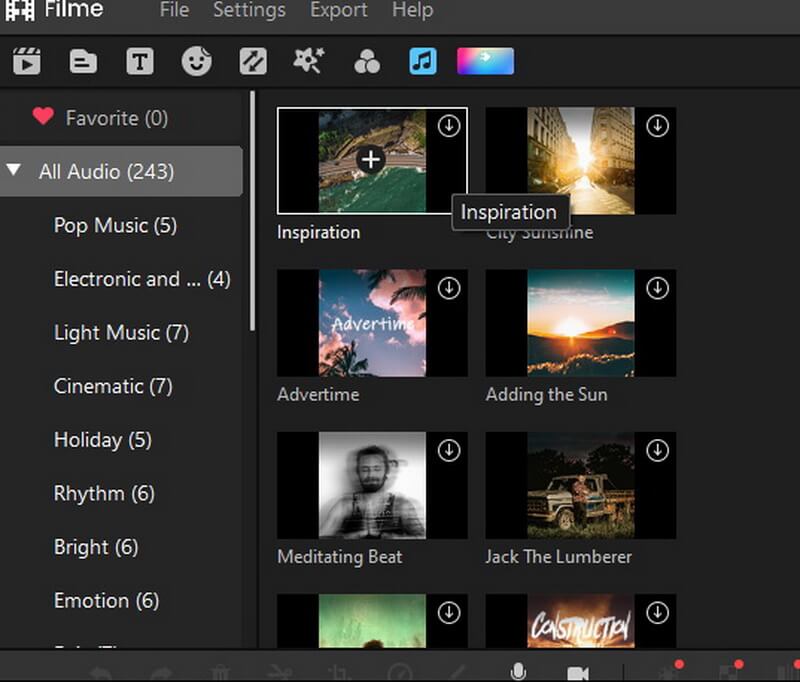 And that's how you can detach that video made directly onto Youtube. And other options are here to add audio. Once you are done with your video editing, this option of export will be enbled and you will be able to send it to youtube or anyother site of your choice.

FAQ's
1. Does it allow adding in-built audios from iMyFone Filme?
Yes, it has a wide range of favourite music to add within videos.
2. Does it work for removing the audio from a downloaded video?
Yes, not only removes it but you can also delete that audio.
3. Can I add audio to a video with a customised audio?
Yeah sure, it has option for adding your own voice. This makes it best software for vlogging and stuff.
4. Can I change voice using iMyFone Filme?
Obviously, it is that amazing feature of this software by which you can add different voices.
Also Read:
Best YouTube Intro Ideas for YouTube Channel >>
Summary
After displaying the variety of features iMyFone Filme presents, its ensured that its one of the easiest software for newbies. It's wide range of options are worth using. Enjoy editing!