Choosing a portion of a picture to be cut out is called Image Cutout. MarkGo is the tool of choice for editors. To use the service, you must first slice the food into pieces. A perfect collage shot may be made with a few additional components and effects.
Electronic commerce and photography have grown thanks to the usage of image processing. Specialized or highly qualified images may be created using editing software. When trying to pique the audience's interest, cutouts are often used. It's a handy tool for drawing attention to the differences among various things in a photogra ph.
Items are removed from the image by the designers. As a consequence, the final product looks fantastic. Read this article to know more about what Professional Editors use for professional image cutout services.
The Best Image Cutout Tool - MagicPic
iMyFone MagicPic
is a powerful AI photo editor that supports
bulk background removal
and replacemnt. It uses
advanced AI algorithms
to detect and remove the background accurately, saving your time and effort. You can also customize your photo background as you wish to unlock the creativity. The tool is user-friendly and easy to use, making it a great option for both beginners and professionals.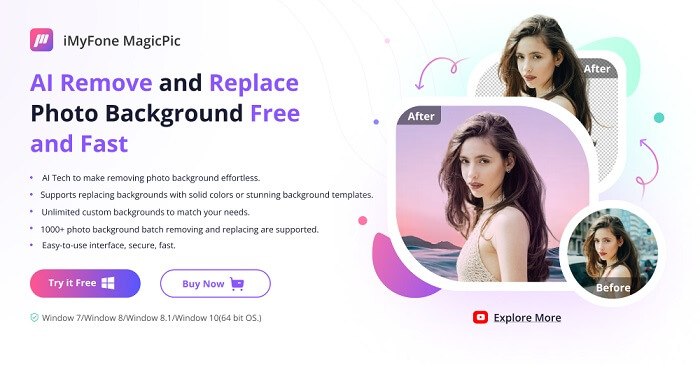 Free Get Images with Transparent Background:
Step #1: Download and install the MagicPic software.
Step #2: Click on One Function Based on Your Needs.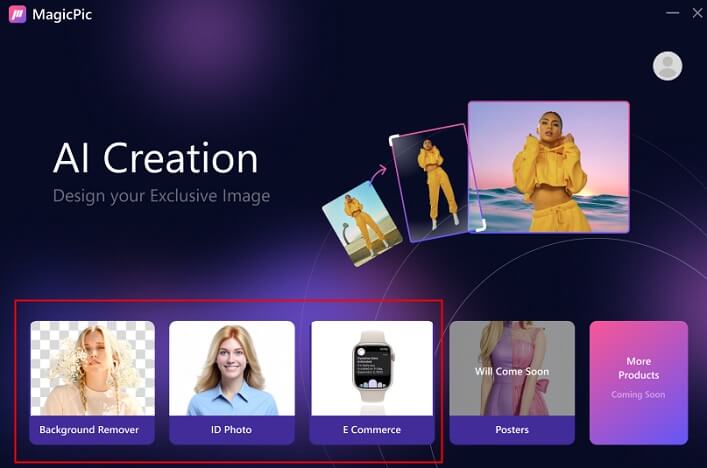 Step #3: AI Auto-Remove Background Instantly.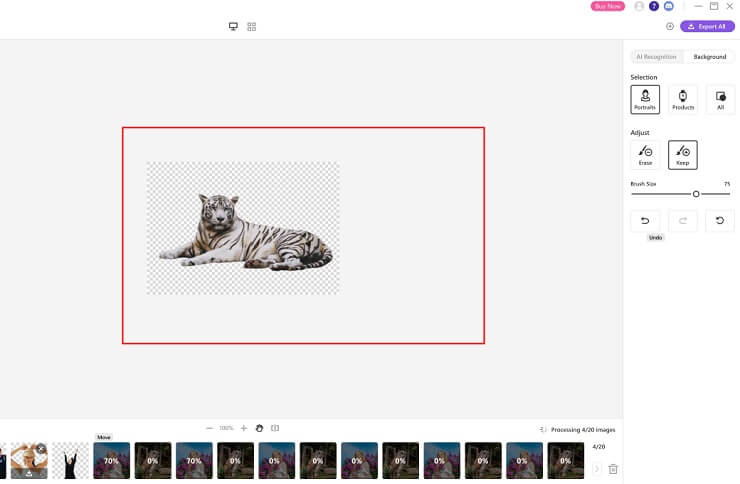 Key Features:
MagicPic has a user-friendly interface, requiring no learning curve.

It supports automatic background removal and replacement with few clicks.

It offers batch processing feature to save your time.

It boasts various modes, including portrait, product, dress change, etc. to match your specific needs.

It offers stunning background templates to perfect your images.

It allows you to upload unlimited custom backgrounds to unlock your imagination and creativity.
Pros:

Easy to use and navigate.

Works well with complex backgrounds.

Supports bulk removal.

Various modes to meet unique needs.

Fully customizable background to unleash creativity.
Cons:

It's a new product in the market, not very famous.
Image Cutout Service—CutThePhoto.
CutThePhoto is a major picture cut-out supplier that provides image editing services, image disguising services, image editing, drop shadow, reflection image, color correction, and other services to customers all over the world without any interruption.
In addition to automatically removing and repairing undesirable objects, words, or symbols, it also restores and perfects the picture to its original state.
Introducing Cut The Photo, a Photoshop ninja business that provides high-quality cutout images and photo editing services at an affordable price. If you are looking for an Image Cut Out Service or a Photo Background Removal Service Provider, you have arrived at the correct location.
Pro:

Color corrector

Automatic repairing

AI-based cut out

Easy to use design
Cons:

No AI technology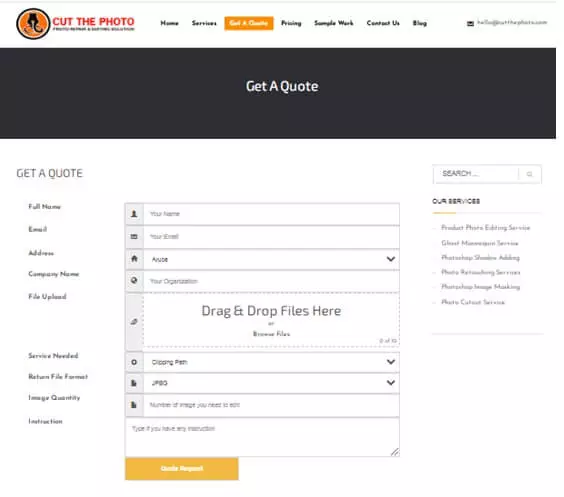 · Wait for the Cutout Quick to respond to your quote. It might take a few hours.
· The price suggested factors the photo complexity. Cut Out Quick aims to deliver in minimum time with high-quality results.
· Cut out Pink offers Basic Photo, Easy Photo Cutout, Medium Photo Cutout, and Complex Photo Cutout services
· Receive the cut out images.
Photo Cutout Service -- Cutout.pro
Cutout.Pro is an excellent tool for individuals who need to conduct simple changes, such as backdrop removal, fast and effectively. Users like Cutout Pro's web-based nature, which allows them to do the necessary activities without having to download and install large files.
Cutout Pro is a powerful image and background removal application that is very easy to use. Furthermore, both novices and specialists may get the required outcome without affecting the original quality of the photographs they are working with.
The programme distinguishes itself from rivals by offering a variety of AI-based batch processing tools, which allow you to remove backgrounds from a large number of photos in a short time and without paying a penny.
Pro:

Straightforward UI

Web-based

AI-based cut out

Batch processing
Cons:

File size limitations
Steps:
· Go to cutout.pro.
· Upload an image whose background you wish to cutout. You can also post a link to any image online.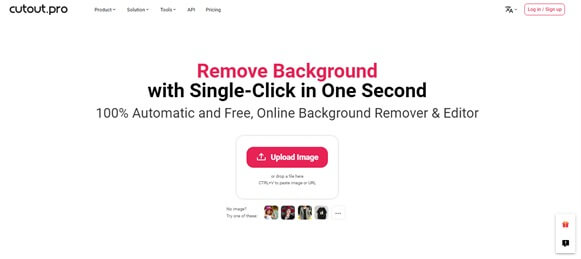 · The signature cutout.pro AI technology will remove the background instantly after the photo loads successfully.
· You can select the "Editor" option to apply decorative effects or add a vibrant background.
· Download the image simply or opt for its HD version for a magnified result.
Photo Cutout Services Provider--Cut Out Quick.
In many cases, we end up with photos that don't look their best due of poor lighting or drab surroundings. Using a cut-out is one of the best ways to move a picture to a new backdrop.
It just takes a few seconds for the backdrop of your picture to be clipped away. It also has an easy-to-use user interface and editing tools. Cut out fast is an excellent programme if you want to remove the background from a photo quickly and accurately.
Submit the Quote
The first step involves requesting a quote. The feature is used by image cutout services to estimate the cost of application to a project. Cut Out Quick requests the client to experience their services for free. However, wait for one to three hours for the quotation estimate.
Wait for response
If the client is satisfied with the quote, the order is officially submitted. The client will upload images with instructions.
Pay the piper
The client will pay using their credit card or PayPal account.
Receive the images
· Cut Out Quick will return the cutout images to the client in less than a day. In addition, urgent projects are rushed as per deadlines.
· Cut Out Quick offers ever-present customer support with unlimited revisions and a money-back guarantee.
Online Image Cutting Services--Clipping World.
Clipping World is an app to cut out unwanted backdrop. Simple and clean cutouts from your backdrop picture are provided by this software. Auto-erase, manual erase, the lasso eraser, and more are just some of the features you may take use of. Refer to the instructions below to learn how to use this app.
Contact Clipping World
· Submit a quote at Clipping World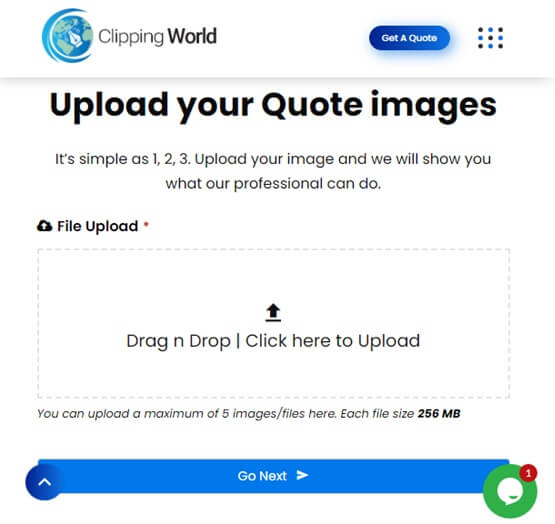 · Upload images to the website.
· Fill out the query form.
Pick the feature
· Clipping World offers the basic cut-out feature that separates a single object from its background. The procedure is straightforward with objects such as balls, eggs, and glasses.
· Clipping World also offers cutout services for curved objects such as t-shirts and caps. It is a complex procedure compared to the first service.
· Medium Image Cutout is offered for pictures with a curved object in it. Since the anchor points have increased, it has become a complicated task. Objects include shoes etc.
· Pictures with complicated geometric attributes such as chains and flowers have multiple cut outs and anchor points. Clipping World is a reliable cutout image service to delete background in similar photos.
Image received
· Download when delivered
FAQS---Top 5 Professional Image Cutout Services.
What is the easiest way to cut out a picture?
There are many image editors. You may utilize any of these as per your needs. Experts can utilize Adobe Photoshop. Instead of a desktop program, you may use a mobile app like Pixlr or Adobe Lightroom. Online tools might also help. But if you want a long-term solution, MagicPic may be the best option.
How do I create a cutout image?
The simplest method is AI elimination. Any picture editor with AI removal can accomplish that, although not all do it well. Try MagicPic's AI, which is incredibly strong and precise.
Who can be benefited from Photo Cutout Service?
Using backdrop removal services for product picture editing has several benefits. A white backdrop will aid in showcasing the object's texture, form, and color. Using a white backdrop in product images can assist attract prospective shoppers and enhance total sales.
What type of benefits can I get?
Using a cutout removal service has several benefits:
1. A white backdrop highlights the object's colors, texture, and form. In markets where pictures are important and may affect total sales, using pure white backdrops can help.
2. Using a transparent backdrop has certain benefits. For banner advertisements, they are ideal for the clipping path.
3. Creative backdrops will make your goods stand out.
Conclusion
Among the many good options available for editing are the Image Cutout Services. The technique is described as cutting any section of a picture with a delicate editing touch, and it is available for both digital and film images.
A common editing touch employed by various industries is the usage of frames. This service is often required by e-commerce, photographers, publishing companies, and web portals for editing purposes.In my opinion, MagicPic is the best choice. MagicPic's sophisticated artificial intelligence allows you to eliminate the background or a portion of a picture with a single click. It accurately recognizes the backdrop and does it in a lightning-fast manner.